eBay Hosts Hard To Find Sneakers Pop Up Shop In Detroit
eBay held the first of three planned holiday pop up store experiences - The Hard To Find Sneaker shop in Detroit.
The Hard to Find Sneaker Shop | Detroit, November 19 - 20
Sneaker collector and seller Jaysse Lopez, Urban Necessities, brings his diverse collection of today's top styles to the shop. The event will also feature a rare display of all 50 pairs of the Off-White x Nike Dunk Low collection.
eBay posted hints about the location on social media before the event, hoping to drive curiosity by making it a bit of a "treasure hunt."
eBay GM of Sneakers Garry Thaniel made the local media rounds, chatting with "Live in the D" host Tati Amare.
eBay partnered with Urban Necessities to bring in some rare and top dollar sneakers.
And some sports celebrities stopped by to check out the action too.
---
Interestingly, I haven't seen a lot of social media posts about the event from people who are not eBay partners or influencers and eBay hasn't posted too many photos or videos that I've seen showing overwhelming crowds at the event.
Were CMO Andrea Stairs and the eBay marketing team thinking too far outside the shoebox on this one? Between the high end price tags and the "hard to find" location, I have to wonder what exactly the target audience is for these events and what eBay hopes to accomplish with them.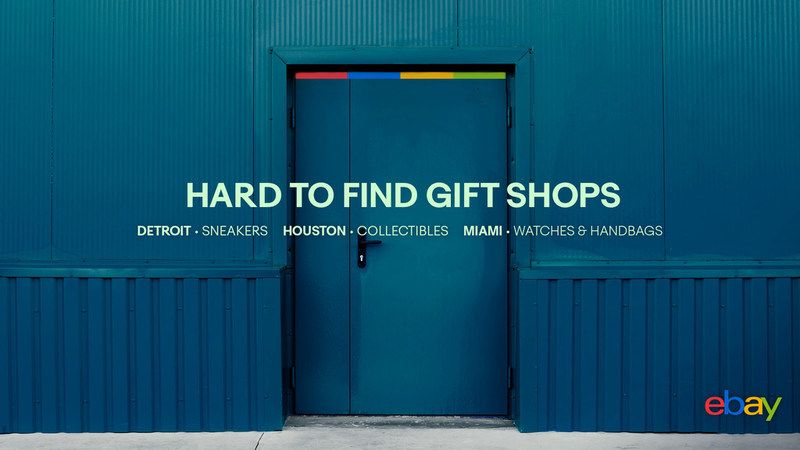 There are still two more Hard To Find pop up shop events to come, one for collectibles and trading cards in Houston and the other for luxury watches and handbags in Miami.
The Hard to Find Collectibles Shop | Houston, December 3 - 4
In partnership with top eBay sellers, including two from Houston, the shop will be stacked with high value trading cards, collectibles and memorabilia.
The Hard to Find Luxury Shop | Miami, December 10 - 11
Find iconic Hermès Birkin and Kelly bags, Gucci's Psychedelic and Floral Collections, and rare timepieces from Richard Mille, Audemar Piguet, Rolex and more.
---
Did you attend the Hard To Find Sneakers Shop event or are you planning to attend the other eBay holiday pop up shop events? I'd love to hear about your experiences. Leave a comment below!
---