eBay Australia's Kitchen 101 Doesn't Quite Hit The Spot
In eBay's latest marketing misstep, eBay Australia's attempt to serve up some tasty how-to tidbits leaves users hungry for more.
According to Appliance Retailer, eBay launched Kitchen 101 to help Australians learn some basic cooking skills that Google search trends revealed they were lacking.
Search data has revealed that hundreds-of-thousands of people turn to Google for answers on simple cooking queries from boiling eggs to storing chicken in the fridge. eBay has commissioned its own research into culinary skills and revealed the key findings...



...eBay Australia's Sophie Onikul said, "We know Australians love their food but it's clear that many can't handle the heat in the kitchen. eBay is stepping in as sous-chef to help aspiring home cooks gain more confidence, whipping up a dedicated ebay.com.au hub, Kitchen 101. We've mixed in every basic 'how-to' based on the nation's top Google search queries and topped it off with the latest kitchen gadgets so clueless cooks can master the basics."
Sounds like a perfect recipe right? Let's take a look at what eBay Australia cooked up!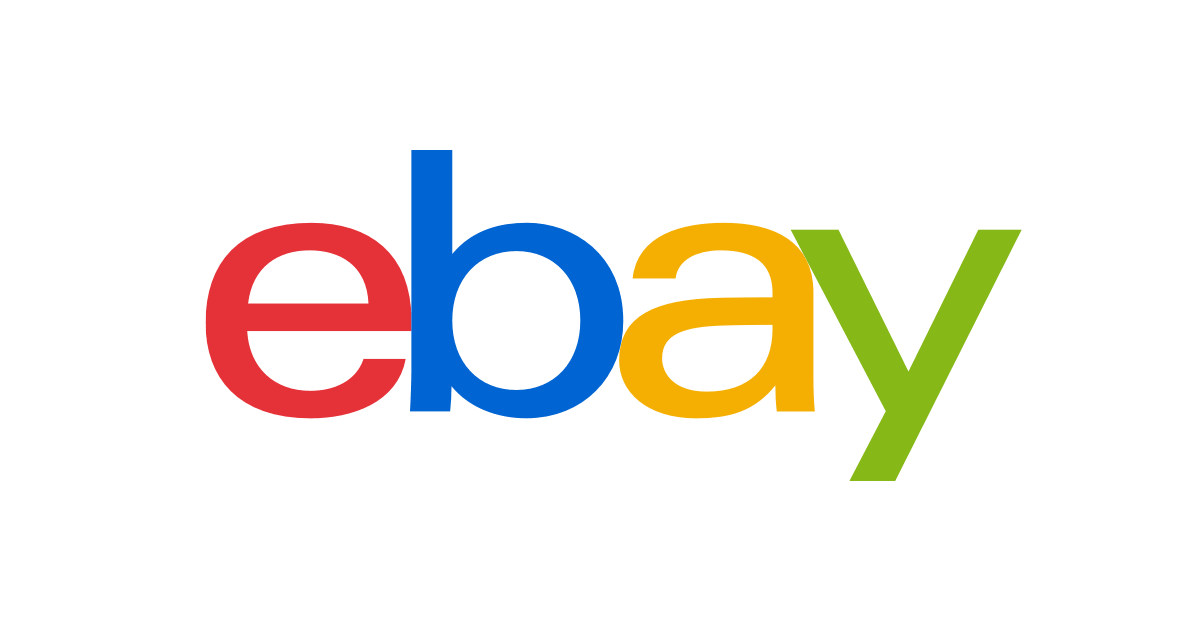 ---
Eggs
According to eBay's research 86% of Australians can't properly boil an egg. No worries though, these short one sentence tips will sort it out in no time!
Boiling: Achieve a soft boil with a runny yolk by cooking your eggs for 4-6 minutes.
Frying: When frying eggs, preheat your spatula in the oil to prevent it sticking.
Poaching: Swirl your boiling water to create a vortex that keeps your egg in perfect form
And that's it....I know I feel much more confident now with "every basic how-to" covered - thanks sous chef eBay!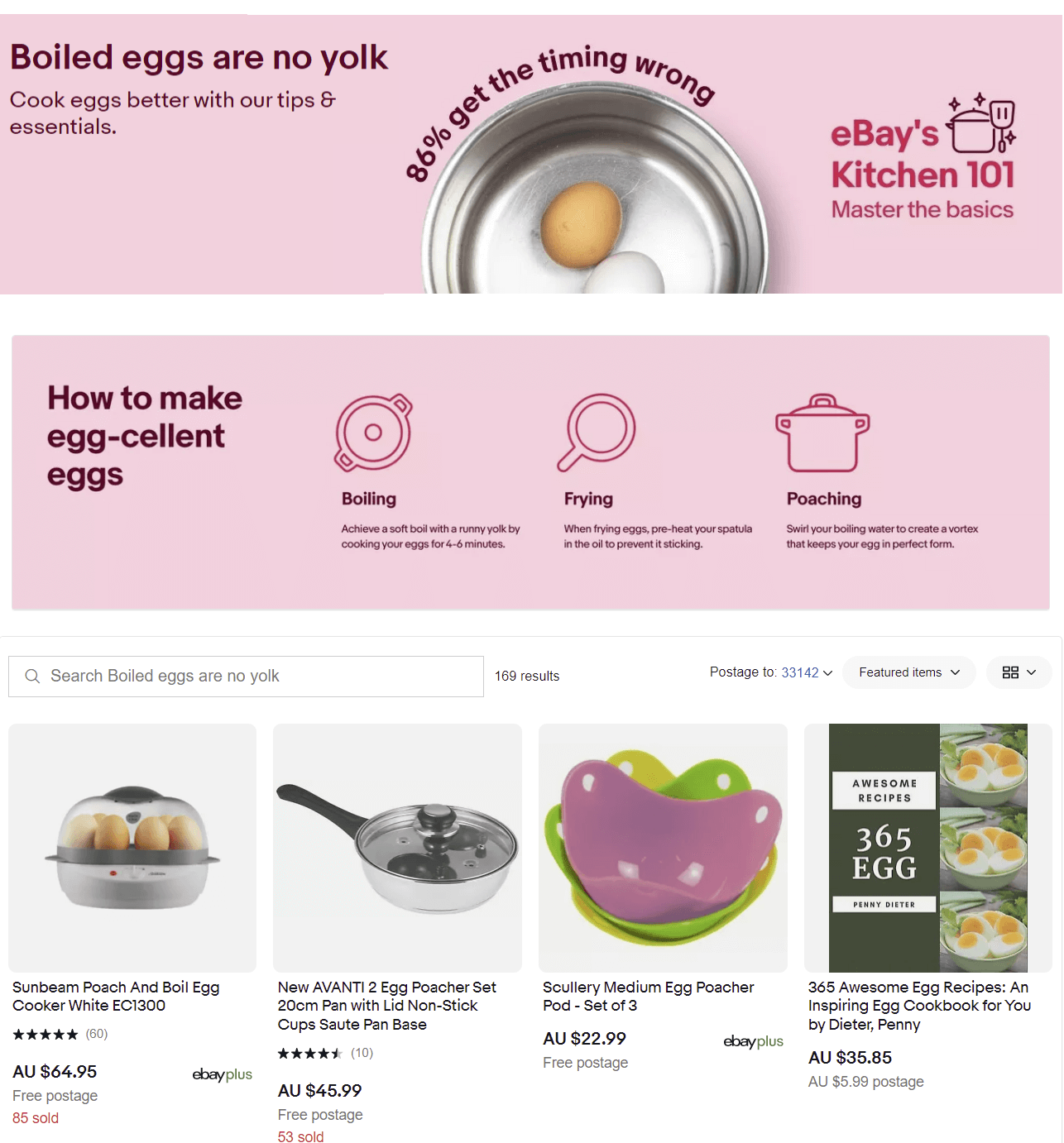 ---
Rice
Next up is rice - cooking time varies between 10-25 minutes based on how much rice you cook.
So how can we know, eBay? A handy chart showing average cooking time per serving or some kind of measurement would certainly have been a helpful basic how-to.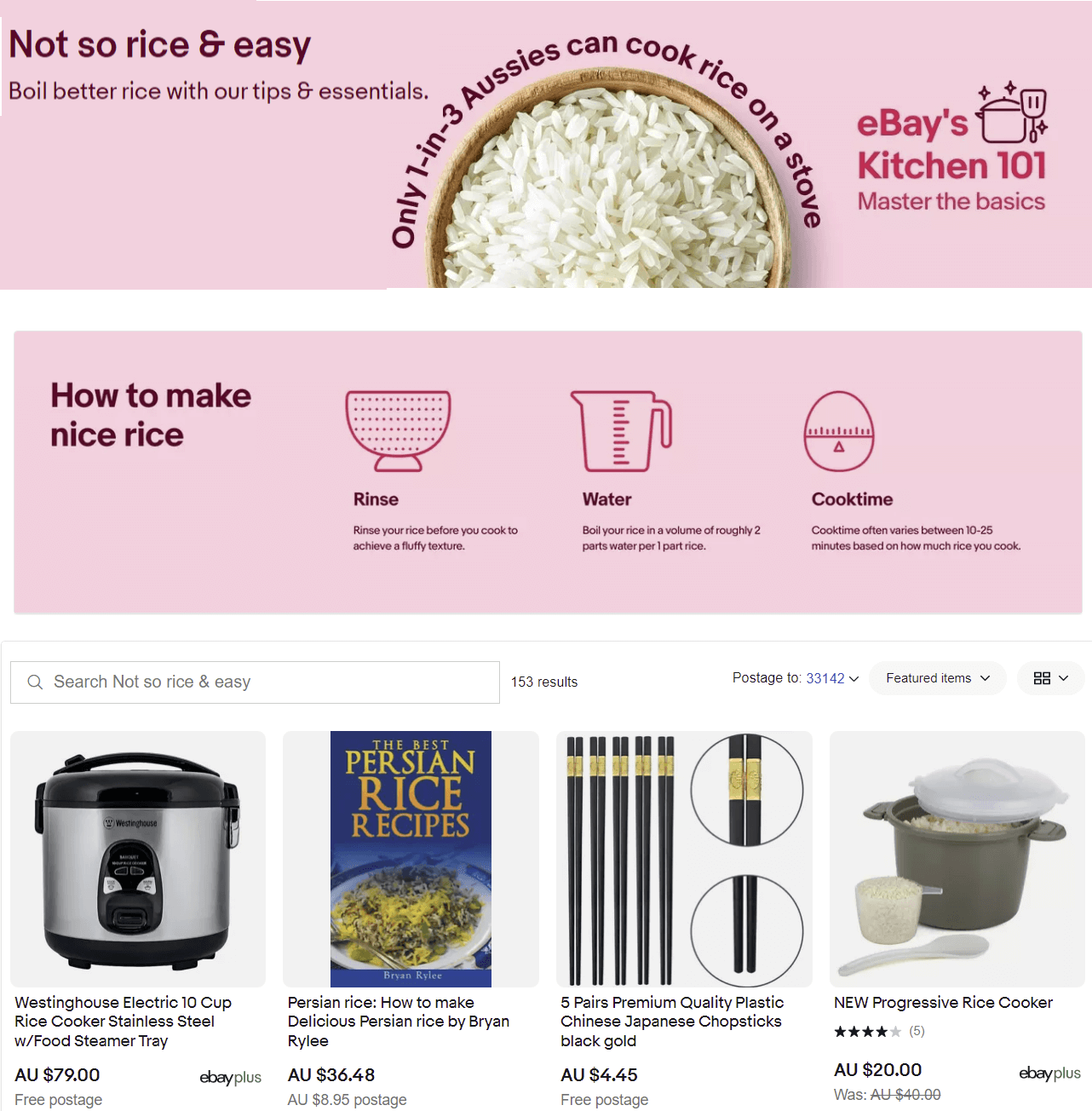 ---
Food Storage
Poor food storage is apparently another common Aussie kitchen blunder, with millions keeping cooked chicken for more than 5 days.
Leading with that headline, you'd think a suggestion of how many days it is safe to store cooked chicken would have been a great tip, but I guess that wasn't considered essential.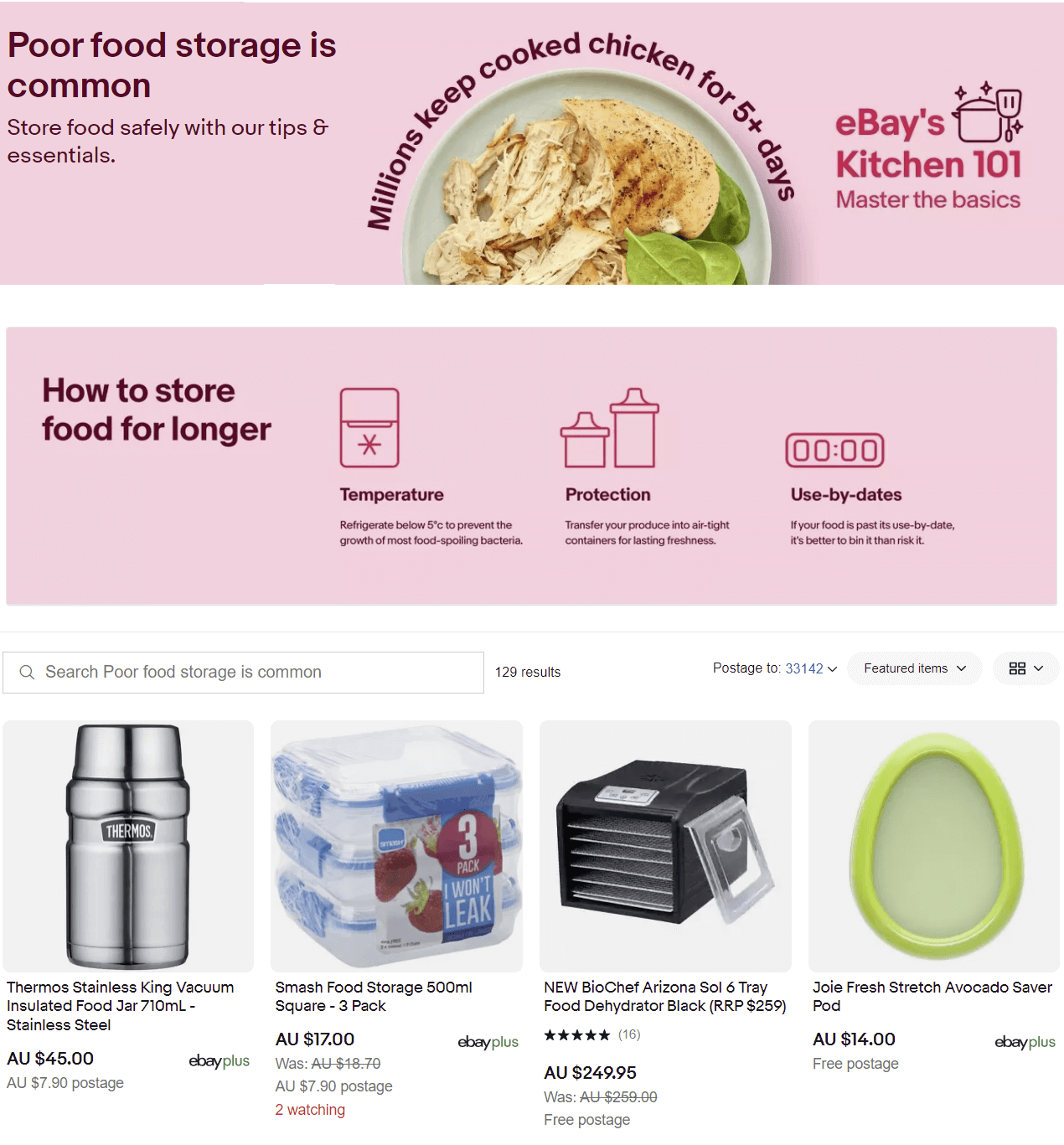 ---
Fish
Sorry eBay but the only one I'm seeing floundering here is you. I can guarantee if you microwave your salmon, it won't look nearly as pretty as that picture.
Pro tip - don't try this at work, unless your career goals include being the most hated employee in the building.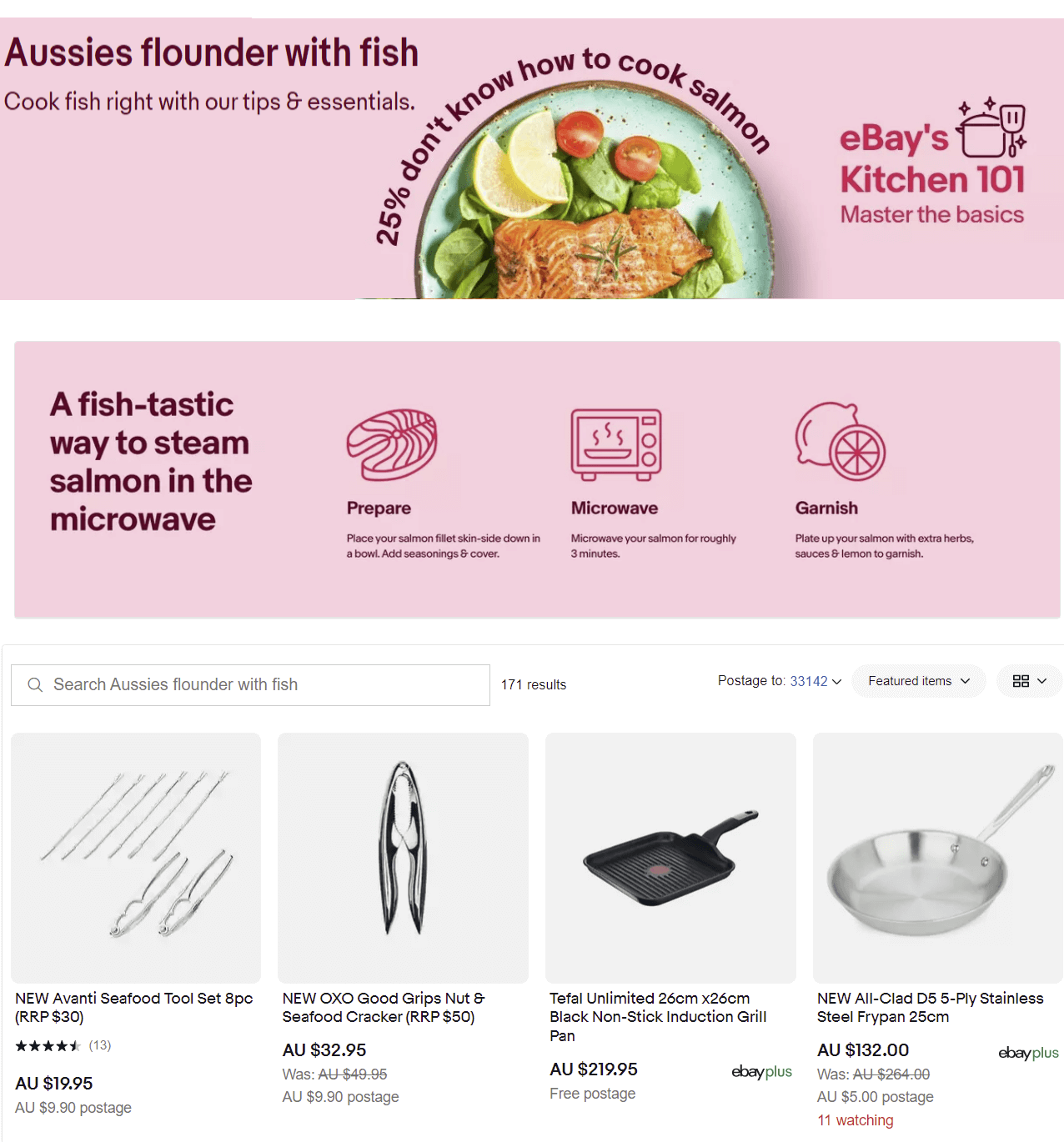 ---
Pasta
It seems eBay has forgotten about the pasta-bilities of different cooking times needed for dry vs fresh pasta, so if you spring for one of those pasta machines they are advertising, make sure to do your own research!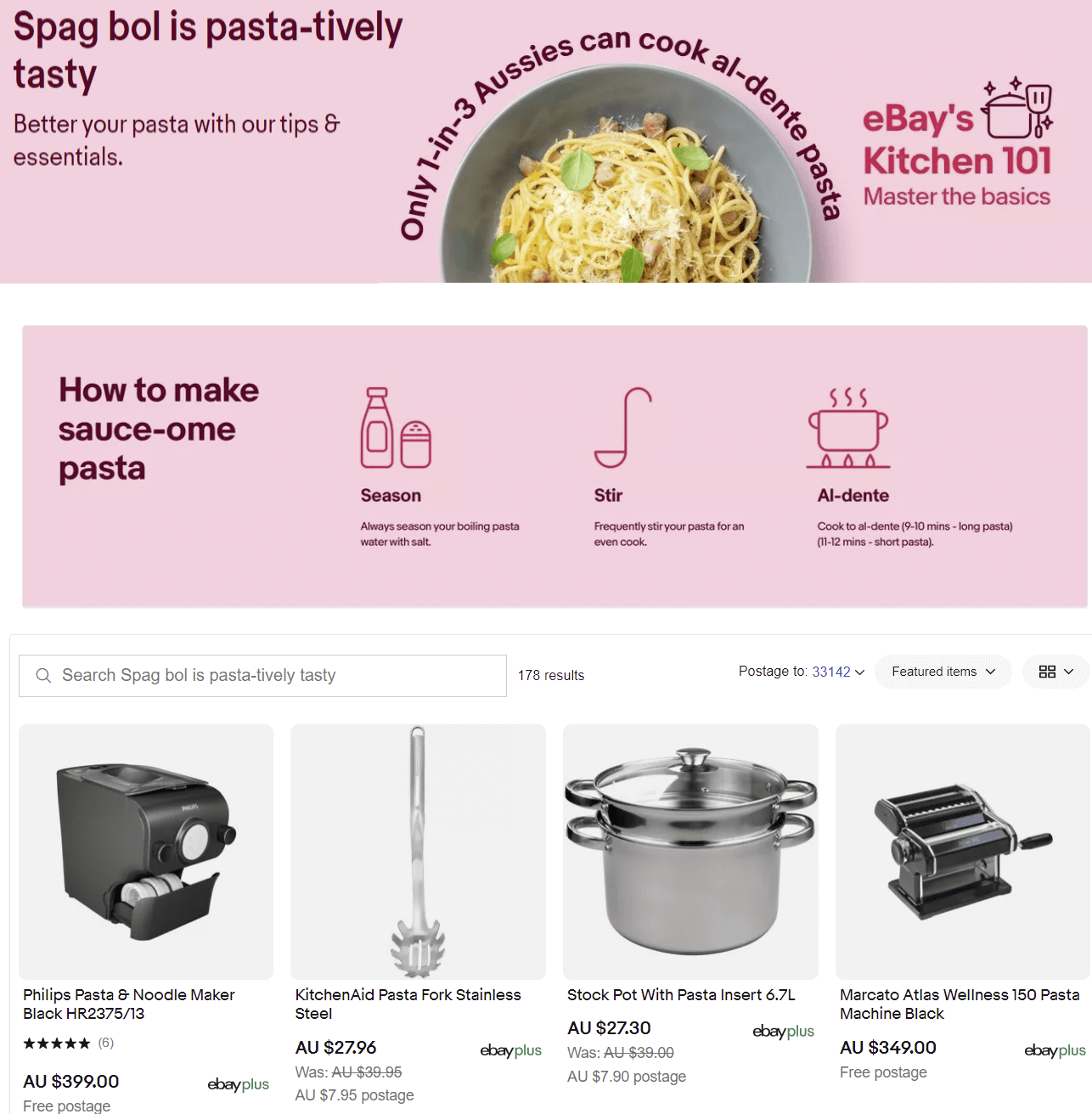 ---
Ok, so maybe Kitchen 101 isn't quite as half-baked as eBayUK's Cubid or as unsatisfying as the Sneaker Showdown snafu, but it's clear this is not really a dedicated hub with helpful how-to content that will actually teach anyone how to cook anything - it's simply a not too clever way to serve up semi-related listings.
If this is what the marketing department thinks it looks like to cater to CEO Jamie Iannone's prized "enthusiast buyers"...I can only imagine the stream of expletives Chef Gordon Ramsay would hurl their way.
---