Did USPS Discontinue Priority Mail Flat Rate Padded Envelopes?
UPDATE 1-13-22
A USPS spokesperson is still looking into this issue for me, but has confirmed as of today the Priority Mail Flat Rate Padded Envelopes are back up on the USPS website and available to order.
---
Some astute sellers have noticed USPS appears to be out of stock and possibly discontinuing Priority Mail Flat Rate Padded Envelopes.
This previous link to the flat rate padded envelopes is no longer active and loyal reader FidoMaster reported this is what they see when looking at their saved favorites.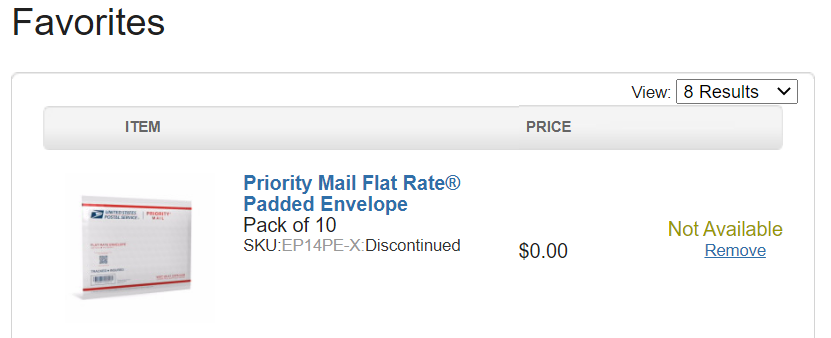 Sellers in the community are discussing the issue, with some suggesting it may just be an issue with the restock date being extremely far out.
Generally, if you no longer see something listed, it would be a good indication that they will no longer be supplying that type or that the restocking will be so far out, they don't want to hold orders.
The clear envelopes for customs forms were also "discontinued" with a "page not found" about 2 years ago. They suddenly appeared back in the USPS store a couple months ago. I'm not counting out the PFREs just yet.



I've had a difficult time getting certain box sizes for a few months now (sizes 7 and 4).
A reddit user on this thread speculated the change may be in reaction to years of abuse by sellers using the free mailers as packing filler.
I have a feeling they're gonna do away with all this free packaging soon because people feel the need to misuse this stuff because they're too cheap for packaging- same thing happened with the free tape they used to have
I'm seeing some chatter on Twitter as well, though so far no responses from USPS.
---
I've reached out to USPS for comment and will update as more information becomes available - in the mean time, if you do have USPS Priority Mail Padded Envelopes on hand, you may want to use them sparingly. 😉
---