Navlungo eBay Partnership Boosts Selling From Turkey
Turkish digital logistics startup Navlungo has announced it's official partnership with eBay to boost exports from the country.
The company made the announcement on LinkedIn, saying customers who use their services will receive a free eBay store subscription, private eBay consulting and 80% promoted listings ad fees.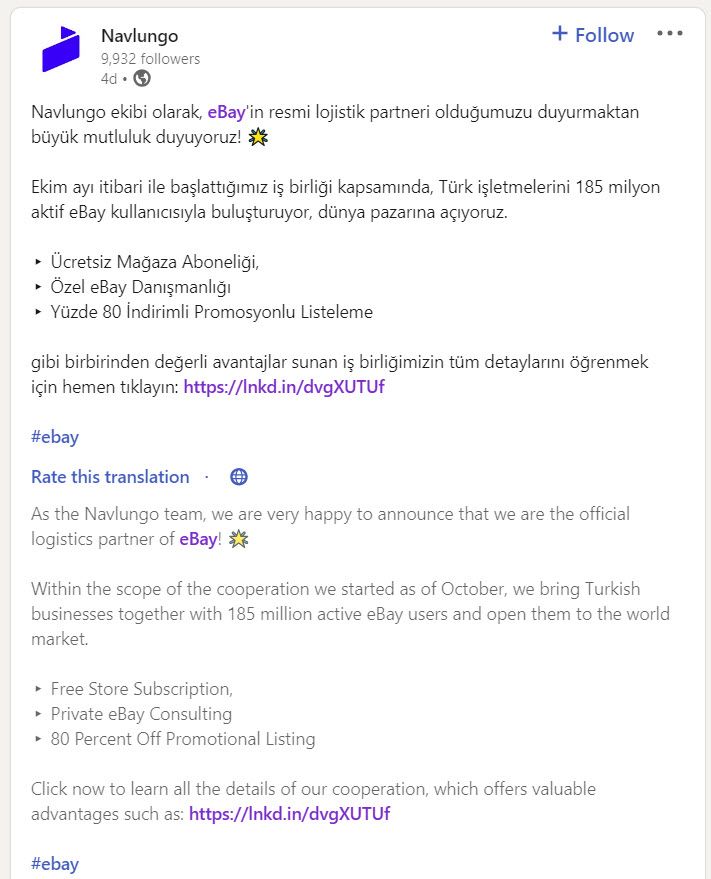 As the Navlungo team, we are very happy to announce that we are the official logistics partner of eBay!



Within the scope of the cooperation we started as of October, we bring Turkish businesses together with 185 million active eBay users and open them to the world market.



▸ Free Store Subscription,
▸ Private eBay Consulting
▸ 80 Percent Off Promotional Listing
One important note - that 185 Million active users is a bit off.
eBay last reported 132 Million active buyers in Q2 2023 and active sellers was at only 17 Million when last reported in Q4 2021 (with the understanding that sellers are often also buyers, so there is a large overlap in those figures).
The free store subscription is for 3 months, personal consulting runs for 12 months and they do not say for how long sellers will be able to access the 80% promoted listings fee discount.
These benefits include a free store subscription, a dedicated eBay consultant, and an 80 percent discounted promotional listing. Free Store Subscription is free for sellers using eBay from the Navlungo panel, initially and for the following 3 months.



A dedicated eBay consultant provides users with personal support by phone and/or email for 12 months, helping them use eBay in the most efficient way.



Finally, sellers can use the promotional listing feature at an 80 percent discount, which they can use to reach more customers.
Navlungo Founding Partner and CEO İsa Korkmaz said:
"Since 71% of all purchases on eBay are shipped with free shipping, it is clear that this option is highly incentivizing for buyers. Both eBay buyers and sellers attach great importance to shipping costs.As Navlungo, we protect Turkish sellers from unnecessary logistics costs by focusing on this issue.



Turkey's exports in September 2023 increased by 0.3 percent compared to the same period last year, reaching 22.7 billion dollars.9-month exports in the January-September period exceeded 187.5 billion dollars. While sectors such as automotive, ready-made clothing, electronics and steel stand out in this success, electronics and accessories constitute the most popular categories on eBay.



Additionally, when we analyze eBay data, we see that electronics and accessories account for 16.4 percent of total eBay sales, making them the most popular categories on eBay.At the same time, clothing and accessories represent 16 percent of all products sold on the platform.These data show that Turkish buyers' purchasing tendency is in line with eBay sellers.
eBay no longer has a direct presence in Turkey since they closed their GittiGidiyor marketplace last year, losing about 4 Million active buyers in the process.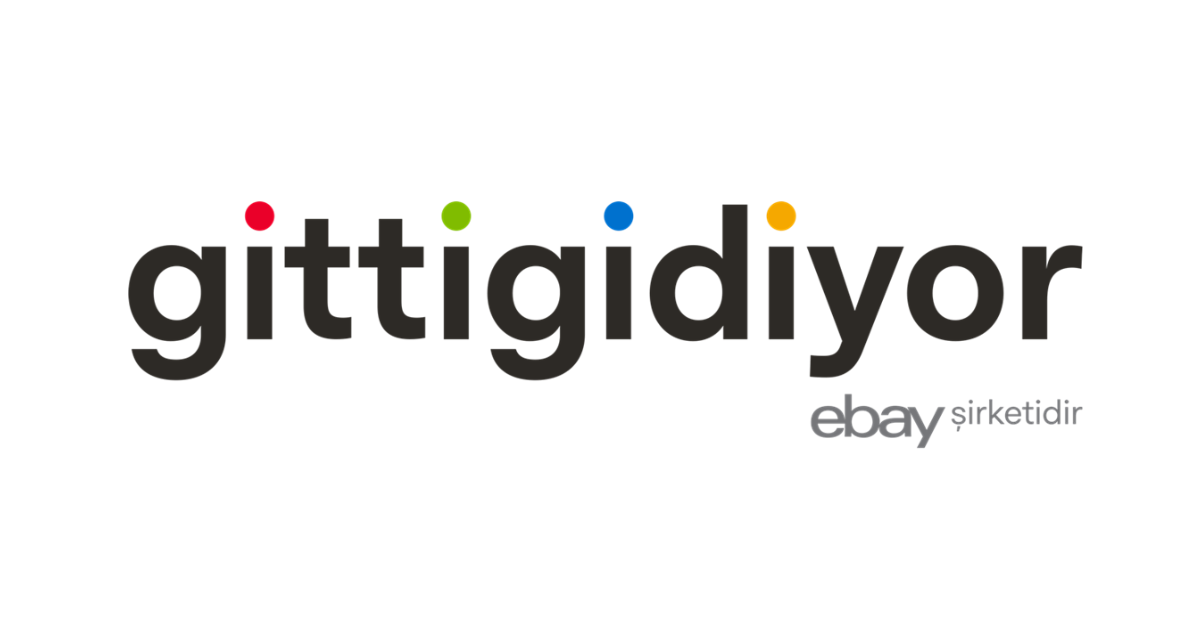 ---