Is eBay Becoming A Pay To Play Platform?
Several media outlets have recently covered increasing trends in Amazon "pay to play" search placement, which got me thinking it would be interesting to take a deeper look at the search and ad experience on eBay as well.
Annie Palmer from CNBC reported that it's not uncommon for the first 6 results in an Amazon search to be sponsored, citing the example of searching for "toothpaste."
In my research, searching "toothpaste" on eBay yields 4 sponsored listings before you reach the first organic result and 5 of the first 6 results are all sponsored.
eBay has recently introduced a new cost per click advertising model that gives sellers priority access to the #1 search slot, which leaves sellers using eBay's existing cost per sale advertising option vying for the rest of the sponsored ad slots on the search page.
Using eBay's default "best match" sort option, I found that at least 14 of the 25 results on page one are consistently sponsored ads.
Once you click through to a listing, you'll find where eBay's ad based revenue building plans really take off.  When viewed in an incognito window with no ad blockers turned on, it's not uncommon to immediately see 20-30 ads for other items stuffed onto the listing page.
This screenshot just shows the 29 ads that are visible without scrolling.  However, most of these ad modules have scroll bars - if you were to scroll to the right to see them all, "sponsored items from this seller" contains 7 ad spots, "similar sponsored items" has 12, "related sponsored items" has 12, and "people who viewed this item also view" also has 12.
Grand total on this listing page, including scrolling, comes out to a whopping 52 ad slots!
Of the 29 sponsored ads immediately viewable on this listing, 24 of them are for items sold by competitors (if you include the ones in the scroll that number becomes 45 out of 52).
This seller also has an eBay store, which depending on the level of subscription is costing them anywhere from $4.95/month - $2,999.95/month.
Can you imagine paying almost $3000 or even $300 a month to eBay for a store subscription and still having 20+ competitor's ads shown directly on your listings, possibly directing buyers away from your store?!
Store type
Store subscription fee per month
Monthly renewal
Yearly renewal
Starter

$7.95

$4.95

Basic

$27.95

$21.95

Premium

$74.95

$59.95

Anchor

$349.95

$299.95

Enterprise

Not currently available

$2,999.95
What about the "sponsored items from this seller" section? This is one of the worst parts about eBay's sponsored listings program, in my opinion. It basically forces sellers to pay eBay more just to carve out some of the overwhelming ad space on the page to show the seller's items instead of competitors'.
In fact, some sellers admit they only use Promoted Listings Standard (PLS), begrudgingly handing over an extra x% to eBay on those sales, for no other reason than to win back some valuable real estate on their own listings that they often are paying premium store subscriptions for on top of Final Value Fees on sales that typically range from 8%-14%+.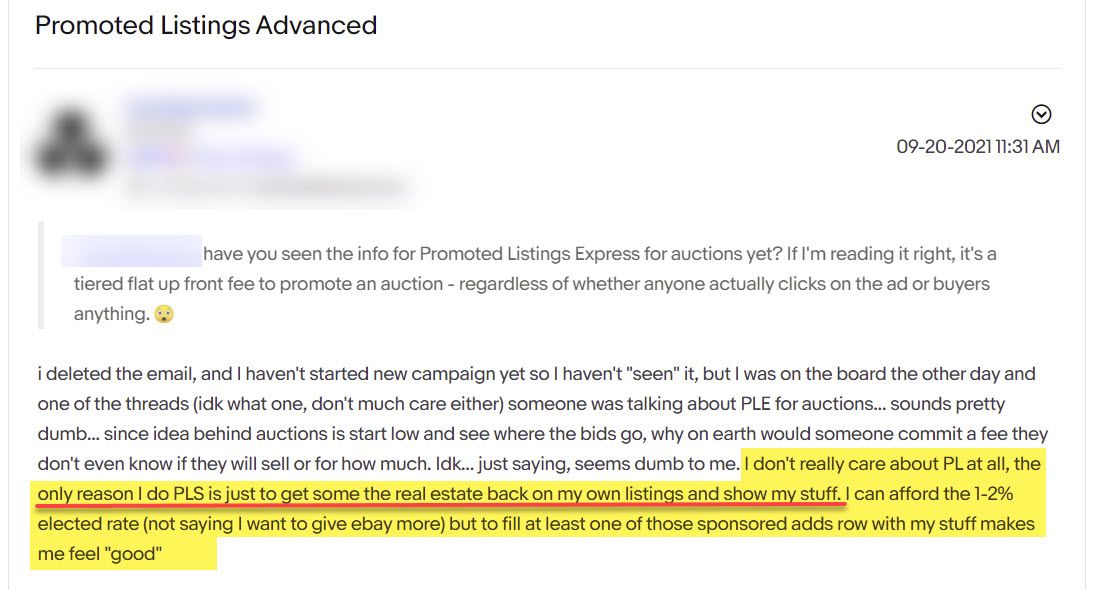 ---
This situation hits particularly hard for long-time sellers who may remember a time when eBay's "cross promotion" feature was optional.
Initially the idea of allowing eBay to promote other sellers' items on your listings was sold as a mutually beneficial quid pro quo system - sellers who were willing to participate would allow eBay to show other seller's listings on their items but in turn would have the opportunity to have their listings displayed on other seller's items as well.
Most importantly, if you didn't want to participate, you could completely opt out - losing the supposed benefit of being promoted across eBay, but retaining complete control over your listing real estate in the process.
eBay quietly killed the opt out function in 2019 when then CEO Devin Wenig was going all in on Promoted Listings to power revenue growth.  No announcements, no notice -  as noted by commenter FidoMaster on an eCommerceBytes blog post at the time, sellers just suddenly couldn't access the settings to turn off cross promotion any more.  This was later verified by @askeBay support staff.
Interestingly, eBay left a trace of the past behind with this help page that still exists today, floating out in internet limbo, even though it's been over 2 years since sellers lost the ability to opt out of cross promotion.

---
What does the future hold for eBay sponsored ads? As Juozas Kaziukenas of Marketplace Pulse put it so succinctly - eBay's plan is more ads.
eBay has made it no secret that their current and future revenue growth plans depend heavily on ads.  With the recent rollout of Promoted Listings Advanced Cost Per Click and Promoted Listings Express for Auctions, they're moving full steam ahead to find ever increasing ways to expand advertising across the eBay platform and beyond.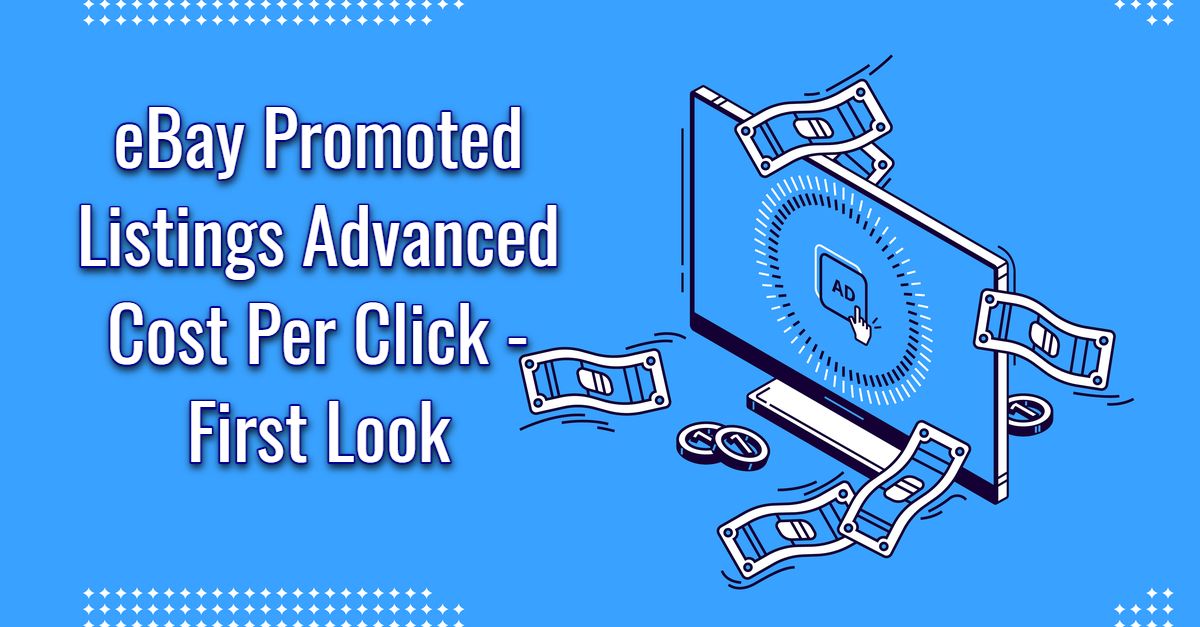 But what does this do to the user experience - both for buyers and sellers? Many consumers find an over abundance of ad placements to be distracting and off-putting. Many sellers find it frustrating that eBay continues ratcheting up their take rate by increasingly becoming a pay to play platform, while often not providing significant additional value or driving significant sales growth in return.
As one seller in the eBay community put it - "when all listings are promoted, no listings are promoted." The end result over time is a steady rise in fees as most sellers jump on board to try to keep their heads above water.
That rise in fees doesn't happen in a vacuum - if eBay thinks they can continue to ramp up take rate in this manner without sellers adding it in to pricing somewhere, they're crazy.  There is a tipping point where the focus on ad driven revenue is going to cause prices across the marketplace to rise to the point where they are no longer competitive across the web - some might even argue eBay has already passed that point.
eBay executives have a long history of touting eBay's superiority to Amazon for one reason - they don't compete with sellers.  This sentiment was echoed by CEO Jamie Iannone at the recent eBay Open Online event, saying:
From that very first day when you open your virtual doors on our platform, we are there with you every step of the way. We don't compete with you. We partner with you.
Sure, it's technically accurate since eBay doesn't directly sell anything on the platform, but that doesn't mean the relationship between eBay and sellers is quite the magical picture Iannone is trying to paint.
Many sellers are getting weary of having their "partner" force them into a corner where the only option is to pay more and more in fees just to try maintain some level of visibility on the platform. They're also tired of having eBay undercut their efforts by constantly bombarding buyers with competitors' offers at every step of the way.
Not only does eBay show distracting competitor ads on the listing page, they will also often send post purchase emails to buyers showing ads for the exact same item they just purchased at a lower price, which usually leads to a canceled sale (where eBay gets to keep a $0.30 transaction fee), a frustrated seller and a buyer who is left confounded why they weren't shown the cheaper option in search results in the first place.
It's all just another part of that transparency and trust problem eBay really needs to address if they are serious about wanting to "cultivate life-long, trusted relationships with buyers and be the seller platform of choice."
---
Share your thoughts about eBay's ad and search experience 👇
Follow Value Added Resource on Twitter & Facebook ✔
Subscribe to receive eBay seller news, tips, and insights in your inbox 📧
---