Etsy Q1 2022 Earnings Commentary
Note from Liz: Opinions expressed are mine alone and should not be taken as financial advice.
Etsy released Q1 2022 results yesterday - full presentation here. Quotes have been pulled from the call transcript here.
Important stats from the press release:
Consolidated GMS was $3.3 billion, up 3.5% year-over-year; while Etsy marketplace GMS was $2.8 billion, down 2.0% year-over-year, and up 177% compared to the first quarter of 2019.
The Etsy marketplace acquired approximately 7 million new buyers, continuing to be a meaningfully elevated rate of new buyer acquisition when compared to pre-pandemic levels.
Non-U.S. GMS for the Etsy marketplace was 45% of overall GMS, and increased 5% year-over-year on a currency-neutral basis.
Consolidated revenue was $579.3 million, up 5.2% versus the first quarter of 2021, with a take rate (i.e.,Consolidated revenue divided by Consolidated GMS of 17.8%.)
Net income was $86.1 million, down 40.1% year-over-year, with diluted earnings per share of $0.60. The decline in net income was primarily due to increased employee compensation-related expenses, as total employee headcount increased approximately 71% yearover-year, which includes increased headcount from the acquisitions of Depop and Elo7.
Etsy also released their 2022 proxy statement last week revealing a massive ~$40 Million+ compensation package for CEO Josh Silverman last year, compared to ~$1.9 Million the previous year. 🤯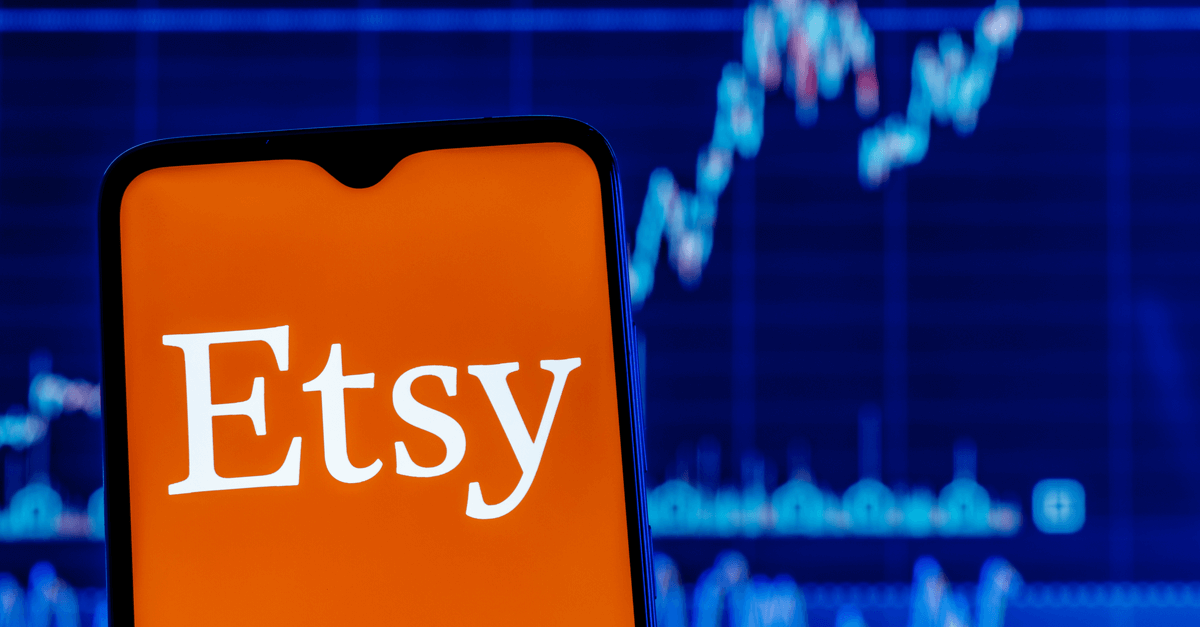 ---
The prepared remarks segment of the earnings call was pre-recorded, with a live Q&A session following.
Silverman focused a lot on bringing new buyers to the platform, saying while Etsy's core buyers are predominantly women, they plan to focus on trying to attract more of the male market too.
We estimate that about 10% of adult men in the U.S. and the U.K. shopped on Etsy at least once in the past 12 months. Roughly 37% of these men bought on Etsy on 2 or more days and 35% purchased in 2 or more categories over the same period.



We recently conducted research to better understand men's shopping attitudes and behaviors, and learned that those who identify as men are as likely as women to be intentional shoppers, valuing handcrafted items, supporting small businesses, wanting to make a positive impact with their purchases or buying items that reflect their personality.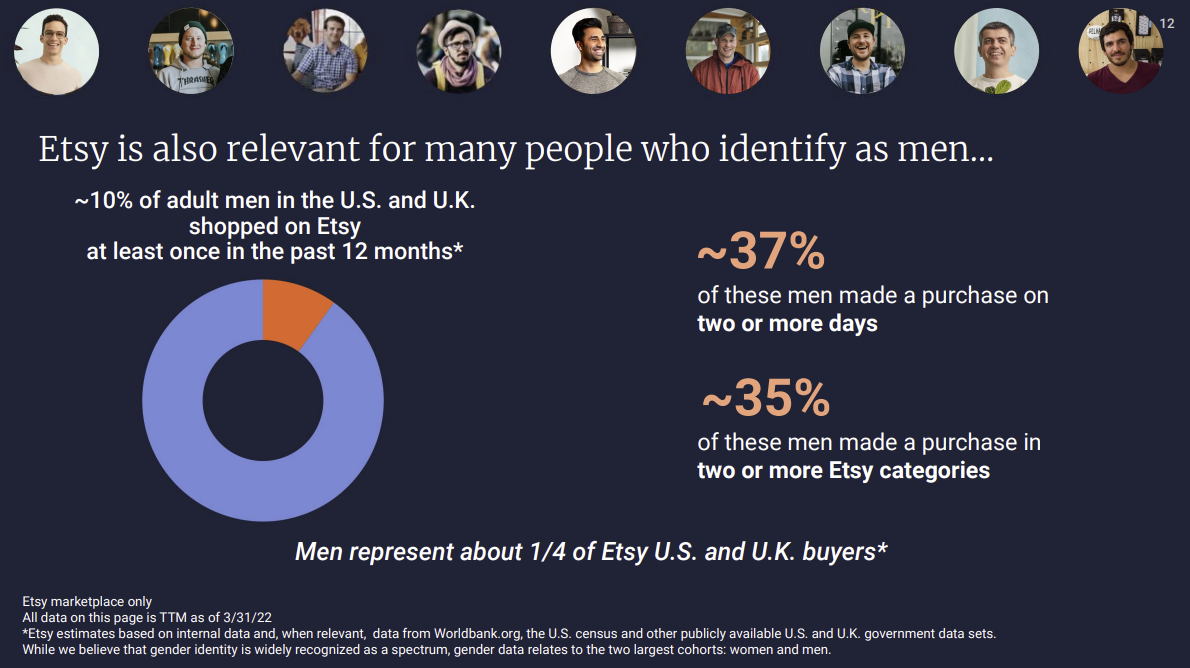 Awareness and discovery were cited as barriers to buyer growth with Silverman admitting
The top 3 reasons men give for not shopping on Etsy are very similar to the reasons women give, although all relate to awareness. Etsy hasn't come to mind. I haven't had a need for the types of items they sell, and I don't know what Etsy offers...



...one of the top things we hear about why did you not buy on Etsy more frequently is I just didn't think of it.
I just didn't think of it is certainly not what you want to hear regarding your brand - finding ways to stay top of mind will be critical to convert some of those 100M lapsed buyers.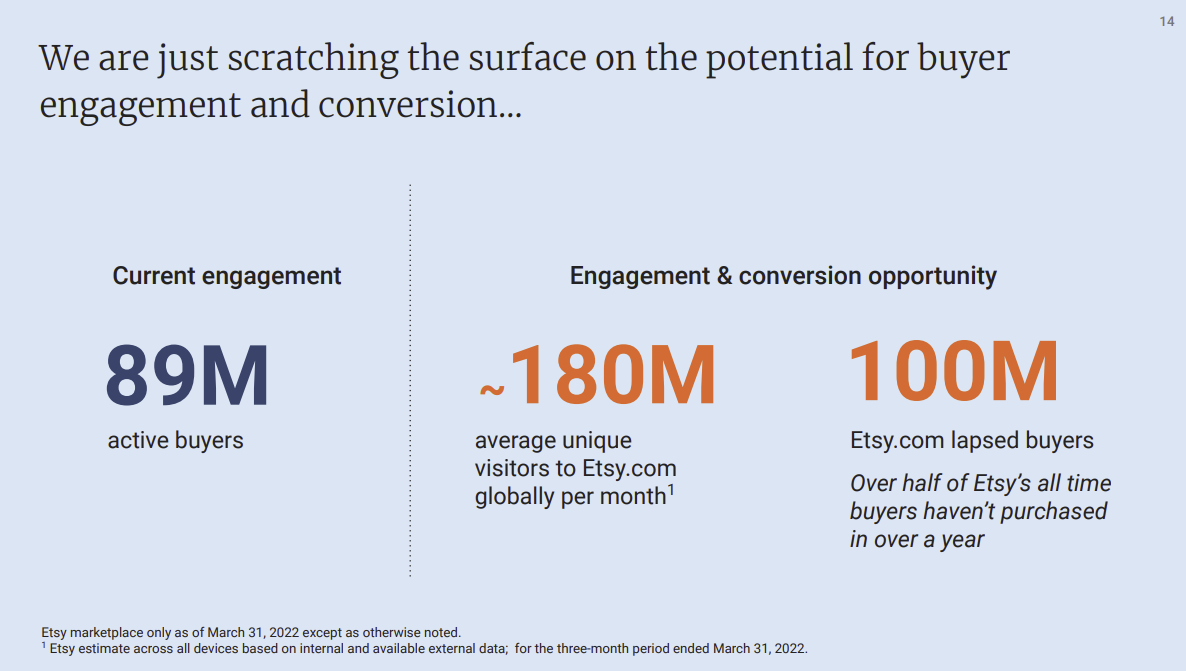 As part of efforts to make the discovery journey "more fun", Etsy has introduced a beta version of Explore, featuring seller created short video content.
For example, some of you have seen the beta version of our new Explore feature on your Etsy app.



It's an early iteration of making Etsy a starting point to window shop, discover and connect, a mall-like experience, if you will, featuring a continuous scroll of short videos made by sellers showing their items being made.



Etsy sellers are already creating this content for other channels with nearly 15 million seller videos on the site at quarter's end. And buyers are interested in watching this content. It's pretty captivating.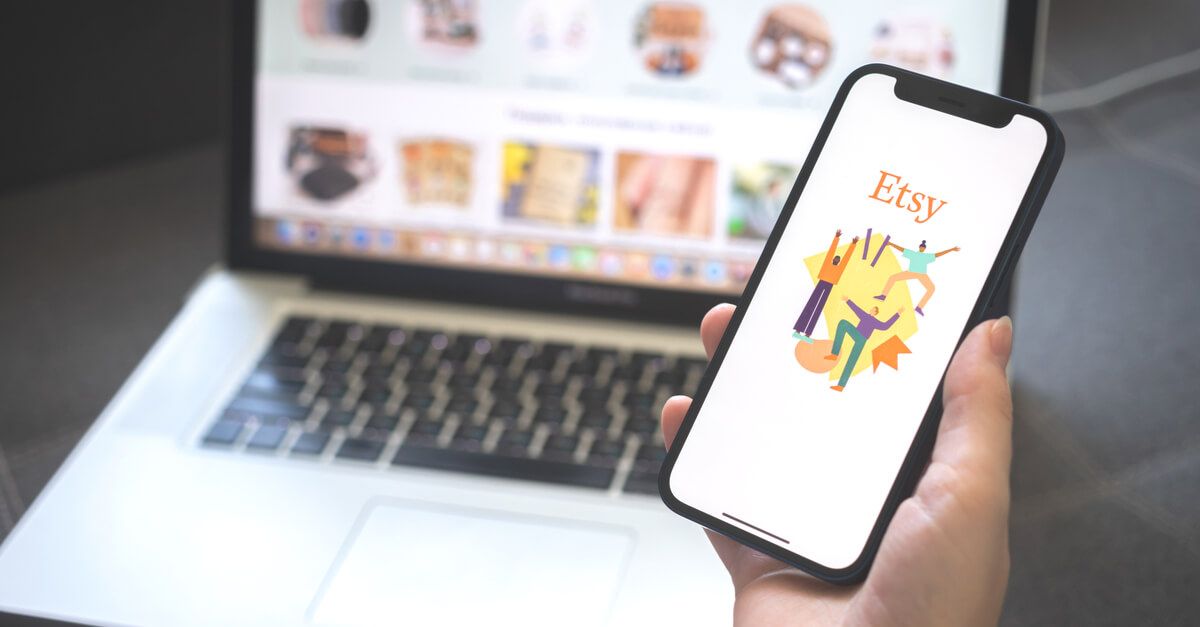 While it wasn't mentioned specifically in the call, Etsy has also been testing "add to basket" functionality shown in search results, which could be part of the "efficiency efforts" that were mentioned.
While some buyers come just for fun or inspiration, others arrive already knowing what they're looking for. For those visits, we need to make shopping on Etsy more efficient, less overwhelming and easy to navigate, so you can get what you need and get on your way quickly.
This functionality may reduce friction on the buyer side, but sellers are concerned about the possibility of increased returns or other negative consequences due to buyers not reading descriptions before adding to cart and completing checkout.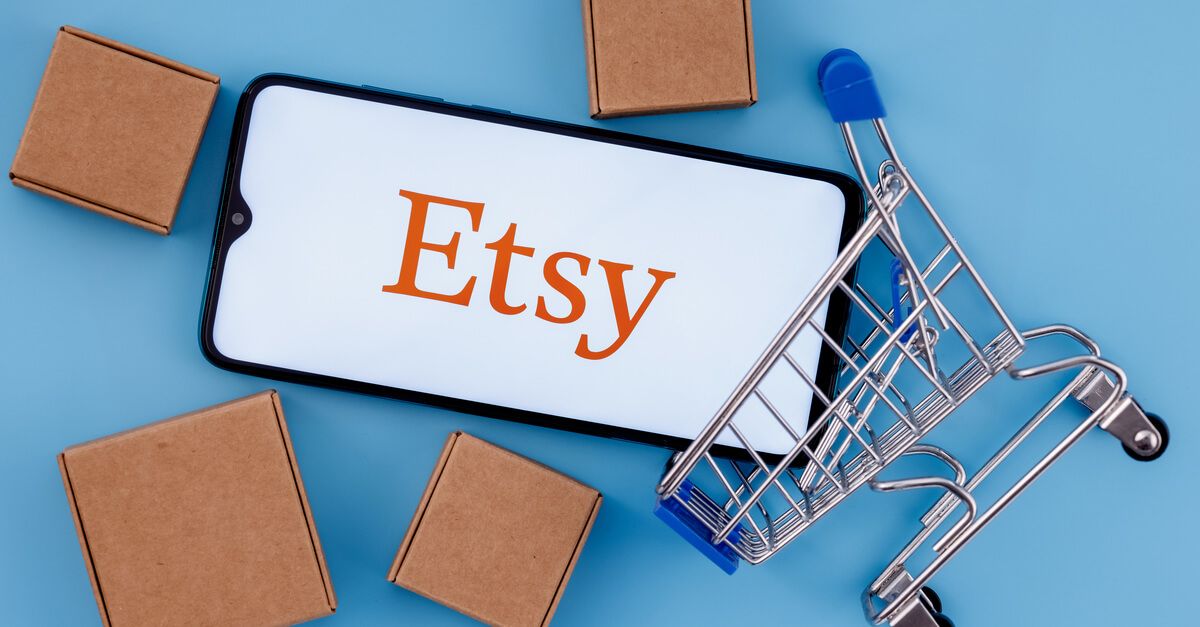 ---
Silverman cited growth and marketing efforts in the German market as particularly positive results.
Non-U.S. GMS was up 5% year-over-year on a currency-neutral basis, which was driven in part by strength in Germany, offsetting weakness in the United Kingdom, which was facing much tougher prior year comparisons...



...Our growth of habitual buyers in core non-U.S. markets held up well in the first quarter of 2022, including 55% year-over-year growth in habitual buyers in Germany...



We showed you a clip of one of our new ad campaigns, but we're also running campaigns in the U.K. and Germany.
Both sellers and investors should be aware of German Packaging Act regulations going into effect July 1st that could impact sales in Germany in Q3 and beyond. Many sellers are concerns about these new regulations and are considering blocking all sales to the country to avoid the cost and burden of compliance.
Some sellers in the Etsy community who wish to "opt out" are finding it difficult to change their shipping settings. Apparently Etsy doesn't offer a simple option to block a country if you aren't in the US or Canada and don't use calculated shipping, instead you must go through the tedious process of listing every country you do ship to instead of just the few you do not.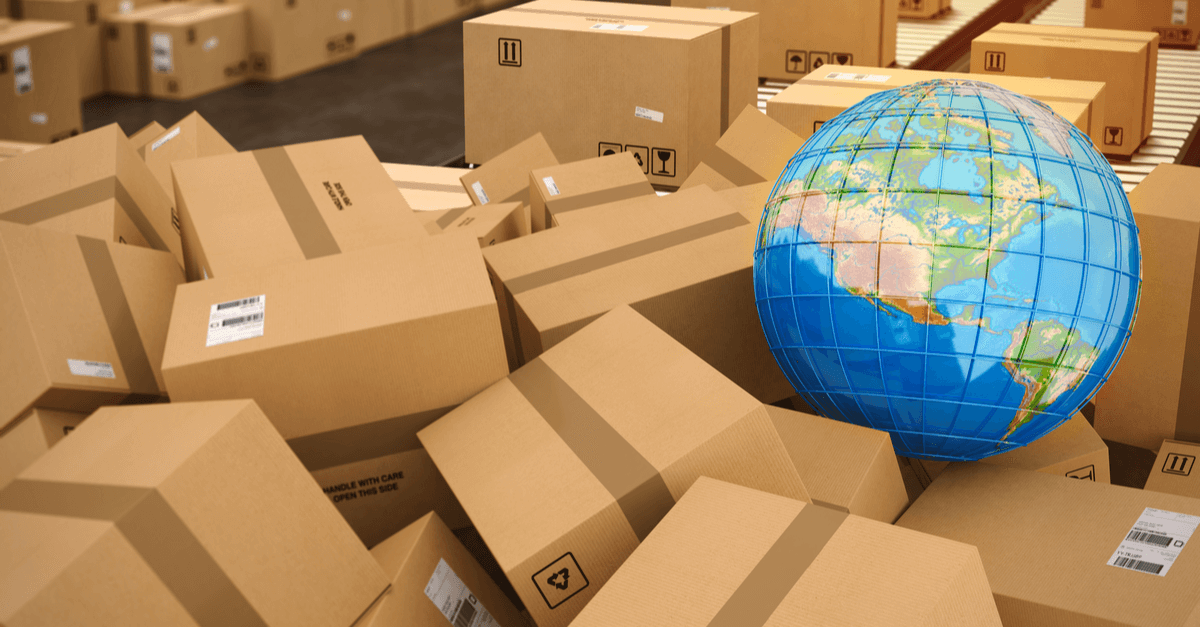 ---
Josh also mentioned familiar themes around trust and promised a new protection program for both buyers and sellers is in the works.
We have enormous conviction that making Etsy a more trusted and reliable place to shop can be a big growth unlock.



3 in 5 Etsy buyers are unsure we would have their back if something goes wrong with their transaction. Similarly, sellers worry about times when something goes wrong through no fault of their own. And we want them to know that we'll support them.



Later this quarter, we'll share our plans for investments in a new purchase protection program that will extend to both buyers and sellers in a generous way.
In April, Etsy rolled out a new reporting portal to streamline IP infringement claims as well.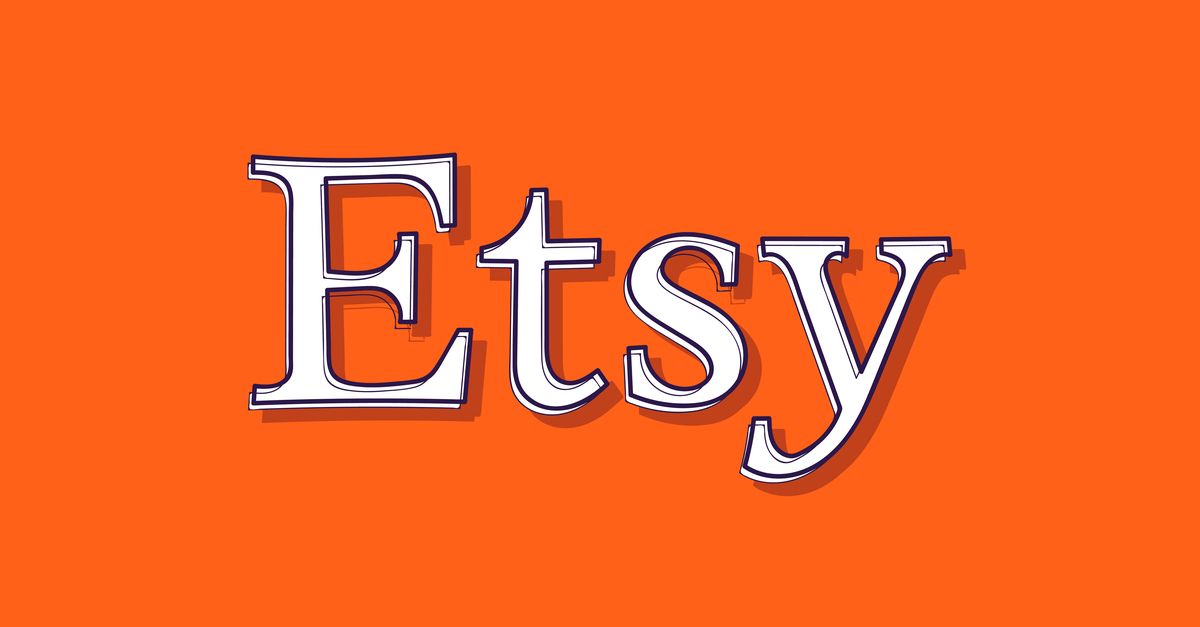 ---
The elephant in the room of course was the recent Etsy Seller Strike which gained international media attention.
CFO Rachel Glaser's prepared remarks echoed COO Raina Moskowitz's recent Etsy blog post title Delivering Value To Etsy Sellers, clearly dancing around the issue without explicitly acknowledging it.
Before closing out on revenue, let me discuss the recent increase to our transaction fee, which went into effect on April 11...



...When the fee change went into effect, we saw less than 1% of sellers go into temporary vacation mode. Active listings dipped less than 1% during that week and returned to the prior level when the week was over. Based on past experience and significant research leading up to the change, this was all within our expectations. The overall impact to our GMS for the week was not material and seller churn remains at normal levels quarter-to-date...



...while no one likes fee raises, we actually heard from thousands of sellers supporting our efforts to invest in them. We really value input from our sellers and are confident in our investment plans. We trust that sellers will judge us by our outcomes when they see the value we are able to provide.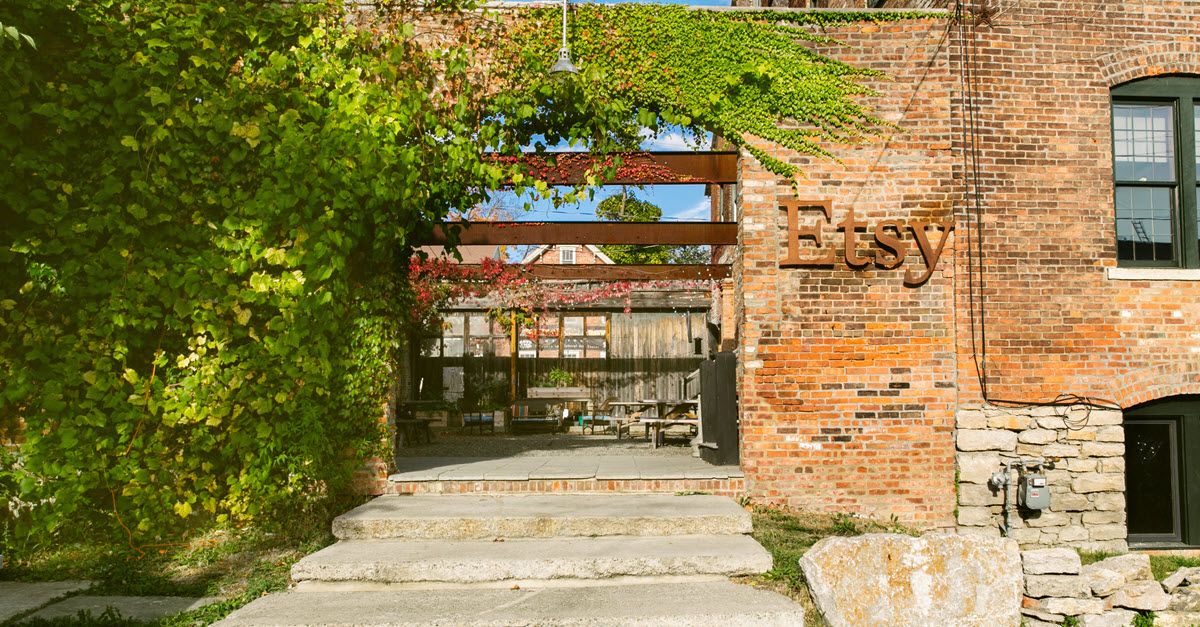 Silverman was forced to confront the issue head on in the Q&A segment, when he was asked:
...we want to talk about the sellers reaction to our recent fee increase. How do sellers view all the incremental investments that we're making? And has there been any impact from the boycott that we saw in the middle of the month on our GMS growth?
So we announced a fee increase in mid-February,and the reaction from sellers was actually more muted than in prior fee increases. No one likes it when prices go up.But actually, the seller reaction was less negative than it's been in the past...



...so what we've been hearing from thousands of sellers is we need you, Etsy to be investing to grow...our sellers have a lot of choices in terms of where they can sell. And what they find and what we know is that the value on Etsy is greater. We provide more value than the other alternatives. That was true before the fee increase, it's true after the fee increase...



...As Rachel shared, while there were a small number of sellers who managed to get quite a lot of media attention, in fact, less than 1% of sellers chose to put their shop on vacation mode during that week. We saw no material impact to sales for the week, much less for the quarter. And we saw no material impact to churn.



And we think the reason is that the value proposition that Etsy offers is really compelling. And whether the transaction fee is 5% or 6.5% right now, what sellers really need is us bringing them more buyers so they can drive more sales and the pie gets bigger for everyone.
Josh did not directly address any of the other demands of the strike, like the lack of customer service, the star seller program, resellers of mass produced goods flooding the market, and Etsy's mandatory off-site ads program.
Rachel did mention the off-site ad program in one answer, revealing that it subsidizes about 40% of Etsy's marketing spend.
Lastly, I want to remind everybody that we have our off-site ad program, and that subsidizes about 40% of everything that we spend.



That's just another way of saying we can spend even deeper into the ROI curve, it was effectively when we launched that program, wasn't a take rate increase, but it's a success-based model, so the sellers only pay that additional fee if they've had a successful sale.



That subsidy we get is not seen in the marketing expense line, it's seen obviously in the revenue line. So that is another factor that sort of offsets our marketing spend.
Josh's comments about mass production completely glossed over the very real problems of mass produced items being resold on the platform at cheaper prices than similar vintage or handmade items.
I think for the past maybe roughly 100 years, the world has been well schooled in the benefits of mass production. And there's been a lot of focus on mass production, making things cheaper.



But it's also true that when something is produced in mass production overseas to get on a boat, to end up at a port, to get on a train, to get on a truck, to finally make it to your house, and there's maybe 3 markups along the way, the opportunity to buy directly from the person who made it without all those markups along the way, can offer that seller the chance, that maker the chance to earn a fair price and a fair living, while also offering great value to the buyer.
While the strike may have been "immaterial" financially, the media attention clearly had an impact and both Silverman and Glaser appeared to be feeling the heat.
It will be interesting to see how that dynamic continues to play out if Etsy does not deliver on promised improvements in key areas of seller discontent.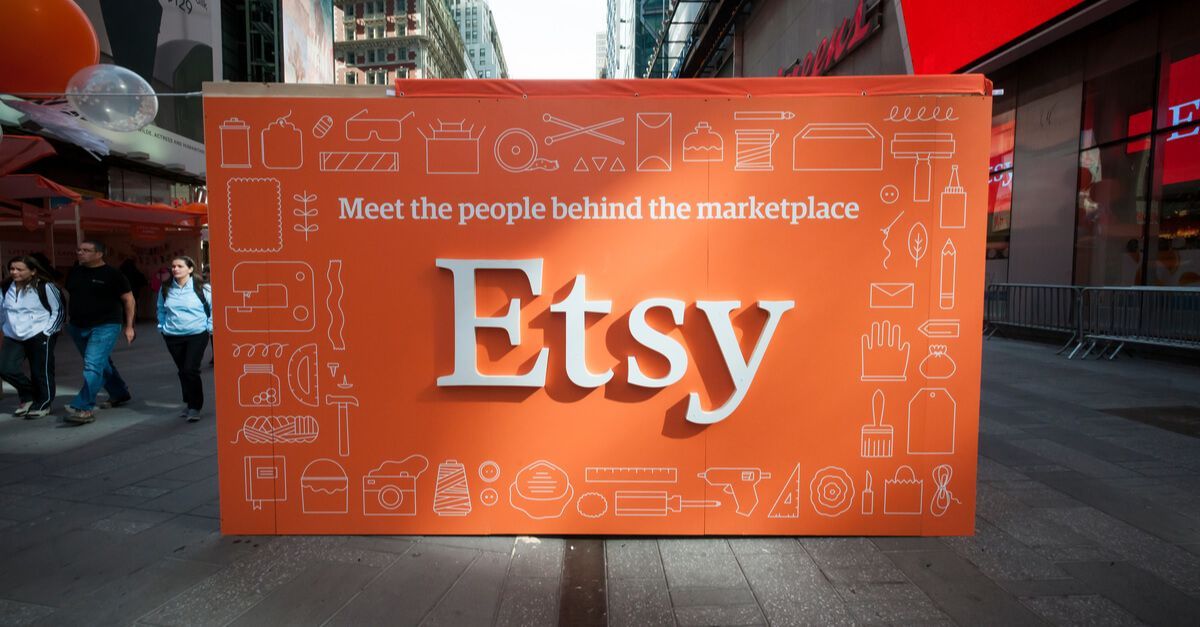 ---
Value Added Resource is proudly reader supported - learn more about our commitment to an ad-free user experience or buy me a coffee. ☕
---