eBay Expands Immediate Pay Requirement Test To Auctions
eBay appears to have quietly expanded its testing of requiring some buyers to provide payment details upfront to auctions as well as offers.
While there has been no public announcement of the feature from eBay directly, a savvy seller in the eBay community took note of the change in their Buyer Requirements settings.
I think this is new.



If you go to your Account Settings > Selling>Selling Preferences>scroll down to "Your Buyers">Managing who can buy from you>click "edit">scroll down to "Buyer Payment Requirements"....you'll see you have been automatically opted in (at least I have been) to require immediate payment not only for buyer submitted offers (which is not new) but now also for buyer bids.



If you do NOT want to be opted in for this (possibly because you get a lot of multiple item purchases), it looks like you need to opt out.
Previously, eBay only showed the option to enable or disable this setting for buyer offers, but they have now also added a separate option to require buyers to provide a payment method "before they place a bid" - indicating the feature is being been extended to auctions as well as offers.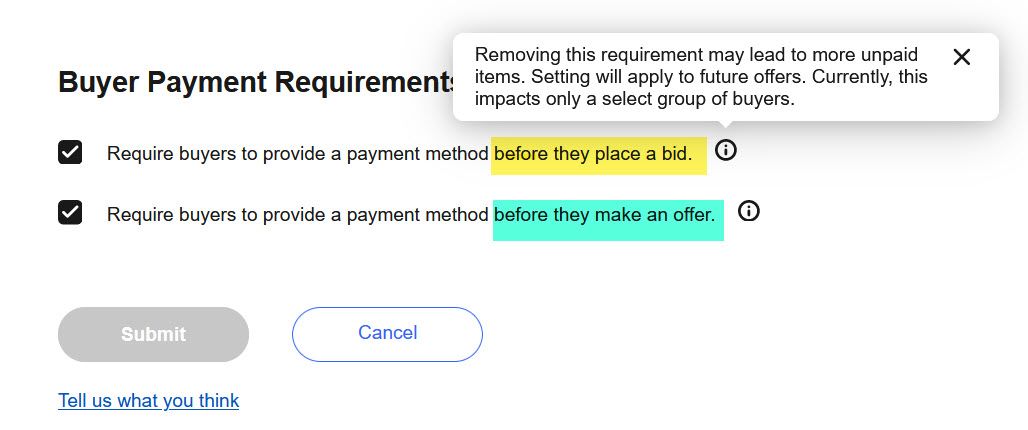 In the past, sellers had the option to require immediate payment on some auctions, but it only worked on ones that also offered a Buy It Now price and would be removed as soon as a bid was placed.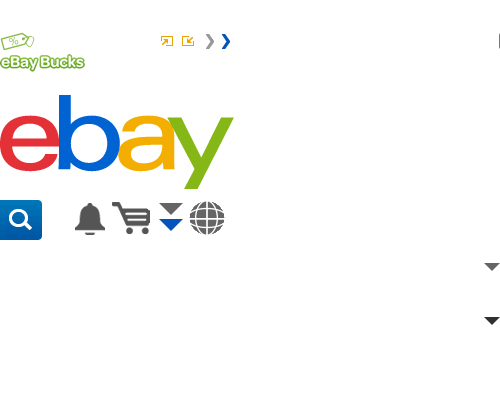 Auction with Buy It Now: Immediate payment only applies to Buy It Now transactions, so when a bid is placed, the immediate payment requirement disappears. (If you listed with a reserve price, it disappears after the reserve price is met.) The listing then becomes a regular auction listing and the highest bidder wins
It does not appear eBay has gotten around to updating their help and policy pages to reflect the new Buyer Requirement option.
IMPORTANT NOTE: it looks like eBay has made this an automatic default opt-in setting, just like they did with the rollout of immediate pay for offers, and many sellers may not even be aware the option is turned on.
If you do not wish to require buyers to provide upfront payment details before placing a bid on auctions, you will need to navigate to the Buyer Requirements page in Seller Hub and uncheck the box.
https://www.ebay.com/bmgt/buyerrequirements
If you want to disable the requirement only for specific buyers, you can add them individually to the Buyer Requirement Exclusion List.
https://www.ebay.com/bmgt/ExemptBuyers
Also keep in mind, while this feature is optional on the seller side it is not optional on the buyer side and currently testing is only including "a select group of buyers."
eBay does not provide any details about how they select the test group or how many buyers are currently in the test, so as a seller if you want to use this setting, be warned that it will not apply to all buyers until/unless eBay expands the requirement sitewide after limited testing.
---
eBay CEO Jamie Iannone has been talking about "fixing unpaid items" on the platform since at least 2021, but has been slow in making any progress on the issue.
Many sellers have complained about unpaid items for years, but introducing an immediate payment option for offers and auctions has proven difficult to do without risking alienating buyers.
Buyers have resisted the requirement for Offers with concerns about not trusting eBay to store their payment information, having funds temporarily put on hold with authorizations, and most importantly, the inability to be able to combine shipping on multiple items when immediate pay is required.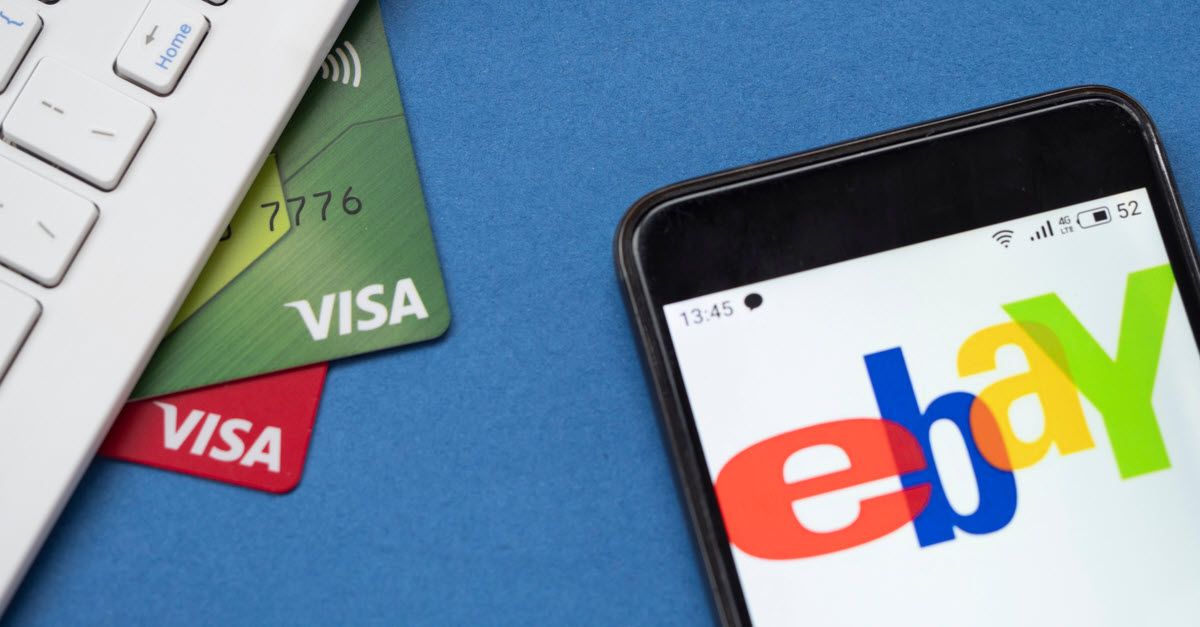 It appears some buyers who have encountered the requirement on auctions have similar concerns.
How do stop the default payment method? I buy a lot of sports cards multiple auctions. And I don't want to pay for shipping over and over again. I usually wait to combine all the shipping cost and other default payment it does it as soon as I win the auction. Thanks in advance
Now I'm asked to bid the way ebay wants me too. Why the change, Control?This auction ends soon. Before you bid, you'll need to confirm your default payment method and shipping address.
I have been buying and selling on Ebay since 1998. I have stellar feedback as both a buyer and seller. I have NEVER been late on a payment and pay promptly. I like using paypal and having the option to use whichever account I choose to pay with depending on how much money or credit is available on the accounts I have linked to paypal. Sometimes I like to split payments between accounts, sometimes I like to just use a credit card and not use paypal at all.



Why am I being forced to set an automatic default payment method out of the clear blue? Why is my freedom being taken away? This is only hurting sellers. We all know in an auction format competition is key for a seller to get a good price, so if I don't bid, that hurts a seller, which in turn, hurts ebay's bottom line as well. REMOVE THIS NEW FORCED DEFAULT PAYMENT CHOICE!
Hopefully this won't be a time-sensitive roadblock, such that you go to slam in your snipe bid 5 seconds from the end (I do my own sniping in my buying account, without a service), only to have a popup screen interrupting to demand your payment info at that time.



In other words, I would not have a problem supplying the payment info in advance of my bid, but bids in general can be split-second affairs as the auction winds down to its final seconds, and we can't have the heat of battle interrupted with a demand for paperwork.



In the not too distant past, the bidding procedure would have an Are You Sure? confirmation popup appear, just when you thought you'd submitted your winning bid by hitting the, you know, Bid button, and so you'd watch the auction end half a second before your now-confirmed bid went in. Common sense finally prevailed and the confirmation popup went away. Hopefully this new test enhancement is not going to just be another, similar, unnecessary last-second hurdle to overcome.
As if alienating buyers wasn't risky enough, making these kinds of changes with auto-opt in as the default and no public announcement or warning also risks alienating sellers.
While many sellers may be happy to have this option available, forcing it by default with no notice doesn't exactly engender trust that eBay truly wants to be the "seller partner of choice."
---
What do you think of eBay's efforts to solve unpaid items on the platform? Let us know in the comments below how these changes impact you as a buyer or seller!
---