eBay Teases New Payout Timing Options?
I just got an email from eBay with an intriguing subject line.
"Improved shipping label experience, new payout timing options, and more"
New payout timing options? This I have to see!
Unfortunately, the body of the email failed to mention anything about payout timing.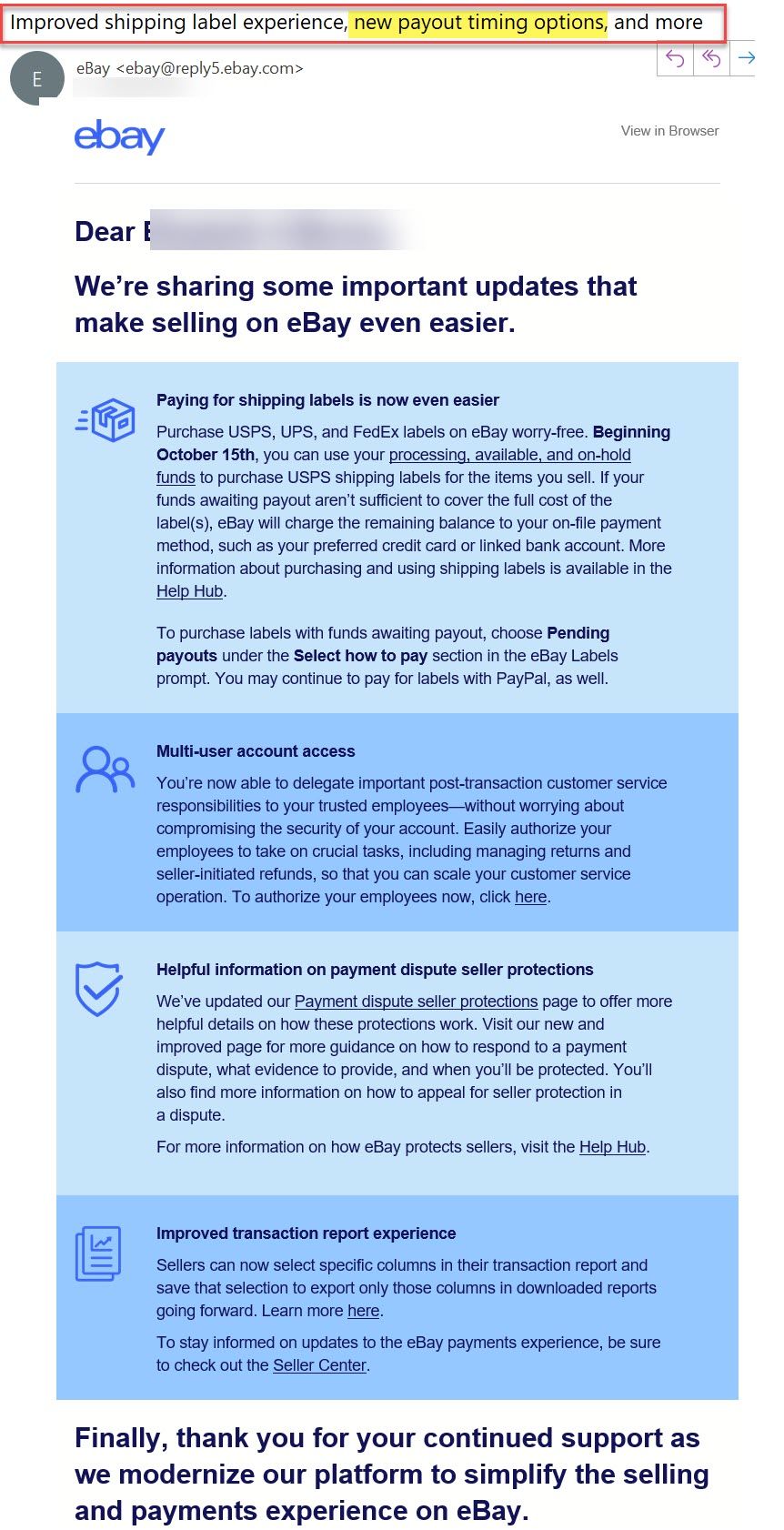 ---
I'm a bit confused by the first part about shipping labels.
Paying for shipping labels is now even easier
Purchase USPS, UPS, and FedEx labels on eBay worry-free. Beginning October 15th, you can use your processing, available, and on-hold funds to purchase USPS shipping labels for the items you sell. If your funds awaiting payout aren't sufficient to cover the full cost of the label(s), eBay will charge the remaining balance to your on-file payment method, such as your preferred credit card or linked bank account. More information about purchasing and using shipping labels is available in the Help Hub.



To purchase labels with funds awaiting payout, choose Pending payouts under the Select how to pay section in the eBay Labels prompt. You may continue to pay for labels with PayPal, as well.
This account is registered in the US, where sellers have had the ability to pay for shipping labels from pending Managed Payments for over a year, maybe longer - this account has been in Managed Payments since August 2020 and it's been an option at least that long. As far as I can tell, this is neither new nor improved.
I know it has been a major source of frustration for eBay UK sellers that they can't use pending funds for shipping labels.  eBay has told them it will be available "in the coming months" since early this year but I've yet to see an official announcement about it.
The sections for multi-user account access and payment disputes also didn't provide any new or different information, they just linked to pages that show current/existing functionality and policies.
Customizing the fields in the financial reports is a nice addition, though again that isn't exactly new.  It may be a phased roll out, so some sellers may not have seen it previously, but this account has had those options showing in the Payments tab for over a month.
Improved transaction report experience
Sellers can now select specific columns in their transaction report and save that selection to export only those columns in downloaded reports going forward. Learn more here.



To stay informed on updates to the eBay payments experience, be sure to check out the Seller Center.
Just to make sure I hadn't missed something about payout timing options, I also clicked through to "check out the seller center" - which still just displays the daily or weekly options for payouts.

---
Was this just another example of eBay communication failure or is eBay really getting ready to launch "new payout timing options"?
What new payout timing options would you like to see eBay implement? Let me know in the comments below!
---