eBay Tax ID Doesn't Match, Requires Sellers To Submit W9
UPDATE 9-20-22
Sellers are once again reporting receiving ominous messages from eBay requiring them to update their Tax Payer Identification numbers - even if they already did so to resolve this same issue last year when it was first requested.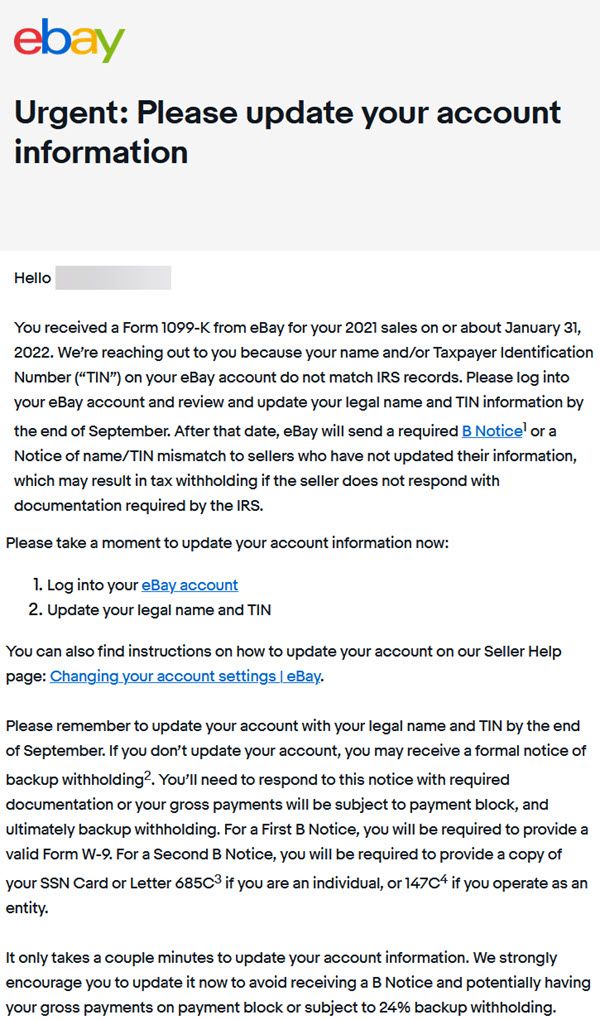 Are these notices in error? Has eBay lost the documentation sellers have already sent them? What the heck is going on in San Jose?
I'll update as soon as more information is available - in the meantime leave a comment below if you've received this notice from eBay!
---
UPDATE 12-9-21
Affected sellers are still struggling to get information and assistance from eBay on this issue.
It appears the problem at least for some sellers may be related to the fact that eBay does not provide an option for sole proprietors to enter an EIN instead of a social security number.
I've checked over my tax forms and ebay multiple times. There is no spot to put the EIN on my ebay account. The W9 states that either SSN or EIN is sufficient enough. Ebay has my correct SSN as do all my tax forms. It's super unhelpful to request a W9 without asking what is needed. I'm afraid of writing my SSN / EIN on the W9 form when there's no indication of what is being asked of. I'm planning on writing down both but I'm still scratching my head when as noted in the pics I've attached earlier that either an SSN or EIN should be enough and Ebay has my SSN. An email stating what is off would've been a million times more helpful than waking up to some notification about sending a W9 that I'm afraid of filling out incorrectly. Worse there's no way for me to add my EIN to ebay as a sole proprietor at least on my account there isn't.
I just ended my conversation with them on the phone and they were no help. They said send in the W9 with my SSN and EIN and THEN the EIN will be added to my account but I can't add one myself. I file taxes with my SSN and EIN. The W9 says when requested either is sufficient info. Ebay can't get anything straight and AGAIN I'm afraid of losing my account because of their issues.
Another seller indicated they have two different accounts, both under the same name and SSN, but only one account received the notice.
I'm hesitant to upload a w9 as I'm not sure exactly what information eBay is looking for and I don't want to give them something that conflicts with what they have on record since I've had this account since 1999 and had several different "primary" addresses in that time span and I don't want to go through the hassle of having an account restriction or payment holds just because I send them something different then what they are looking for.



But it amazes me that I file as a sole proprietor using my personal SSN and have never had tax issues and furthermore they're not requesting any information from my secondary selling account which uses the exact information from this account.



I never had problems with PayPal in regards to the 1099-K, I didn't have problems getting into managed payments and I just don't understand what is causing the account to get flagged now and they're vagueness is unsettling.
---
Some sellers have received a confusing message from eBay stating the IRS says their tax payer ID number does not match what eBay has on file and requiring a W9 form to be submitted or else they may have to withhold up to 24% of the seller's funds.
I checked my seller hub this morning and saw the below error (see attached): I haven't made any changes to my status as a seller with the IRS and I thought I always filed just using my SSN when it came time to do my taxes. Now it looks like eBay is requesting a W-9.



Is this affecting anyone else? I believe this has to be an error on eBay's side, maybe to do with managed payments, but I don't want to ignore and end up in eBay jail and have my listings become affected.
I received a letter that looks like it is from ebay saying that I need to mail in a W9 form or they will withhold 24% of my payouts? It looks official but I am wondering if it's legit or not. Anyone know about this?
Attempts to get clear answers from eBay community staff weren't very successful, but Velvet@ebay did acknowledge these were legitimate requests and eBay is required to obtain W9 forms from some sellers.
You're right that it's always good to be cautious so I'm glad (they) chatted with eBay support to verify the letter they received. Some sellers do need to send in a W9 form and payments will be blocked until it's received.
I'm sorry but I don't have a lot to tell. Form W9 is an IRS form for providing necessary information to a person or company that will be making payments to another person or company.



While I can't get into specifics, there are certain instances in which we may require this of a seller and it appears the OP fell into one of those instances. You could try contacting the Payments team to see if there is any additional information they would be able to share with you, but this is all I have to provide.
It's not entirely clear yet, but this may be related to changes to federal tag reporting laws that will take effect next year.
One seller suggested the issue could be that eBay does not provide an option for sole proprietors to input an EIN number, only an SSN number.
I received this same notice today and I'm super confused.



I'm a sole proprietor and my SSN is already in my business details. I also have an EIN but there's no where to enter it on eBay that I can find. Do I just send in the W9 with my EIN and SSN and hope for the best?
---
I'll update as more information becomes available but in the mean time, let me know in the comments below if you've received a notice from eBay requesting a W9!
---