eBay Promotes Presale Violations
Update 7-13-21: 6 weeks later, eBay still refused to remove Funko Pop Funkoween presale listings that have been reported to them for violating presale policies.
eBay staff are apparently powerless to get any answers or action internally on this issue, but have at least promised that buyers will be protected even if it is past the timeframe for eBay Money Back Guarantee protection.
---
UPDATE 6-28-21: It's now been 4 weeks and despite repeated attempts to get eBay to take action, there are still many Funkoween 2021 listings active that violate the eBay's presale policies and FTC 30 Day Mailing rules.
Clearly eBay is in no hurry to take action to protect buyers on their platform.
Here's just one example:
I will continue to press eBay for answers and report the violating listings both to eBay and the FTC.
---
UPDATE 6-2-21  - I received a response from brian@ebay to my thread about this on the eBay community.
We are always trying to deliver the best selection of products on site, no matter what the category. FUNKO new releases are always some of the most highly sought after items on eBay. The FUNKOween event was an attempt to display all of the new upcoming releases from one of our top brands, but in doing so, some listings that were featured circumvented our 30 day presale policy. We have realized some of the items being featured were against our policy and ended the event.
That response and eBay's Tweet about the promotion brings up another question - was this a partnership with the official Funko brand to promote their event even though it should have been clear from the start the items being promoted were not going to be released until September/October and couldn't possibly comply with eBay's Presale policies?
It's also important to note - so far most of the listings that were in the event are still active, so eBay may have "ended the event" but they don't appear to have taken action against the listings that are violating the presale policy.
---
Legitimate sellers often lament that eBay's enforcement of policies is sometimes lax and lopsided.  The community is full of complaints about having items removed when "hundreds of items just like it are allowed on the site."
eBay's response typically has something to do with the impossibility of proactively policing over a billion active listings and an encouragement to report listings which violate policy so they can be reviewed and "appropriate action" can be taken.
Most users know from experience that using the report function is usually an exercise in futility and it's hard not to blame them for feeling frustrated, especially when eBay themselves blatantly promote listings which violate multiple policies.
One common example of selective enforcement is the eBay Presale Policy.
Presale listings must clearly state that they are "presale" in the title and description, and guarantee shipment within 30 days of purchase.



In order to protect buyer and seller guarantees, presale listings must follow eBay policy, including listing the date the item will be available to ship.



What is the policy?

Presale listings must guarantee that the item will be shipped within 30 days of purchase.

The date the item will be available to ship must be clearly stated in the listing.

Listings must clearly indicate in the title and description that the item is being offered for presale.

Handling time details should include the time the seller will wait to acquire the item, in addition to the time it will take to ship to the buyer.

Activity that doesn't follow eBay policy could result in a range of actions including for example: administratively ending or canceling listings, hiding or demoting all listings from search results, lowering seller rating, buying or selling restrictions, and account suspension. All fees paid or payable in relation to listings or accounts on which we take any action will not be refunded or otherwise credited to your account.



Why does eBay have this policy?
This policy helps ensure our customers are protected by eBay buyer and seller guarantees.
---
While researching a different topic, I happened to click on the Collectibles category and was greeted with an official eBay banner promoting Funko Pop Funkoween 2021 Presale.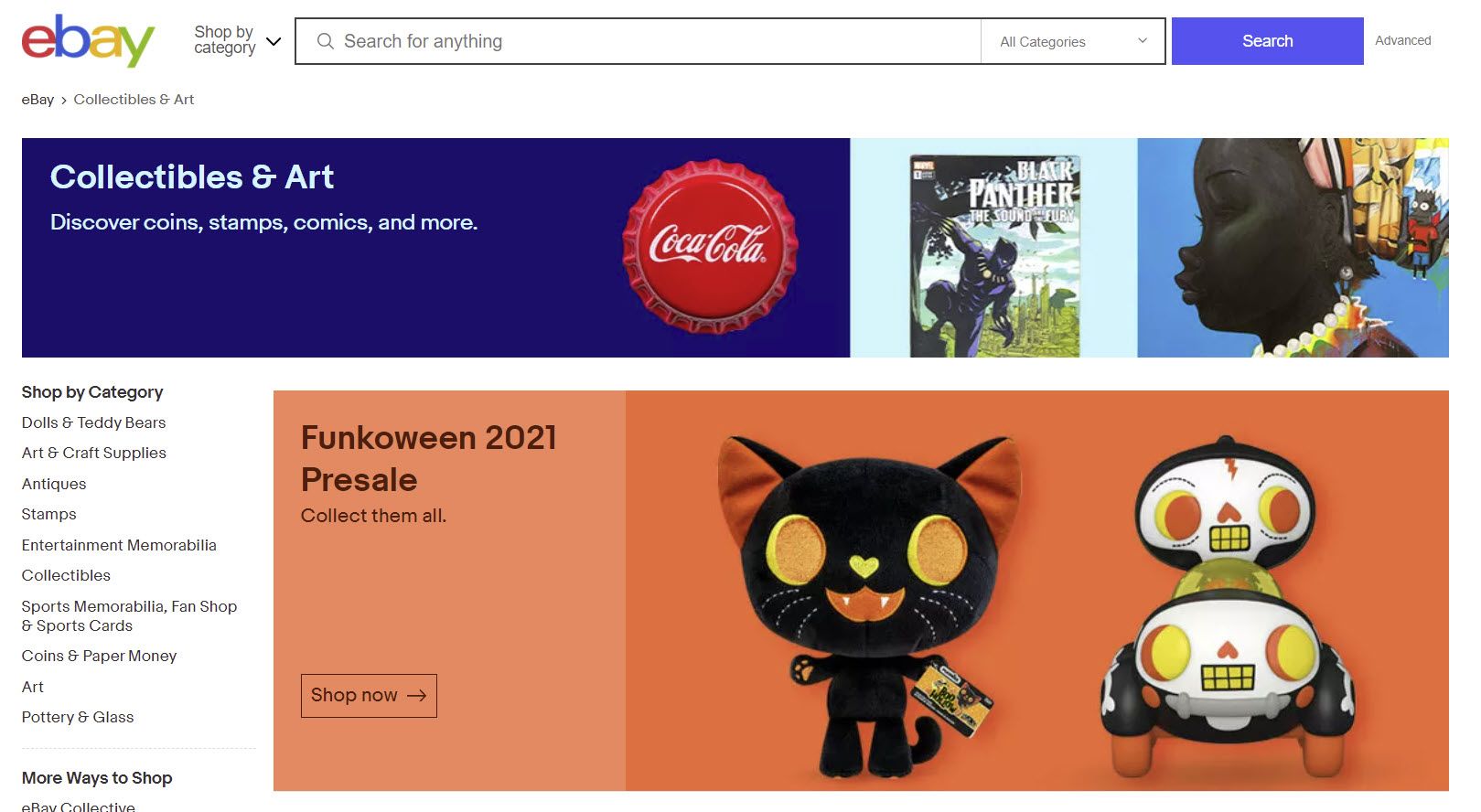 Clicking through "Shop now" reveals a list of 457 results, very few of which comply with the very first requirement that presale listings must clearly state they are presale in the title.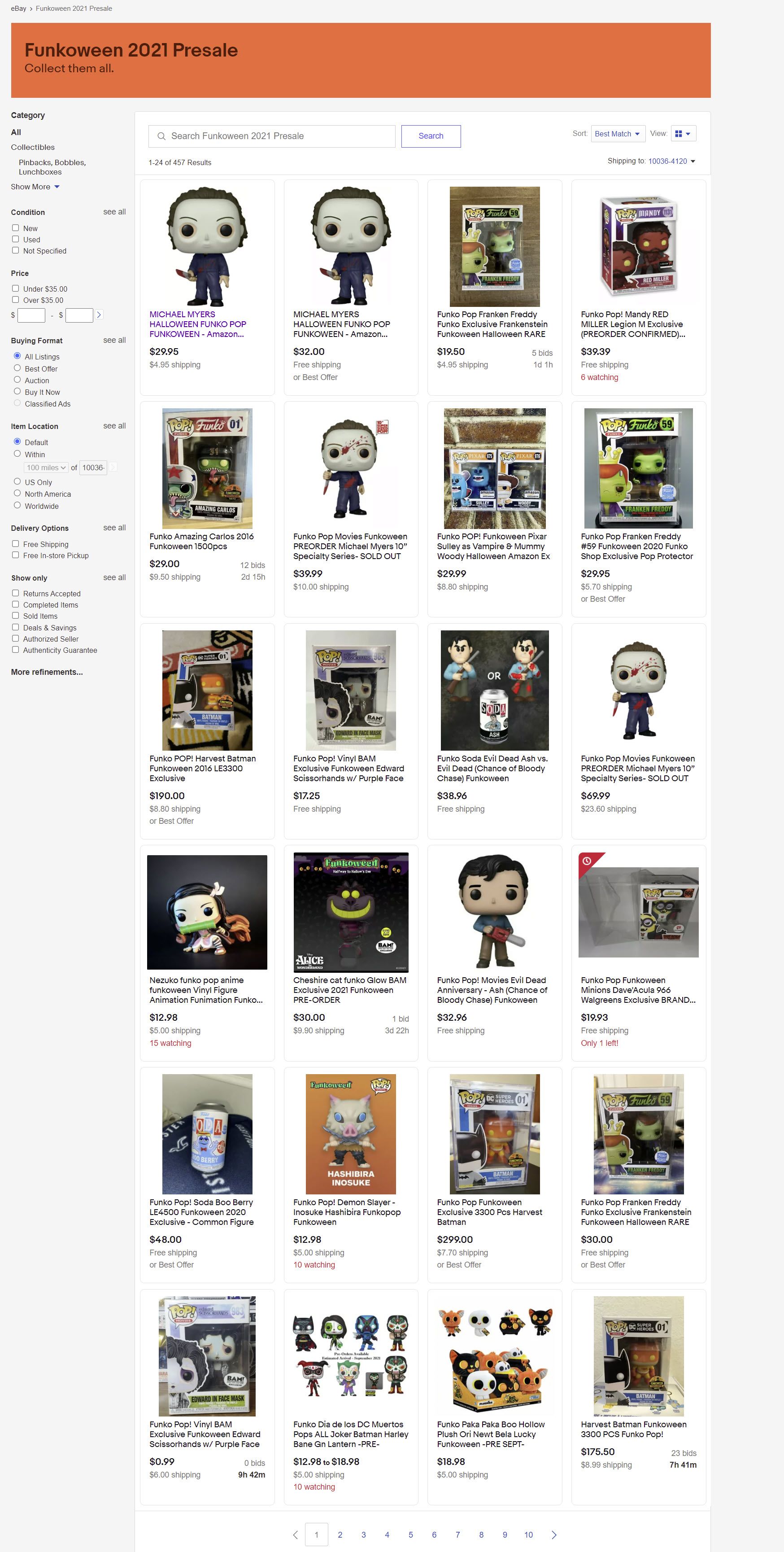 Let's look at a few listings just for example -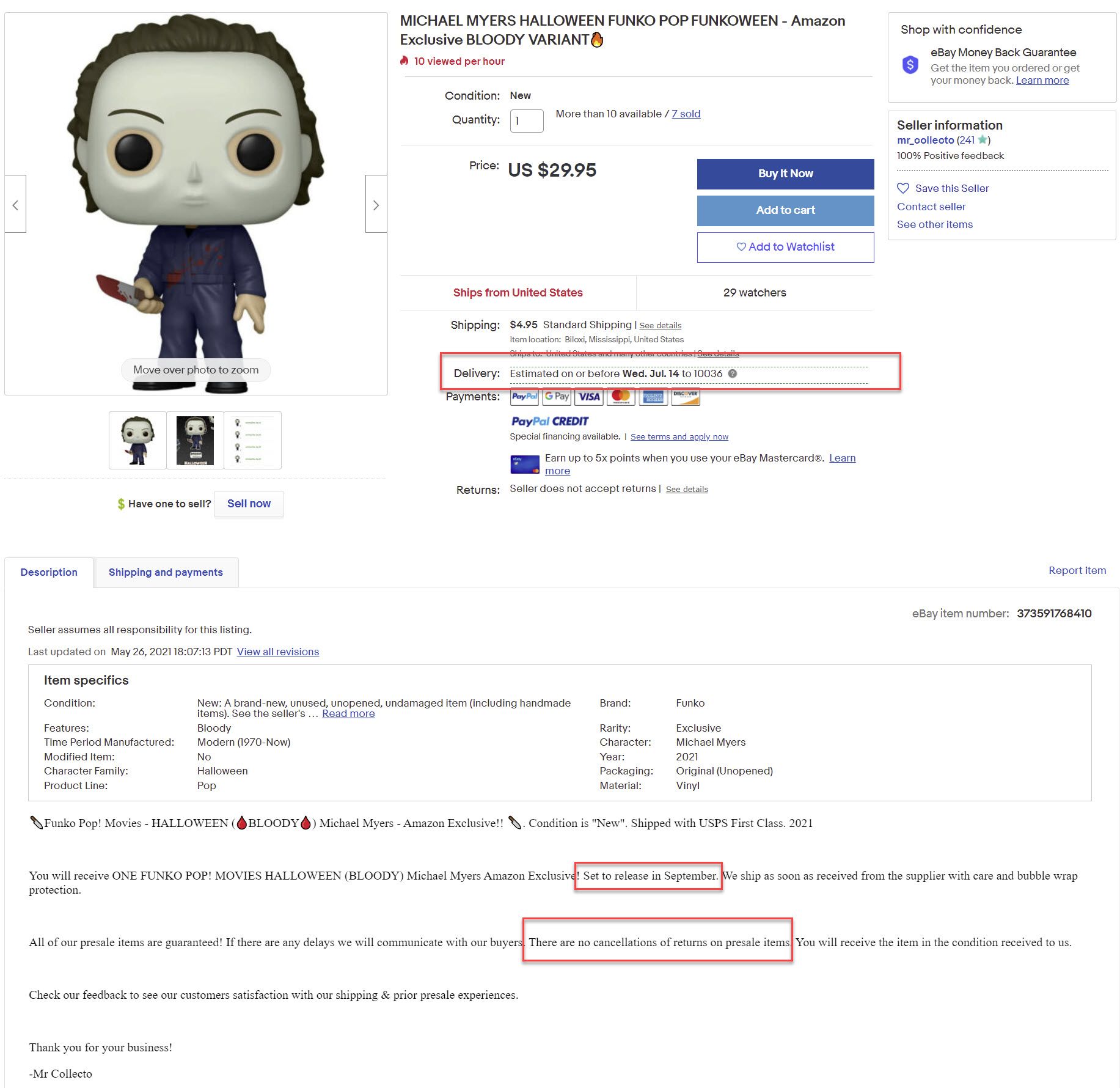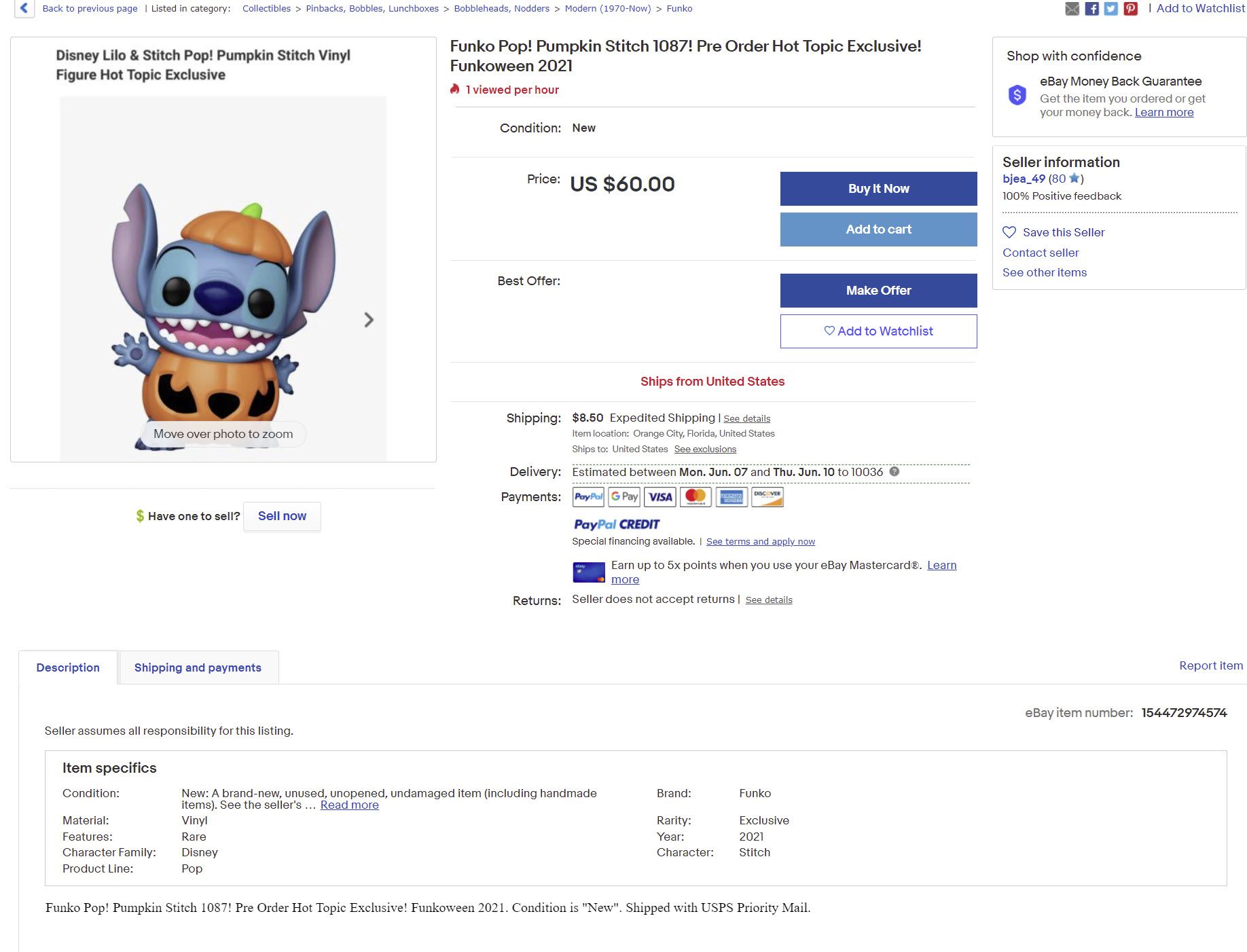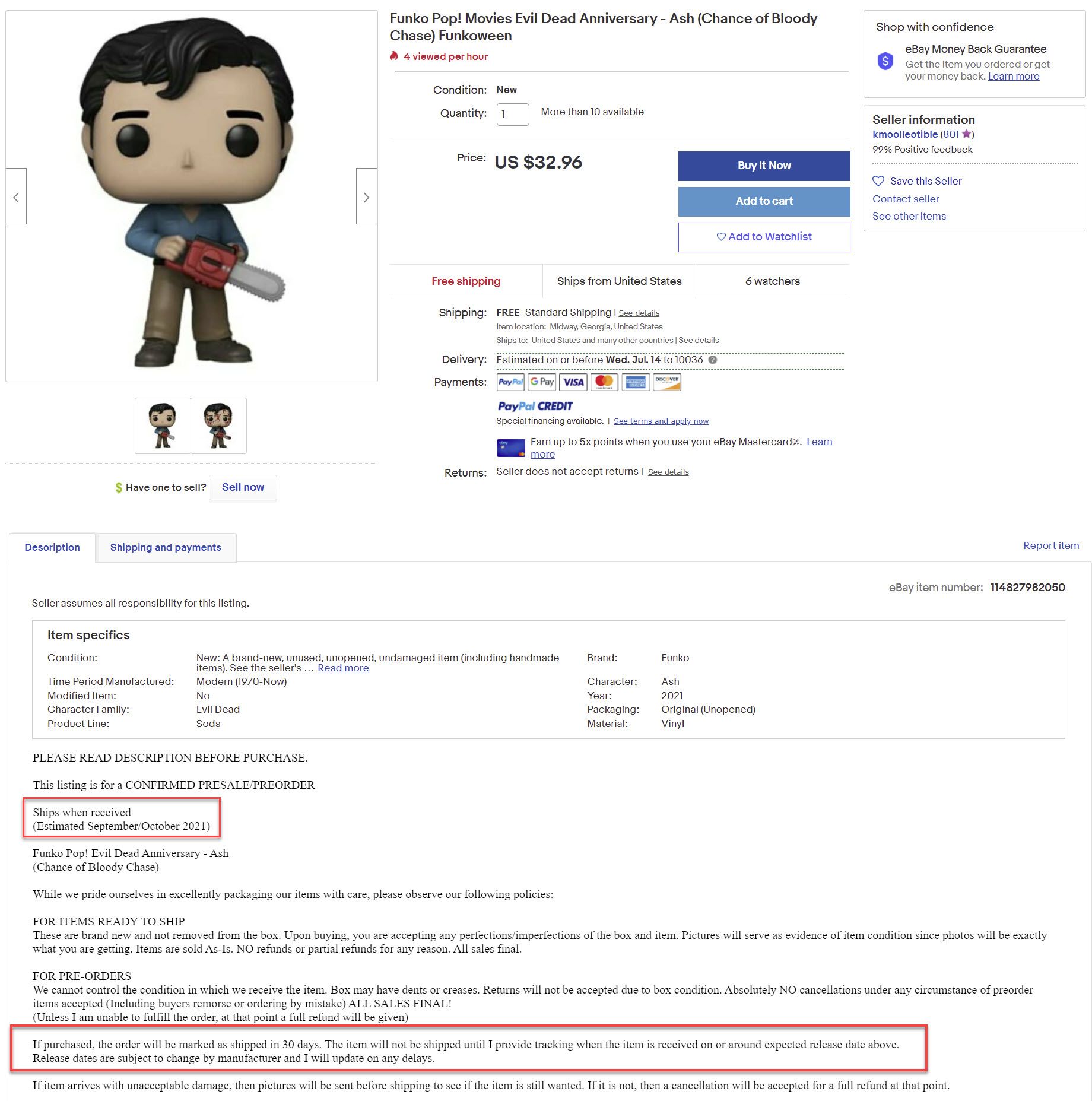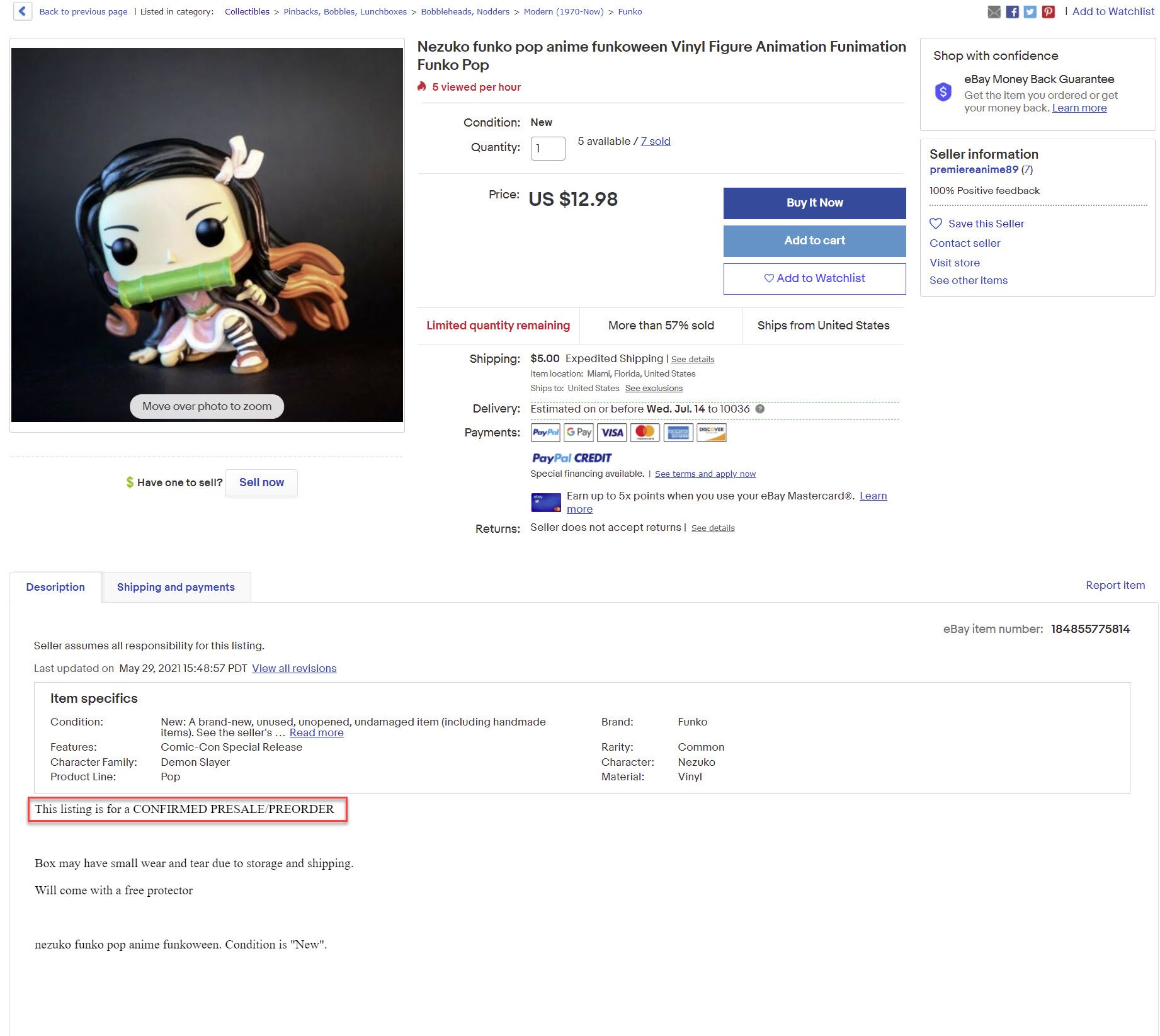 Almost all of the listings I checked violated at least one point of the presale policy.
No presale noted in title
No specific shipping date listed in description
Not shipping within 30 days of purchase
Remember - these are all listings that are being specifically and intentionally promoted by eBay and given favored placement on eBay's site.
---
Why Is Shipping Within 30 Days So Important?
eBay says they have this policy to "help ensure our customers are protected by eBay buyer and seller guarantees."
What they are referring to here is the eBay Money Back Guarantee (MBG) which gives a 30 day timeframe for buyers to file either an "item not received" or "item not described" claim.
What happens if an item isn't received after 30 days? Buyers are often frustrated to find out eBay washes their hands of the transaction and leaves them to pursue other courses for financial compensation, such as a credit card chargeback or PayPal dispute.
The Federal Trade Commission also has what is commonly referred to as the "30 Day Mail Order Rule."
The federal Mail, Internet, or Telephone Order Merchandise Rule applies to most things you order by mail, online, or by phone. It says:



Sellers have to ship your order within the time they (or their ads) say — that goes whether they say "2-Day Shipping" or "In Stock & Ships Today." If they don't give a time, they must ship within 30 days of when you placed your order.


If there's a delay shipping your order, the seller has to tell you and give you the choice of either agreeing to the delay or canceling your order for a full refund.


If the seller doesn't ship your order, it has to give you a full refund — not just a gift card or store credit.
---
This isn't the first time eBay has been called out for promoting presale listings in violation of policies.  One example of many:
---
Maybe this would be a good subject for eBay's Integrity Helpline to tackle?
---
Follow Value Added Resource on Twitter & Facebook ✔
Subscribe to receive eBay seller news, tips, and insights in your inbox 📧
Interested in being featured in the Seller Spotlight? Tips, story ideas or guest post recommendations? Contact me here!
Share with friends and leave a comment 👇
---