eBay Runs Holiday Hustle Sweepstakes On Facebook
eBay is running a holiday sweepstakes contest, but curiously it's exclusive to Facebook.
The first item you sold on eBay will always hold a special spot.



Do you remember what it was? Tell us about it in the comments for a chance to win a $200 eBay Gift Card.



Tell us on our eBay for Business Facebook in the comments!



See Official Rules for all requirements
As always, I recommend reading the full Terms and Conditions, but here are a few excerpts:
Timing: The Sweepstakes begins on December 10, 2022 at approximately 3:00 p.m. United States Eastern Time ("ET"), ends on December 27, 2022 at 11:59 p.m. ET (the "Promotion Period"), and consists of eight (8) independent Sweepstakes, each associated with a unique Facebook post ("Sweepstakes Post"), which will be posted on the dates stated below. Facebook's servers are the official time-keeping devices for the Sweepstakes.



How to Enter:

Participation Requirements: To participate, you will need to have a Facebook account. Creating an account is free but is subject to Facebook's terms and conditions: https://www.facebook.com/legal/terms. If entering via a mobile device and using your wireless carrier's network, standard data charges from your wireless carrier may apply.



Entry Requirements: During the Promotion Period, locate any of Sponsor's Sweepstakes Posts on the eBay for Business Facebook page and take the following actions to receive one (1) entry into the applicable Sweepstakes drawing:

(1) Comment on the selected Sweepstakes Post responding to the question posed. Your comment should include a relevant response. The format of the response must be text, a photo and/or a video, as requested in the Sweepstakes Post; and
(2) You must not change your Facebook handle from the time that you enter until all prizes are awarded (as described in Section 6).



Your comment need not include any reference, positive or negative, to Sponsor's products or services. Including such a reference or image in your comment will not improve your chances of winning.



Content Restrictions for your Entry:

Your comment must be your original work;
Your comment must not convey any claims of Sponsor's products or services that would be deemed unsubstantiated or deceptive if made by Sponsor;
Your comment must not disparage Sponsor or any other parties;
You must have permission to include the names or likenesses of other individuals and to grant the rights set forth in Section 5. You should only include minors in your comment if they are your children/wards. If requested, entrant must be able to provide such permissions in a form acceptable to Sponsor;
Your comment must not make references to or include alcohol, illegal drugs, tobacco, or firearms/weapons, any activities that are or appear to be dangerous, or any political agenda;
Your comment may not be indecent, obscene, sexually explicit, hateful, promotes bigotry, racism, hatred, or harm against any group or individual or promotes discrimination based on race, gender, religion, nationality, disability, sexual orientation, or age; and
Your comment may not be tortious, defamatory, libelous, or contain material that is unlawful in any way.
---
Ironically, eBay is hosting the page for the terms and conditions on Amazon Web Services.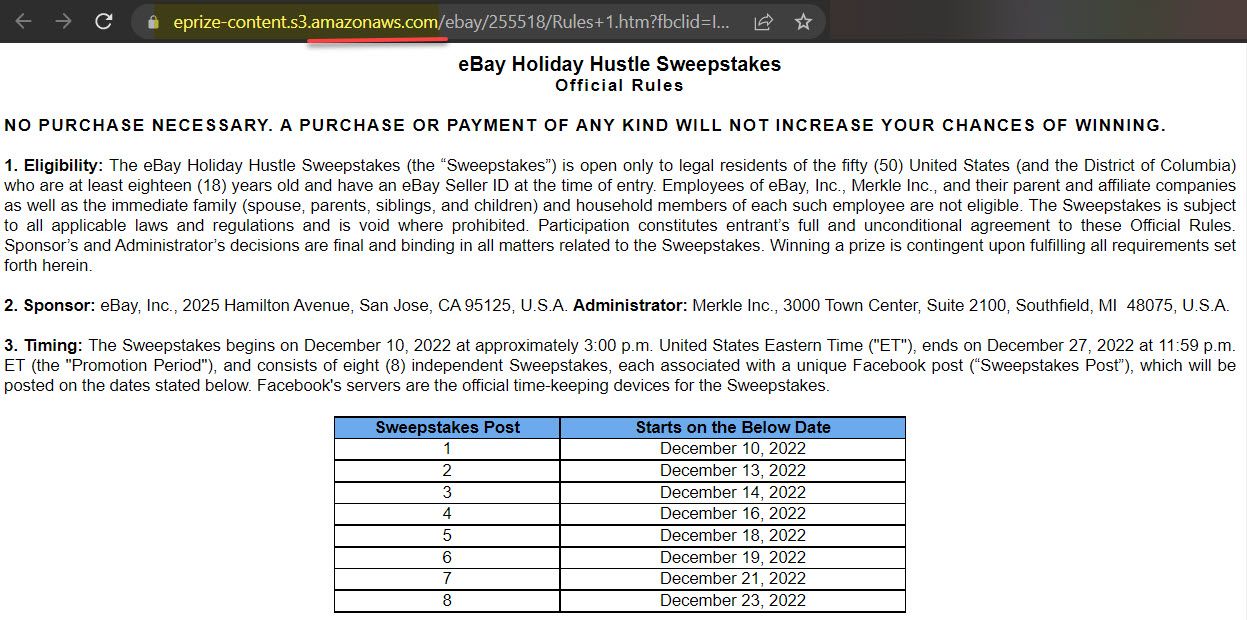 And CEO Jamie Iannone clearly still hasn't figured out it's a terrible business strategy to direct your seller customers to a competitor website instead of engaging with them on eBay's own forums - which is ironically where eBay made this announcement.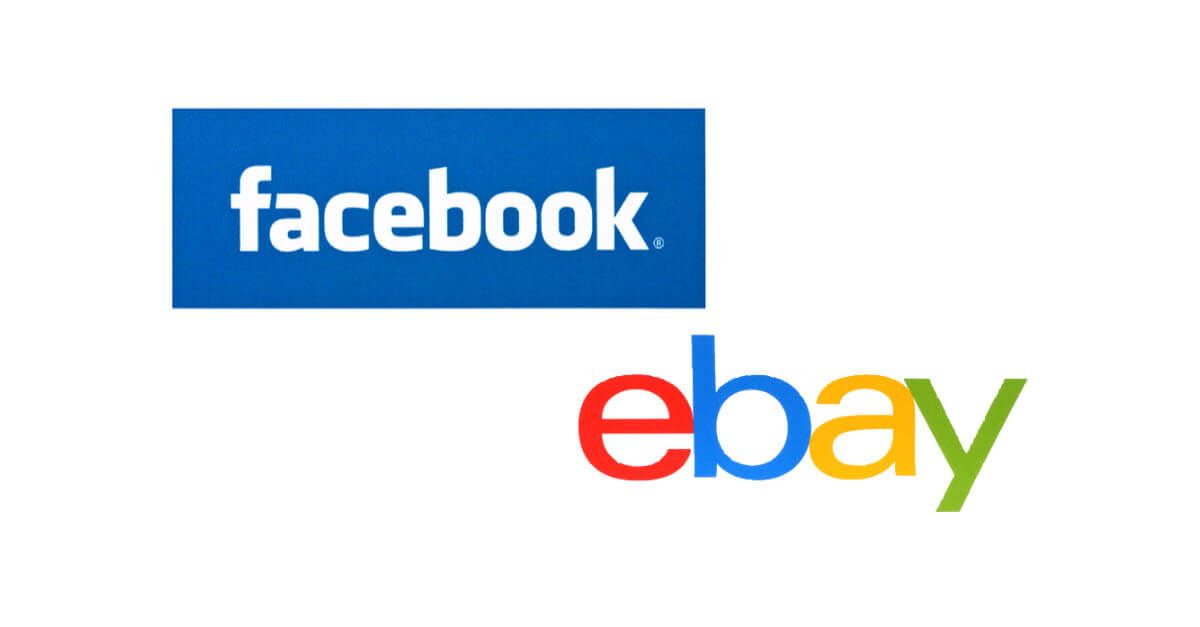 You would think the CEO of an ecommerce company that is hemorrhaging buyers and sellers alike would understand the last thing in the world you should want is for your customers to spend even one minute on a competitor's site, and like it or not with Facebook Marketplace and Instagram Shops that is exactly what Meta is.
It's a giant misexecution blunder that keeps repeating and I'm sure Mark Zuckerberg thanks eBay very much for the traffic. 🤦‍♀️
---