eBay Gets Rid Of Condensed Packing Slip Option
eBay is making more changes to the selling workflow, getting rid of the condensed packing slip option that could be printed before printing shipping labels.
We have a workflow set up where we print the packing slip before printing a label out. Today, I noticed that it appears eBay is no longer affording that option? When we go to the print label page, I am seeing the message:



"We have introduced a new Packing slip tool with new functionalities. You can print your packing slip after generating the label."



Why are they forcing that upon us? Is there a way/place to print the packing slip first?
What happened to SELLERS ability to print condensed packing slip with BUYERS name & address plus item description and quantity purchased. It was easy to print, and it fit 3-up on a letter size piece of paper.



This gave SELLER ability to use printed slip to easily pick multiple orders, group them by size and weight before deciding what method to ship by.



Now SELLER has to purchase label first to get condensed sized packing slip with name, address and quantity.



THIS IS NOT AN IMPROVEMENT.
Starting today the link to print a packing slip is not available on the Purchase shipping label page until a label is printed. Since the packing slip is part of the package being mailed, it is required before printing the label to get the correct weight of the package.
Is anyone else unhappy about having to purchase a shipping label before being able to print a packing slip .. seems kinda %$ backward to me .. My shipping process has ALWAYS been to print a packing slip first to verify that I am packing the correct item AND to include the packing slip INSIDE my interior packaging .. Obviously someone who has never actually shipped an item decided that this new way was better
I went to print a packing slip today only to find the new packing slip layout. Now it takes an entire page of paper with lots of wasted white space. They have including the shipping charge and the sales tax collected where before these were missing. I do not mind listing those charges, but it takes extra clicks now to print it and consumes more paper.
I liked the old purchase label packing slip because it had 1 line per item, not 5 lines per item. For large combined orders I would print it before buying a label, use it to pull the items for shipment and order then as listed on the packing slip as a convenience to the buyer, put the items and the 1-sheet packing slip in the package, weigh, and ship.



If I cannot print a 1-line per item packing slip before printing a label, I will no longer include a packing slip in my shipments of large combined orders. This much longer packing ship that is not available until a label is printed is NOT an improvement, IMHO.
---
For those who prefer to print the packing slip before printing a shipping label, there is a work around that may not be as convenient, but should still work.
Instead of going to the shipping page, which now only provides the option to print the packing slip after the shipping label, you can print a packing slip from the drop down menu on the orders page.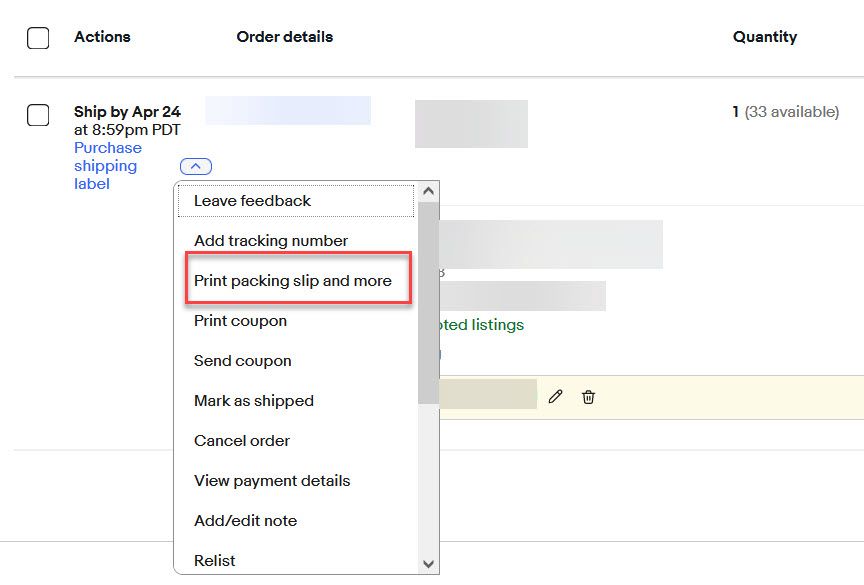 However, this packing slip is not the condensed format that was available previously, so there may still be issues especially when printing packing slips for large multi-item combined orders.
---
What do you think of eBay's changes to the packing list workflow and design? Let us know in the comments below!
---