eBay Gallery Plus Fee Charged In Error 2-15-23
UPDATE: Reports are coming in that eBay has stopped the ongoing Gallery Plus fee charges that were being assessed in error and is working to process refunds.
Thanks for the update Marc!
---
eBay's Winter 2023 Seller Update announced changes for some listing upgrade fees, including the Gallery Plus feature, that go into effect today - but it seems eBay has messed up the implementation and is charging the Gallery Plus fee in categories where it is supposed to be free.
Here's what the update said: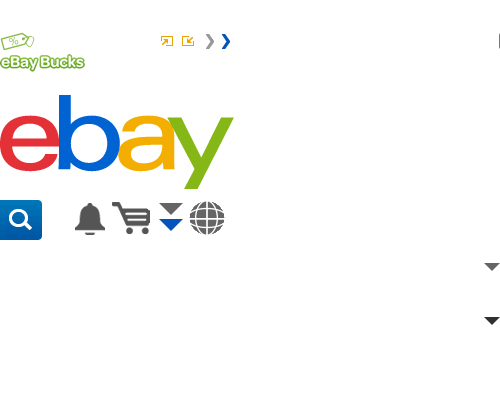 Changes to Optional Listing Upgrades
Starting February 15, 2023, our Buy It Now listing upgrade for auction-format listings and the Scheduled listing upgrade will be free for all eBay sellers. The Buy It Now upgrade allows you to set an item price and gives buyers the option to purchase your item immediately so they don't have to wait for your auction to end, and the Scheduled listing upgrade gives you control to decide when to start your listings.



To simplify optional listing upgrades, Bold and Gallery Plus listing upgrade fees will no longer be based on the auction starting price or Buy it Now item price. As of February 15, 2023, both optional listing upgrades will be charged one low fee.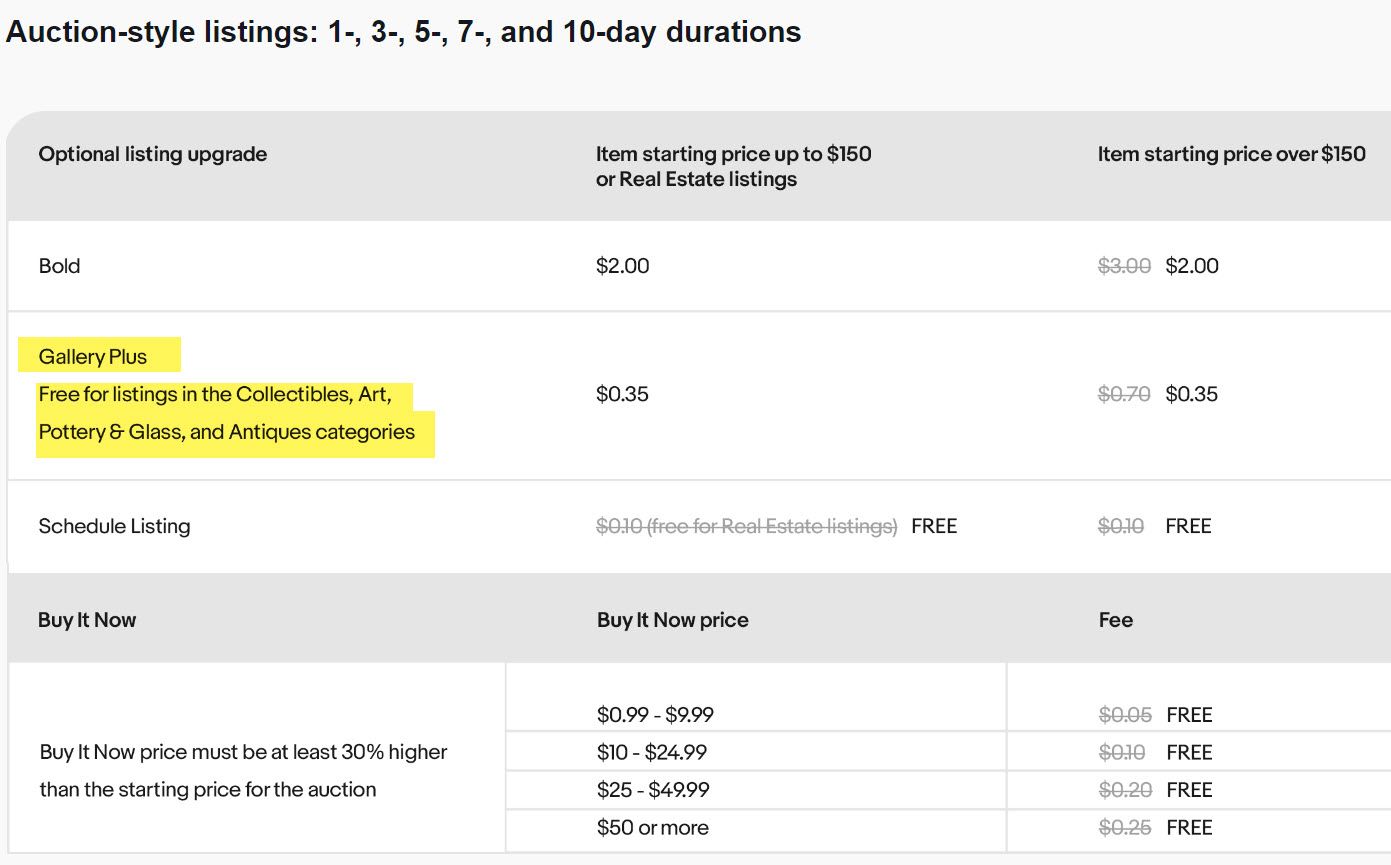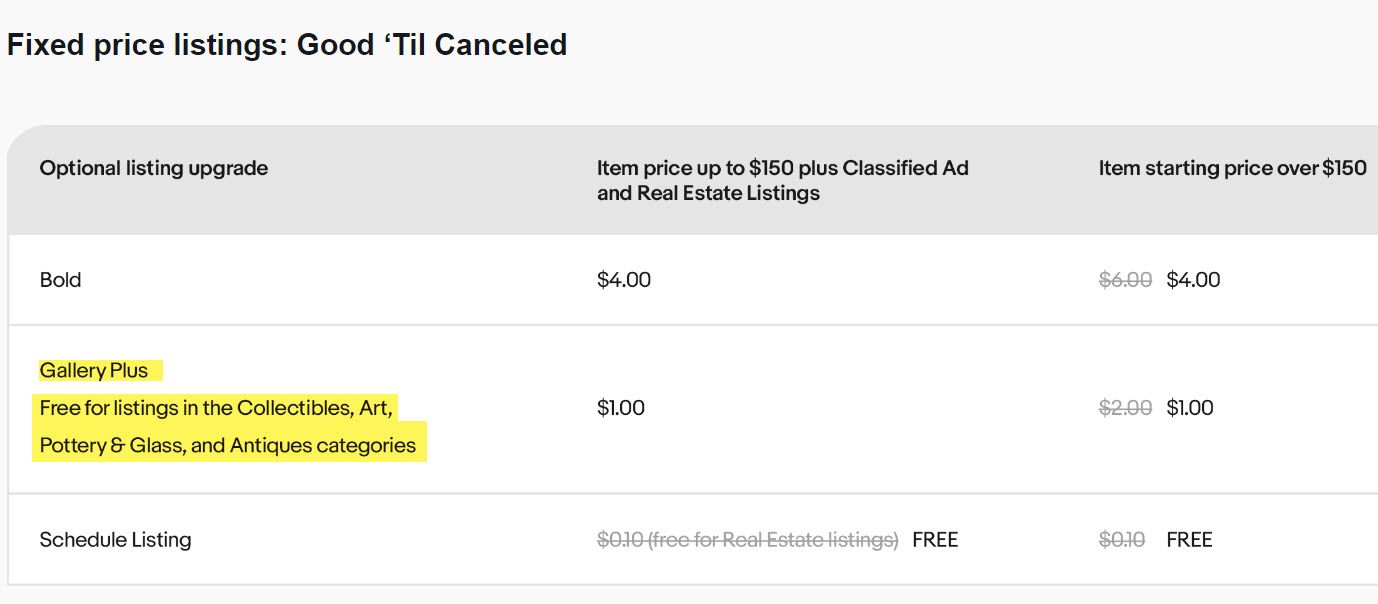 The update clearly states that the Gallery Plus feature is supposed to continue to be free for listings in Collectibles, Art, Pottery & Glass, and Antiques categories, but according to sellers - that's not what's happening.
Gallery Plus in Collectibles is supposed to be free, even after the Seller Update, but the $1 fee is being charged in the Collectibles category.
Gallery Plus in Collectibles and Pottery & Glass are supposed to be free, even after the 2/15/2023 Seller Update, but the $1 fee is being charged in the Collectibles and Pottery & Glass categories.
10 gallery plus FEEs of one dollar added to 2 of my different accounts listings... I had to manually remove them...it has never happened before today...Please CHECK your re-listing FEES carefully...Sneaky of eBay to add automatically, Huh?
Ebay has done it again! In late 2021 there was a glitch where they started charging fees for gallery plus pictures where they should be free in Collectibles categories. I put on a new listing this morning and noticed that they had started doing this again some time in the past 24 hours. This impacts all RELISTED items as well, so I have been charged an additional $118. Ebay will deny the problem and bury it but all sellers need to be aware and flood them with calls so that they fix it as soon as possible. I'm currently talking with a rep who has no clue what is going on!
We were charged $4 for 4 of our listings rolling over / renewing... we have bulk edited everything as soon as we saw this silly change. This feature used to be free, in most collectibles categories.
I started a new listing this morning under postcards. Gallery plus if free normally for this category. I noticed it said $1 today. Im not sure if Ebay, overnight, changed their gallery plus charges for categories but if so then when your listing renews it will cost many sellers thousands and its not refundable. I am calling ebay when they open to see what happened. Also their listing template changed yesterday too
eBay Community rep Devon chimed in and acknowledged this is a technical issue with an open support ticket.
We apologize about the issue you are experiencing with the gallery plus feature charging fees to your account when it should not be. There is an open sitewide ticket to have this issue resolved and can be seen on our Tech Board here.



You can reach out to customer support here to have your account added to the ticket and just let them know that you are running into ALERT14469.
The issue has also been added to the open technical issues posting in the eBay community but there seems to be some confusion about the nature of the problem - the issue isn't that the fee is being charge when the feature is not opted in, the issue is that sellers who opt in for categories where it should still be free are being charged.
Sellers are being charged for gallery fee when the feature is not opted to the item (February 15, 2023)

Reference ID: 14469

Provide Item Number:
While eBay support has been telling sellers they will refund the extra fees, I'd advise sellers to bulk update their listings to remove Gallery Plus to avoid additional fees until eBay gets this sorted out.
---
I'll update as soon as I have more information but in the meantime, let us know in the comments below if you've been charged the eBay Gallery Plus fee in error!
---