eBay To Show Fee Breakdown, Earnings On Order Pages
In a rare move of increased transparency, eBay is changing the Order page to now include a breakdown of fees paid and total earnings directly on the order record so sellers don't have to navigate to the Payments section of Seller Hub to find this important information.
Sellers report seeing a banner on the Orders page in Seller Hub that says "You can now view what you earn for each order. Click on any order number to see it on the Order Details page."

Here's what the breakdown looks like on an actual order: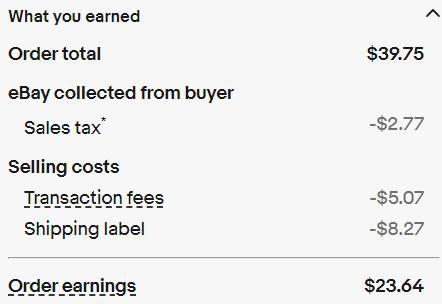 It appears to be another phased rollout as only some sellers have received the notification so far. It's also not entirely clear yet whether Promoted Listings ad fees, if any, will be shown in the breakdown.
I'm continuing to dig into this and will update as soon as I have more information. In the meantime, if you're seeing an earnings breakdown on your eBay order pages - let us know in the comments below, especially if they include ad fees!
---