eBay Experts - Seller Powered Customer Service
UPDATE 5-12-22
eBay is apparently looking for a fresh round of recruits for their gig economy seller power customer service program through Limitless.
Unfortunately, many sellers who would be interested are reporting receiving error messages when trying to sign up - that certainly doesn't inspire a lot of confidence.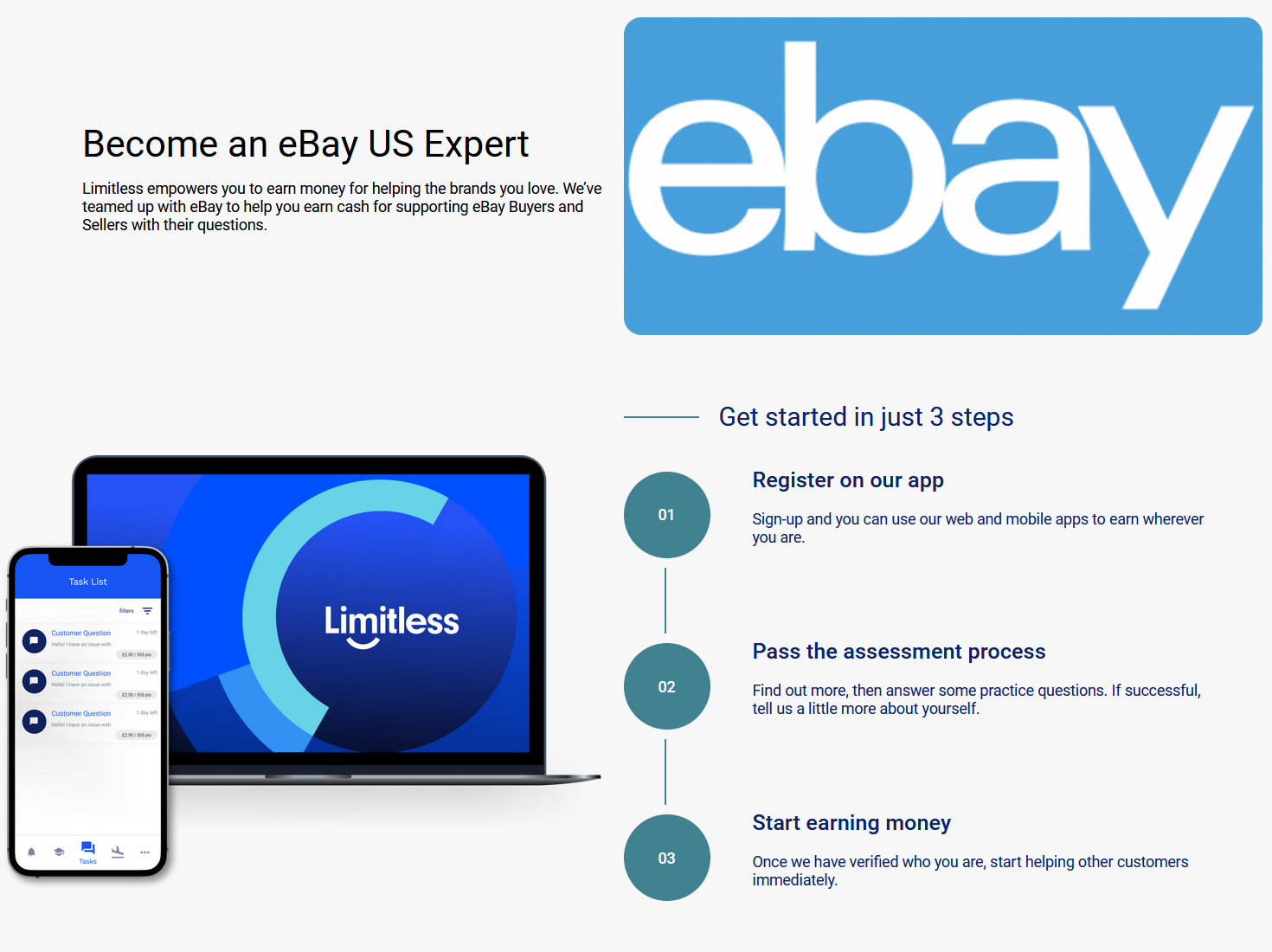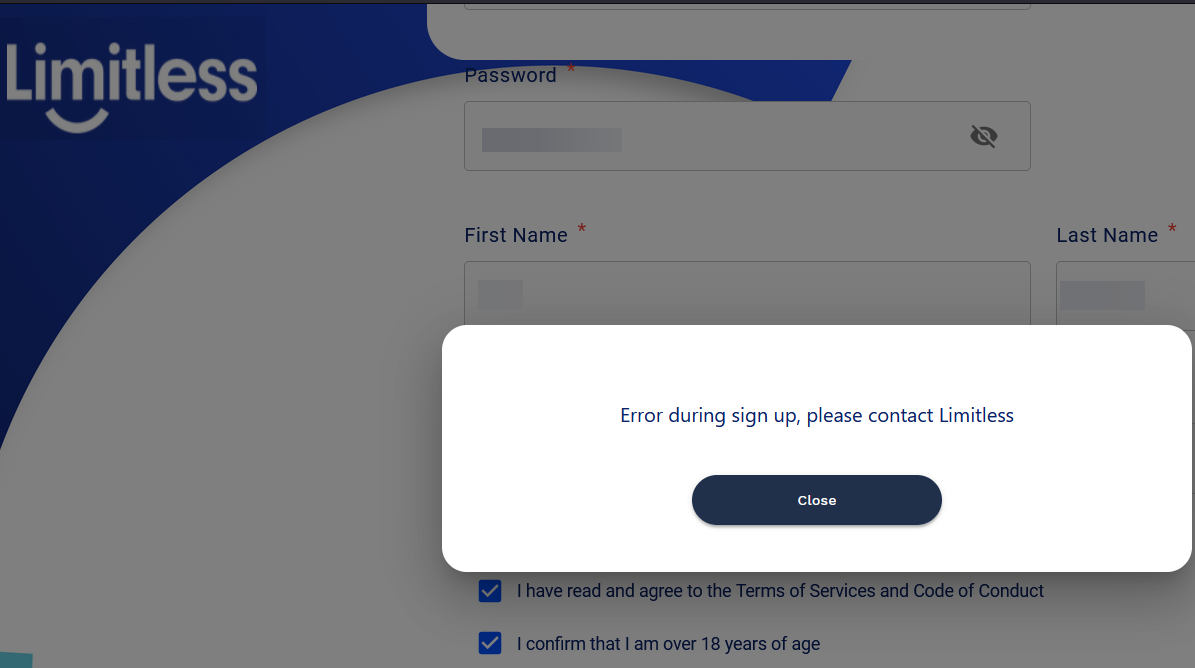 If you do sign up and give it a try - let me know what you think of the program in the comments below!
---
eBay has teamed up with Limitless Tech to develop a new customer service program that leverages the knowledge and experience of eBay's existing seller base with a gig economy pitch.
I was invited to join and took a spin through the initial onboarding process.
The pilot version of the program was rolled out in the UK last year. It would appear both eBay and Limitless are happy with the results so far based on this case study.
Not only is eBay seeing reduced costs with this program, they also stand to gain long term ongoing benefits as they utilize seller Experts to improve existing AI capabilities.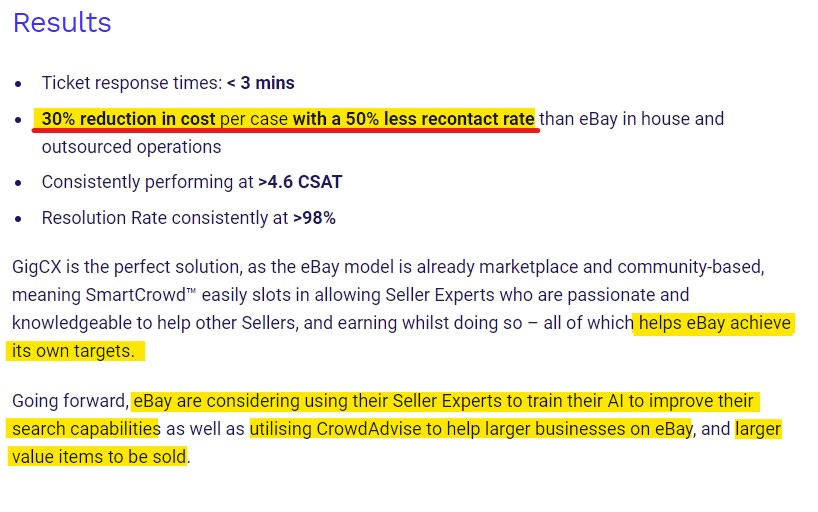 How It Works
The Limitless app is pretty straight forward - it's basically a live chat/ticketing system where Experts log in and are available to answer questions.
There's no minimum or maximum time commitment or answers required. Experts set their own schedules and are independent contractors - all expenses, taxes, etc. are the Expert's responsibility.
Some sellers in California have reported being told they are not eligible to sign up, possibly due to CA AB5 Gig Worker Law issues but that has not been confirmed.
Experts can earn $1.20 for every answer that is given a positive rating by the customer or by fellow Experts. If multiple Experts work together on the answer, peer review by other Experts determines how the reward is divided up between the contributors.
Funds for accepted answers accrue and can be viewed in the dashboard where the Expert can select to have them disbursed at any time and paid out via PayPal.
---
Limitless provides a Knowledge Library and Experts can also use links to eBay policy & help pages, enhanced with their own personal experience as a seller, to answer questions in a "positive, professional tone"
Initially for the US program, Experts will be limited to answering questions about "getting started" and "creating a listing". All other topics must be directed to eBay Customer Service.
The UK version of the program has grown to cover 100 subjects such as creating listings, fees, shipping, returns and payments.
While there may be a few differences between eBay US and UK policies in some areas, it's likely they can reuse the majority of existing training material and content, so I expect the US program will expand to more topics quickly after the initial launch.
---
What Do Sellers Think?
eBay tapped their existing base of community members for the initial invitations. Many of these users are already highly engaged in providing help and advice to other users as unpaid volunteers and "community mentors" - so they would seem to be a natural pool to draw from for this program.
Reaction has been mixed. Some sellers are excited about the opportunity to help other sellers and earn a little extra money on the side.
Other sellers are skeptical - expressing concerns that range from the amount of pay to how closely scripted Expert answers must be and whether or not they will have the flexibility and freedom to share their honest experiences of selling on the platform.
Some of the initial onboarding material shows that eBay strongly encourages Experts to tell sellers that adding Best Offer will increase their chances of a successful sale, so it's clear that eBay will be writing the script here - though not yet clear how much Experts will be allowed to deviate or improvise.
---
The Future of Customer Service?
This program comes at a time when eBay is struggling with customer service across the board. Sellers regularly experience days or even week long waits for callbacks or responses from eBay social media support reps.
Wendy Jones announced she was stepping down from her position as SVP of Global Operations & Customer Service in December. During her tenure, Ms. Jones promised that eBay "concierge level support" would become the standard for all sellers - but despite the hefty $11 million bonus she was awarded in 2018, she failed to deliver on that promise, leaving eBay customer support in a precarious position.
Some sellers believe this program is a step in the right direction that will free up existing support to address more critical, account specific needs.
Others are concerned this move shows eBay's priorities are for cost cutting and automating, which may come at the expense of actual customer experience.
---