eBay Runs Promoted Listings Advanced 50% Off Holiday Promo
eBay is pushing the new Promoted Listings Advanced Cost Per Click advertising option hard for the holidays with a 50% off ad fees up to $100 promotion - for invited sellers.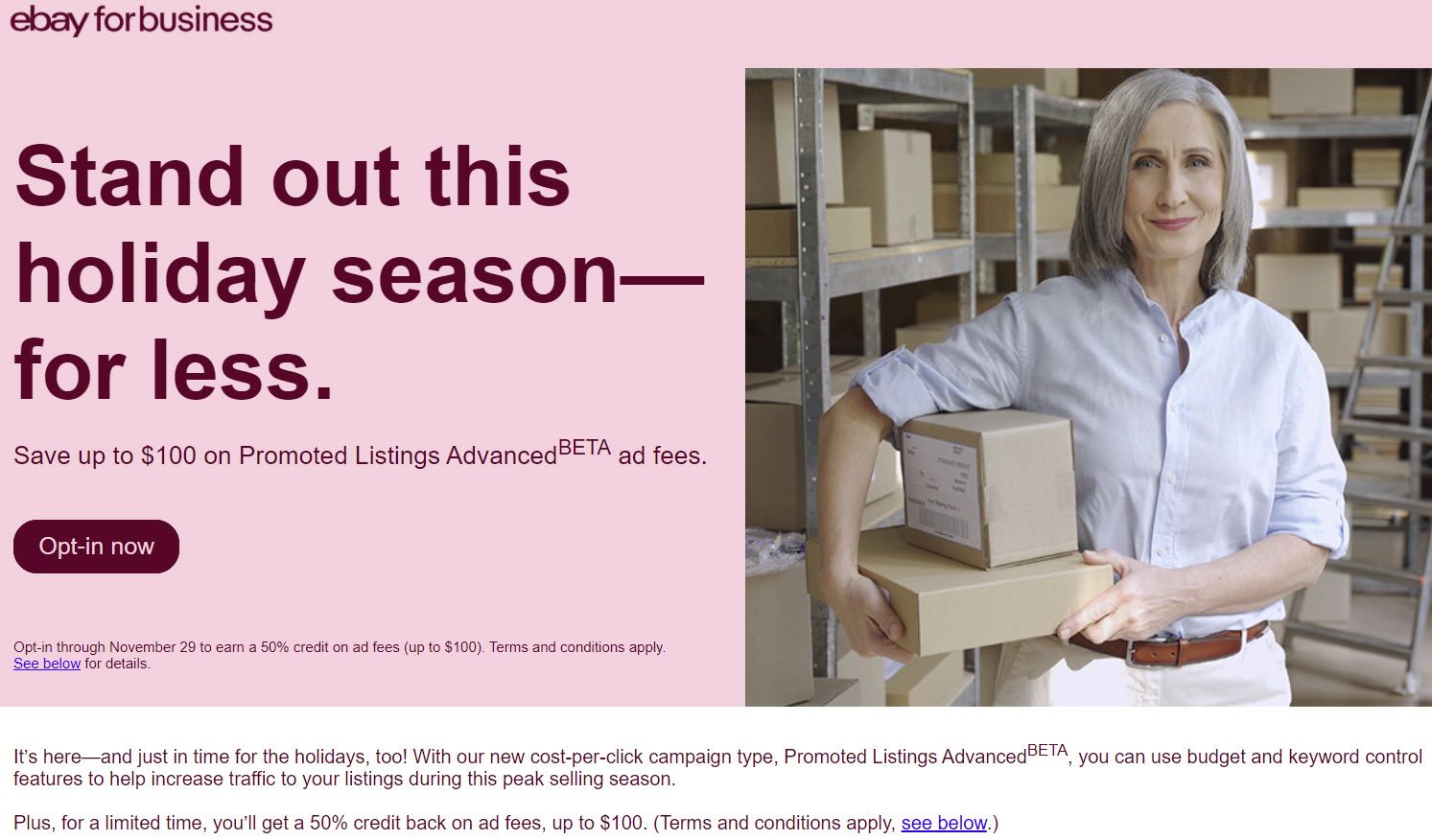 It's here—and just in time for the holidays, too! With our new cost-per-click campaign type, Promoted Listings AdvancedBETA, you can use budget and keyword control features to help increase traffic to your listings during this peak selling season.

Plus, for a limited time, you'll get a 50% credit back on ad fees, up to $100. (Terms and conditions apply, see below.)
Important excerpts from the Terms & Conditions - see full T & C here.
Promotion Terms & Conditions
Please note: Invited sellers must activate the Promotion by selecting either "Activate Now" or "Opt-in now". Items clicked by a user and initiating an ad fee prior to a seller activating the Promotion will not be eligible for the discount.



Disclosure: Promoted Listings Advanced Ad fees will be invoiced as credits within 60 days after the Promotion Period.



By invitation only; offer is not transferable. Available to qualified Promoted Listings sellers who have been invited to participate in the beta program, activate the Promotion, and have one or more Promoted Listings Advanced ad campaigns active during the Promotion Period No guarantee is made that any item will be promoted, or will sell at a particular price or at all.

What is the Promotion?
Qualifying Members ("Members") who activate the offer and then launch one or more Promoted Listing Advanced ad campaigns during the Promotion Period, pursuant to the terms and conditions set forth herein, will receive a 50% credit on Promoted Listing Advanced Ad fees incurred during the Promoted Period (defined below) up to a maximum cumulative credit of $100 per Member ("Promotion").



Who's eligible?
This Promotion is available to invited Members who:

(i) Receive an invitation to the promotion through email or Message Center communications;
(ii) Select "Activate Offer" on the Promotion Landing Page;
(iii) Have one or more Promoted Listings Advanced ad campaigns live during Promotion Period; and
(iv) Meet eBay's minimum seller performance standards. Please sign in to My eBay and view your Seller Dashboard to verify whether your account is currently meeting the standards.
---
CEO Jamie Iannone has put ads at the forefront of eBay's revenue growth strategy, stating in the Q1 2021 earnings call:
Inspired by the success of Promoted Listings over the past few years, we are investing aggressively in innovation. We reached $1 billion of advertising revenue in 2020 primarily through Promoted Listings, which leverages a risk free CPA model for fixed price inventory. To capture our next billion, we are running multiple experiments, including an ad product for auctions and cost per click capabilities. We are also exploring a new capability that expand seller exposure by increasing off eBay traffic to Promoted Listings.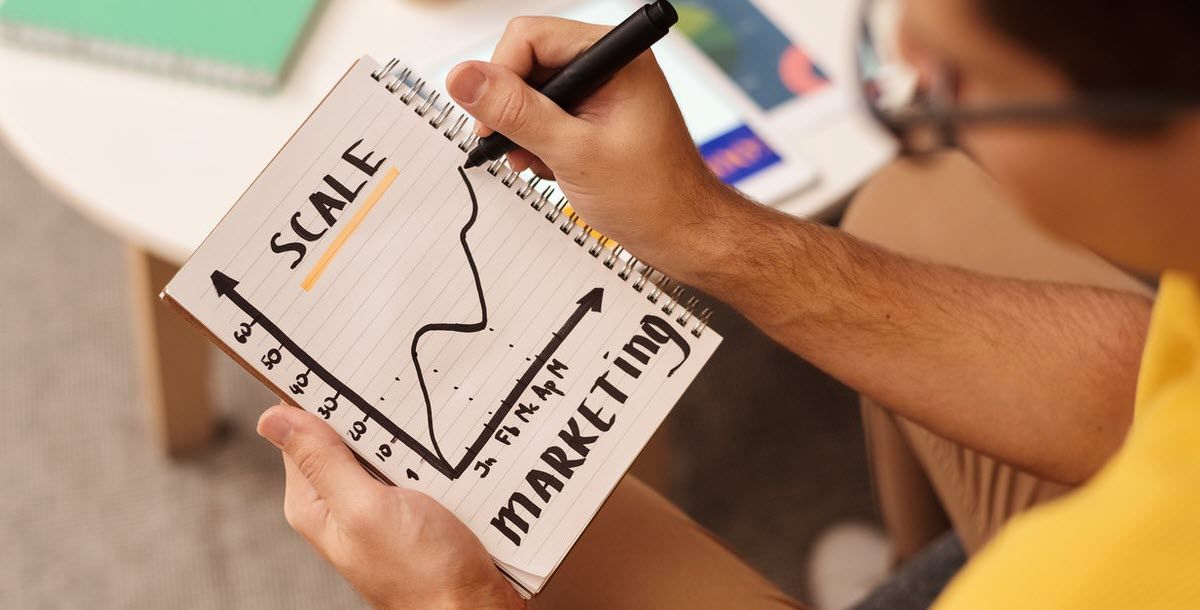 All of those initiatives have been implemented now with Promoted Listings Advanced Cost Per Click, Promoted Listings Standard External, and Promoted Listings Express for Auctions.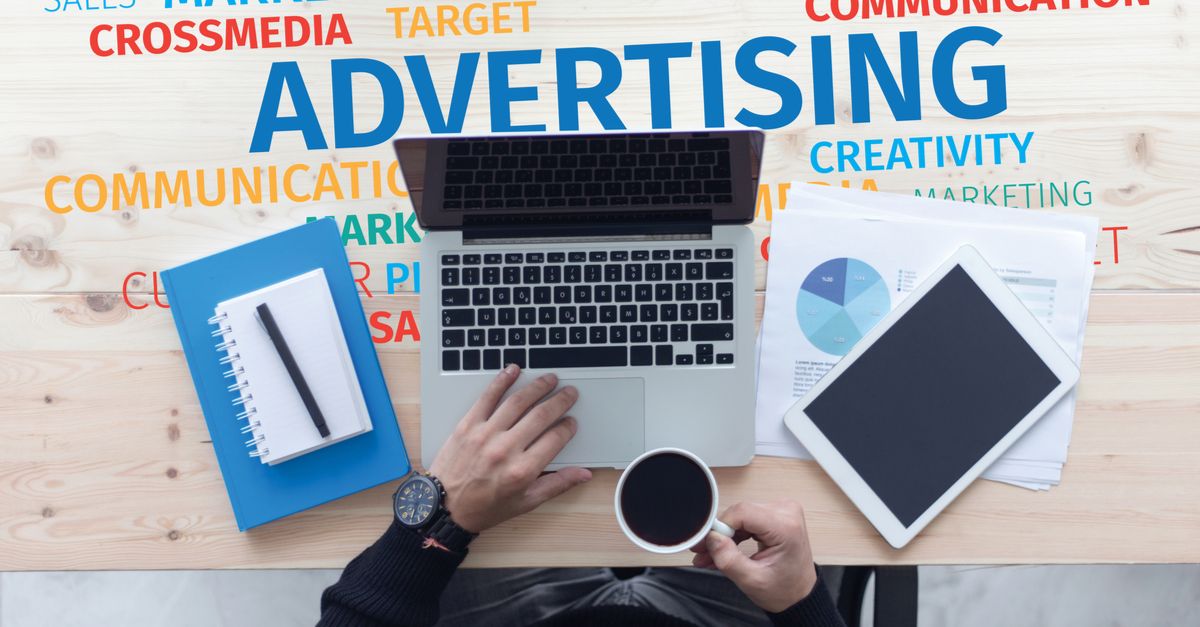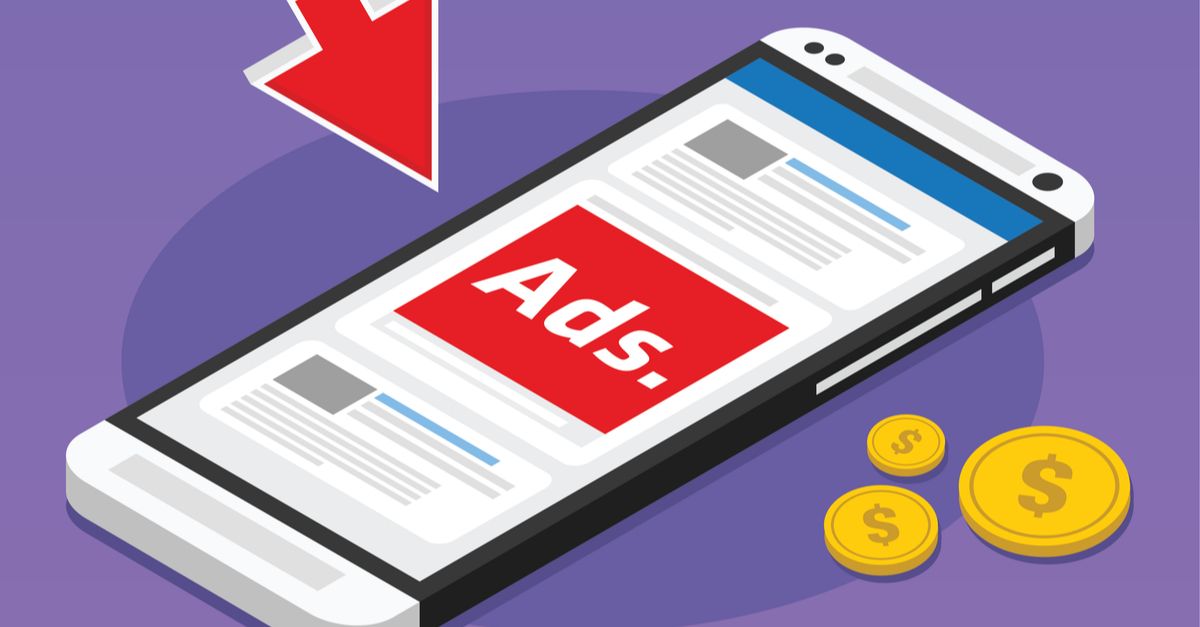 The impact on eBay's bottom line is clear - ad revenue continues to grow even as GMV and active buyer stats fall.
Our advertising revenue continues to outpace volume due to Promoted Listings, which drove over $207 million in revenue in Q3, up 9%. We also tested three new Promoted Listings products and are starting to offer these features to more sellers.
Third Quarter Financial Highlights

Revenue was $2.5 billion, up 11% on an as-reported basis and up 10% on a foreign exchange (FX) neutral basis.
Gross merchandise volume (GMV) was $19.5 billion, down 10% on an as-reported basis and down 12% on an FX-Neutral basis.
GAAP net income from continuing operations was $283 million, or $0.43 per diluted share.
Non-GAAP net income from continuing operations was $591 million, or $0.90 per diluted share.
Generated $661 million of operating cash flow and $502 million of free cash flow from continuing operations.
Returned $2.4 billion to shareholders in Q3, including $2.3 billion of share repurchases and $116 million paid in cash dividends.
Annual active buyers declined by 5%, for a total of 154 million global active buyers.
Annual active sellers were flat at 19 million global active sellers.(1)
---
Have you tried eBay's Promoted Listings Advanced Cost Per Click Ads? If not, would you be enticed to give it a shot if you were invited to participate in this promotion?
Let me know in the comments below!
---