eBay Connect 2021 Developer Conference
eBay recently held their annual developer conference with a focus on Payments, Ads, upcoming changes to eBay's API, and other technical issues.
Full agenda, videos, and slide decks can be found here:
https://developer.ebay.com/news/connect-2021
---
Opening Remarks - Tanya Vlahovic Head of Developer Ecosystem, Lead Architect for Public APIs, eBay
---
Sell APIs For Managed Payments - Shan Vosseller VP of Product, Payments, eBay
Starting in July, all newly created accounts will be enrolled in Managed Payments by default.
In the second half of the year, remaining listings which have not been migrated will be ended. Sellers who have not migrated will need to go through a "reactivation process" to re-enable selling and relist products.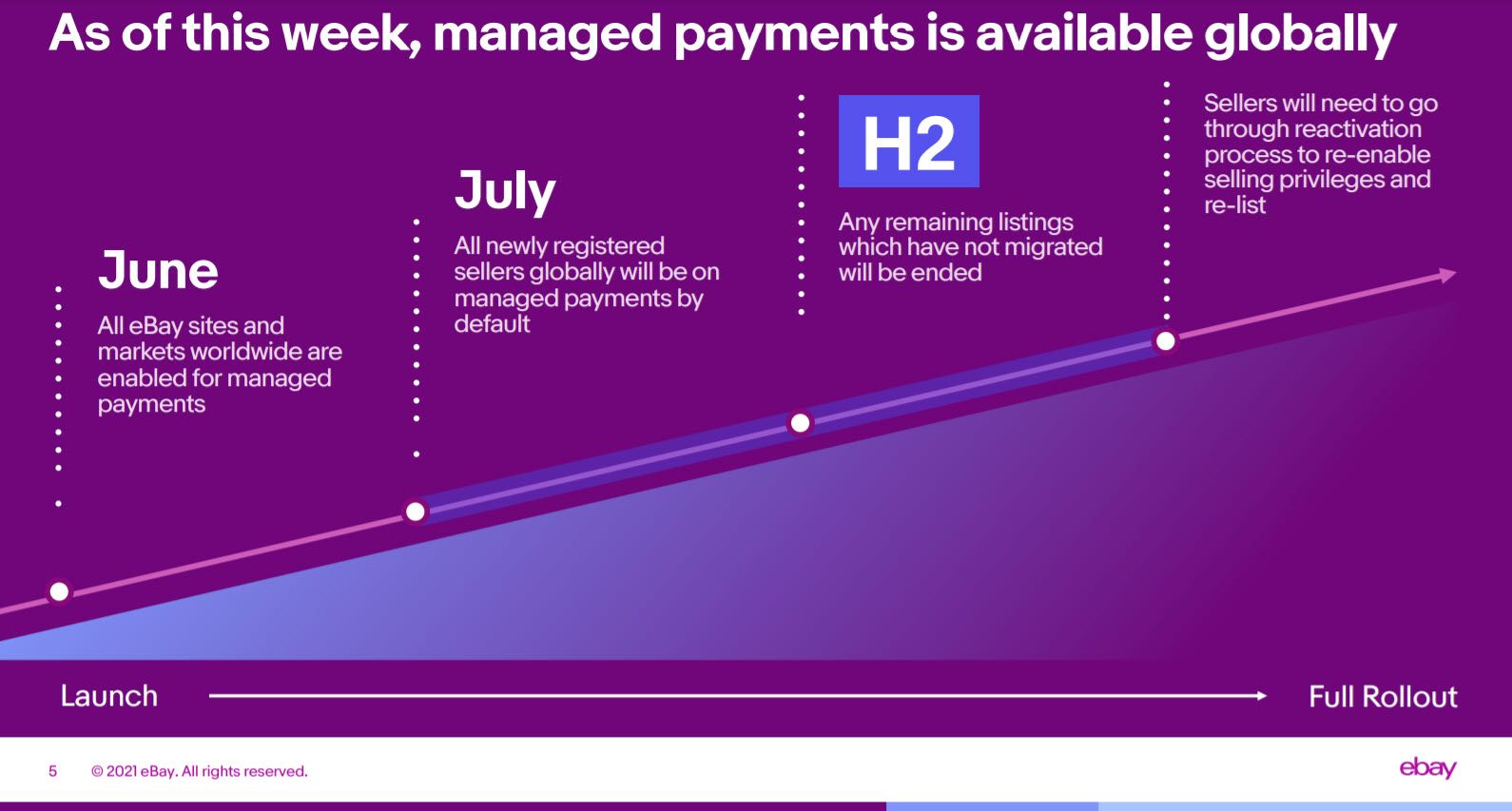 The rest of this section is focused specifically on changes to the various APIs that affect all things related to Managed Payments.  These changes may not affect most sellers, but if you do use eBay APIs, you'll want to go through the full slide deck to get all the details.
---
Advertising - Alex Kazim VP, GM of Global Advertising, eBay
The big news here is the introduction of new advertising opportunities.
The existing Promoted Listings program will now be called Promoted Listings Standard. This will continue to be a no-risk, cost per sale advertising option that appears in search, merchandising, and off-eBay.
Promoted Listings Advanced will be a new industry standard Cost Per Click advertising option that will allow sellers to drive more velocity with keyword control.  These listings will be featured in the top slot in search.
Promoted Listings Express will be geared toward auctions, but there is no additional information at this time - stay tuned!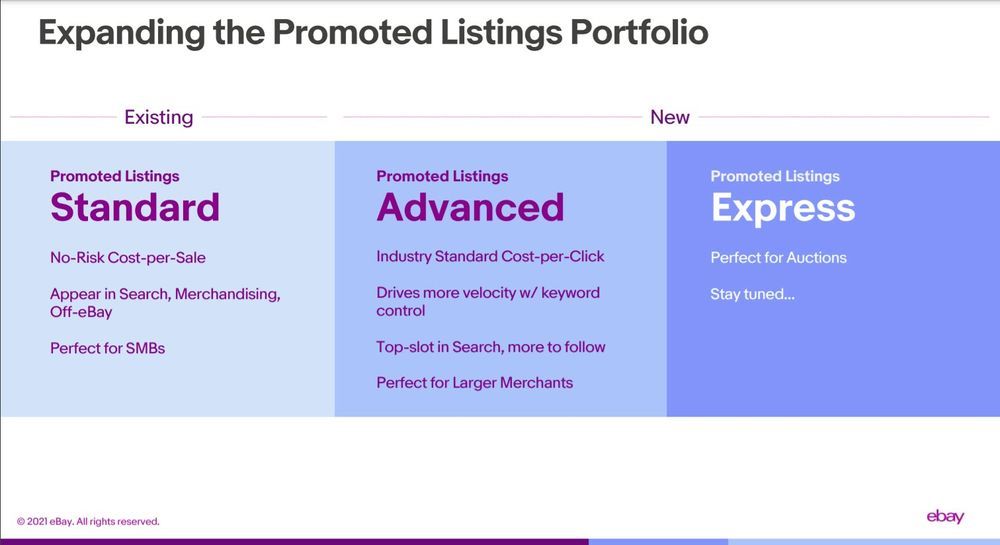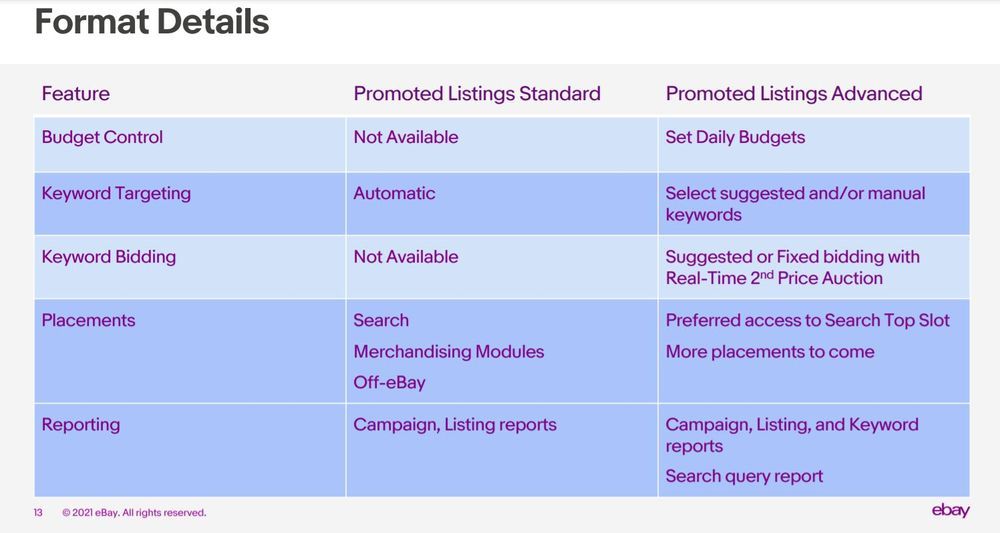 The timeline for this rollout shows full launch slated for September 2021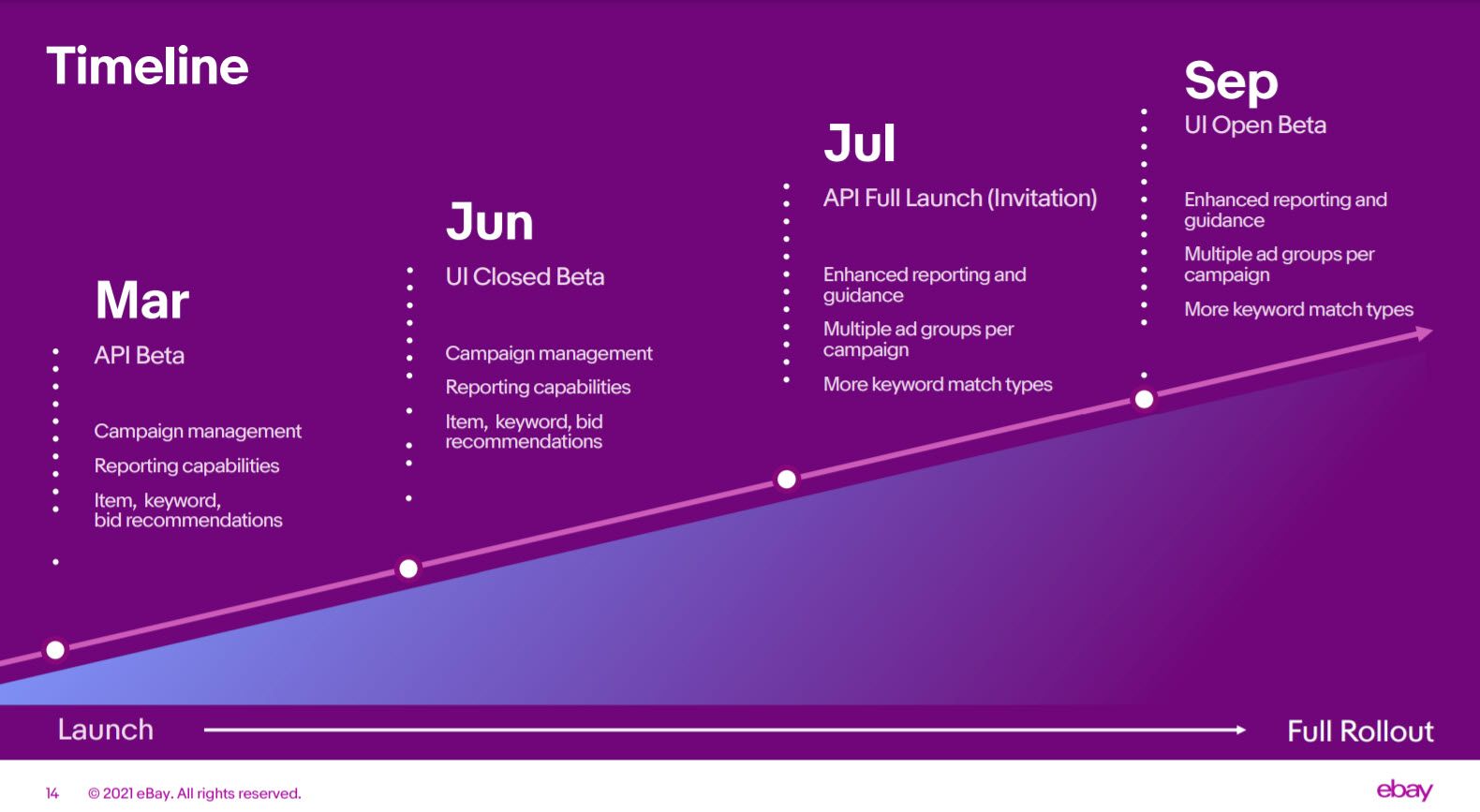 ---
Message from Harry - Harry Temkin VP, Head of Seller Experience, eBay
Harry gives a brief overview of some of the tools and features the Seller Experience team has launched this year such as coded coupons, Terapeak, videos in listings, and item specifics.
---
Selling Product Updates - Mike Cuttone Senior Director - Seller Experience Product Management, eBay
Mike starts out with videos for listings which can currently only be enabled through the eBay API.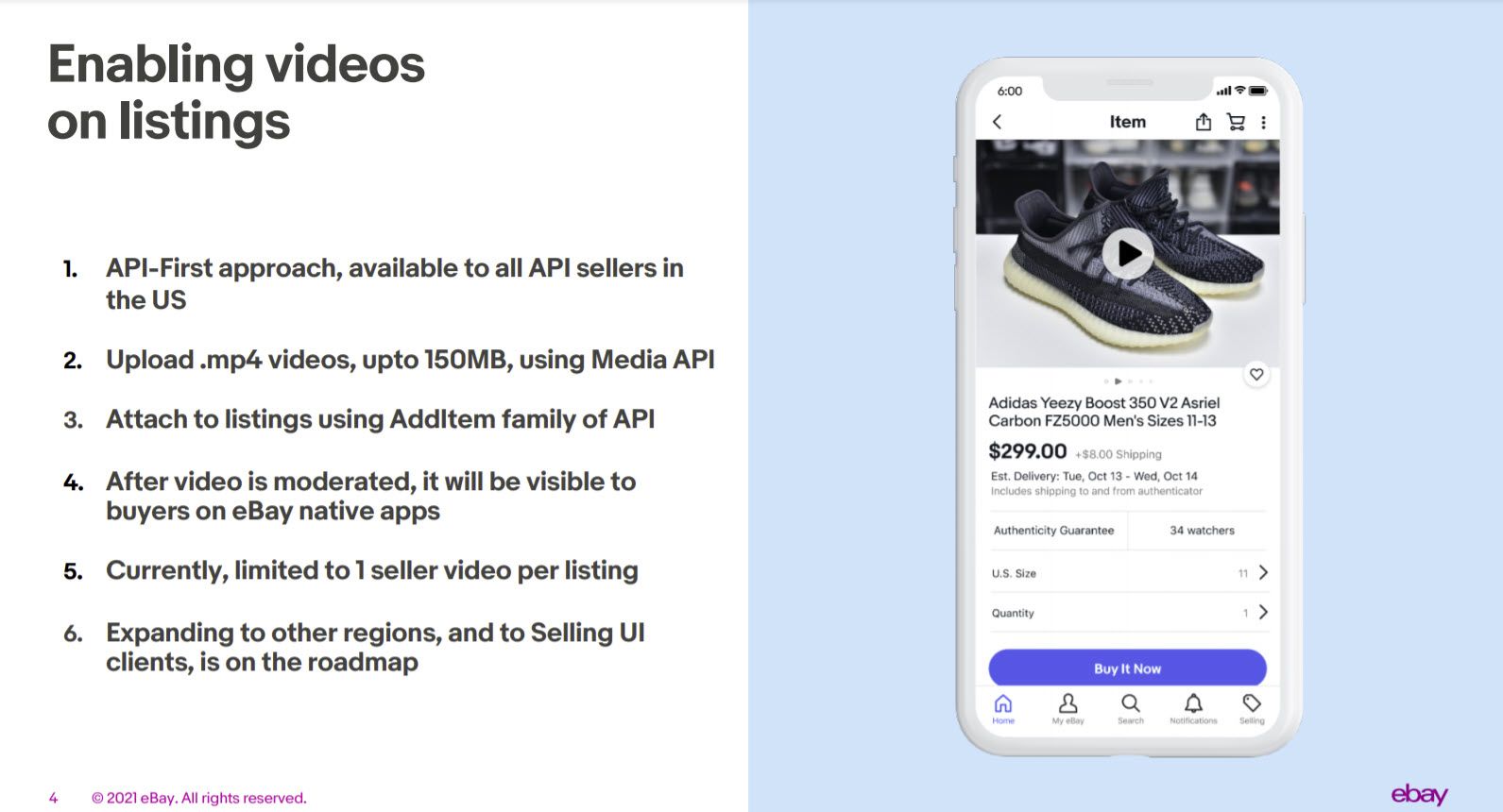 There's a deeper dive into the coded coupon experience as well with these features for coded coupons coming soon:
• Send a coupon to previous customers
• Send a coupon when sending an offer to buyers
• Repeat buyer indicators
Terapeak Research will soon be able through the API and in the new listing flow on the eBay mobile app.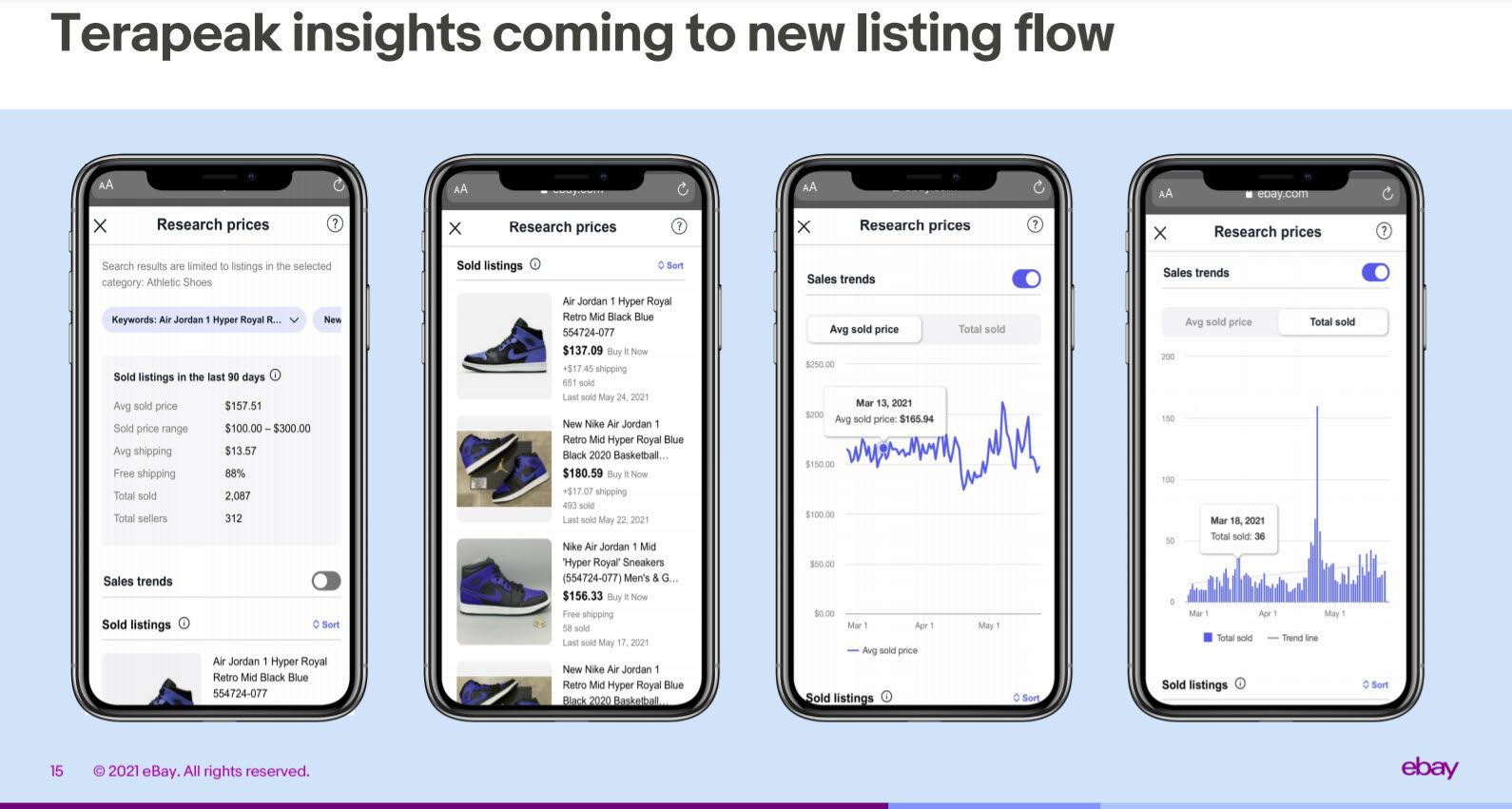 Listing Quality Report - this is mostly an overview of the current version of the listing quality report.  The LQR has been a work in progress since December 2020 and has come a long way since the earliest version - more about my experience with the LQR here.
Enhancements to the LQR coming soon:
Alternative file options (PDF, CSV etc)
Choose categories for analysis
Ramp to all store subscribers
Search and Trust signals and recommendations
Continuous improvements – come back regularly
to check new insights!
---
New Sell API Capabilities - Scot Hamilton VP of Engineering, Seller Experience, eBay
Scot starts out with more in-depth information on how the API allows uploading video to listings including a live demo of uploading a video using the Media API.  
Video in listings is currently available for mobile and will be rolling out to desktop in Q3.
Next up is a deep dive into the API side of coded coupons and announcing access to Terapeak via API coming in Q3.
Again much of this may not be relevant to some sellers but if you use the API it's worth watching the whole video for live demos.
---
EU VAT & IOSS - Mohit Kumar Senior Director of Product for Payments and Tax, eBay
Mohit discusses updates to APIs to handle new EU VAT & IOSS requirements.
---
FIRESIDE CHAT: Tanya Vlahovic and Mazen Rawashdeh Chief Technology Officer, eBay
High level discussion and Q&A with Mazen Rawashdeh
---
Closing - Tanya Vlahovic
---