eBay Charging California eWaste Fee In Error
UPDATE 2-14-23
After almost 4 months, eBay has finally fixed this issue and is no longer charging the California eWaste fee on used or for parts laptops. Now about those refunds for buyers and sellers...
Here's an update, good news , they must of fixed it today, the ewaste fee is no longer being added at checkout. I've been testing it everyday with BIN's, and tonight is the first time it's working. Now I can start bidding laptops again. Yay



However, I am still owed 3 refunds, hopefully they are coming soon. Fingers crossed...
---
UPDATE 12-16-22
Almost 2 months after this error was first reported, eBay continues to charge the California e-waste fee on used/for parts laptops in error.
For some reason, eBay is taking the typical "squeaky wheel" approach, saying affected users should reach out to support on an individual basis, rather than addressing the underlying category/condition wide issue. 🤨
When asked for an update on this issue, eBay community staff said:
I'll be sure to get this reported to them again. The best option though, is to have anyone experiencing the issue to reach out to our agents, for the tax refund, and to request a ticket be made. I wish I could get that ticket made, but we need for specific account information and images, that I am unable to retrieve.
I responded:
Thanks elizabeth@ebay appreciate it! But just FYI it doesn't appear to be an account specific issue, so you really shouldn't need specific account info and images, it appears to be possibly category/condition wide.



I've checked about 20 used or for parts laptops at random and entered eBay HQ in San Jose as well as other CA addresses just to test....every single one of them had the e-waste fee added in error.



You could easily do the same to provide screenshots to the tax team.
Make no mistake - this is not just some rare account specific glitch, it has a wide ranging impact across the entire category for items in "used" or "for parts" condition.
The fact that eBay has been wrongfully collecting the $5 e-waste fee on items that it clearly does not apply to (according to The California Department of Tax and Fee Administration) raises serious compliance and financial concerns.
What is eBay doing with all that extra money? 🤨
---
UPDATE 11-26-22
eBay is still charging the California eWaste fee in error on used and for parts items.
I have been purchasing laptops that are used and have to fix. eBay has charged me multiple times an extra 5.00 California tax fee that I should not have to pay unless I purchase a new or refurbished laptop. The tax is supposed to be for brand new and refurbished electronics. With the other crazy fees they charge, what are they doing with that extra 5.00 they have to be keeping it for themselves.



I know if I don't like it I don't have to buy or sell from here. But what will they come up with next, a fee to look at items on eBay, 10 cents to look at this item. Is this happening to anyone else?
One buyer suggested contacting the CA tax department and helpfully provided an email and phone number.
Yes you are correct, the ewaste fee is only for purchases of "New" and "Manufacturer refurbished" electronics. Ebay started charging the fee incorrectly about 2 weeks ago again. You need to contact customer service to request a refund for any ewaste fees you paid that were added to "Used" and "For parts/NW" laptops.



I notified ebay 2 weeks ago and they seem to be dragging their feet to repair their error and issuing the refunds. I also called the CA tax dept. to let them know of this recurring issue. I also called the CA tax dept. to let them know of this recurring issue. You can call Michelle at 916-309-8009 , and email complaints to michelle.cano@cdtfa.ca.gov



Maybe they can help get ebay to move a little faster...
---
An eBay buyer reports eBay is once again charging the California eWaste fee in error.
The glitch is back. I had a thread here 2 years ago about the same issue and everything was working fine until today. Here is the link to my old thread which has been locked due to it's age:



https://community.ebay.com/t5/Buying/Why-is-ebay-charging-CA-buyers-addt-l-fees-on-electronics-not/td-p/31275492



I buy about 10-15 laptops a month and refuse to pay it, the last time this happened I had to wait a total of 5 months to fix it after numerous chats with customer service. I already messaged my current sellers to cancel pending transactions and included my chat reference # and screenshots. . Customer service said they noted my account to remove any unpaid strikes. What a big waste of time. Guess I'll be buying laptops elsewhere for a while now until it is fixed...


The same user had reported this issue two years ago and had been successful in getting eBay to correct the issue at that time.
I just bought a laptop which states "For Parts only" in the title and was in the "For parts not working" category. At checkout ebay added $5 for the electronic waste fee in CA which only is due on New and Refurbished items. If I buy a scrap laptop locally you are not charged the fee. The fee should not be applied to any electronic devices in the Used or For Parts not working categories. I have not paid for my item yet until the fee is removed.
Finally, it seems ebay has finally fixed the issue. Every BIN I've tested at checkout over the past few days do Not have the fee being added. I even purchased one laptop so far and it did not have the fee. I'm not sure why it took them 1.5 years to fix the issue.



Yes, it's been a year and a half, the ewaste recycling tax began being added in 10/2019. That is how long it's been since I stopped purchasing laptops here. I really wonder if they been voluntarily refunding it to buyers who just paid it. It also costs sellers more in fees since ebay and PP charge their fees on the tax collected too.
That last part is very important - even if eBay does refund the incorrectly collected fee to the buyer, it's very likely they are not refunding the additional fees the seller paid on that amount.
eBay assesses final value fees and promoted listings ad fees on the total amount of the sale including shipping, sales tax, and any additional fees, so this error is costly for both buyers and sellers.
I know for a fact eBay did not refund fees to sellers on a similar snafu that was incorrectly adding recycling fees meant only for lead acid car batteries on the purchases of any and all types of batteries - another error that was temporarily fixed and mysteriously reoccurred 2 years later.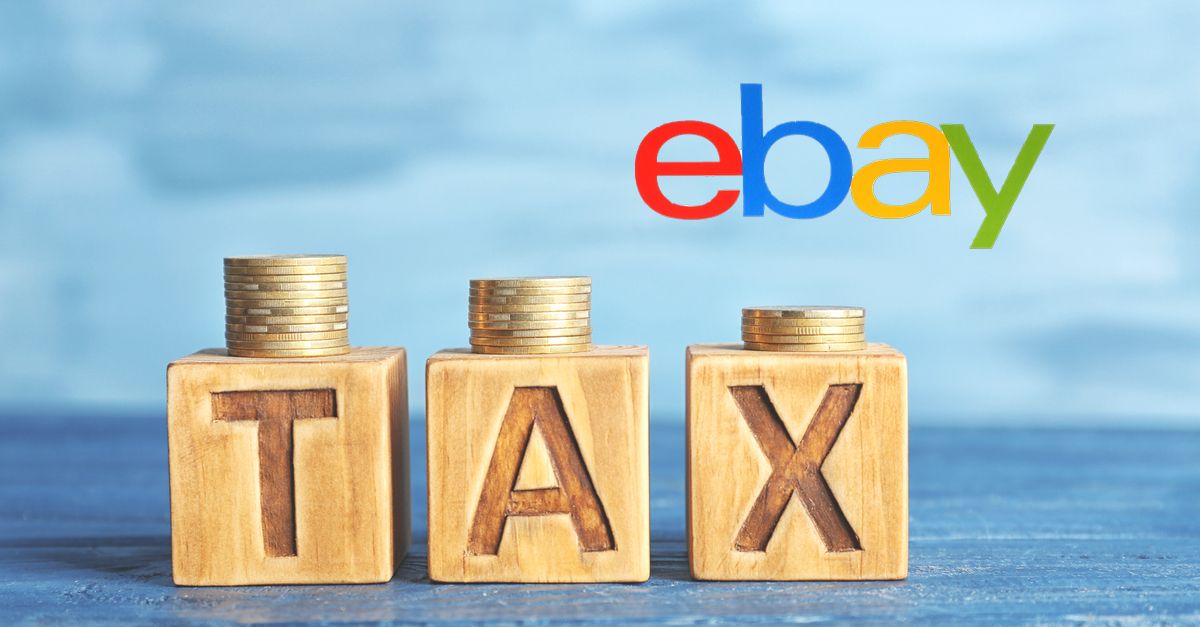 If you're not familiar with the California eWaste fee, it's only supposed to be charged on new and refurbished items, not used or not working/for parts.
Here's what eBay policy says:
Electronic waste recycling fee
California
eBay is required by the California Department of Tax and Fee Administration (CDTFA) to collect and remit the Electronic Waste Recycling (eWaste) Fee. The eWaste Fee is a fee imposed on the retail sale or lease of certain electronic products that have been identified by the Department of Toxic Substances Control (DTSC). Additional information on the eWaste fee can be found on CDTFA eWaste site.
The California Department of Tax and Fee Administration page eBay links to says:
Which sales and products are subject to the fee?
Effective January 1, 2005, the fee is due on the retail sale or lease of a new or refurbished CED that has a screen size of more than four inches measured diagonally and that has been identified in the regulations adopted by the DTSC. Currently, the CEDs indentified in the regulations include:

Televisions that contain cathode ray tubes.
Computer monitors that contain cathode ray tubes or use liquid crystal displays (LCD).
Laptop computers with LCD screens.
Bare cathode ray tubes or any other product that contains a cathode ray tube.
Televisions containing LCD screens, which includes any device containing an LCD screen greater than four inches measured diagonally (viewable size), that has television tuner capability and can process a broadcast, cable, or satellite transmitted television signal.
Plasma televisions.
Portable DVD Players with LCD screens.



*Refurbished items are products the manufacturer has tested and returned to a condition that meets factory specifications and have been repackaged and labeled as refurbished.
Are any sales exempt from the fee?
Yes. The fee does not apply to the sale of a video display device that is any of the following:

Used and not refurbished.
Part of a motor vehicle, as defined in Vehicle Code section 415, or a component part of a motor vehicle assembled by or for a vehicle manufacturer or franchised dealer. This includes replacement parts for use in a motor vehicle.
Is contained within, or a part of a piece of industrial, commercial, or medical equipment, including monitoring or control equipment.
Contained within a clothes washer, clothes dryer, refrigerator, refrigerator and freezer, microwave oven, conventional oven or range, dishwasher, room air conditioner, dehumidifier, or air purifier.
A sale for resale.
Shipped by you to a location outside of California.

Based on that page, it's very clear that the fee should not be charged on used or for parts laptops that have not been refurbished, as defined in the first section.
So just to make sure this wasn't a one off glitch this buyer is experiencing, I randomly selected a laptop in used condition - no mention of the word refurbished anywhere in the listing.

Sure enough, if I were to have it shipped to eBay's headquarters in San Jose, there would be a $4 eWaste fee, despite the fact that it should be exempt.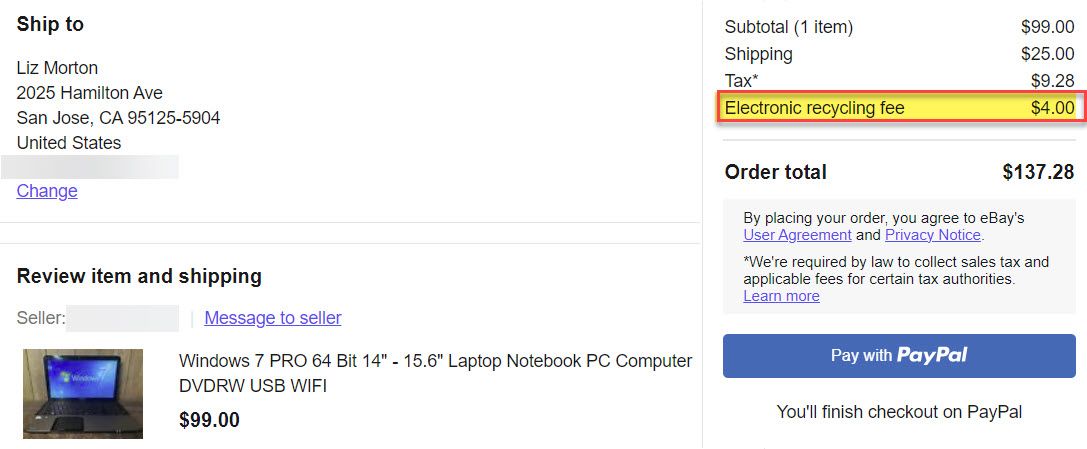 It is absolutely ridiculous for eBay to expect buyers to contact support to try to get a refund of fees that should never be collected in the first place and also ridiculous that sellers should have to pay additional fees - especially when this issue has been brought to their attention and corrected previously.
First, they need to permanently fix their tax calculation systems so this never happens again.
But beyond that, eBay absolutely can and should proactively address the situation on both the seller and buyer side by automatically refunding any over payments and additional fees for all impacted users, not just individual "squeaky wheel" situations.
---
Have you been charged the California eWaste fee on eBay in error? I want to hear from you! Leave a comment below or contact me.
---