eBay Announces Updates To eBay International Shipping
UPDATE 5-10-23
eBay answered questions about the eBay International Shipping Program in today's community chat, including clarification that returns are not being resold on the platform by eBay directly but instead sold to 3rd party liquidators who may then list the items on eBay or resell them in their brick and mortar locations.
---
eBay has officially announced eBay International Shipping is now available to all US sellers and previous Global Shipping and International Standard Delivery programs will be phased out as of July 1.
The new eBay International Shipping program has now officially replaced the US Global Shipping Program (GSP). All eligible sellers previously using GSP now have access to the new program, which provides even more benefits to buyers and sellers.



Additionally, eBay international standard delivery will be discontinued by July 1, 2023 as eligible sellers are also upgraded to the new program over the next few months.



Here's how we're making selling internationally as easy as shipping domestically with eBay International Shipping:

No more international shipping hassles – no paperwork or guesswork.
No more international returns.
Once your package is received at our hub, you're done! We'll take care of the rest.
Your items will be available to even more buyers in 200+ countries at no extra cost to you. We're waiving the international selling fee.
We've got you covered with even more protections.
eBay also announced some important partnerships with EasyShip and Avalara that are powering the new international program.
Easyship, the leading shipping software solution for eCommerce, announced today that they have expanded their partnership with eBay, a global commerce leader that connects millions of buyers and sellers around the world, to support eBay International Shipping. The Easyship API has been supporting various services on eBay for label generation, cross-border compliance, and tracking in the US, and supporting domestic and international shipments throughout Canada and Australia since 2019.



Easyship is committed to supporting eBay in their mission to enable borderless commerce by merging an unprecedented courier network with technology to unlock frictionless delivery. Sellers can access a broader range of regional and express solutions, to reach their buyers around the world at accessible prices – all within the eBay interface.
Avalara, Inc., a leading provider of cloud-based tax compliance automation for businesses of all sizes, today announced its cross-border compliance solutions support eBay International Shipping — a program that takes the complexity out of selling products on eBay and shipping them internationally. eBay International Shipping leverages Avalara software natively to determine Harmonized System (HS) commodity classification codes, identify item-level trade restrictions, and generate landed cost pricing for more than 200 million items hosted on eBay, and sold to more than 200 countries.



Streamlining cross-border compliance for eBay merchants
Consumers often look online to shop for items at lower prices, for goods that are scarce at home, or for products from well-known brands abroad. According to Juniper Research, the value of cross-border ecommerce will exceed $2.1 trillion in 2023. To successfully sell products around the world, businesses must comply with customs duties and import taxes, which can be complex and expensive to navigate.



When it comes to landed cost pricing, tools must take into account HS codes, trade restrictions, and true shipment clearance costs to provide accurate calculations and reduce compliance risks and disruptions to customer experiences. Through eBay International Shipping, eBay has developed a solution to help its more than 5 million sellers make their products available to more than 70 million buyers worldwide.



Avalara's cross-border solutions make it easier to sell anywhere in the world by automating the process of identifying and mapping tariff codes to products, and by calculating customs duties and import taxes. Several Avalara cross-border solutions will be natively available in eBay, including Avalara Cross-Border Estimated, Avalara Managed Tariff Code Classification, and Avalara Trade Restrictions Management.



These solutions allow merchants to:

Improve accuracy of duty and tax estimates. Avalara Cross-Border Estimated calculates costs by leveraging the company's industry-leading artificial intelligence engine and global compliance content database.
Reduce customs delays and penalties. Avalara Managed Tariff Code Classification automates the process of assigning HS codes to products, providing advanced shipping information and more accurate customs duty calculations.
Navigate trade restrictions and unlock new markets. Avalara Trade Restrictions Management maps products to applicable government restrictions to allow merchants to avoid trade complexities and streamline HS code classification, language translation, and calculation of duties and taxes.
If you want to know what using the new eBay International Shipping program has been like from a seller perspective, eBay community member WastingTime101 has put together and amazing reference and FAQ resource here:
The eBay for Business podcast also recently had Direct of Exports Chad Stewart on to discuss the program, which revealed a very interesting detail about how returns are handled.
Chad: Yeah, and let me just say too, as we look at the community and we look for feedback from sellers, we're hearing the same thing. It's sometimes a little bit too good to be true is what we're hearing. But let tell you it's true. So once an item comes to our hub, from that moment on the sale is complete for you. You as a seller no longer have to worry about an international return from your buyer and that includes the item and the international shipping.



Just to give you some context of how this works, when a buyer opens up a return request and that information comes to us, we'll accept a return. We offer 30 days global returns. Those items come back to our hub in Chicago, at which point we are then preparing those items to be sold again on the site.



So those items will not be destroyed unless obviously they're somehow come back to us destroyed. But the vast majority of these items end up just finding another home with a buyer within the United States as we try to list those items on the site as well.



Griff: So when you say the site, you mean eBay?



Chad: eBay.
If true, VP Seller Experience Xiaodi Zhang may have to stop using that "we don't compete with sellers" line in future interviews.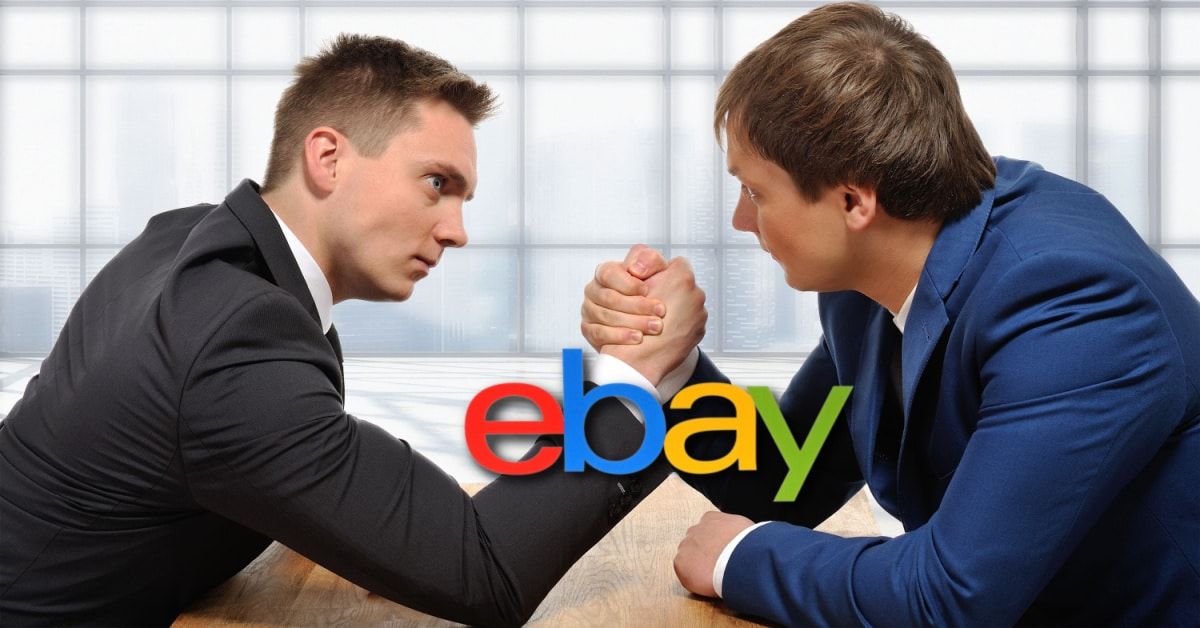 Xiaodi Zhang: One of the reasons that I was so excited about the role, and about Ebay at this particular moment in time, is that even though there are so many options out there, Ebay is still unique in the fact that we never compete with our sellers. We're so customer-focused, and we're a very tech- and product-driven company.
---
Have you enrolled in eBay International Shipping? Let us know about your experience in the comments below!
---