eBay Promotes 50% Off Home Furniture, But Are There Really Savings?
eBay is currently promoting an early holiday up to 50% off on Home Furniture sale across their site and social media channels, but are the discounts too good to be true?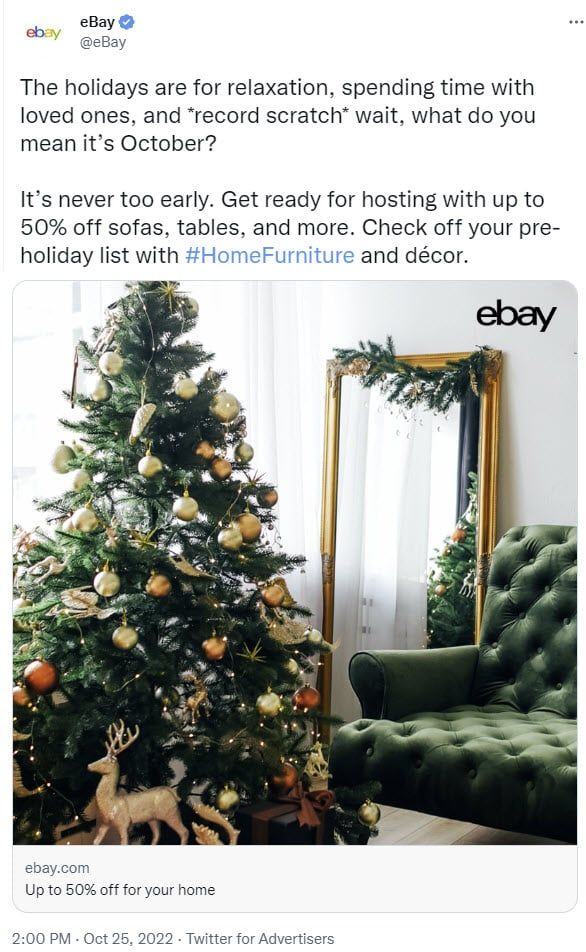 The ads lead to a landing page for the sale event touting up to 50% off on living and dining room furniture and décor.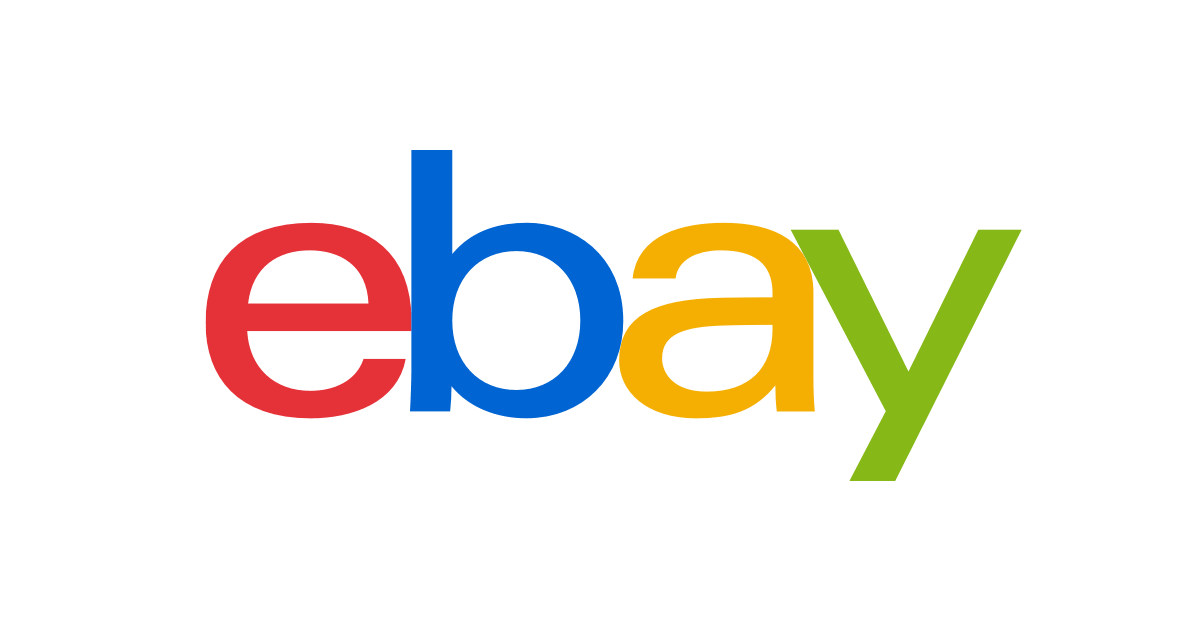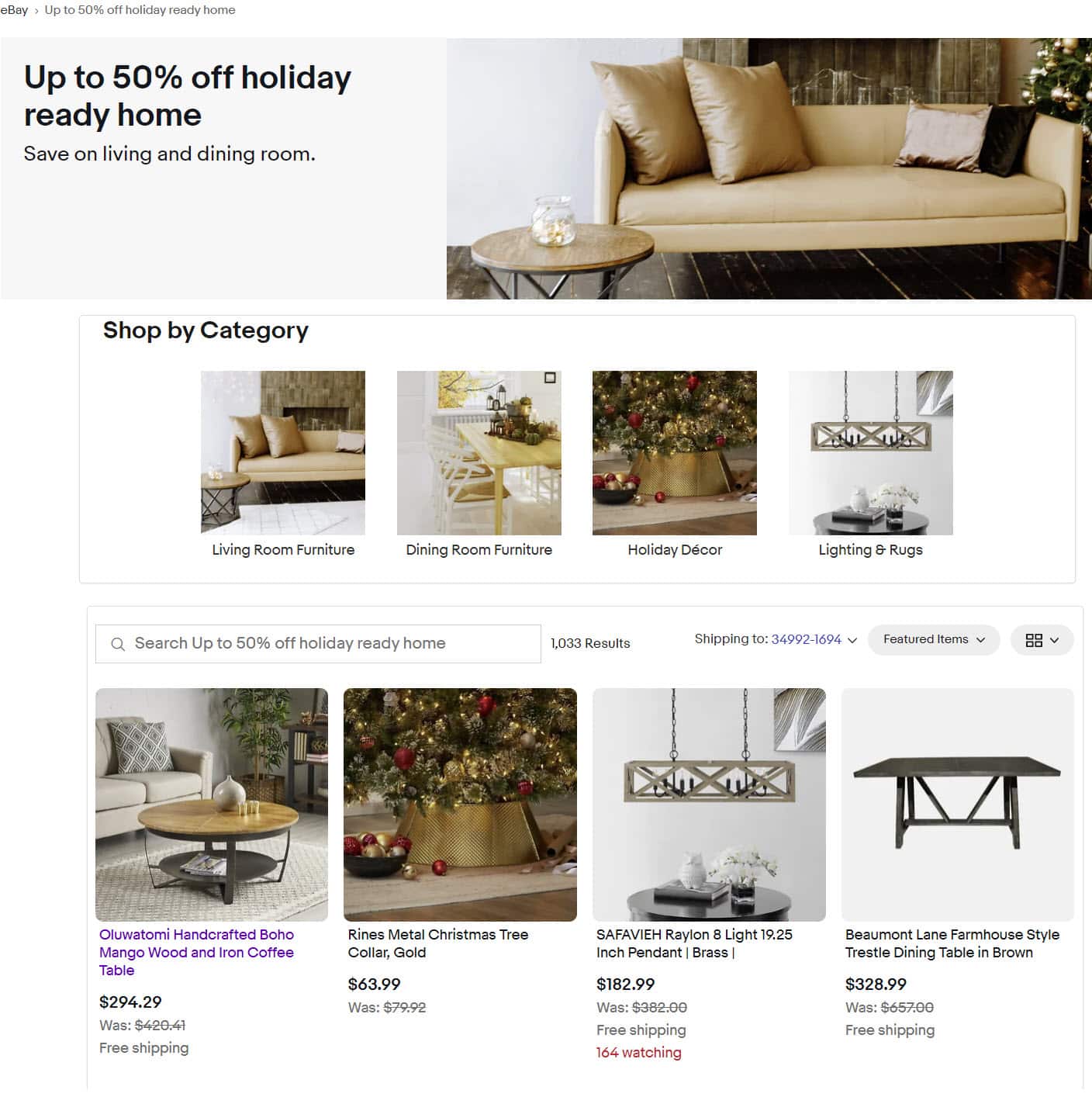 Do the strike through prices accurately reflect real savings? Let's take a look!
First up a chair the seller says normally lists for $895, currently on sale for $344.99 -  a $550 / 61% savings!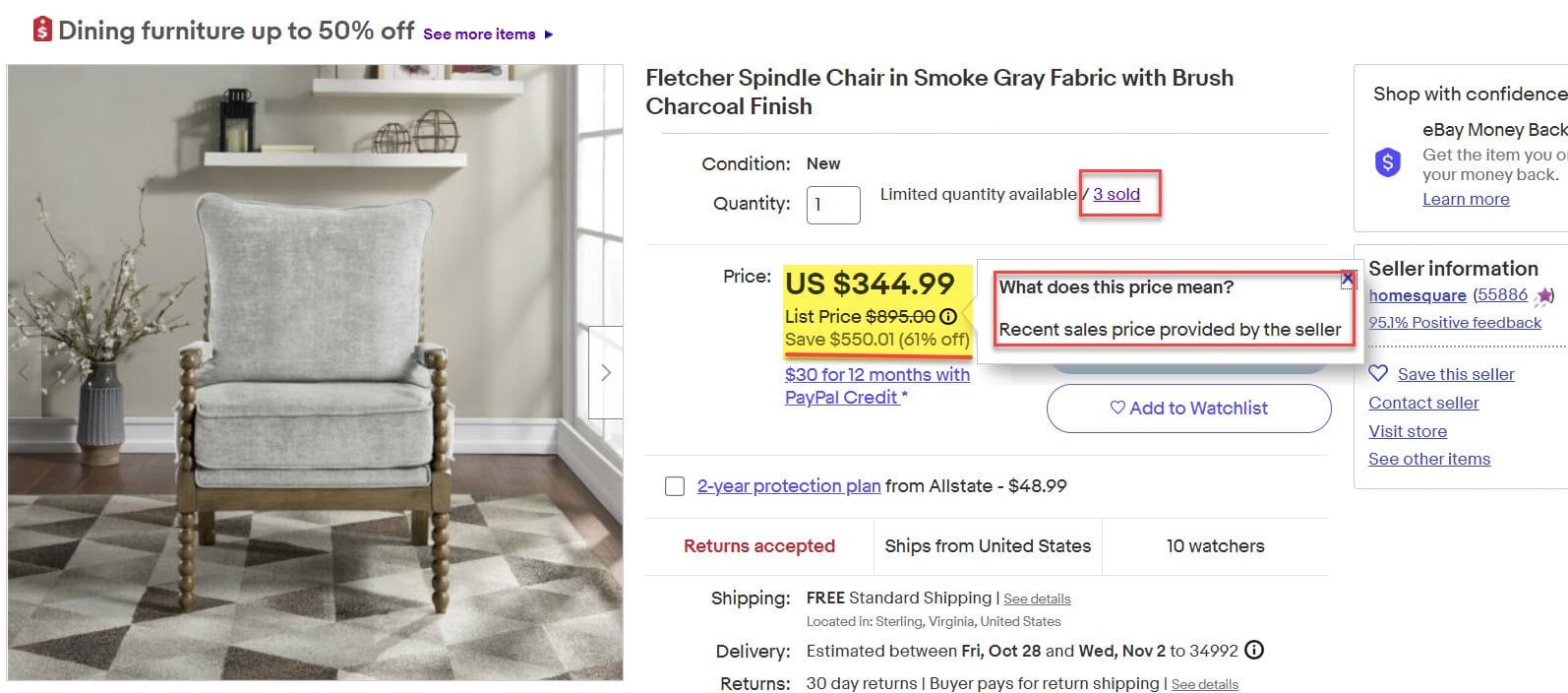 Except when you click to view sold history, you see they've been listing and selling the chair for ~$330-$370 for months.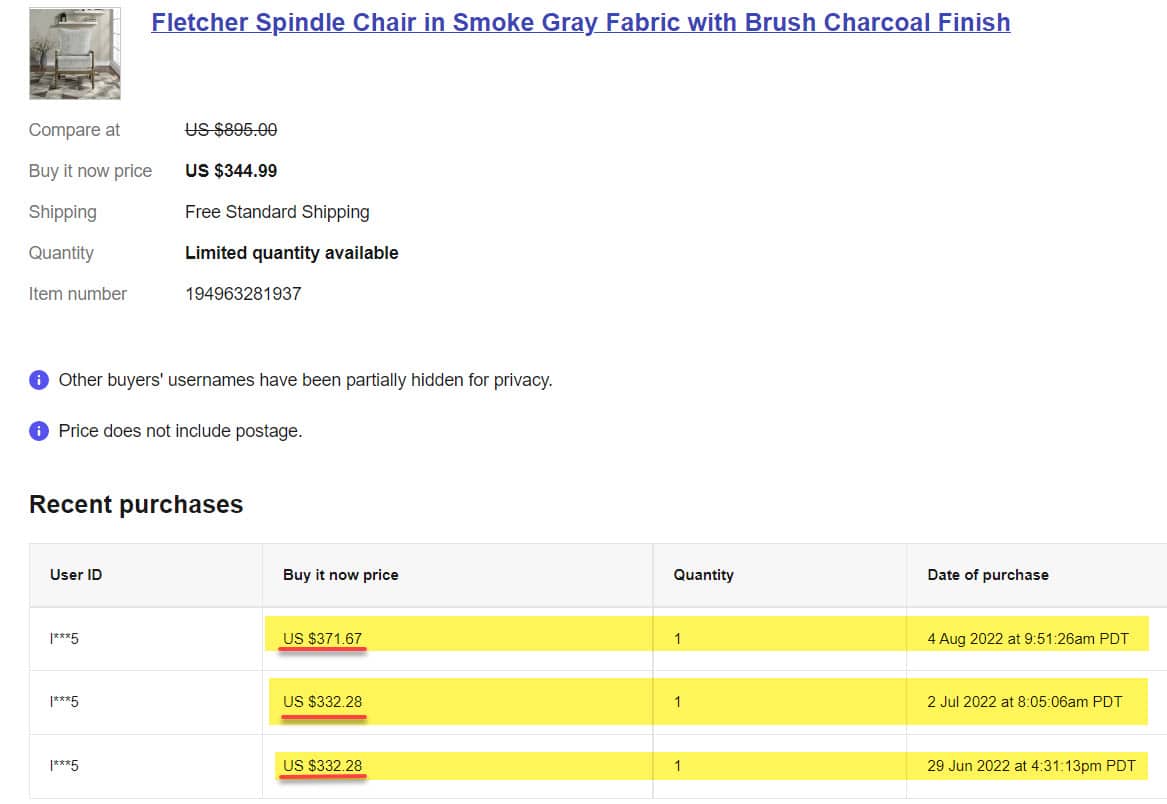 How about this sleeper sectional? List price $909, on sale for $524.00 - 42% off!

Sold history shows it was once priced at $611.29, then lowered to $524.99 - some savings for sure, but not nearly as much as the advertised discount.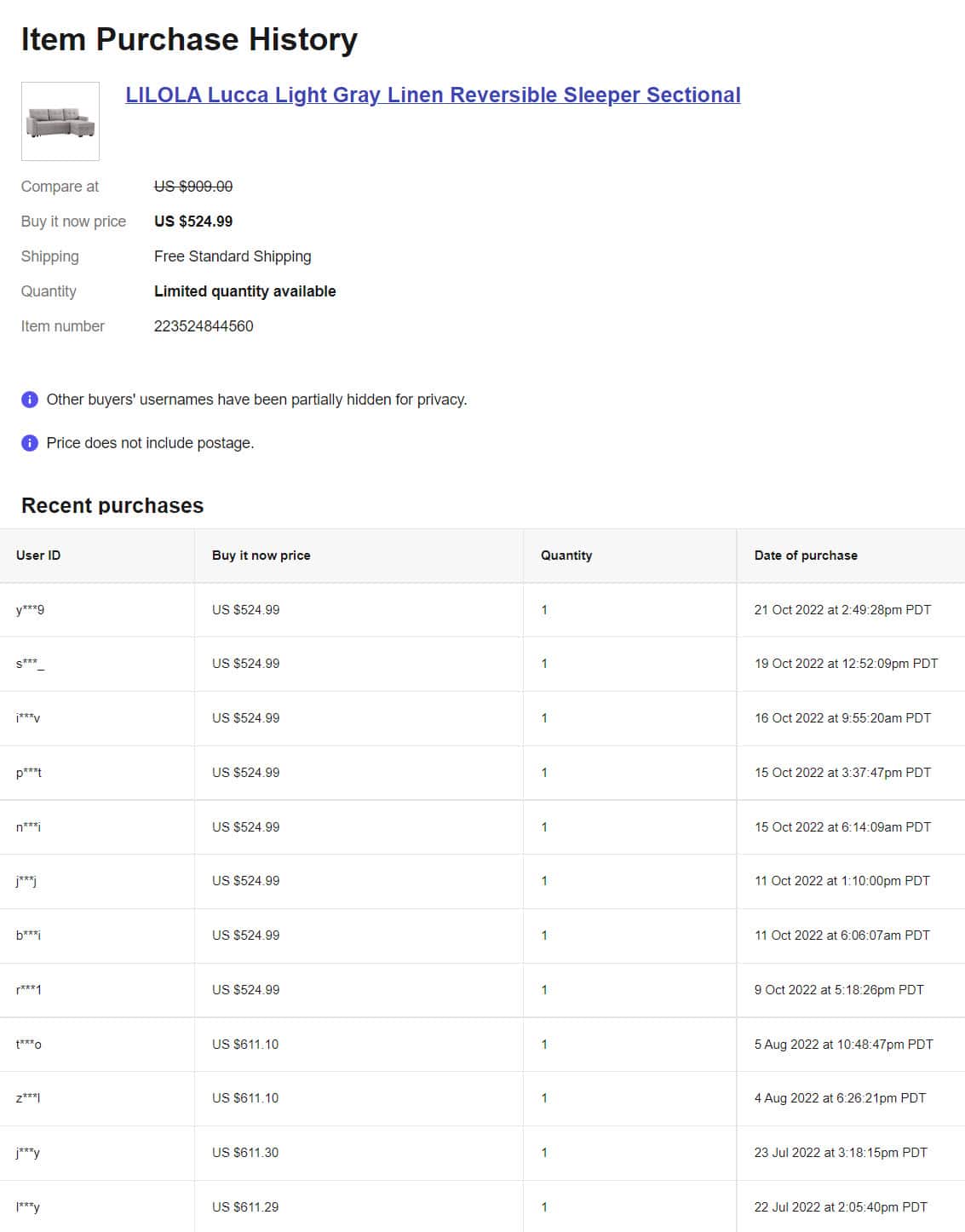 Check out the whopping 76% discount on this TV stand - list price $418.99, on sale for $99.99.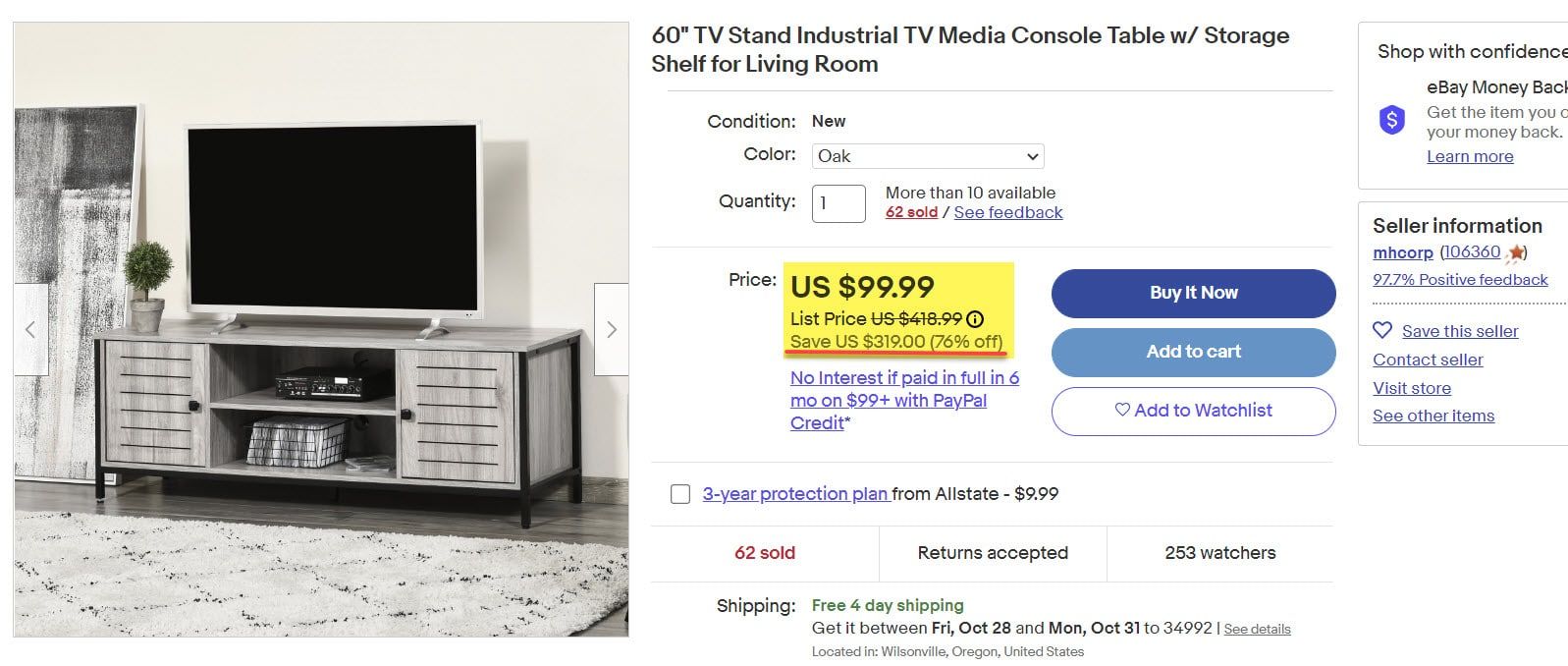 Sold history shows it's really only worth about $130.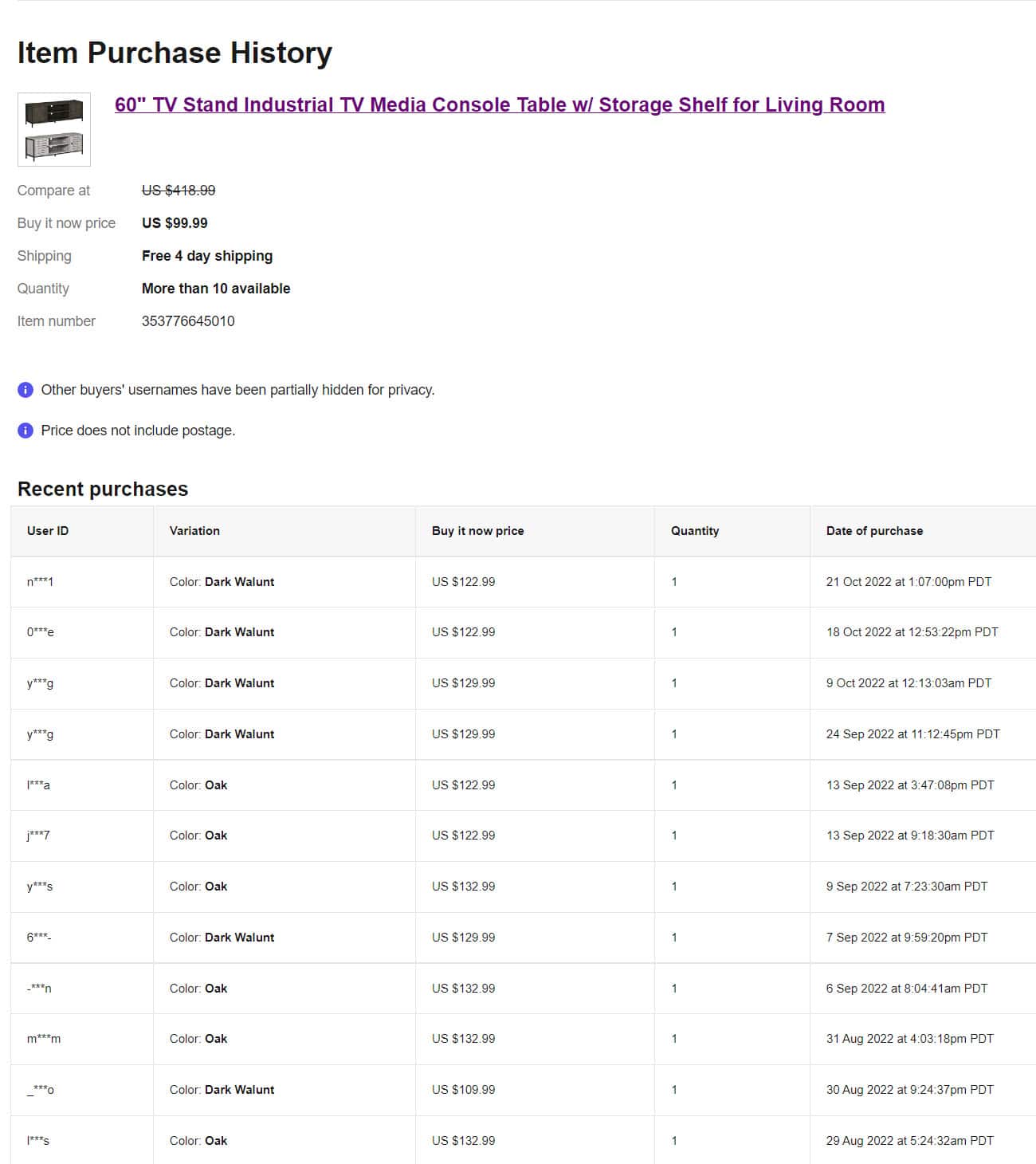 ---
I could go on and on, but you get the idea - I randomly picked over 20 listings to check and every single one that was advertising savings of 40% or more and had sold history viewable was just like this.
It's obvious and blatant manipulation and false advertising, pure and simple.
eBay's excuse will of course be the strike through and discount pricing is provided by the seller, so they are not responsible.
That line of reasoning hasn't worked out very well  for them in Australia where pressure from regulators and consumer protection groups recently forced them to put in place a comparative pricing policy.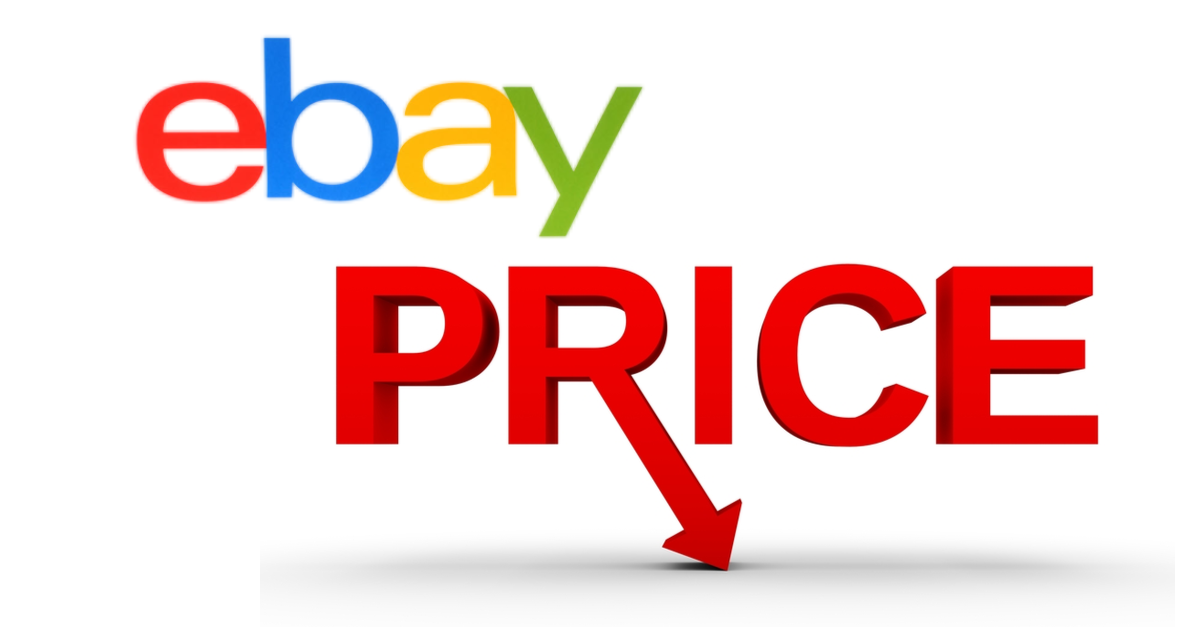 The new policy applies to listings on eBay.com.au and covers all types of comparative pricing that a seller uses to establish the value of the discount to the buyer. This includes, but is not limited to, where a seller refers to:

The recommended retail price (RRP) of an item to demonstrate a discounted current price; or
Its own historical or previous pricing on or off eBay compared to the current price charged (including by using 'was/now' pricing or 'strike-through' pricing, or by specifying a particular dollar amount or percentage saving).



This policy also applies in circumstances where a seller provides eBay with the above information for the purposes of eBay displaying a discount on their item.



What's comparative pricing?
Comparative pricing refers to when a seller includes a recommended retail price or historical price for an item, and then makes a comparison to the current selling price. It can help a seller establish the value of the discount to buyers.



How do I prove a previous selling price?
Sellers should hold evidence (for example, receipts or detailed sales records) demonstrating that:

The items were sold at the previous selling price; and
The previous selling price was offered for a reasonable period of time immediately prior to the product being advertised with comparative pricing using a previous selling price. What is a reasonable period of time may vary depending on the product and the frequency of price changes.



Other important notes:

To ensure that any comparative pricing representations are not false or misleading to consumers (or otherwise in contravention of the Australian Consumer Law), the seller further confirms the following:

In relation to the use of RRP:

The referenced pricing will be accurate and current throughout the entire duration of the listing;
RRP will only be used in cases where the product has been previously offered and sold at that RRP for a reasonable period of time; and
RRP will not be used for products that are only supplied by the seller;



In relation to the use of a previous selling price (including 'was/now' pricing, 'strike-through' pricing or by specifying a particular dollar amount or percentage saving):

The item has been offered by the seller at the 'was' price for a reasonable period of time immediately prior to the item being advertised with 'was/now' pricing;
The item price has not increased on eBay.com.au from the date that is 10 days prior to advertising a discount on the listing (such as when creating a promotion in Seller Hub or participating in eBay promotions), although you may lower the prices at your discretion;
Comparisons will not be made with prices last offered more than 6 months ago (or if they are, the seller will highlight this clearly within the listing)
Consequences for violating the eBay Australia Comparative Pricing policy can be stiff:
eBay may, in appropriate circumstances and in accordance with the terms of the User Agreement, suspend or terminate a seller's account, or impose other consequences (such as removal of eBay Top Rated seller status at an account level) if you fail to provide substantiation, or if eBay or a regulatory body determines that the comparative price is false or otherwise misleading or deceptive.
It's clear that eBay absolutely can set policies and take action to make sure sellers are not manipulating strike through pricing, but they simply choose not to do so unless their hands are forced by outside scrutiny or regulation.
Maybe it's time for the FTC here in the US to get just as serious as Australia is about protecting consumers from misleading discount offers and holding marketplaces accountable for the false advertising they allow to proliferate on their platforms.
---