Amazon Walks Back Extended Holiday Returns
UPDATE 10-11-22
It appears Amazon didn't walk back very far on this one. While they have not yet returned to provide updated information on the seller forum announcement, the Return Policies help page now says:
Extended Returns Information



For the 2022 Holiday Season, most of the items purchased between October 11 and December 25, 2022 can be returned until January 31, 2023.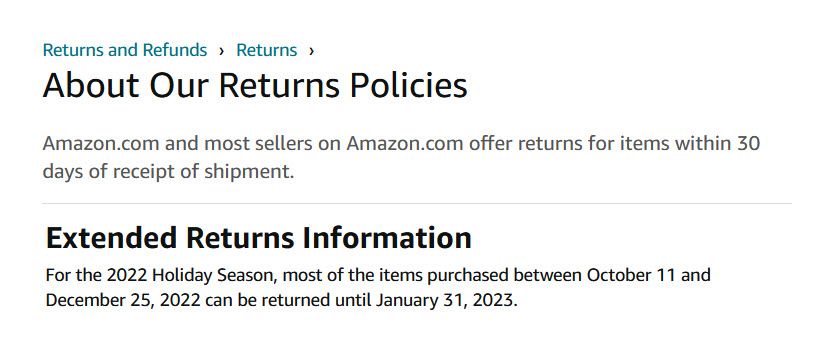 That means on the front end Amazon moved the effective date from October 7 to October 11 (today!) and on the back end they moved the ending date from December 31 to December 25 - shortening the window for purchases to be eligible by 10 days, but still allowing orders from that time to be returned as far out as January 31, 2023.
The updated extended return policy has been posted to the Amazon community as well.
---
Amazon upset sellers last week by announcing extended holiday returns allowing items purchased between October 7, 2022, and December 31, 2022, to be returned through January 31, 2023, but they now say they are adjusting the policy based on seller feedback.
We recently announced that our returns window would be extended in anticipation of customers shopping early for the 2022 holidays. Based on your feedback, we are revising the dates of our holiday returns policy.



Customers who start their holiday shopping early at the new Prime Early Access Sale on October 11 and 12 will be able to return most products until January 31, 2023.



We will announce the applicable dates for the 2022 extended holiday returns window shortly.



Returns eligibility for all orders remains the same. For more information on our returns policy and to view the returns eligibility for each category, go to Returns and refunds.
The announcement is worded a bit oddly, but basically it sounds like they are still going to include purchases from the Prime Early Access sale on October 11 and 12 in extended returns, allowing buyer to return most of those products until January 31, but the applicable dates for everything else are "to be determined" and will be announced soon.
While they have yet to give the exact updated timeframe for extended holiday returns, sellers in the Amazon message boards were cautiously optimistic and happy that Amazon responded to their complaints about the previously very long return window.
Given that a previous announcement specified a beginning date of Today for the 2022 Extended Holiday Returns Window (Yes, Virginia, some of us ARE paying attention - and archiving, to boot), this deference to negative pushback might prove to be a welcome sight in our Seller Community.



Provided, at least, that "shortly" means what even the fabled Most Casual Of Observers would be likely to infer…
Yeah got to say as someone who is unrelentingly negative towards Amazon this is a welcome change potentially. I mean it SHOULDN"T have been a thing in the first place given where we are in the pandemic and how bad returns have been this year in shoes and clothing category but it's still nice to see a response to feedback from sellers. Can't really think of another time something like this was rolled back.
---
I'll update as soon as Amazon provides the updated dates. In the mean time, let us know in the comments below what you think of Amazon's about face in response to seller feedback!
---