New USPS Change Of Address Identity Verification Causes Confusion & Concern
USPS identify verification requirements for Change of Address requests that went into effect earlier this year are receiving renewed publicity after viral TikTok video claims in person verification via QR code is now required.
The video, posted by @gbrodgers, says a new policy will require anyone request to change their address to obtain a QR code and go their local post office with their driver's license or other government ID in order to verify the request.
The Tiktoker, who appears to be a USPS employee, shared this information in August:
The Post Office has a new policy on if you have to move. Before, if you moved, you would either turn in a form to the Post Office or you would do it online. But the new policy is, after you turn in a form, or do it online, in your email you will get a QR code.



You must then take your ID or driver's license with that QR code and go to the Post Office in person so they can make the changes. This is to avoid any kind of fraud where someone would just go online and make a forward in your name.
A commenter on the video raised questions about whether this policy applies to all requesters or just those who are unable to complete the online process.
According to the website that's only if they couldn't verify you online. I just changes my address. and it says nothing about going up there.
GBRodgers responded:
I'm not aware. I'm just forwarding the information our management gave us in a group talk.
The video has received new attention thanks to Fox Business, though the response from a USPS PR rep would indicate the in-person verification is not required for everyone who requests to change their address.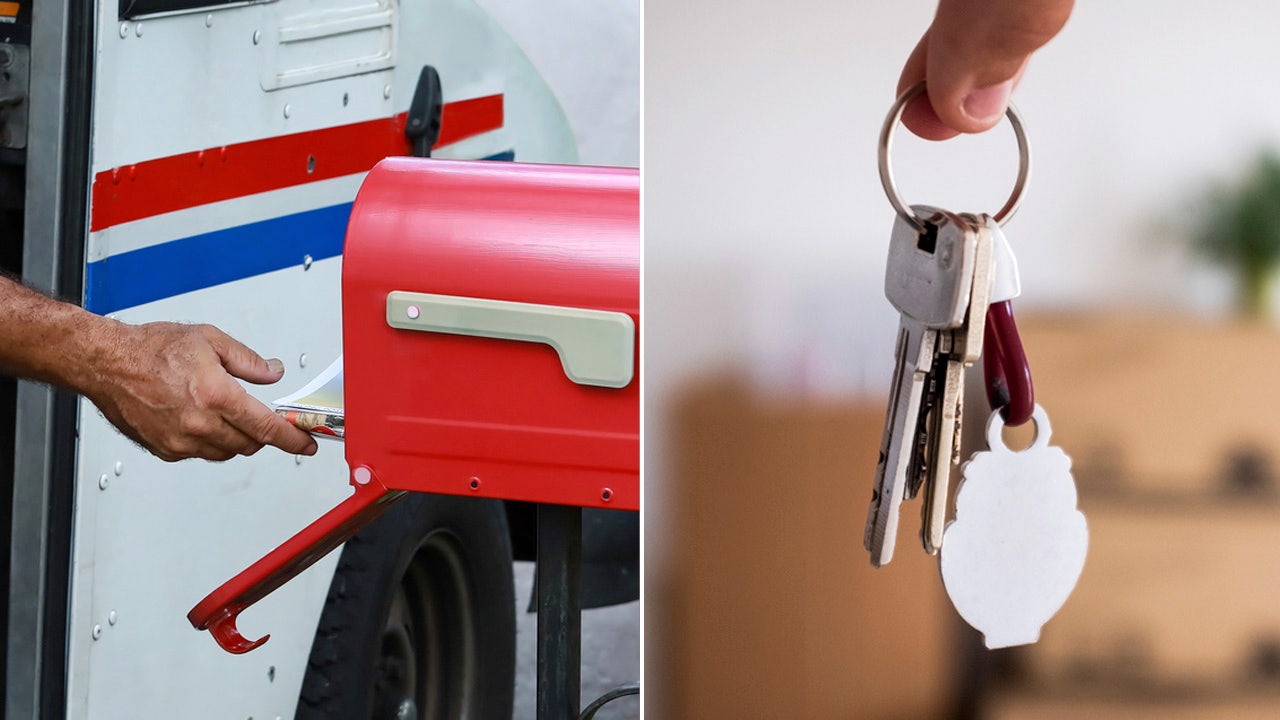 James McKean, a USPS senior public relations representative, told FOX Business:
Today a customer that submits a 'change of address' request must have their identity verified.



There are three ways to initiate a change of address request: online, visiting a local retail office, or submitting the request by mail.



If the customer does not go into a retail location and present proper identification or they do not enter the activation code [they receive], their change of address is not activated.
That appears to be inline with what USPS outlines on their website regarding the identity verification requirements.
When accessing the USPS Mover's Guide to fill out a Change of Address request, users now see a big red banner at the top that says:
The U.S. Postal Service is enhancing security protocols surrounding its Change of Address (COA) service by implementing additional identity verification methods.



These enhancements are designed to address global identity theft concerns, and to protect our customers' information. The Change of Address service remains simple and convenient to use. It can be completed in a few steps, online at USPS.com, or by visiting one of more than 33,000 local Post Office locations.
The form also indicates a mobile phone number is required for verification purposes.
Please make sure your email is active and accurate. Your Change-of-Address confirmation and a one-time reminder email will be sent to this address.



A valid mobile phone number is now required to process your online Change-of-Address (COA) request. Your mobile phone number will be used to complete online Identity Proofing and Verification, in an effort to improve the security of the online COA process, and to identify and mitigate potential fraud.



Online Identity Proofing may include a Phone Verification and One-Time Passcode solution and/or a Device Reputation Remote Identity Verification solution, as applicable.
This USPS help page about Standard Forward Mail shows these changes went into effect May 1, 2023.
The page says you only need to go through the extra steps of receiving an emailed code to take to the Post Office if the online verification process fails.
Where to Go to Change Your Address
Choose to change your address in a few simple steps online or visit your local Post Office location.



You must submit your change of address request in person at a Post Office location if:

You're moving outside the United States
You're submitting a change of request for someone else
You're unable to verify your identity online



How to Change Your Address Online

Go to the Official USPS Change of Address® website.
Choose an option for either an "Individual," "Family" (where everyone has the same last name), or "Business" move, and complete the form.
Verify your identity: Opt in online to receive a verification code or link on your mobile phone.
Pay the $1.10 identity verification fee. The billing address on your credit card must match either your old or new address.
If your online identity verification succeeds: USPS will email you a confirmation code. Use this code if you need to modify or cancel your request.
You'll get a Move Validation letter to the address you're moving from (your "old" address)
About 5 business days before your change of address start date, you'll get a Customer Notification Letter (with your confirmation code) to your "new" address. You'll also get a welcome kit with coupons from USPS partners.
Mail will be rerouted to your new address piece by piece.
If you can't verify your identity online: USPS will send you an email with instructions and a barcode. Bring the email along with acceptable photo ID to a local Post Office location.



How to Change Your Address at the Post Office

Visit your local Post Office location with acceptable photo ID and any other required documents.
Request a free Mover's Guide packet.
Fill out the PS Form 3575 found inside the packet, and give it to the retail associate. They will use your photo ID to verify your identity, then process your change of address request.



Change of Address Exceptions & Details (DMM 507.2.0)

If You're Unable to Verify Your Identity
To submit a change of address, you must verify your identity.
If you can't verify your identity online, go to a Post Office location with acceptable ID.
If you can't verify your identity at a Post Office location, you will not be able to complete a change of address with USPS.
If you can't submit a change of address with USPS, your only option is to directly contact everyone who might send you mail—people, companies, and government agencies—and give them your new address.
The Change of Address Basics FAQ gives more detail about how the online verification process works and what to do if it fails.
Online verification is a multi-factor process that may require a mobile phone number verification where a one-time passcode or verification link will be texted to your cell phone.
A credit card is also required for this process, charging a $1.10 fee to your card in order to verify your identity. The billing address on the card must match either the old or the new address used in the COA request and prepaid cards and gift cards are not accepted.
What it Costs
When the COA request is made online there is a $1.10 identity validation fee. When you enter your credit card or debit card number and billing address, we can electronically verify your card's information with the issuing bank. If you prefer not to use your credit card, you can fill out PS Form 3575 acquired from your local Post Office. Forwarded mail may be subject to additional postage.



Warning: There are third party websites that will charge you fees of $40.00 or more to submit your change of address. The Postal Service no longer accepts submissions from third party businesses due to updated authentication processes.



The Postal Service is not affiliated with the businesses that own these sites and, unfortunately, will not be able to assist you, or offer any refunds for activity on ANY non-USPS site.



If you attempted to file a COA on a non-USPS site, you will need to contact the financial institution that issued the credit card for resolution. To ensure the best service, always use USPS.com for all change of address activities.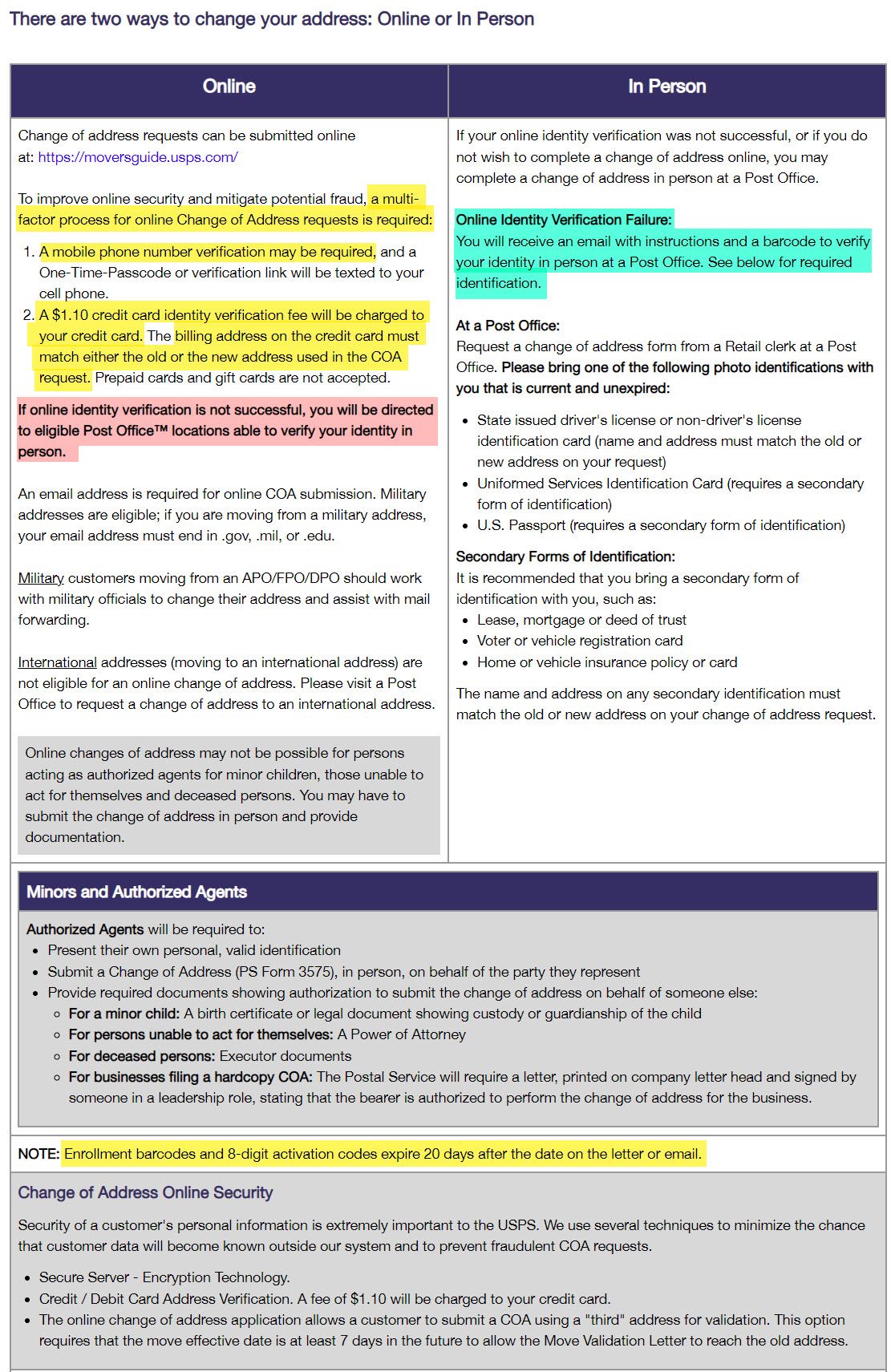 While these requirements may seem burdensome, the security issues they are attempting to address are very real and very serious.
A report last year from the Office of the Inspector General of the US Postal Service highlighted troubling trends in Change of Address requests being used to commit fraud and identity theft, finding that fraudulent requests made via online tools had increased significantly from 2020 to 2021 due to ineffective identity verification.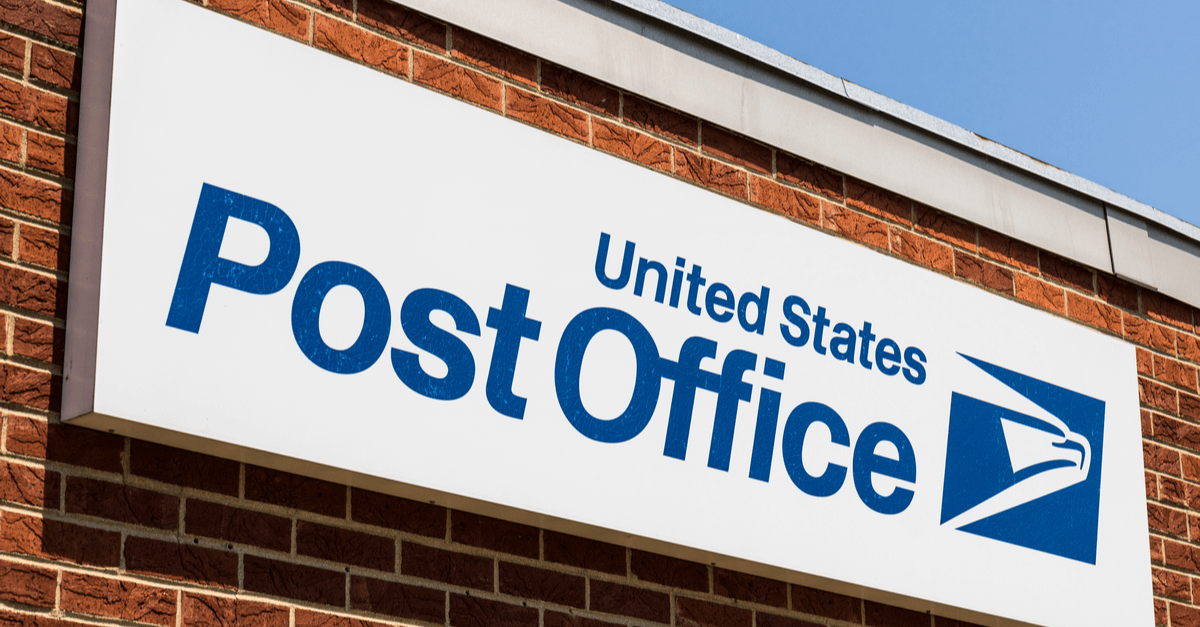 Unfortunately, it appears the new program has had a rough start with many complaints about the online verification process - which may be why there is confusion about whether or not an in-person visit to the Post Office is required.
I have been trying to do a COA since March. Every time I tried online, it would claim the address didn't match the address the bank and/or credit card had. Even though they were the exact same.



Finally went into the PO and filled out a card. Guy said I was all set. Waited, and waited. 3 weeks later, I received a letter at the new address that I need to verify my identification. Couldn't he have verified I was who I said I was when I filled the request?



Anyway, here we are over a month after verification, and still nothing. I should have gotten something by now. I haven't had time to check, so I don't know if mail is still being delivered to the old address. Luckily, I still have access, but going there is a waste of time I currently don't have.
---
Have you used the new USPS Change of Address identity verification process? Let us know in the comments below how it worked for you!
---