Two More eBay Security Employees Sentenced In Cyberstalking Case
UPDATE 10-29-23
Stephanie Popp was released from federal prison on September 1, 2023 after serving ~9 months of a 12 month sentence, according to records from the Federal Bureau of Prisons.
---
Two more former eBay employees have been sentenced for their parts in the 2019 cyberstalking scandal that targeted journalists and critics of the company.
Stephanie Popp, 34, of Louisville, Ky., eBay's former Senior Manager of Global Intelligence, was sentenced to one year and one day in prison and two years of probation.

Stephanie Stockwell, 28, of Redwood City, Calif., the former manager of eBay's Global Intelligence Center, was sentenced to two years of probation, with one year to be served in home confinement.
7 former eBay employees were charged criminally in the case - in addition to Popp and Stockwell, Security Manager Philip Cooke was sentenced to 18 months in prison, Director of Global Resiliency David Harville was sentenced to 24 months in prison, Head of Global Security Jim Baugh was sentenced to 57 months in prison, and Senior Manager Special Operations Brian Gilbert and security analyst Veronica Zea are expected to be sentenced next month.
The victims, Ina and David Steiner of EcommerceBytes, have also filed a civil case against the 7 criminal defendants as well as ex-CEO Devin Wenig, ex-Communications Chief Steve Wymer, Progressive F.O.R.C.E.Concepts, LLC and eBay Inc.
In an odd twist, some of the most troubling evidence has been presented in a cross claim by Baugh filed in the civil case seeking to hold eBay liable for any damages because, in Baugh's words, he was doing the job for which they hired him and his legal team believes he should be indemnified under CA labor law.
An email chain between Baugh, Wenig, Wymer, and Chief Legal Officer Marie Oh Huber was released in recent court documents, showing months-long simmering frustration about EcommerceBytes articles and member comments boiling over as pressure mounted to identify and locate unsuckEBAY/FidoMaster - an anonymous online persona that posted about eBay on Ecommercebytes, Twitter and other sites.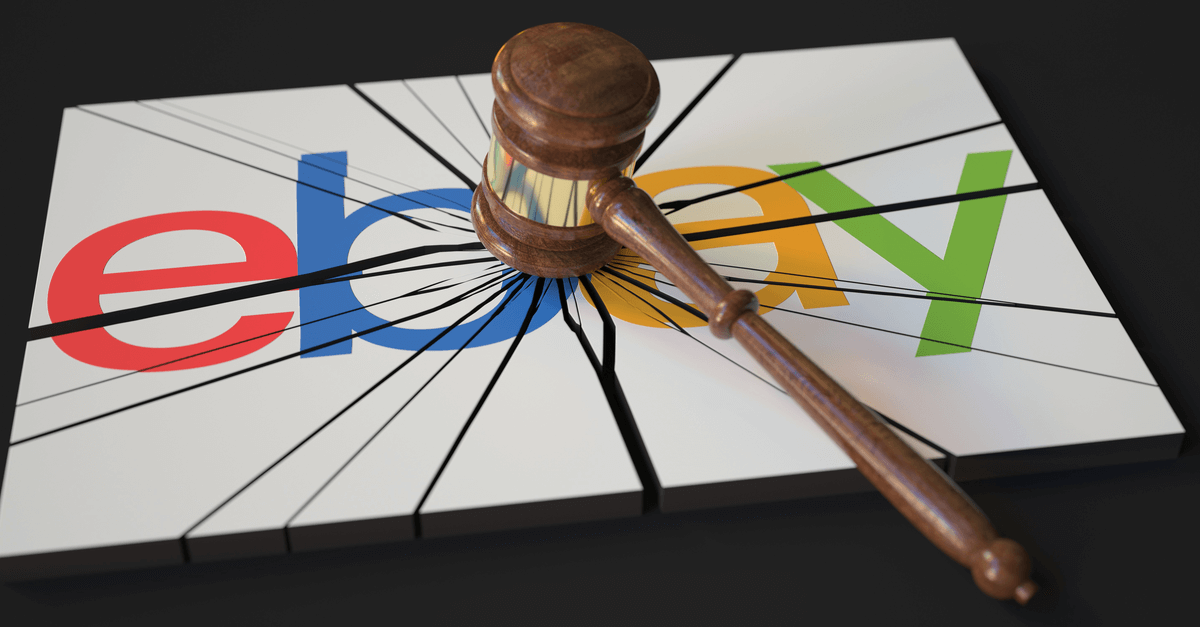 According to arguments by Baugh's legal team:
The email that Wymer sent on August 7, 2019...was written in response to an earlier email that an in-house eBay attorney sent to Wymer, Huber, and Mr. Baugh, about the limited options for addressing...tweets about eBay, which the company believed were connected to, or provoked by, the Newsletter.

The full thread makes clear that Huber and Aaron Johnson in eBay's legal department requested that Mr. Baugh regularly update the company's senior executives about "any news/developments on [his] end." That is exactly what happened.

During a lengthy discussion by email about @unsuckebay...Mr. Baugh reported to Wenig, Wymer, and Huber that the security department was working to gather "information regarding [the poster's] identity and location".

In the same thread, Wymer mentioned corporate and legal efforts to "get [@unsuckebay] killed."

Source: USA v. Baugh 1:20-cr-10263 Doc 79
New information revealed in Stockwell's sentencing memorandum paints a picture of a security department led by Baugh that had gone off the rails, completely unchecked by any other departments or executives at the company.
The Global Security and Resiliency ("GSR") unit…was a toxic environment run by a man who terrorized and intimidated Stephanie [Stockwell] and others he supervised…As run and managed by Jim Baugh, a former government security professional who repeatedly told his staff that he had been in the CIA, Stephanie found herself subject to bizarre scenarios on a regular basis.



We need to be ready", Baugh would say. " We are the only ones who can prevent it from being really bad," he would instruct…



…One time, he found a knife on a barbeque grill on campus which he told everyone could have been used to hurt someone, then immediately stabbing a chair in their office where the knife remained for some time, with the resulting hole in the chair permanently enshrined as a reminder of what can happen when you don't do your job…



…Paul Florence was the chief executive of Concentric Advisors, the staffing agency that placed co defendant Ronnie Zea and other contractors at eBay said "It felt like eBay was breaking the analysts down psychologically — making them doubt themselves, isolating them, turning them against each other. In 18 months, eBay fired at least a dozen analysts. When Mr. Florence protested, his firm was fired, too. "I was relieved," he said. "It seemed like a cult."



The seeds of the tragedy that unfolded at eBay causing havoc, heartache, and fear for V1 and V2 disseminated from Baugh's bizarre, unorthodox and frankly, inappropriate and dangerous work environment.



Manipulating and psychologically breaking down his immediate staff so that he could accomplish his goals and achieve his desires is outrageous. That other professionals and executives at eBay didn't step in to stop it thereby allowing GSR to fester unheeded endangered its immediate unit employees and contractors as well as the broader eBay community including the public.


The manipulation reportedly didn't stop there - Stockwell alleges after the harassment campaign had been discovered and investigations were underway, the then married Baugh manipulated her into having a sexual relationship and gave her a "gift" of $5,000
Baugh's obstruction continued past October 2019, when the government sent him, Stockwell, and several other co-conspirators target letters.



Baugh manipulated Stockwell, by starting to have sex with her in the wake of the harassment campaign, and by paying her $5,000 in cash just before her proffer with federal investigators—a purported gift that she should not deposit all at once because it might cause trouble with the government.



Baugh also "prepared" Stockwell for the meeting by suggesting she only discuss what she had seen personally (which was nothing in Boston or Natick). He also instructed Stockwell to lie about the nature of her relationship with Baugh because it would not reflect well on her (which she then did). Baugh ended the relationship almost immediately after the proffer.


After reading the full description of what was going on inside eBay's security department at the time, it's absolutely mindboggling that this could somehow go unnoticed by HR, Operations, and Legal department executives.
The victims have been very vocal in asking why there has been no accountability for the clear and obvious breakdowns in corporate governance and responsibility - a question I wholeheartedly echo.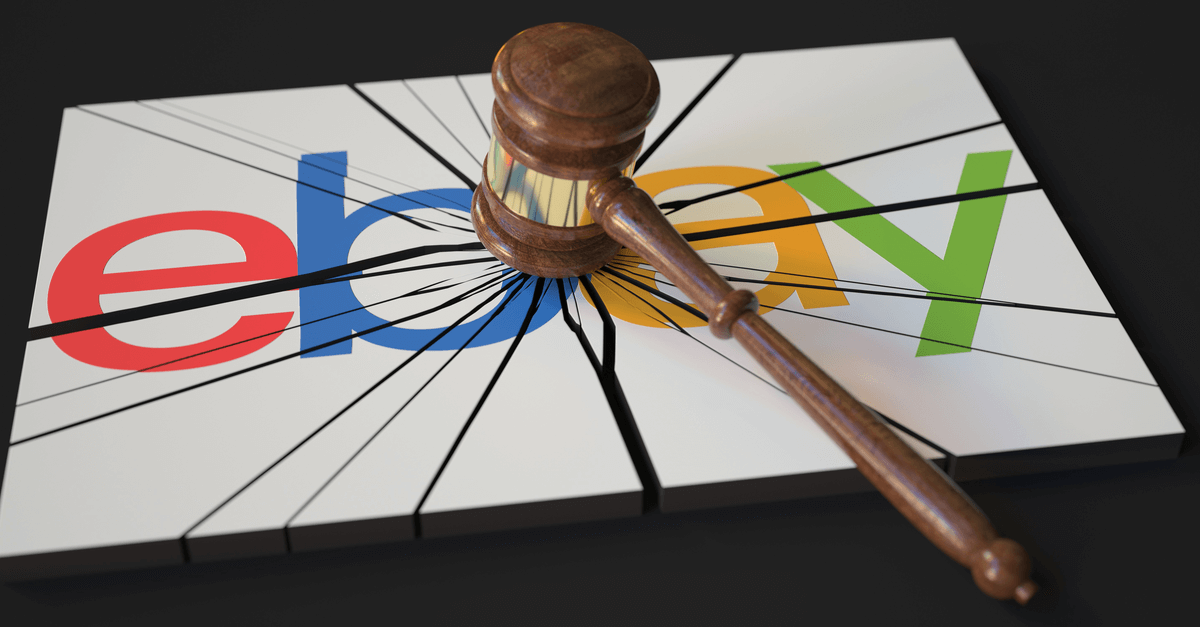 In addition to Wenig, Wymer, and Huber, SVP Global Operations Wendy Jones (Baugh's direct supervisor at the time) was included in emails and texts submitted in this case, though she has not been charged criminally or named in the civil suit.
In May 2019, the executive leadership team (ELT) was reportedly concerned about an article about Wenig turning a historic house on the eBay campus into a replica of his favorite New York bar, Walker's West, and Wendy Jones requested to "huddle" with Baugh about the matter over lunch.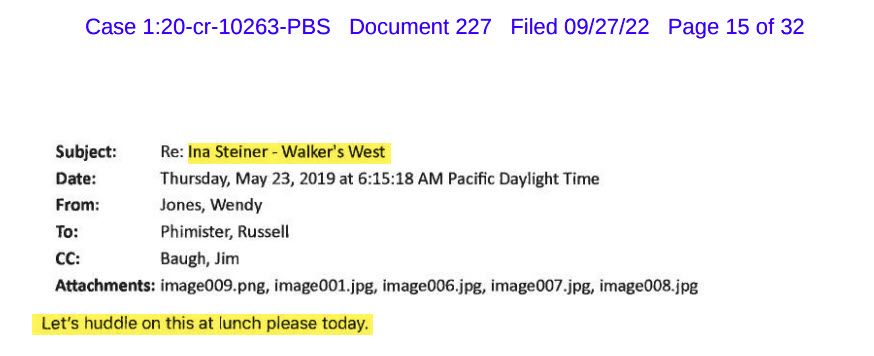 According to Baugh's legal team:
At the lunch meeting, Jones asked Mr. Baugh if he could find a way to deal with the issue "off the radar since comms and legal couldn't handle it." Jones told Mr. Baugh, "Just get it done. I don't want to know the details, just make sure you sync with Wymer." Mr. Baugh thereafter provided regular updates to Jones.
Jones was also copied and acknowledged receipt of a text message between Wenig and Baugh that would appear to implicate Baugh as the person behind the anonymous "Marissa" Twitter account that tried to lure FidoMaster / unsuckEBAY into an in person meeting, as shown in exclusive messages provided to Value Added Resource.
Jones was allowed to continue in her role as SVP Global Ops through December 2020, well into current CEO Jamie Iannone's first year back at the company. When she departed, she took an $11M+ severance package, in addition to the $11M bonus Wenig had granted her for 2018, $8M of which was a retention bonus.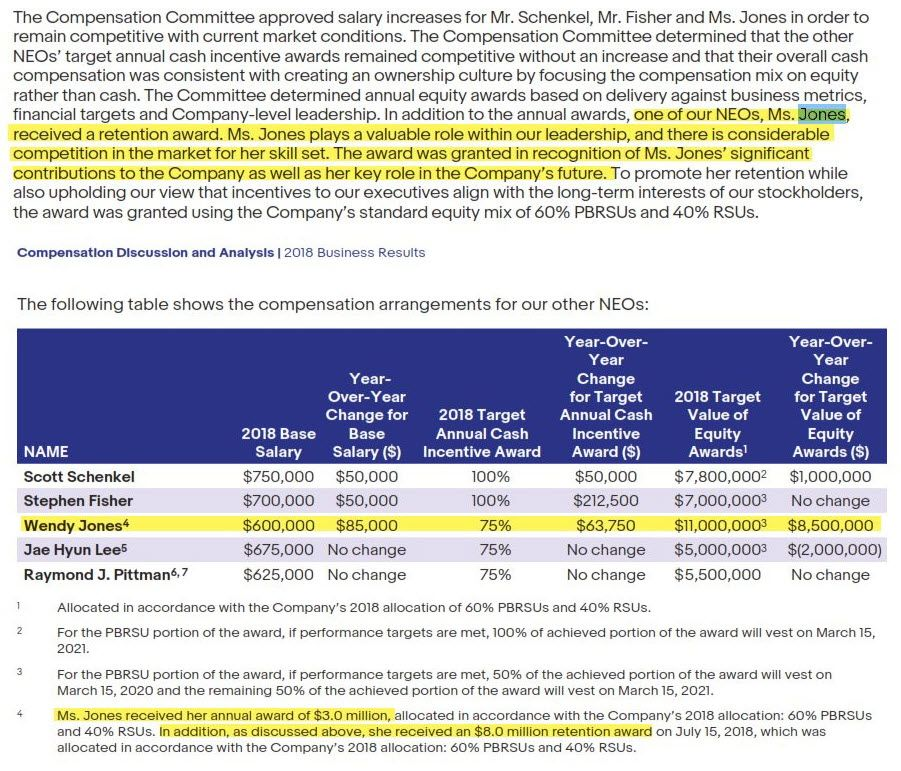 Chief Legal Officer Marie Oh Huber, also not named criminally or in the civil suit, actively participated in an email exchange with Baugh, Wenig, and Wymer about trying to get the unsuckEBAY Twitter account shut down and the fact that normal legal methods would not be effective, including Wymer saying "whatever it takes" should be done, Baugh assuring everyone he was investigating, and Huber replying with a smiley face emoji.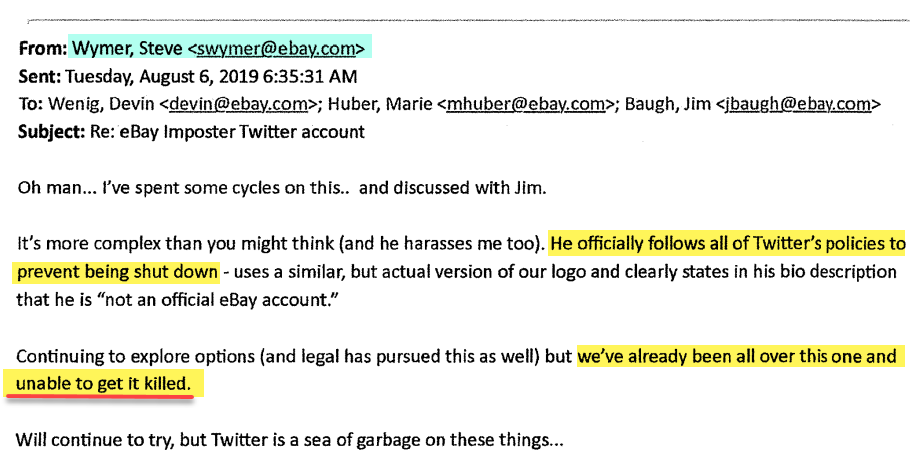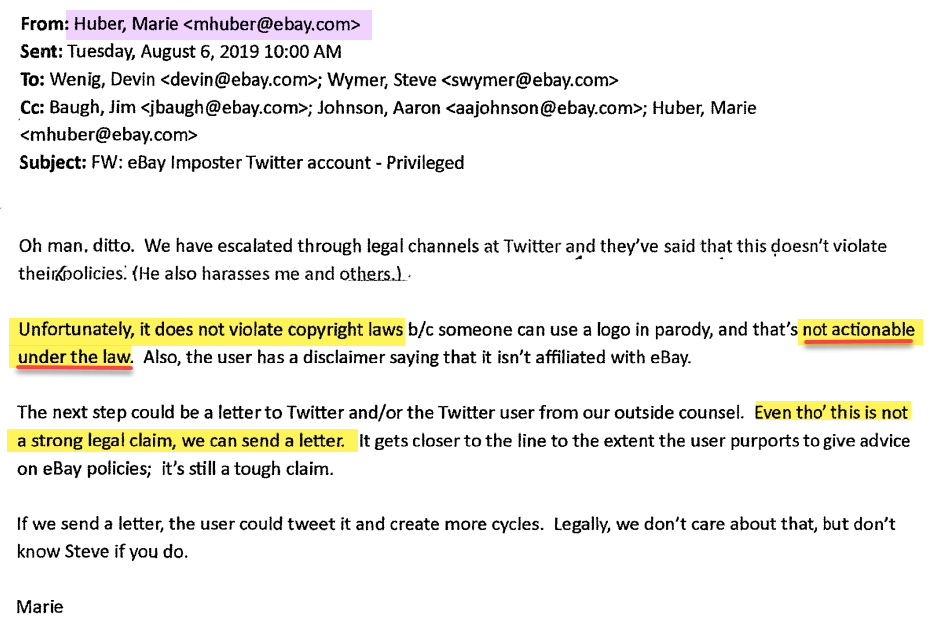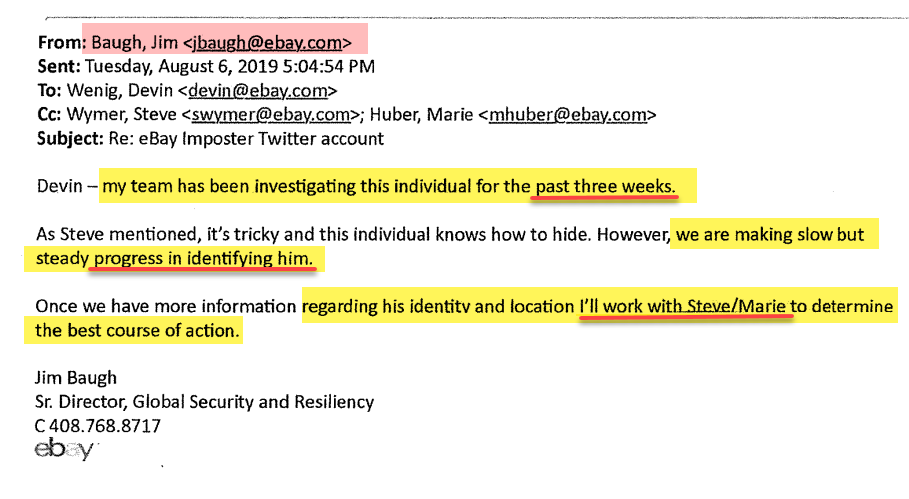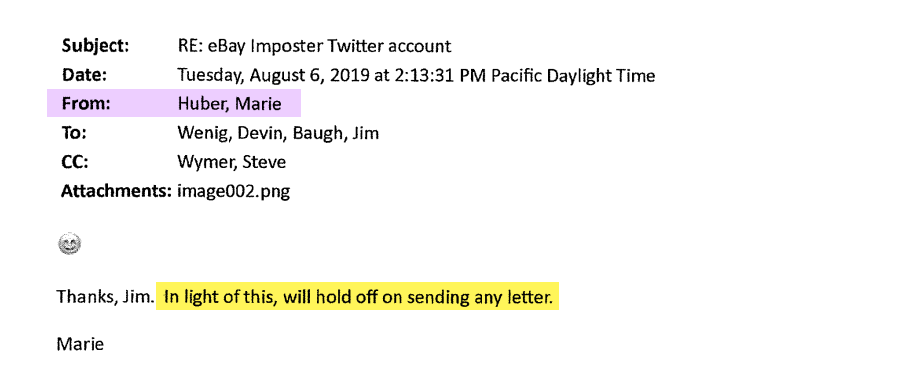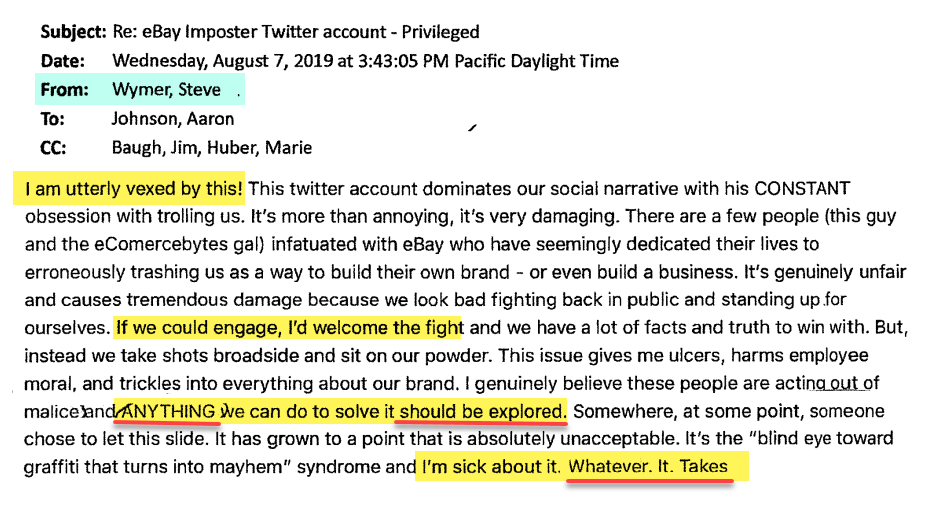 Huber is still eBay's Chief Legal Officer and, as a result of eBay's internal investigation in this matter, the Safety & Security unit was moved to the Legal Department from the Global Operations division.
That unit now reports to eBay Legal VP, Chief of Litigation, who of course reports to the Chief Legal Officer - meaning the entire security apparatus at eBay now resides ultimately under Huber's purview.
And despite the heavy drinking corporate culture at eBay being blamed by both Baugh and ex-security manager Philip Cooke for their "poor judgement" in participating in the cyberstalking and harassment campaign, it appears eBay may still be operating the on campus pub - having renamed it The Sellar in an apparent attempt to distance from Wenig's legacy.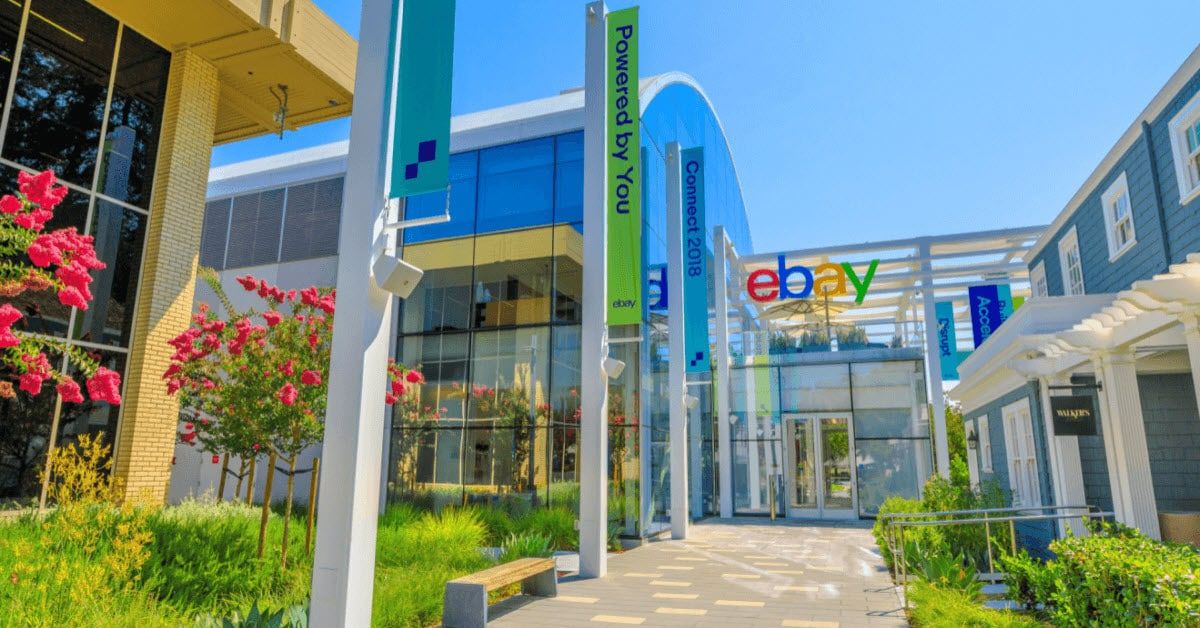 Aside from an apology letter from CEO Jamie Iannone in 2020, eBay has done very little to publicly acknowledge the failures all the way up the corporate ladder that led to this debacle or take accountability in any meaningful way, instead seemingly trying to just move on and hope it will eventually be forgotten.
I personally believe not only should past leadership be held to account for what happened in 2019, current leadership should also face some tough questions about what has been done to make sure this never happens again.
---