Stamps.Com App Offers QR Codes & Printing On The Go
Stamps.com announces Postage On The Go and QR codes now available through iOS and Android apps.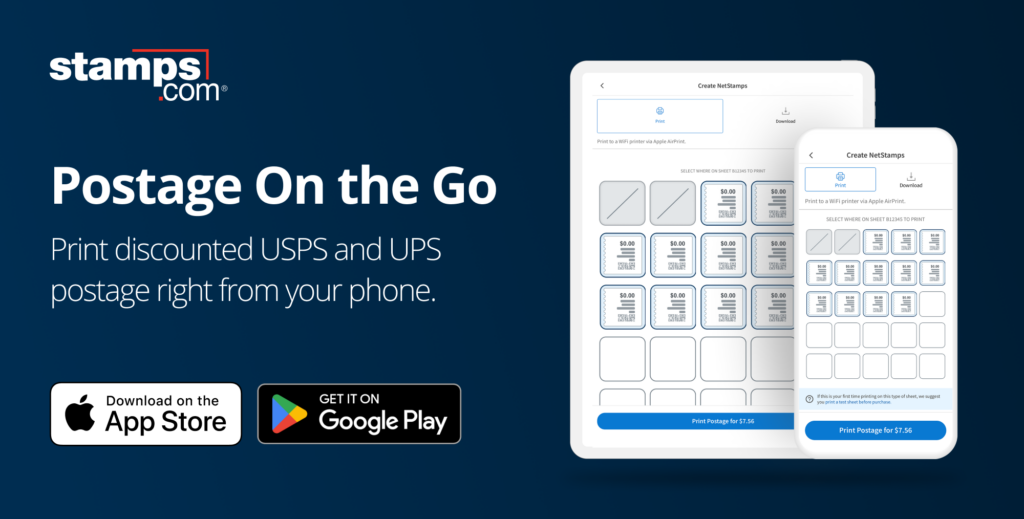 What's new in the Stamps.com Mobile app?
With the Stamps.com Mobile app, you can now print USPS postage on NetStamps®, print stamps directly onto any envelope, or effortlessly generate shipping labels straight from your phone. This way you don't have to put off your mailing and shipping tasks until you're at home or the Post Office.



Stamps customers are always on the go. Over half of the traffic to Stamps comes from a mobile device, and now these visitors can mail and ship on their preferred device.



How the Stamps.com Mobile App works
With the latest enhancements to the Stamps.com Mobile app, the busiest mailers and shippers can take their first printing step while they're on the move.



How does the Stamps.com Mobile app work?

Go to Stamps.com to create your account.
Download the Stamps.com Mobile app for iPhone or Android.
Log into your account on the app.
Click [CREATE] to create NetStamps, a shipping label, or an envelope.
Add sender and recipient information.
Enter the weight, size, and other basic information for your letter or package.
Check out rates and choose your preferred carrier and service.
Ready to print? Connect your phone to any wireless printer.
Not ready to print? Download a PDF to print later.
No printer? Generate a QR code and bring your item to the Post Office™ where a staff member will quickly scan it.
Stamps.com offers a free account for eBay sellers, and sellers are hoping these new features will be available on that plan.
While eBay does already offer QR code functionality for labels purchased directly through them, eBay sellers may still find this functionality useful for non-eBay related shipping or simply because they prefer the reporting capability the get when purchasing shipping for eBay orders through Stamps.com
I'm hoping these features will be accessible with the 'free eBay account' because there are numerous times when I've needed a label on the go and wished stamps or pirate offered the QR code option. Guess I'll have to download the app to find out...



...When I need labels on the go it's not for eBay transactions. It's usually for something like shipping inventory. Can't get labels through eBay that aren't for eBay transactions.



Having said that, I'm the go-to for helping family with shipping and often they will ask me to print labels because some of them don't have printers. eBay return label rates are often overpriced because they use averages, so the QR through stamps.com will be helpful in that situation...



...eBay transaction or not doesn't matter. stamps.com offers great reporting for shipping labels and eBay doesn't, so unless eBay offers lower rates I'd prefer to use stamps.com.
Have you used the QR function in the Stamps.com app? Let us know what you think in the comments below!
---