Reebok Is The Poster Child For eBay Ads?
Scrolling through Twitter this morning I saw an interesting Tweet from the @eBayAds account featuring Reebok as one of eBay's top partners.
I was a bit shocked at eBay using Reebok specifically as a success story to promote eBay ads - a move that's not likely to go over well with many longtime users who have not forgotten the great Reebok eBay Feedback Fiasco of 2019.
For those who don't remember, in June 2019 the official Reebok store on eBay had a major pricing error event with some items marked down 90%+. Neither company ever publicly gave details of what caused the snafu or which party was to blame.
Chaos ensued as soon as news got out across social media and deals websites with buyers looking to snag a deal flooding the site, many of whom where hoping to cash in on the opportunity to resell the products at higher prices.  Some buyers reported their items did in fact ship, but it didn't take long for Reebok to catch on to what was happening and start cancelling orders.
I got an email direct from Reebok saying that I should have noticed my canceled orders. When I look at eBay they aren't cancelled. They show me an estimated arrival of July 2, but they haven't shipped. I just noticed that I got an email from PayPal that I have a refund waiting for me.



This is the email they sent me. a 35% off coupon. Seriously???



Hello

As you may know, your recent Reebok order on eBay was cancelled. A technical error caused some of our listings to be offered for lower than anticipated prices. We would like to apologize! For your inconvenience, we're extending a special discount just to you: an extra 35% off your next order from the Reebok eBay Store (reebok_official) through July 14, 2019 (11:59pm PDT).*



Thank you for understanding. And again, we apologize for the error.



Sincerely,

Reebok Customer Care
Many buyers were particularly confused because the refunds were sent to them via PayPal, even though their original transactions were not paid via PayPal and the orders did not show as "canceled" in eBay - indicating that Reebok was handling things outside of the normal eBay process.
Again, this was never addressed publicly by either company, but speculation at the time was presumably this was done (possibly with eBay's knowledge and/or advice) to avoid trigging automatic negative action against the account for too many refunds/cancellations.
Did you pay with Paypal? I did not, and i still got the email that said this:



Refund details

Refund to PayPal balance. Pending until: July 1, 2019



No mention of my CC, or any CC numbers, or anything.
I got a refund email for both of my orders, and on Ebay, it still shows as paid.
I have ordered multiple items in multiple orders from Reebok's official Ebay store. They have decided to cancel all orders on their behalf and have said that I have requested it, which is not true. They decided to PARTIALLY refund all of my orders through Paypal and not through EBAY, to avoid all the seller fee's. They have violated all terms according to Ebay as a seller. In total I will be missing over $200 in refunds because they decided to only partially refund some items. What are my options?
I received the email below from Reebok.

I purchased one pair of shoes that they want to cancel.

I'm being told I can now repurchase the shoes at a higher cost even after their percentage 33% off.

I believe Ebay has rules in regard to wrong info in a listing.
Reebok is refunding all my purchases through paypal but the orders are not being cancelled on ebay. Pretty sure this violates ebay's terms. Also they are refunding without any communication to the customer.
---
The fallout continued over the next few days with Reebok receiving literally thousands of negative feedback ratings - and eBay furiously scrubbing their account to remove the negatives as quickly as possible.
I'm sure many of you know about the large company debacle on ebay. As of now, they went from over 10,000 negative feebacks to 3523 and falling.



When I started this post it was at 3701 and has fallen to 3620 in less than 5 minutes. Now 3554, less than a minute later. Now 3523 in the time it took me to hit refresh.



The double standard and dishonesty of ebay is appalling.
I can confirm that the 1-month negative feedback dropped from 10,000 to 2,821 in the last 24 hours.
I guess the sanitation crew was on vacation or thinking up 1001 new changes for this week. The company's neg FB had gone all the way back up to 8500 with an 88.9 score.



As I write this, the negatives are disappearing faster than a toupee in a hurricane. They're now back up to 89.3 and rising and down to 8229 and falling. For a minute there I thought ebay actually had a shred of integrity. Glad that's over.
ebay must have pulled an all nighter last night. The neg FB is now down to 792. Heck, that's so low they probably scrubbed non-price-mistake FB while they were at it.
Wow! They sure did. It was above 4,000 negs just yesterday, and we know somewhere around 10,000 negs were already scrubbed, if not much more. I can't babysit their feedback constantly. Somebody is sleeping all day today, or a new bot program for special sellers was written to scrub feedback so they could erase them in bulk.
They are down to 37 negs, most from this morning.



Shameful erasing.
Sellers were particularly upset because of what they believed was a double standard.
Sellers make honest pricing and other listing mistakes all the time and are told to accept the consequences. I think many errors could be more financially and account impacting on a small seller as compared to a mega corporation that processes 1000's of transactions a day. Unless the feedback content itself violates standards it's supposed to be unremovable no matter what per c-s.
It is the seller's responsibility to check their listings before they list an item.



It's called Quality Control procedures.



So I don't care if the errors were caused by Santa Claus sticking a candy cane inside of their data base that caused the error.



If their were no Quality Control procedures in place to detect the listing errors, and then either end the listings or correct them ..... then there are fair and reasonable consequences to deal with that ..... either honor the sales or take the negative feedback.



If a small seller gets sick and is hospitalized for 3 weeks, and his negative feedback for non-shipment piled up to an unacceptable level of performance, would HIS negative feedback be removed?



My guess is that CS would tell that seller ..... "Sorry, but you shouldn't have gotten sick" !
I would like to point out the numerous times we have seen small sellers come to these boards stating they made an error in pricing ( ex. $99.99 dollar item sold for $00.99 cents) and asked for advice and were told to eat the mistake and that it was "just a cost of doing business".



Now here, I see some of the same posters that gave that advice advocating for this big box seller. I don`t understand why that is. The scenario is the same even though the magnitude of the mistake is not.



Would ebay take the same position for the small seller as they did for this BB seller? We already know the answer. Do I think it`s fair? No. Not in the least.
---
Whatever happened back in 2019 obviously didn't irreparably harm the relationship between eBay and Reebok, but as someone who spends a bit of time talking to other eBay users I can say that it did do lasting harm to the reputations of both companies in the eyes of both buyers and sellers on the platform.
For eBay to use Reebok as an example to push their ever increasing Promoted Listings portfolio agenda strikes me as a bit tone deaf to say the least.
In one part of the video in that tweet, Don Larkin Head of US Digital Commerce at Reebok is quoted as saying "you know, eBay is invested in our brand and commercial success."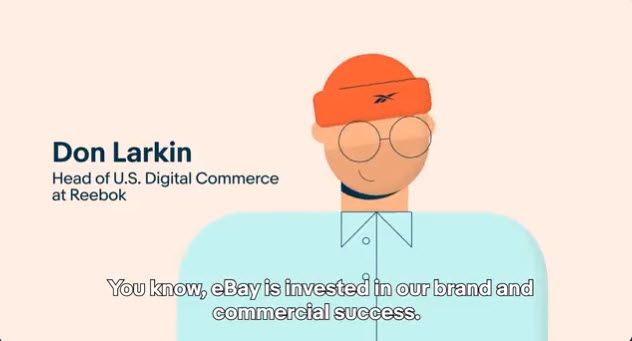 Yes Don, some of us know all too well exactly what lengths eBay went to invest in your "brand and commercial success" - a fact that both you and eBay might not want to be quite so cavalier or quick to remind us about.
The tag line about eBay not competing against you just rubs salt in the wound. Sure, eBay doesn't sell items directly, but as this little trip down memory lane shows, they are more than happy to give favors and a leg up to certain sellers who do compete against you, when it suits them to do so. That's hardly creating a level playing field or in eBay's favorite words being "just a venue."
---