PayPal Updates Fees For Buyer Initiated Payments For Goods & Services
PayPal is making important updates to the policies and fees for sending personal payments for Friends & Family and Goods & Services.
Amendments to the PayPal User Agreement and the PayPal Balance Terms and Conditions

Effective July 28, 2022:

U.S. business accounts will not be able to receive personal transactions from U.S. PayPal accounts.
U.S. PayPal accounts will not be able to send personal transactions to U.S. business accounts.
The rate for the "Send/Receive Money for Goods and Services" payment type will be 2.99% (with no fixed fee). This pricing change will result in fee increases for some transactions. You can preview the Merchant Fees page that will be effective on July 28, 2022, following such changes.
It's important to note this change only effects personal payments sent by users, not invoices created by sellers, PayPal checkout, standard debit or credit card payments, or other types of transactions processed by PayPal or Venmo.
Current PayPal domestic rates: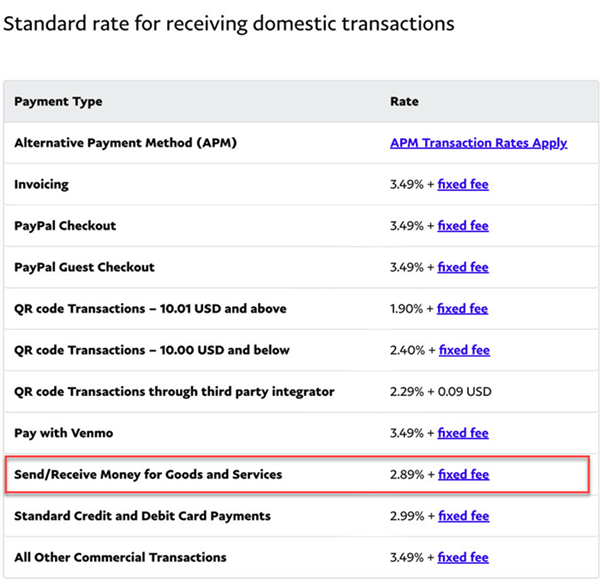 PayPal domestic rates effective July 28: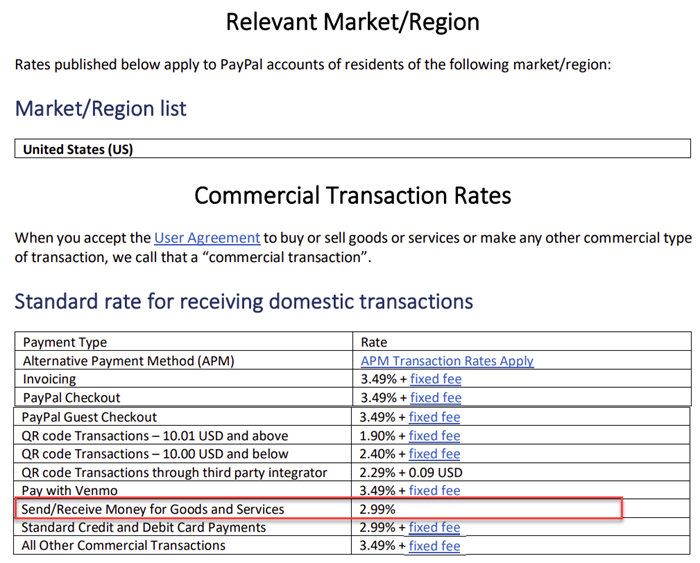 ---
Not only are the fees changing, but PayPal is also updating the policy about what types of accounts can receive personal payments in order to close a loophole that allowed businesses to avoid paying fees and to make sure buyers receive important protection on payments for eligible purchases.
What's the difference between friends and family or goods and services payments?



You can send money to friends and family or pay for goods and services in the Send & Request tab at the top of the PayPal page.



If you're sending a payment, payment types include:



Sending to a friend and family - used when sending money or a gift card to a friend or family member with a Personal PayPal account. Before you complete a payment, you can opt to pay the fee, or pass it onto the recipient by changing it to a Goods or Services payment, to be covered by PayPal Purchase Protection.



This payment type will only be available for payments sent to Personal PayPal accounts. Business accounts won't be able to receive these payment types. This change goes into effect on July 28th, 2022.



Paying for goods or service - used when buying an item or service from someone. When you make a purchase, the seller pays a small fee to receive your money. Your payment is covered by our protection policy automatically.



You can make a personal payment to anyone with a Personal PayPal account in the U.S. for free. Just make sure that you pay the entire amount using your bank account or your balance if you have a PayPal Balance account. There is a small charge for payments made with a debit or credit card.
---