Mercari Introduces Gift Card Exchange, Will Support Bitcoin In Japan
Mercari marketplace has introduced a new service that allows users to turn unused gift card balances into Mercari credit in partnership with CardCash.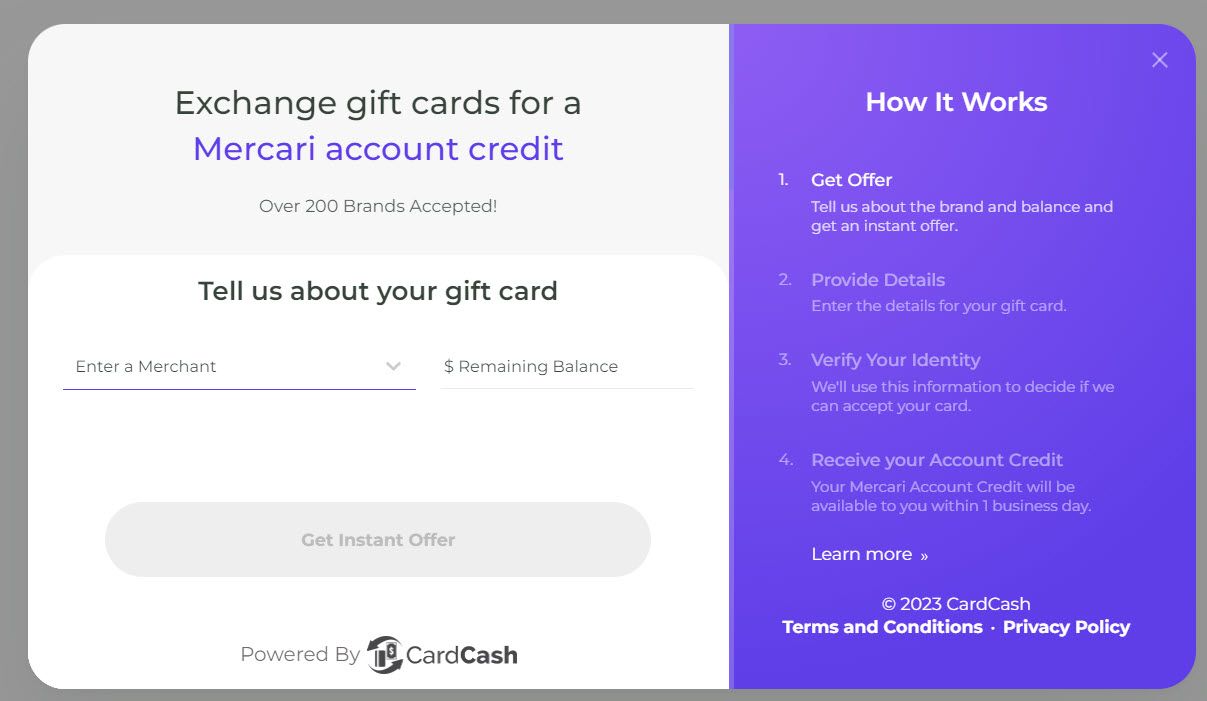 Here's how it works:
What is the Mercari Gift Card Exchange?
Mercari is working with CardCash to roll out a new feature that allows users to redeem and convert eligible gift card balances* into Mercari credit, to be used for purchases on the Mercari app or Mercari.com.



Who is CardCash and what does it do?
CardCash.com, an independent company, operates the gift card exchange program and is one of the largest gift card exchanges in the world. It repurposes and then resells gift cards at a discounted rate on its website. Learn about CardCash HERE.



How does it work?
Got unused gift cards laying around? Now, you can exchange qualifying gift cards* for Mercari credit. Follow the instructions below or get started now.



Sign in or create a Mercari account



Click the "Trade unused gift cards for Mercari credits" banner in any of these three locations:



Profile > Settings > Credits.



Perform a search and sort by lowest price.



On your cart page.



Once you've clicked on the "Trade unused gift cards for Mercari credits" banner, you can enter details about the gift card you'd like to trade in.



Enter gift card details (Merchant name and remaining amount). You do not need to mail in your gift card.



CardCash will provide an instant offer for the gift card. If you would like to move forward, you will be asked to provide information to verify your identity (e.g. credit card, email, phone number, etc). This information will be used to decide if your card is accepted.



Your order will be submitted and reviewed by the CardCash team within 3 business days



If your order is approved, your Mercari credit will be available in your account within 1 business day after approval



Approved? Congrats, start shopping for your new favorite thing using your Mercari credit



Where can I find my Mercari credit?
To find your credits, sign into your Mercari account, navigate to account settings > credits. The credit will usually be available in your Mercari account within one business day of order approval.



How much will I receive in return for my gift card?
Every brand is different. To find the exchange value for your card, please enter the Merchant name of the gift card and the remaining balance to receive an offer. You are under no obligation to exchange your card, and CardCash will not retain your gift card information if you do not confirm your exchange.
Read the full FAQ:
---
Mercari is also enabling users to buy and sell Bitcoin within the Mercari app, currently only available in Japan.
Mercoin, Inc., a subsidiary of Mercari, Inc., which plans and develops crypto-asset (virtual currency)-related services, announced on the 9th that it will start a crypto-asset exchange business from the same day. For users who pass the screening, we will provide Bitcoin (BTC) trading services within the Mercari app.



Mercari, which has a total customer base of 48 million people as a C2C marketplace where you can buy and sell things, has finally entered the virtual currency trading business.



According to Melcoin, the new service that allows you to buy and sell bitcoins will be completed within the Mercari app, from application to buying and selling. Currently, applications are being accepted in stages, and users can apply in as little as 30 seconds from the Mercari app. Users over the age of 20 and under the age of 75 who have passed the company's screening will be able to buy and sell bitcoins in a timely manner.



In addition to depositing Japanese yen from financial institutions, you can use the sales (points) earned on Mercari to purchase bitcoins in units of 1 yen. As a result, even users who refrain from investing large amounts of cash in highly volatile risk assets can start investing with peace of mind.



Melcoin separates and manages customer assets and protects them appropriately in accordance with laws and regulations. Introduce safe and secure passwordless biometric authentication (based on FIDO authentication specifications) to achieve more robust user authentication.



You can check the appraisal value and price fluctuations of Bitcoins held on your account from your Mercari My Page. In addition, the cash earned by selling bitcoins can be transferred to the Merpay balance and used for payments inside and outside Mercari.
---