Etsy Influencer Calls For Change With "Keep Etsy Human" Social Campaign
Etsy coach and influencer Starla Moore is using her platform at Handmade Alpha Academy and her YouTube reach to advocate for change with a #KeepEtsyHuman social media campaign planned for August 25, 2023
Moore cites the recent increase in payment reserves, controversial new Make An Offer feature, automated bot takedowns of legitimate goods while dropshippers, counterfeits, and IP infringement are allowed to run rampant on the site, unrealistic Star Seller standards, and more as examples of how Etsy has lost the human touch on which the brand was supposedly built.
The message of today's video is simple. As a united front of Etsy sellers, we respectfully request change. This isn't a message of hate. Quite the opposite, actually.This is a message of desperation.



We love Etsy - The platform many of us have supported from the very beginning, out of passion for a common mission - to bring handmade and artisan-created products and designs into the world.And the idea that anyone, from the homebound grandma, to the struggling college student - can create a sustainable business right from their dining room table.



While other online platforms may have fostered buyer expectations based on machine laborspeeds and industrial production costs - that cadence only carries to a platform like Etsy if the administration at Etsy accepts and promotes this expectation as the standard. And unfortunately, they have.



Priority placement in mobile search for items that ship free, which affects all sellers who create products of substantial weight like candles, furniture, and soap.



Requiring sellers to respond to messages within 24 hours in order to achieve star seller status, even on holidays and weekends.



Allowing customers to "make offers" on artisan products, further conditioning buyers to seek bottom-of-the-barrel pricing.



Issuing refunds to customers on items claimed to be "not received", even when tracking states that the items have been delivered. And most importantly - the current payment reserve system, which prevents sellers from accessing a percentage of their hard-earned money for an unknown period of time.



Though Etsy did release an update about its reserve system a little over a week ago, this vague response has done little to quell the concerns of the sellers who rely on Etsy to feed their families.



They're supposed to be reducing the percentage in reserve that's held from 75% to 30%.A spokesperson for Etsy tells me it expects the most common reserve level to be 30% but that's not going to be a standard that's set in stone.



This update is insufficient, with no explanation as to how long sellers can expect to wait for the release of their funds, who will continue to be affected, or what percentage of funds will be held.



Subjective terms like, "for the vast majority of sellers" is not enough.We want absolutes. We want solid guidelines. And we want overarching change.



Change to create a more knowledgeable and responsive customer service team that sellers can rely on.



Change for the sellers who have needed questions answered, only to be told that their messages will no longer be responded to.



Change for the sellers who have followed Etsy's policies, but who are still deactivated for rules they've never broken.



Change for new sellers who join the platform, only to have their shops instantly deactivated with no explanation.



Change for the rampant automated deactivation system, which catches keywords like "amber"and removes those listings completely out of context.



Change for the acceptance of products on the marketplace that utilize trademarked keywords like "Disney" in their titles and tags, without any warning to the seller at the point of listing.



And an active and noticeable effort to change buyer expectations back to Etsy's core values - keeping commerce human.



We are not machines. We are not corporations. And we are being pressured to perform in alignment with Amazon-level speeds that not even Etsy themselves can abide by.



I'm not the biggest influencer in the Etsy space and my voice alone is not enough. Which is why I'm requesting your help, as well as the help of fellow Etsy coaches and YouTubers.



Next Friday, August 25th, I'm asking Etsy sellers within the community to join me on all social media platforms by posting their stories and opinions about Etsy's current brand direction, along with the hashtag "KeepEtsyHuman", a play on their original brand promise to,"Keep commerce human".



My voice alone is one single drop in the ocean, but with your help this week my hope is that we can create a collective front that fosters change and action on behalf of the platform we love.
Moore expanded on these thoughts in a YouTube livestream on Friday:
---
Many of these points echo concerns raised by last year's Etsy Sellers Strike, which gained significant media attention and focused scrutiny on fee increases and other issues at the company.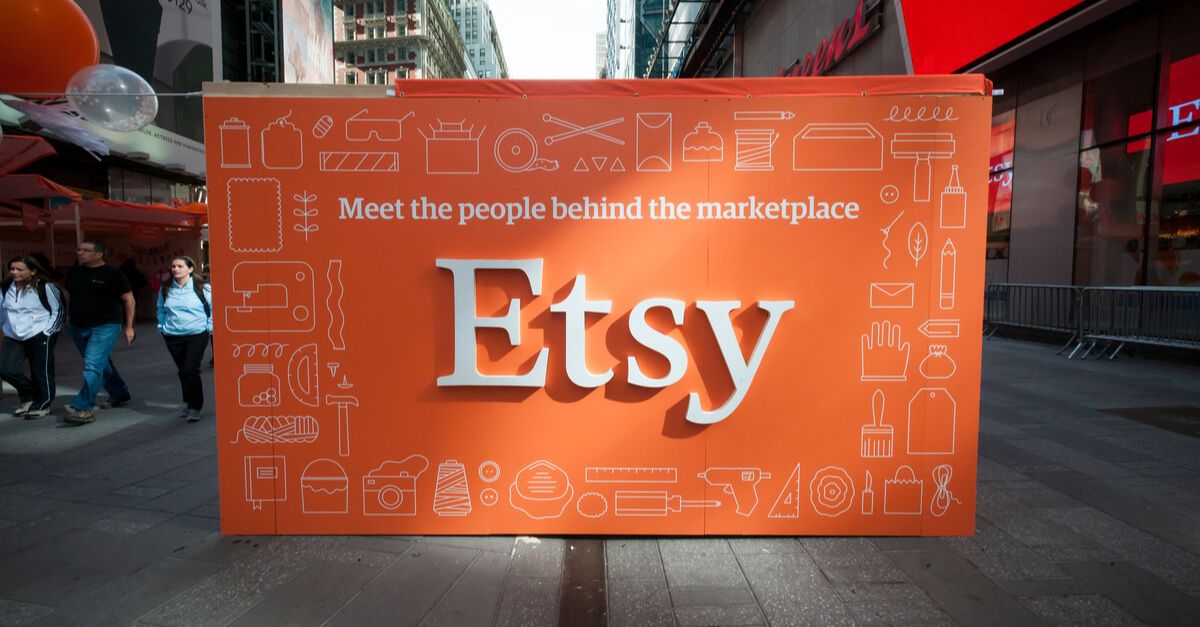 Several of the Etsy Sellers Strike organizers have continued their advocacy efforts by establishing the Indie Sellers Guild, which is also working to bring attention to the payment reserve problem as well as other issues faced by sellers.
The ISG is currently collecting information about Etsy Payment Reserves to report to the Federal Trade Commission and Small Business Administration Office of Advocacy.
You can fill out the ISG Etsy Payment Reserve Survey here to be included in this important report:
---
Will you be participating in the #KeepEtsyHuman campaign on August 25? Let us know in the comments below!
---