Disney Cracks Down On IP Infringement & Resellers
Disney has filed a lawsuit against a Florida business for alleged trademark and copyright infringement for selling mouse ears and other Disney-themed items on Etsy, eBay, Amazon, Facebook, Instagram and a direct website.
Disney Enterprises and Lucasfilm LTD. filed a lawsuit Thursday against Kissimmee-based online sellers that Disney officials said have continued to trade in unauthorized Disney merchandise, according to court documents.



The lawsuit claims that companies The Secret Disney Group and Popsella Marketplace — both managed and founded by Christopher and Hannah Martin — produced and sold merchandise using Disney's intellectual property.



The goods included face masks, magnets, hair accessories, Mickey ears, stickers, decals, key chains, hats, fanny packs and buttons, court records show.



According to the lawsuit, Disney characters like Mickey Mouse, Robin Hood, Winnie the Pooh and Stitch were featured prominently and without permission on several of these goods.



In addition, the lawsuit shows that the defendants used other logos and designs that misused Disney logos and trademarks.



In December 2021, Disney officials sent multiple cease-and-desist letters to Christopher Martin, though Martin's businesses continued to sell the infringing merchandise under different names, including "Sparkling Dreamers" and "Sparkling Members," the lawsuit claims.



Court documents show that Disney is seeking to stop the seller from using their trademarks and copyrighted properties.
The initial complaint filed in Florida Middle District Court on December 29, 2022 highlights multiple instances of alleged infringement, including the use of Disney word marks, Mickey Mouse design mark, Castle design mark, and Three Circle Mouse Ear device mark as well as several specific characters.
The suit also alleges the defendants attempted to confuse consumers by listing the location of "The Secret Disney Group Shop" as the Walt Disney World Resort in Orlando, FL as well as other marketing and social media posts suggesting they are associated or affiliated with Disney Enterprises.
Download the full civil complaint 👇
---
It appears the Etsy stores may have been taken down already, but that didn't stop sellers in the Etsy community from discussing the issue, with some questioning if the marketplaces that profit from allowing IP infringing sales should be held responsible as well.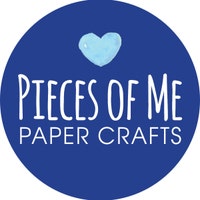 Disney needs to go after the venues those wells are a lot deeper they are the facilitators and profiteering in the mean time..
The powers that be really need to re-evaluate the safe harbor laws. Not only are individual shops here profiting from IP infringement, but Etsy is as well. IMO, Etsy taking fee money under these circumstances is akin to IP infringement also, because Etsy is profiting from it, too….big time.
I understand the safe harbour status defence, but does Etsy understand what impact stories like these have on their reputation? To the casual observer, it appears as though, at best, Etsy is turning a blind eye to mass illegal practices on their site and, at worst, actively cooperating with it because it helps their bottom line.
Meanwhile it looks like eBay has taken no action on the alleged infringement reports - nor do they apparently seem to care that this seller violates eBay's link policies by directing potential buyers off eBay to their direct website. 🤦‍♀️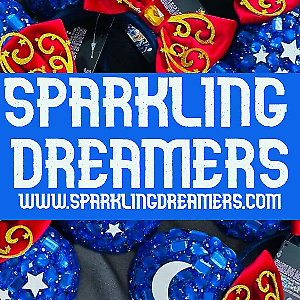 ---
Disney Tokyo also made headlines recently by banning the resale of merchandise sold in the park.
While many Disney Parks have implemented the rule of an individual Guest being limited to two items per sale transaction, inevitably, resellers seem to sneak through the regulations and end up with bags full of merchandise to sell later on eBay or Disney blog sites.



Now, Tokyo Disney, the Park where we've seen resellers using fake babies to get more merchandise, is attempting to put a stop to the reseller madness.



Under Tokyo Disney Resort's "Theme Park Terms and Conditions" on its website, the Disney theme park notes under "Prohibited Acts" the ban on reselling merchandise.



The website notes, "Customers shall not engage in any of the following acts when using the Park. In addition, the violation of this paragraph shall be reasonably determined by the Company based on rational grounds."



The list of acts includes some of the obvious such as "Damage to facilities" and "Nuisance/violence towards Cast Members," but it also now includes "Purchasing products or souvenirs for the purpose of resale."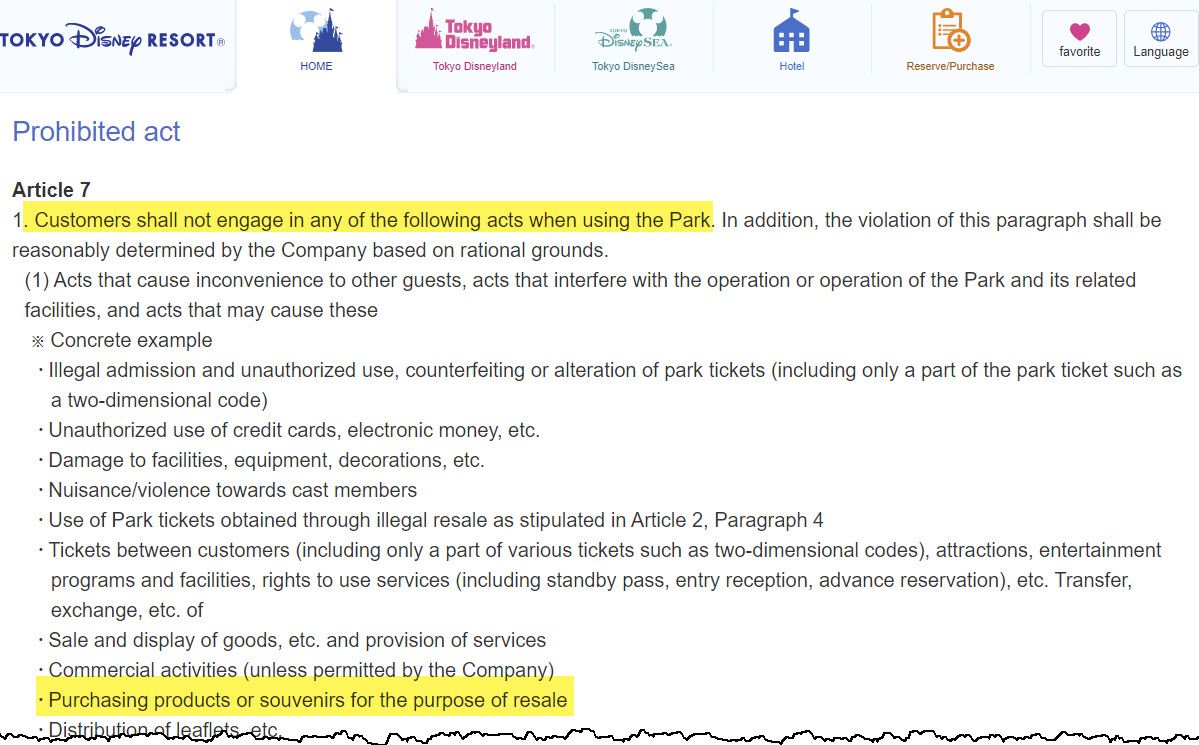 While there are still many questions about the company's ability to enforce the resale ban, it won't be surprising if we see similar attempts coming to other Disney parks soon.
---