eBayUK Updates Working Days & Delivery Estimates, Royal Mail Service To Jersey & Isle of Man
eBayUK has provided several updates to sellers about how delivery estimates are shown to buyers and recent changes to Royal Mail service that may impact delivery speeds to Jersey and Isle of Man.
First, Royal Mail to Jersey and Isle of Man will be changing to ferry service rather than air service, which may add additional time in transit.
Royal Mail in conjunction with Jersey Post and the Isle of Man Post Office have made a joint decision to remove the postal flights to these locations.



As of the 7th of August all mail going to and from the island of Jersey will be delivered by Ferry This change will result in a 2 day service for this region.



From the 16th of October all mail to and from the Isle of Man will be delivered by Ferry. This will have no effect on tracked or standard services, Special delivery will run as a 2 day service going forward.



In line with these changes Estimated Delivery Dates will be adjusted to reflect the new delivery timeframes within these regions.
eBay also posted an announcement to clarify how working days and cutoff times are used to calculate estimated delivery dates as well as an update that allows sellers to select "not offered" for same day dispatch.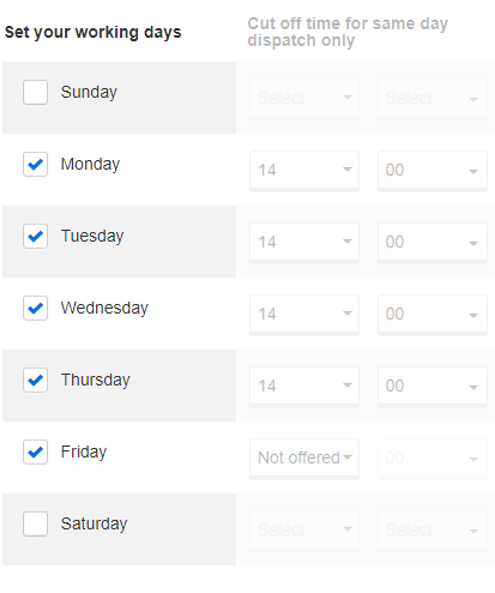 For buyers, knowing when they can expect an item to arrive can be an important factor when making a purchase. That's why we always show an estimated delivery date range on eBay listings. However, we've heard that how we use your working days and/or cut off times for same day dispatch to calculate your estimated delivery dates for buyers can be confusing.



We've listened to your feedback and would like to share how we use your selected preferences to calculate estimated delivery dates. We also want to introduce some new features that we've made available in the working day/same day cut off time tool.



For more information about how estimated delivery dates are calculated, visit our Help page.



Setting your working days
To ensure that we correctly represent the days you process orders, please tell us your normal working days here. This will help to provide a more accurate estimated delivery date for your buyers. The default working days are Monday to Friday, but you can change these for any day of the week - including weekends - based on your business' operating times.



Please note that your selected working days are taken into account independently, regardless of whether you offer same day dispatch or not. These will be considered when we calculate your dispatch time, based on the number of handling days you select when creating your listing.



If you ever need to take a few days off from dispatching orders, you can also schedule some time away. Learn more about Time Away settings and how it works on our Help page.



Setting your cut off times for same day dispatch
If you offer a same day dispatch service on your listings, you can select a cut off time in your postage preferences that gives you enough time to get your item to your delivery service provider.



Your cut off time is the point in the day where purchases need to be made for same day dispatch. For same day dispatch, we recommend that you set your same day cut off time no earlier than 2pm to give buyers sufficient time to purchase.



Please remember to select the number of days it takes to dispatch your items when creating a listing.



Changes made to set your working days and select cut offs for same day dispatch



We've introduced a new feature which allows you to select 'not offered' as an option from the cut off time for same day dispatch dropdown
However, this change overlooks the number one historical problem sellers have cited when it comes to eBay displaying inaccurate estimated delivery times to buyers - eBay's estimates often do not go by the seller selected handling time, using an opaque algorithm based on the seller's "historic shipping time" instead.
Sellers in the UK, US and other markets have voiced their concerns over this complicated and often inaccurate method of calculating estimated delivery dates for years, but eBay has yet to listen.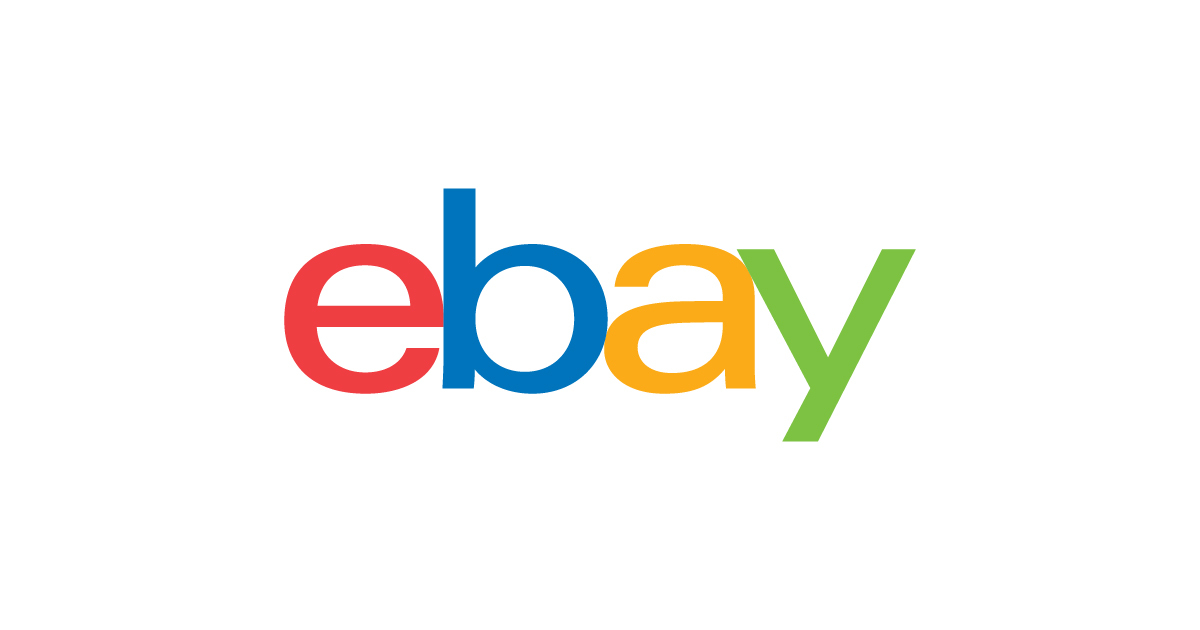 As this is a very hot topic of conversation with sellers over the estimated delivery times on ebay. I have posted a reply I have had from ebay this morning.



The estimated delivery times are also causing issues for us. I have reported this several times to ebay with no positive outcome.



My question to ebay is why are buyers still allowed to open up a case if the item has not arrived based on the reply you have just sent me.



See reply from ebay:



"This is a follow-up email in relation to the chat you've previously had regarding the estimated delivery date showing on the item.



We really appreciate your patience in waiting for an answer and we apologies for the long wait as promised on our chat I had escalated this issue to our technical team and I just received the reply from our relevant team who were looking into this issue.



As there was a long queue of concerns and our team is working with limited staff, it caused the long wait for you.



Please be informed that Estimated Delivery Dates (EDD) are just that –estimated and this means that they can be incorrect. Our members don't own nor control the actual estimates which display on the site themselves. What appears as the EDD is actually based on a complicated mathematical formula based on prior history, feedback left by buyers, carrier data, and shipping options selected.



This means that if our members have a history of choosing "7 to 10 days" delivery – but they actually arrive in 2 days – then our EDD on the View Item Page will be 2 days and vice versa.



As per Product Development (PD) team, the EDD is not owned by the members. It is based on a machine learned model that takes in to account seller performance history, carrier data, and buyer location. With any predictive estimate, some inaccuracy is inevitable. Currently our estimates are 91% accurate by design.



Thank you once again for highlighting this to us and mostly importantly, we appreciate your patience and understanding in the meantime. I have also filed an official complaint as well for the inconvenience caused to you, so that the higher authority could investigate it further and provide further positive updates to provide a better experience to you.



We just want to provide the best experience to you. I wish you successful and profitable sales. I appreciate the opportunity to have helped you with this information. If you have further concerns, please do not hesitate to contact us again"
Not only is that answer not helpful, but as the seller pointed out in a follow up post, it also severely overcomplicates the process.
My favourite bit was "What appears as the EDD is actually based on a complicated mathematical formula based on prior history, feedback left by buyers, carrier data, and shipping options selected".



They do not need complicated mathematical formula's, the answer is on the ebay Yodel label I print off, which states 72 hours delivery time, (the buyer see that it is 2 days, which is wrong and again raised with ebay) this is 3 working days. How complicated is that to work out delivery times from that information.
As long as eBay is using this complicated mathematical formula instead of seller-provided handling time + carrier provided transit time, unfortunately both buyers and sellers will continue to not have the "best experience" possible.
---