eBay Zero Views, Express Payout & Feedback Glitches 6-10-23
Multiple major eBay glitches have been reported impacting view counts, express on demand payouts to debit cards, and viewing or leaving feedback in the eBay app.
---
Zero Views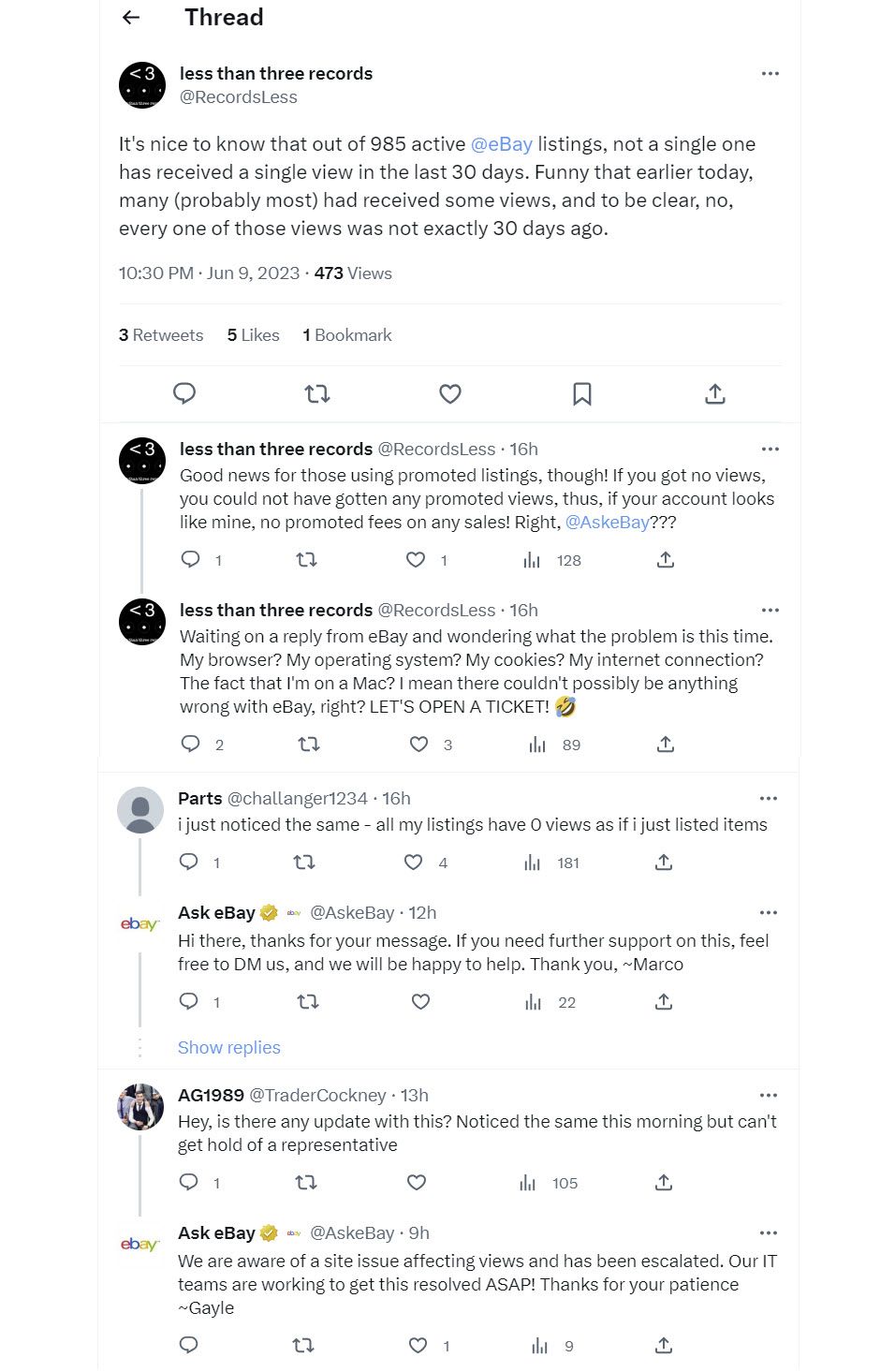 All active listings are displaying 0 views, including hundreds that had dozens or hundreds of views. Listings with multiple watchers now display 0 views.



All I've done is end a listing and revise and sell similar to re-list. And now zero views on every single listing. Hopefully this is just a weird glitch but even more hope that someone sees this post and can fix things, because I've seen others post about this issue.
View Count Zero Since the morning of 6/9/23 US Mountain Time. Sales Have Tanked. CS Not available. Cant Reach Ebay To Report the trouble ticket. Frustrated. Any Word From eBay Would be helpful
Many impacted users say this has been resolved but there are still a few new reports trickling in.
---
Express On Demand Payout To Debit Card Failing
I had $93.78 available as a payout and normally I just do monthly payouts, but I'm short on funds so I did the 30 minute at a cost of $1.38. Seconds later I get a message stating that the payout "didn't go through".



I looked and it said the payment was "cancelled". I know I didn't cancel the payout so bleep. I went back and did the 30-minute payout AGAIN at a cost of yet ANOTHER $1.38 and yet AGAIN seconds later I got the same "Payout didn't go through". I looked and again it says "cancelled". bleep is going on over there at Ebay?
Same with my account. Been trying to get my $$$$ since 9:30 am Pacific time. Also agree that fees are getting higher and higher with less and less sales, and I have been selling on ebay since 1999.
I am on instant payments and the are not going through
Unfortunately when the service is not working, there is nothing to be done to help with cash flow issues, but eBay should credit the fees for any express payouts that are not able to be successfully completed.
---
Feedback Can't Be Viewed In eBay App
I have an android phone, all of a sudden I can not see any of my feedback nor anyone else's. I can't figure out how to correct this. Any help would be greatly appreciated.
Anyone else missing all feedback?
For the past few days I haven't been able to leave feedback for items I've bought. I can't click on "leave feedback". There's also nothing in sellers feedback sections except the feedback percentage. Does anyone know what's going on with this?
eBay support has acknowledged this is a known issue with the app they are working to resolve ASAP.
In the meantime, users can still see and leave feedback through the desktop site.
---
Are you experiencing these or other eBay glitches today? Let us know in the comments below!
---