eBay Traffic & Sales Reports Not Updating, Stuck On June 9
eBay sellers have noticed traffic and sales reports in Seller Hub appear to be stuck, with no option to select a date beyond June 9th.




I cannot click the calendar date to see just the current day's traffic on the Traffic section of the Seller Hub. Is this a bug or the way it is from now on?
I had the same issue and messaged a customer service rep from Ebay. They were not 100% sure and thought i was talking about the 30 day rolling view count they have implemented. The daily impressions, view counts ect. are important for sellers to plan sales, coupons or any other discounts based on traffic.



I explained it more in detail and the customer service rep thought it might be a glitch. Started yesterday 6/10/22 for me and still i am unable to view the same day stats. However i did find a way to view the impressions and views for the day by clicking on the Performance tab in Sellers Hub. When that opens up it, you can scroll down to impressions and views to highlight the date (pick same day of course) and it will pop up a small window of the daily stats.



Kind of a pain in the but and i think if you can view them here, this must be a glitch that they are going to eventually work out. Kind of difficult to use the promoted listings and other pay to play Ebay options if you do not know what kind of traffic you are experiencing for the day.
No more real time traffic reports?



Mine stopped on the 9th
---
No word from eBay yet if this is a glitch, but I can confirm not only does the calendar view not go past June 9th, the traffic report page  also shows it hasn't been updated since then either.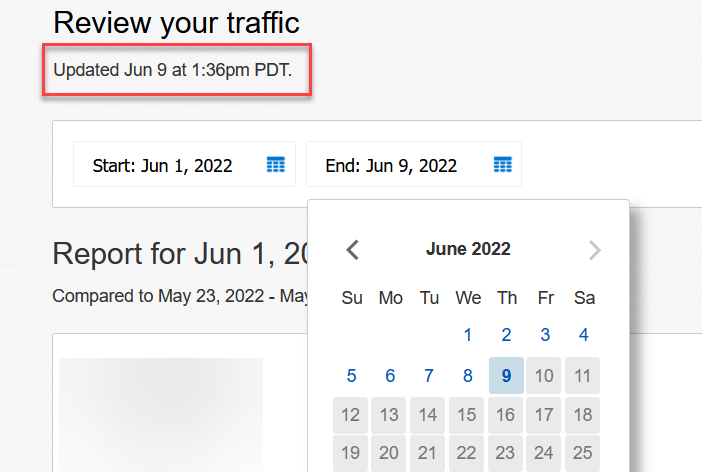 ---