eBay Store Early Cancellation Fee Waiver
One positive note in the eBay Spring 2021 Seller Update was an increase in Zero Insertion Fee listings for some store subscribers in Managed Payments.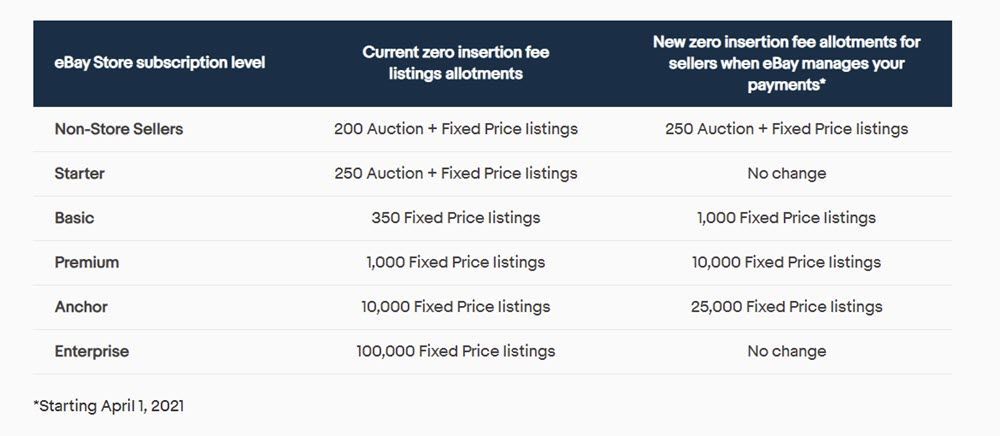 eBay typically charges an early termination fee for sellers on an annual subscription plan who wish to downgrade their store level, which can really add up depending on how much time is left on that subscription.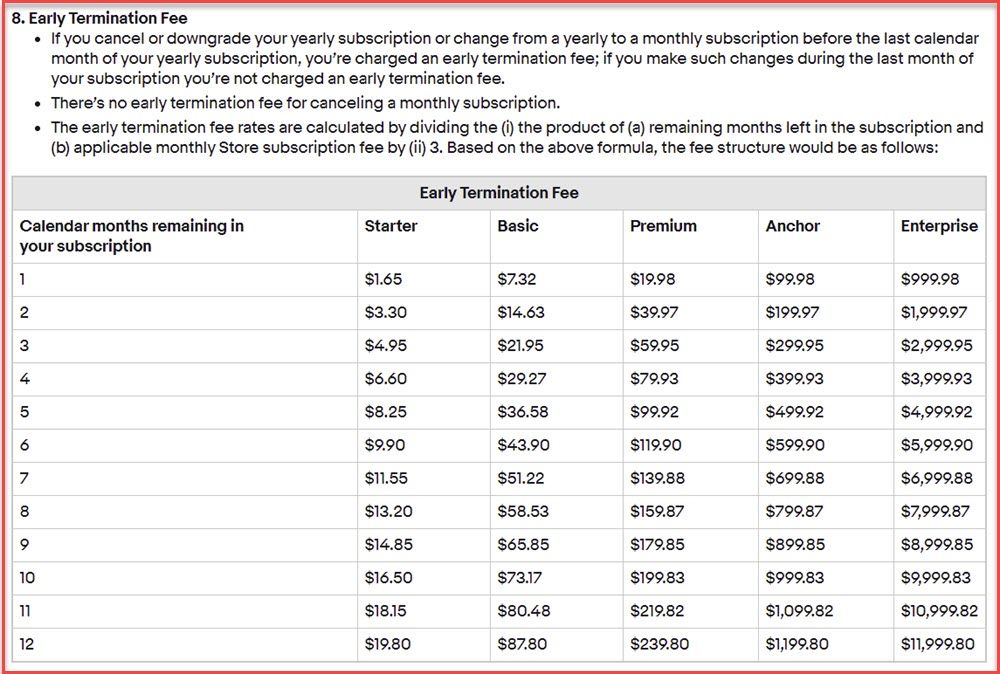 Many sellers wondered if eBay would be waiving the early termination fees for sellers who wish to change their store level in light of the new Zero Insertion Fee allotments.
Initially, eBay staff seemed to indicate they would not be waiving the fee, then corrected themselves to say they would be waiving the fee until April 30th.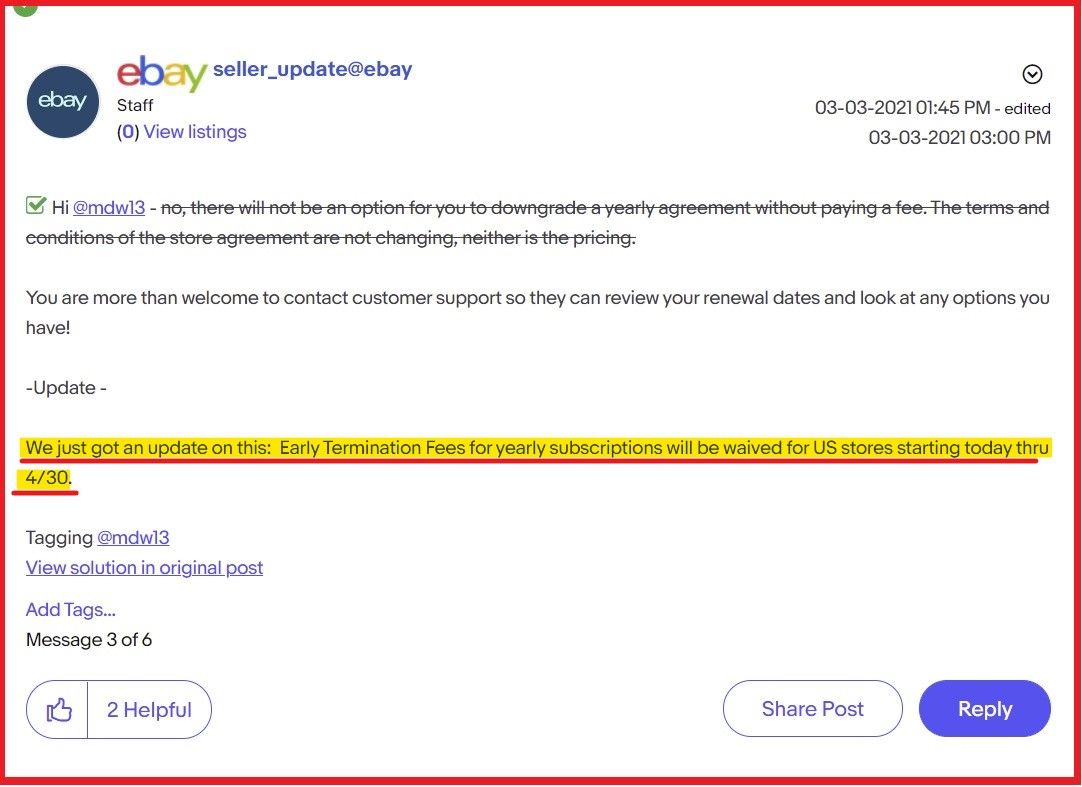 However, there was never an official announcement made about this, nor any updates to applicable policy pages, and there were reports that eBay customer support reps didn't get the message.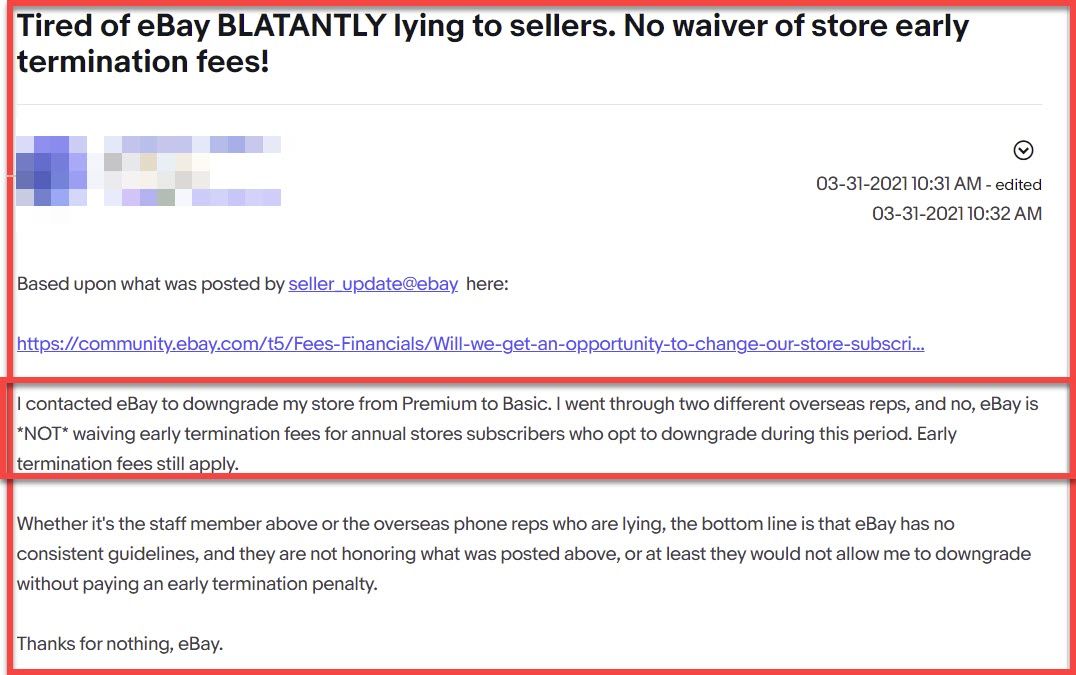 This seller took to the eBay community weekly chat to get clarification and was told by eBay staff
I'm sorry the customer service agents you spoke with weren't aware of the early termination fee waiver. Thanks for sharing this feedback with us!
I do want to clarify that the early termination fee will automatically be waived prior to April 30. Since this is taken care of automatically there is no need to contact customer service.
That should have been enough confirmation, right? But then another eBay seller on Twitter also said they were getting conflicting information.
So I asked eBay's Twitter support to again confirm if eBay will be waiving the early termination fee for annual store subscribers who wish to downgrade.
---
I've had reports from several sellers that were able to downgrade their subscription level in their seller settings without incurring any early termination fees - so it would appear this is happening automatically and does not require a call to customer service.
eBay doesn't seem to be particularly motivated to advertise this fact and many sellers may just be assuming they will have to eat the cost of downgrading, like this one who replied to my Reddit post on this topic.
Since eBay hasn't put out an official announcement about this, and sellers only have until April 30th to take advantage, let's help them out by sharing this info far and wide!
If you downgrade your subscription and are still charged the early termination fee, I'd love to hear about that too - leave a comment below!
---