Is eBay Charging Insertion Fees For Listing Revisions?
eBay sellers are reporting a possible glitch in the listing process that is showing additional insertion fees for revising listings.
I just made use of my 250 free monthly listings (which I personally list or relist after 10 days off each month)... to later find that, when I went in to revise one of my items, it showed me an insertion fee of 0.35 cents, whose charge that was repeated when I tried to revise any of my other items. It should be noted, that I have not added any special features to the listing, so there should be no fee to revise a listing.
Trying to revise listings, changing prices etc...



Was doing it in bulk , and soon noticed I was being charged 30 cents for just lowering the price.



Tried again one item at the time and it worked for a while, but soon it started charging again!



Called SUPPORT , wasn't able to clearly explain what was going on, she said that I was creating new listing, I explained I already paid insertion fee so I shouldn't be charged...at any rate she said she made ticket for tech and she get back to me. It's been a whole day and I'm still unable to REVISE!



Anyone experienced this!?
This is ongoing issue on ebay. When clicking on Revise item, ebay automatically wants to charge .35c "listing fee" despite no (!!) changes are made and there are free listing allotments left.
When revising a price on an item eBay wants to charge $0.35, is anyone else having this problem? 10 /9/2021
Some sellers have indicated this appears to be a display error showing the additional fee before confirming the revisions, but they don't believe eBay is actually charging the additional fees.
I went in to revise an item and was shown a 25 cent insertion fee.

This is not a new listing, it's a revision.
Even if it was a new listing, I'm not even close to filling my store's allotment for the month.
I published the revision. As far as I can tell, no fee is actually being charged (unless there's a big lag in listing fees appearing on the Payments tab).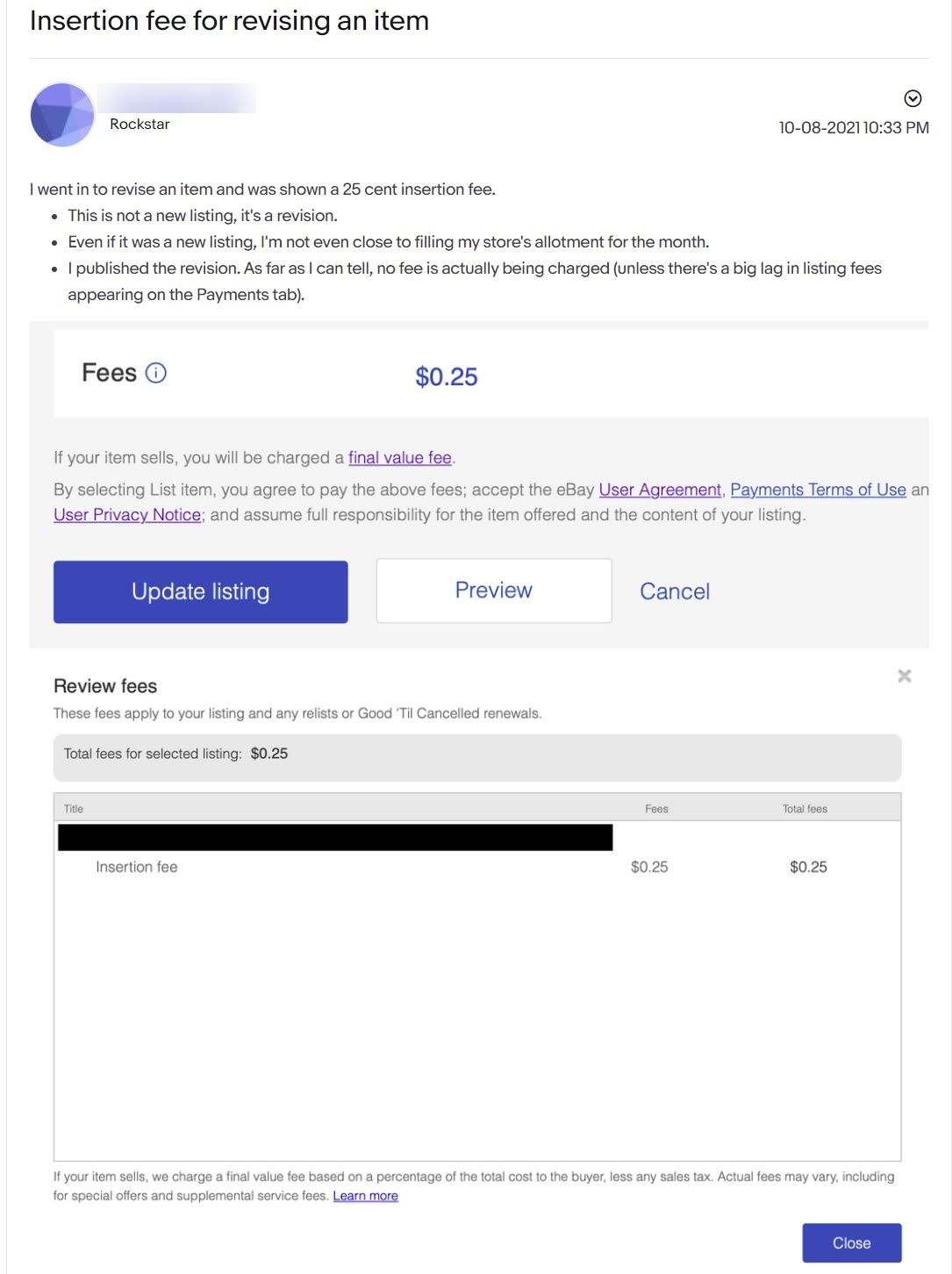 This appears to be an intermittent glitch that is not be affecting all users, and apparently it's not the first time it has happened either.
Every time this issue pops up, only a select number of users are affected. I have yet to see it impact site-wide. I've seen this issue at least 5 times and this is only the 2nd time I've been affected by it.
I went through with the revision on a few listings last night and despite a fee being shown, I wasn't actually charged after submitting the revisions. This is an error that has popped up several times over the years.
---
Are you seeing insertion fees shown when you attempt to revise listings? If so, are the listing fees actually being charged when you review your account balance?
Let me know in the comments below!
---