eBay Removes Buyer Canceled Option For Sneaker Authentication
I noticed an interesting addition to the eBay Order Cancellation policy page, showing that eBay has removed the option for sellers to select the reason "buyer asked to cancel" when cancelling an order.
The "Buyer asked to cancel" reason is no longer available to sellers when canceling orders for sneakers sold through Authenticity Guarantee. If a buyer needs to cancel their order, they can submit a request from their Purchase history.
I don't remember seeing an announcement about this change, however from looking at the Internet Archive it appears the page changed sometime between January 12 and February 1st.
---
My guess is eBay may be trying to crack down on sellers who they believe may be abusing the "buyer asked to cancel" reason - however, if there is a problem here, it's a problem of eBay's own making.
For sneakers in the authenticity guarantee program, eBay for some inexplicable reason decided to block messaging between buyers and sellers.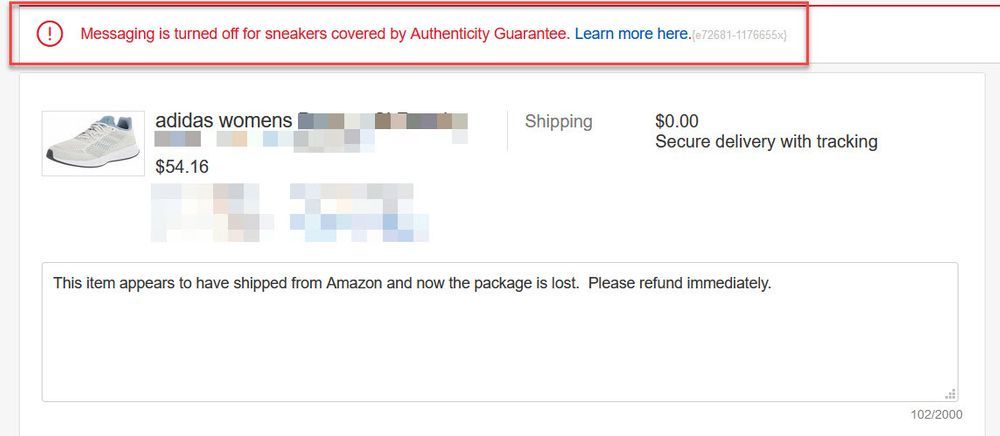 That means if a buyer wishes to request to cancel after the 1st hour, there is no direct way for them to message the seller with that request.
Frustrated buyers and sellers have figured out a work around to this restriction by simply initiating a message not tied to that specific transaction, but then of course that means there is no trail for eBay linking that message with the cancellation request to a specific transaction.
There's no way to contact the seller with Authenticity Guarantee though? Every time I try, eBay blocks the message with a note that you cannot contact the seller for Authenticity Guaranteed products. I've tried everything, but there legitimately seems like no possible way to reach the seller.
Can you

Contact the seller on that seller's other listings, or

Contact the seller on the seller's feedback page then select This is not about an item?
---
There is absolutely no good reason for eBay to interfere to this degree in these transactions. They don't block messaging for watches, handbags, or trading cards in their respective authentication programs, only sneakers.
Clearly, sneaker buyers and sellers still wish to communicate (about cancellation requests or for any other number of legitimate reasons) and they will even go to great lengths to do so despite eBay's best efforts to block them.
What should be a simple and amicable interaction (assuming the seller is able/willing to cancel the order before shipping) is now turned into a massive headache where the only options are to either deny the request (risking upsetting the buyer, receiving negative feedback or just not providing a great buyer experience) or to honor the request but be forced to choose a cancellation reason that is not true or may result in a policy "ding" on the seller's account.
Why on earth would eBay want to make it this hard for buyers and sellers to communicate and provide a positive shopping experience? 🤦‍♀️
---