eBay QR Codes Not Recognized For USPS Ground Advantage Shipping
UPDATE 7-12-23
eBay says the issue has now been resolved and QR codes for all USPS service have been re-enabled.
Update as of 7/12/23: QR Code functionality for all USPS services has been restored.
---
UPDATE 7-11-23
eBay has now posted a banner on the shipping label creation page advising they have disabled QR codes for all USPS shipping services until this issue is resolved.
---
UPDATE 7-11-23
eBay has finally updated their announcement and acknowledged the problems with QR codes have not yet been resolved, despite the previous promise that the codes would be scannable today.
There is now no timeline for a fix and sellers are advised to print labels until a resolution is confirmed.
Update as of 7/11/23: A resolution is still underway; sellers will need to print their Ground Advantage labels in the interim. We'll update everyone once the issue is resolved.



Edit: QR codes have been disabled for all USPS services while we work to resolve the the issue. In the meantime, please print shipping labels for these services. We apologize for any inconvenience.
---
UPDATE 7-11-23
Sellers are reporting QR codes for USPS Ground Advantage are still not working, despite eBay's assurances that the issue would be fixed the codes would be able to be scanned today.
Still not working! You would think that this would have been addressed before the change. Very dissapointed!
Some sellers indicate the problem may even go beyond USPS Ground Advantage and is impacting other USPS services as well.
I have had issues both today and yesterday with the QR code shipping labels. Yesterday it was only with the new ground advantage but today, july 11, 2023 both priority and media mail shipping labels would not work.



I do not have a way to print shipping labels and the QR code is the only way I can ship. I rely on eBay money daily, so not sure what I'm supposed to do, I don't make a lot, but the $20-50 a day profit I can make really helps, I can't purchase labels at the post office as I rely on the money daily and don't have the current funds in my account to purchase at the post office, I do next day shipping so the funds that are processing are supposed to be shipped today but I cannot ship.



I contacted eBay but and they are working on it and trying their best to be very helpful but this is just stressing me out as I rely on this money on a daily basis. I am just going to put my store on time away mode until the issue is resolved but this is going to hurt my sales and I need to make sales just to be able to eat and provide basic necessities for myself on a daily basis.
There have been no further updates from eBay at this time. Let us know in the comments below if you're still experiencing problems with eBay QR code shipping labels!
---
UPDATE 7-10-23
eBay community staff have acknowledged the issue and say it will be fixed by the end of the day today with QR codes able to be used tomorrow.
Thank you all for reporting this issue. We've identified the root cause which is impacting only QR codes for only Ground Advantage labels. The issue will be resolved by end of day today (7/10/23) and any QR codes for Ground Advantage labels will be scannable by USPS tomorrow. We apologize for any inconvenience.
No word yet on how eBay will handle late shipments for those who couldn't get them scanned today or voiding and refunding for sellers who chose to print new labels to avoid late shipments - and of course the staff community post is locked so that sellers cannot easily ask those questions directly to an eBay employee.
---
eBay sellers who use the QR code option to have a label printed at the post office are running into problems with the new USPS Ground Advantage service.
Hello, I sold an item yesterday and received the QR code. The QR code is saying error when usps scan the code. I have not had this happen before.
Anyone else having problems with q r codes today?



Have three orders going out and no q r codes are working
When the package was taken to the nearest post office and the QR Code was scanned, it told us to try again later, and that the code did not work. Is there any way to fix this without having to spend even more money to buy another shipping label?
Scanned it for me several times and it just wouldn't work and i don't see an option to get a new one for free since i already paid.
Tried to ship 2 items this morning, Both are new USPS Ground Advantage. Postal clerk gets error "Unable to retrieve shipping information."
QR codes are: YAJ4MAHQ, YAXRXMT7
Today I also tried to scan the QR code for two packages being shipped with the new USPS Ground Advantage. Tried two different post offices with no luck. Went back to one of the post offices that has a self-service kiosk with the QR scanning function and tried to enter the alpha-numeric code (under the QR code) and still no luck. The postal clerks had no luck either. Tired of running around. eBay please HELP!!!
Can confirm that I'm having the same issue. Two QR codes purchased this morning, neither one is generating a label at the post office.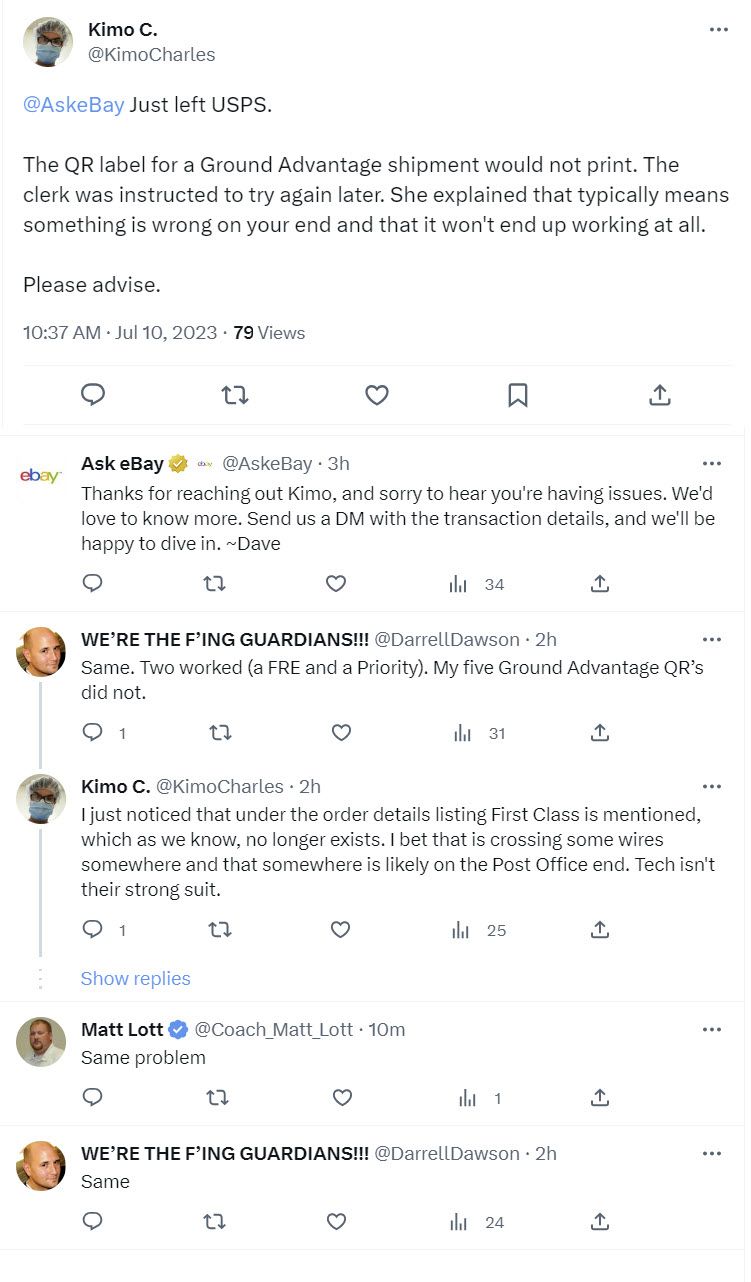 ---
It's not yet clear if the issue is on eBay's side or if USPS is having problems with their scanners not recognizing the new service, but either way, it's quite a mess for sellers.
Until eBay and/or USPS get things back on track, sellers will likely need to void any QR labels they've already created and create new labels to print.
Hopefully eBay will also assist sellers who end up with late shipments due to this technical snafu.
Let us know in the comments below if you are experiencing problems with QR code labels for the new USPS Ground Advantage service on eBay or any other marketplace!
---