eBay Not Counting "Delivered to Agent" As Delivered
UPDATE 1-20-23
Devon@eBay has an update from the policy team on this issue:
Hi all! I wanted to share the latest update that I have heard back from our Policy team on this. They had the following to share:



"eBay policy has been updated to consider "Delivered to Agent for Final Delivery," as delivered."
---
UPDATE 1-4-23
Sellers continue to report experiencing this issue and it's causing them to lose Item Not Received cases that they should be protected on.
just lost an item not received case due to this error. This needs to be fixed ASAP. I appealed the case, if you need the case number or tracking please let me know.
The buyer just opened and won a case against me and eBay deducted funds from my account and issued a refund. Ebay said they didn't receive valid proof of delivery showing the item was delivered to the address even though it says 'Delivered to Agent for Final Delivery'. I googled the address (1345 nw 98th ct unit 2, mr cargo box 33172-3049 Doral, FL) and it appears to be a freight forwarder? This is the first time I've come across this issue but I have been reading with issues dealing with freight forwarders.
I just lost a high value case due to this too!! I tried to appeal this case but I was told by the eBay rep that it could not be appealed since it was never delivered when it clearly shows "DELIVERED TO AGENT FOR FINAL DELIVERY" on the USPS website. This item went to the reshipper facility in New Castle, Delaware. (92001950999713132285004348) Is there anything else that can be done about this??
In the past sellers have always been protected from these cases - their responsibility ends once the item is delivered to the US based freightforder per eBay's Money Back Guarantee policies.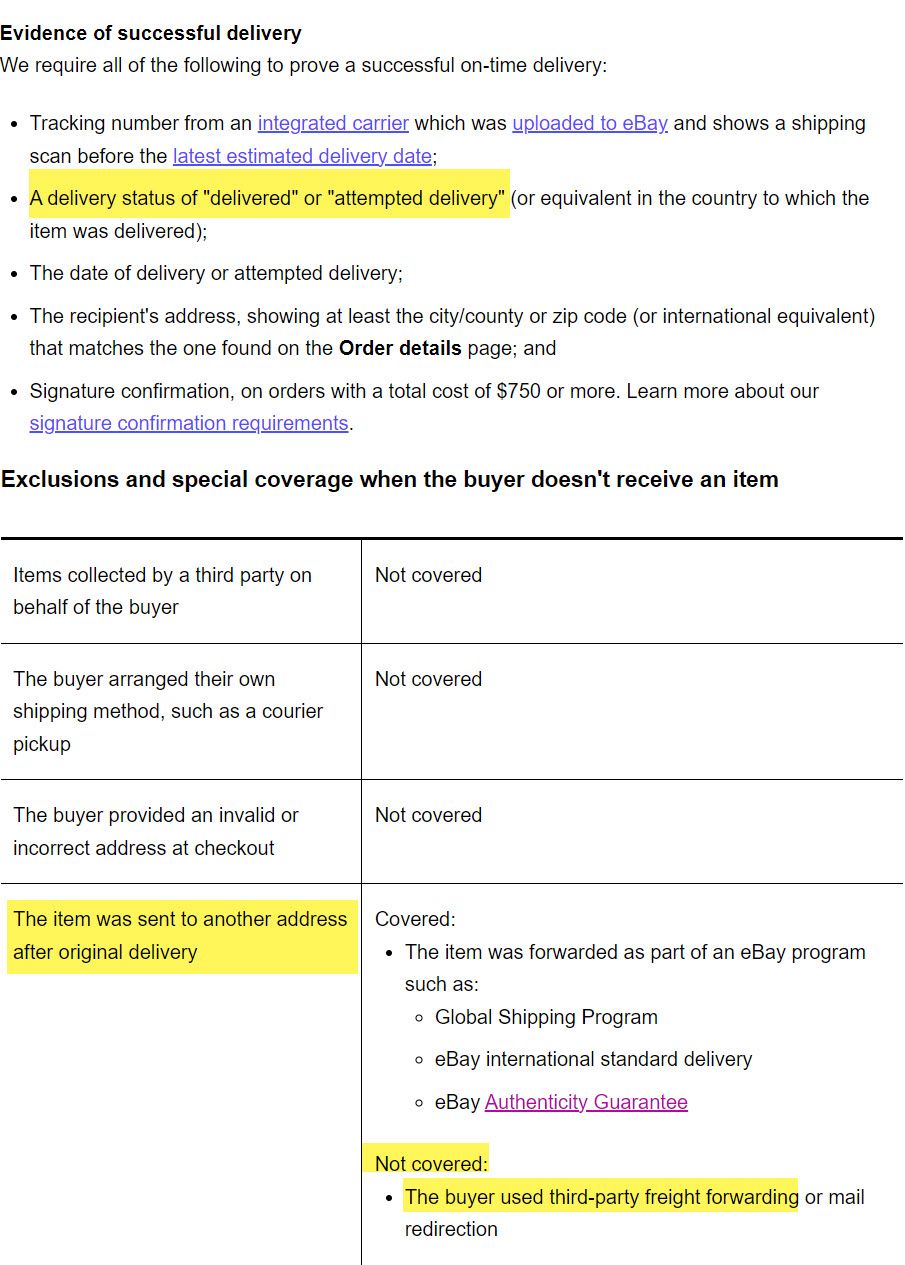 However, because eBay's system are not recognizing these packages as "delivered" at the freight forwarder, sellers are losing that protection and it appears customer support may not be aware of the issue in order to correctly handle appeals.
---
eBay sellers report a strange technical issue that is preventing some of their shipments from being counted as delivered.
In many places such as apartment buildings with concierge/doorman, townhouse complexes with a management office, freight forwarders, buildings with mailrooms, etc USPS will deliver to the building's mail "agent" and this has always registered a "delivered" status on the eBay orders page.



That is it used to until about 2-1/2 months ago. Now those orders are stuck as "shipped" as the system is not recognizing that packages were delivered. When you click the tracking pop-up it's stuck at "it's on its way to the buyer" and "was scheduled" for delivery on X date.



I've reported the issue multiple times, but I'm wondering if others here are seeing the same problem?
Hi! Just wanted to say that I am currently dealing with this issue. A new buyer opened an Item Not Received case after the tracking said "item delivered to agent for final delivery".



They claim the item was never sent, which is easily debunkable, so I'm pretty sure they're just trying to pull a fast one because the tracking says that. With eBay no longer stating that packages with that message are delivered, even though they are, I just hope that I can still win the case despite this change in eBay's system.
I'm having the same issue. Buyer's address is freight forwarder in New Castle,De



USPS tracking says Delivered to agent for final delivery. Talked to USPS and they said that the package has been delivered on their end and has been given to 3rd party forwarder to deliver to buyer.



Ebay not updating delivered status.
I noticed that Google also wasn't picking up a delivery status for the example tracking numbers given, even though it shows delivered when you click through to USPS and suggested possibly there is an issue with mapping for the "Delivered To Agent For Final Delivery" status that prevents 3rd parties like Google and eBay from picking it up as "delivered."
However, the original poster believes that may not be the issue, since orders from before the issue started in October are still correctly showing the delivery status in eBay.
It's a good theory, but in trying to verify that line of thought I came up with conflicting data.



I looked at some "delivered to agent" packages that were delivered prior to October and they display the same on Google - no delivery update - yet eBay recognizes the delivery status.



In any event, it's good to get that info to the shipping team in case it's relevant. I don't have enough data on my end to pinpoint or rule out anything right now. All I know is the change occurred in October and it's still a problem.



Never happy to see others facing problems, but at the same time all these examples others brought up are good info to support the need for eBay to fix this.
Sellers should still be able to have item not received claims resolved in their favor if they provide the tracking, but may need to contact eBay support to explain the issue and get added to the report to make sure the claim is handled properly.
An eBay community staff member has escalated the issue and I'll update once there is more information.
In the meantime, if you're experiencing problems with eBay not recognizing "item delivered to agent for final delivery" as delivered, let us know in the comments below!
---