eBay Managed Payments Integrates With Quickbooks
UPDATE 3-15
Intuit has updated the fine print to bring it in line with the rest of the page - stating "30% off the monthly price for QuickBooks Online ("QBO") is for the first 12 months of service, starting from the date of enrollment, followed by the then-current monthly list price."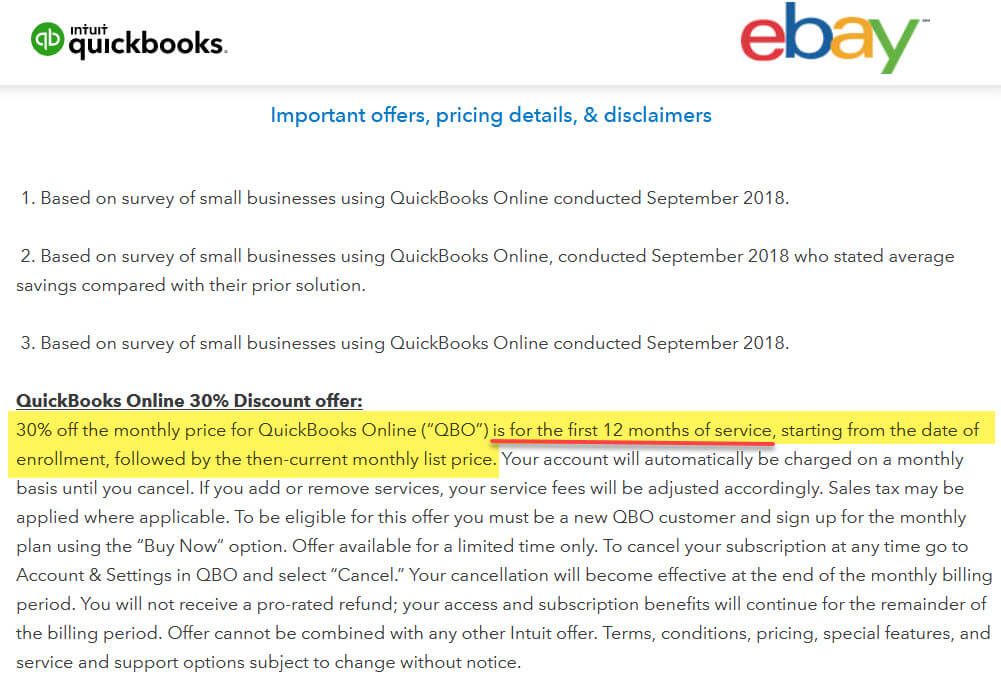 While it's great the error has been corrected, in the interest of transparency, eBay really should at bare minimum update their announcement about the program to acknowledge there had been an error and reassure users that the full 12 month term will be honored.
UPDATE 3-2-22
Sellers are expressing concerns about eBay's partnership with Intuit on this integration.
A seller in last week's community chat asked whether or not eBay will be making the same data available for other accounting programs.
Is the integration available with the desktop version or only the online version? What data does it provide? Can the integration be used to capture information needed to file a Schedule C on a US Federal income tax return? Will the same data be made available to third-party eBay applications?



Finally, why not total and summarize sales, fees, postage and other amounts that add up to the payout amount? If eBay can integrate with QuickBooks, a rather pricy application, why not provide the same information to sellers in a convenient form for input into less expensive applications like Quicken?
Tyler@ebay was unable to answer any of those questions and simply pointed the seller back to the original announcement.
There are also reports of technical problems getting the app to connect to eBay, predictably ending up in a corporate run around blame game with neither side taking responsibility for resolving the issue.
Anyone else having issues with this recent announcement? I can't connect the app, Quickbooks is blaming eBay and eBay is blaming Quickbooks.
same - other platforms easy peasy to connect - ebay no dice. Frustrating!
One seller questioned why the integration isn't available for Quickbooks Self Employed, a less expensive version of the program that meets the needs of smaller sellers who don't need all the bells and whistles (and higher price tag) of Quickbooks Online.
I'm seeing its only available if you have a QuickBooks "online" subscription. Why is that different than QuickBooks self employed? And why wouldn't eBay make it available for people with the self employed subscription? Makes no sense.
I also found conflicting pricing information on the special Quickbooks/eBay sign up landing page. Several places indicate 30% off for 12 months*, but the fine print (hidden one click away at the very bottom of the page) says "30% off the monthly price for QuickBooks Online ("QBO") is for the first 6 months of service, starting from the date of enrollment, followed by the then-current monthly list price. Your account will automatically be charged on a monthly basis until you cancel."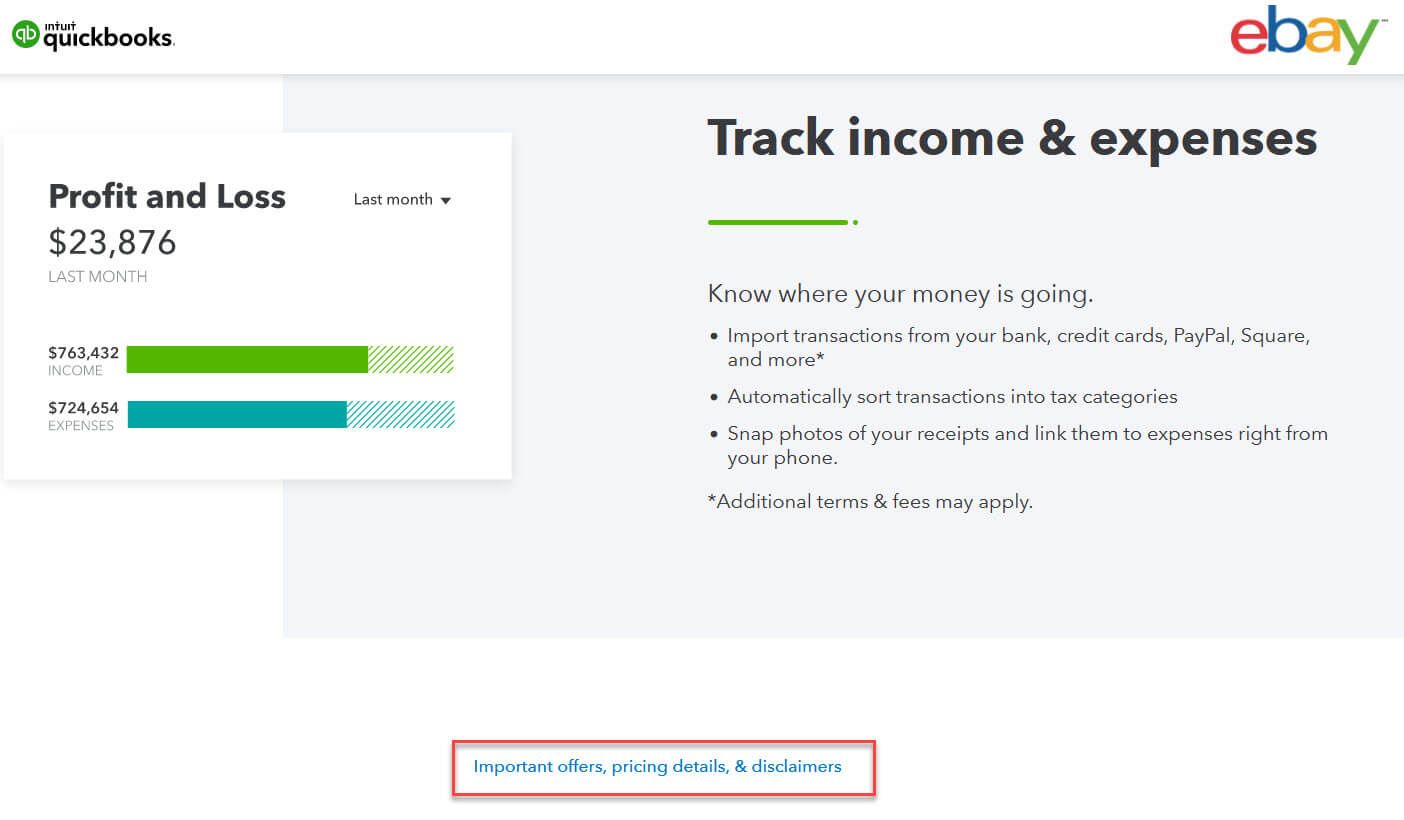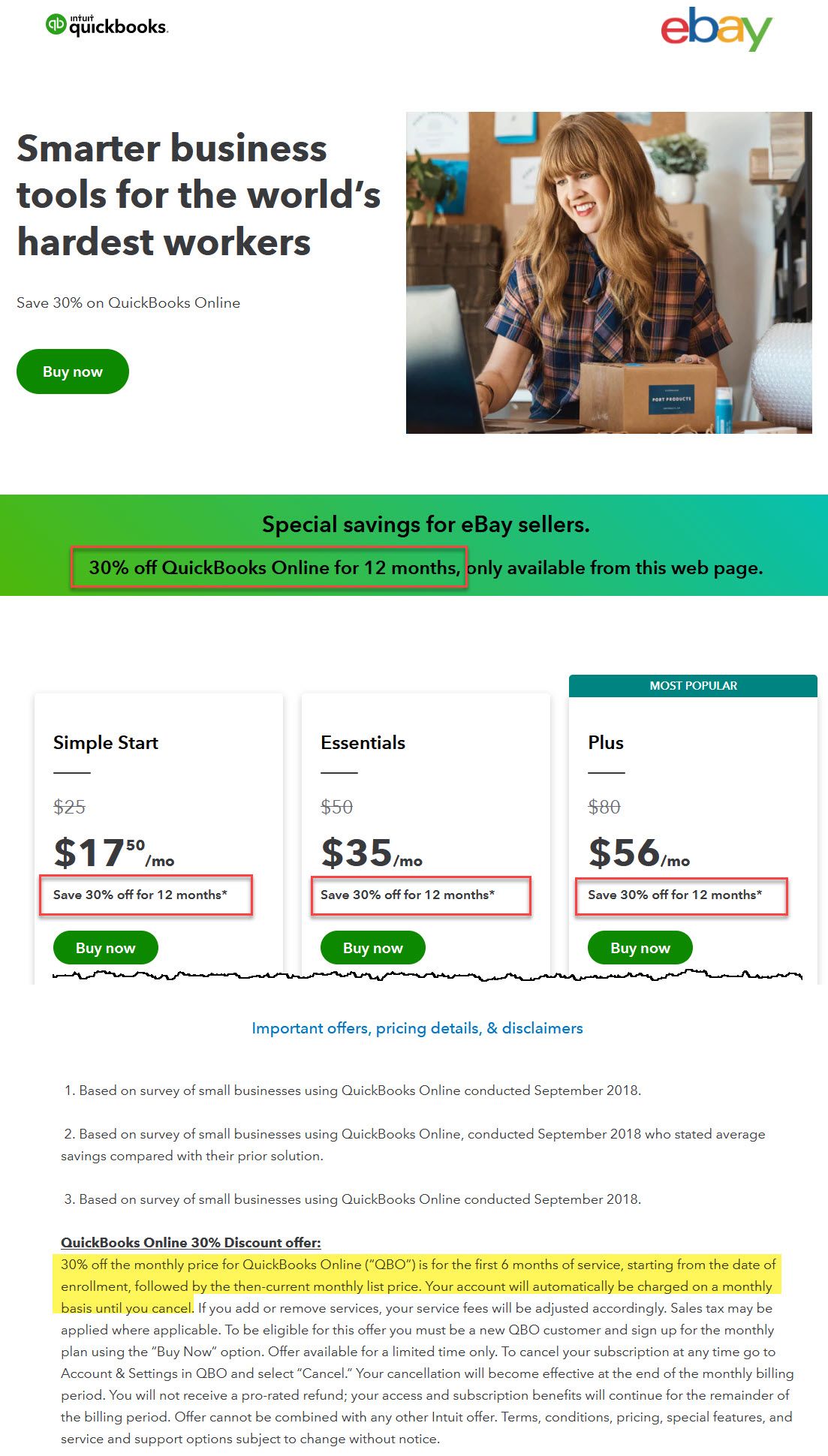 Is it a typo or bait and switch? I suppose we'll find out in about 6 months.
Such tactics will likely not come as a surprise to anyone who has followed news about other Intuit products, especially their TurboTax software. ProPublica has done excellent work documenting how Intuit tricks users into paying more than they should to file their income tax returns and how the powerful corporation lobbies to keep tax filing complicated to protect profits.
Given Intuit's history, I think it is absolutely fair for sellers to be concerned about what implications eBay's partnership with them might have.
Side note: if you're a small-medium size business using MailChimp for newsletters and marketing efforts, you may want to consider that history as well - they were recently acquired by Intuit, so keep an eye out for some of the same questionable business practices to start showing up there too.
---
eBay announced a new integration with Quickbooks for Managed Payments today, along with a discount offer for new Quickbooks Online subscribers.
Managing your eBay business just got easier. QuickBooks, the #1-rated accounting solution for small and medium-size businesses (PCMag, Nov. 2021), is now integrated with eBay payments.



If you are not already a Quickbooks subscriber, subscribe now and save 30% for 12 months. This exclusive offer from Quickbooks for eBay sellers is only available for a limited time. Please see QuickBooks promo offer terms and conditions.



QuickBooks subscribers can conveniently and securely access QuickBooks via a web browser—no apps or special software required. Use QuickBooks to invoice buyers, pay bills, generate reports, and prepare taxes.



Connected for convenience



QuickBooks automatically syncs eBay transactions, reducing manual data entry.
See breakdown of income, sales tax, and fees for each transaction
Keep everything organized in one place



Accounting made easy



eBay income and expenses appear in your Profit and Loss statement
Automatically sort transactions into tax categories
Quickly see how your eBay business is performing with one-click reporting
Sellers have criticized eBay for the lack of integration with common accounting programs since the initial rollout of Managed Payments began in 2018, so while this is welcome news, it's certainly been a long time coming.
eBay and Quickbooks seem to have partnered not just on providing a discount, but on creating help pages and content as well.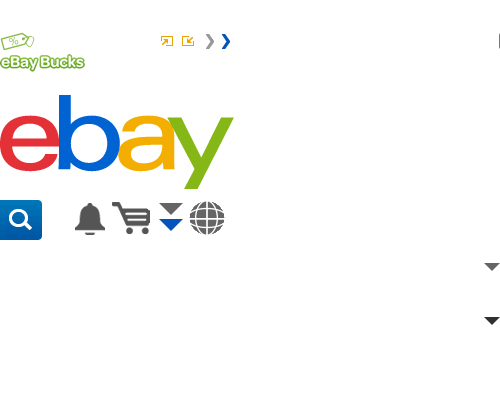 Not only do they have a basic guide for connecting your eBay account to Quickbooks, they also provide resources for starting your business, managing your business finances and marketing.
---
I'll be working on getting a "seller's eye view" full breakdown of the new integration later this week, so stay tuned!
In the mean time, if you use Quickbooks - leave a comment to let us know what you think of the new eBay integration.
---