eBay $500 Free Promoted Listings Promo - Read The Fine Print
UPDATE 8-11-22
A helpful reader was kind enough to provide the terms and conditions for the US promo - don't miss the additional fine print that says the promo only applies to newly created Promoted Listings campaigns.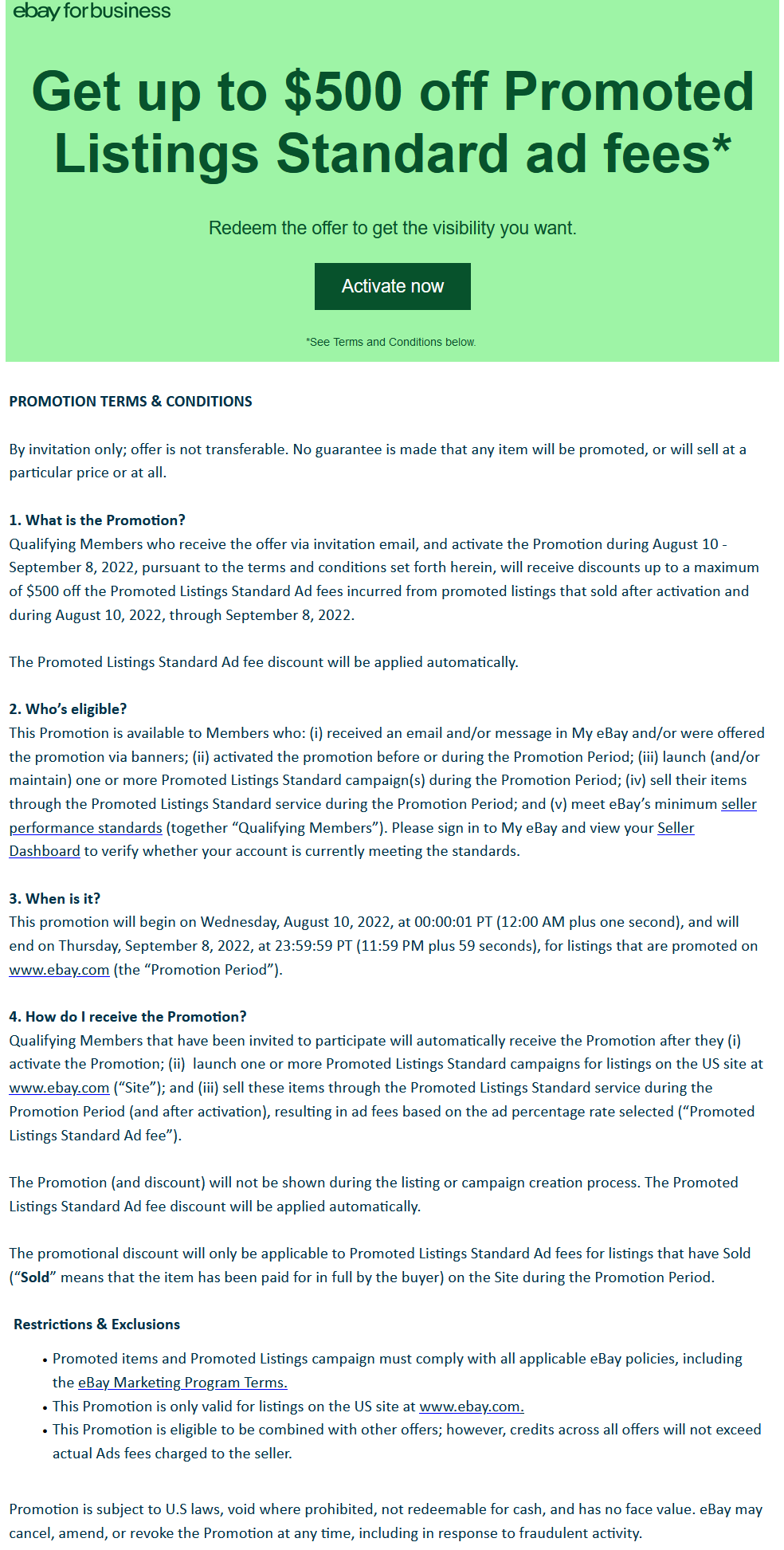 ---
UPDATE 8-11-22
eBay community staff refuse to disclose the terms and conditions for the US version of this promo, stating it's not publicly available because it contains "account specific information" since it is only for select sellers.
I'm calling shenanigans on that one - the similar promo in the UK has a public link to terms and conditions as does another promo running now in the US for zero final value fees on Personalized items - both of which are also invite only/for select sellers.
devon@ebay - while the promo may only be for invited accounts, it's typical for there to be a public link to the terms and conditions (which of course states as one of the terms that it's only for sellers who have been invited).



For example, here's the link for the similar promo running on eBayUK right now:



https://cloud.forbusiness.ebay.com/uk_promoted_listings_standard_aug_2022_promo_1007743



As you can see, there is nothing in that link that is account specific and it makes it explicitly clear the promo only applies to invited sellers.



For another example - some sellers currently have a promo for zero final value fees on Personalized items. That is also an invite only promo and when you click on the link in seller hub it takes you to this terms and conditions page, again a publicly viewable link not showing account specific info which gives the full t&c and makes it clear it is only for invited sellers.



https://pages.ebay.com/promo/2021/1104/MnpKGvehJ12RnpPT.html



...is just asking for a link to the US version of the terms and conditions for the $500 in Promoted Listings ads promotion. That should be a publicly viewable link just like the others and should not contain any account specific info.
Devon responded:
@valueaddedresource As of right now there does not look to be a public link for the terms to this offer. If and when there is one available I will be sure to come back and share the link to it!
So since eBay refuses to disclose the terms, how about this - if you are a seller who received the offer for $500 in free Promoted Listings ads and would be willing to share a link or screenshot to the terms and conditions, send an email to liz@valueaddedresource.net or DM @ValueAddedRs on Twitter.
---
eBay is once again heavily pushing sellers to try Promoted Listings Standard, this time with a limited time promotion that appears to be running at least in the US & UK for $500 or £500 in "free" Promoted Listings Standard ads.
The promo is by invitation only and just like always, I highly recommend reading the fine print.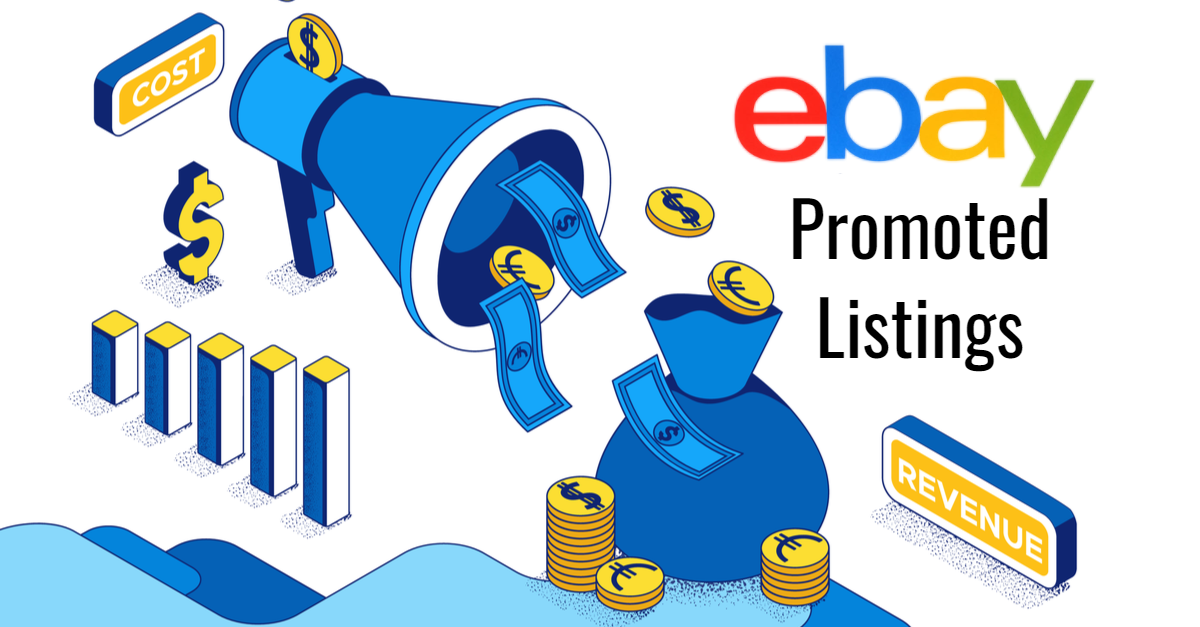 Like that previous promotion, it's important to note this promotion is timed to ad fees for items sold within the promotion period.
Promoted Listings Standard is a cost per sale ad model where the seller is charged the applicable ad rate for any sale that occurs within 30 days of a buyer clicking on the promoted version of their listing.
It's entirely possible with an offer like this there could be a situation where the initial click may have happened during the promotion period, but the sale didn't - in which case the ad rate you had selected would be assessed with no discount applied by eBay.
In fact, one UK seller says that's exactly what their past experience has been, which is why they are not participating in this promo.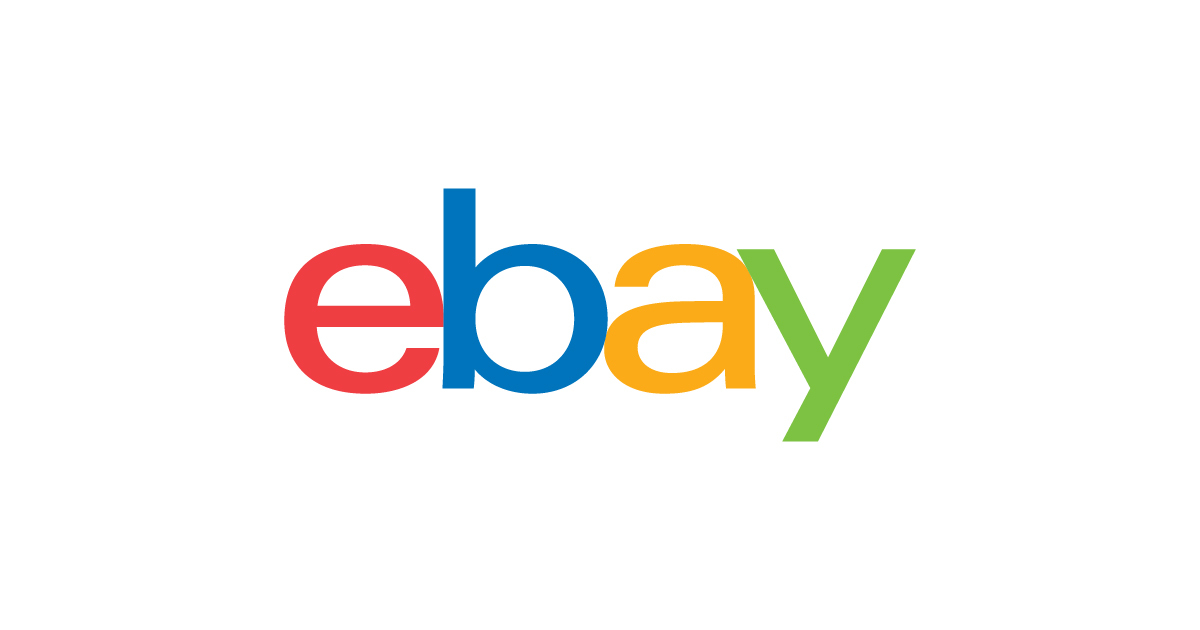 Yes, that looks to be the only downside. We seem to get quite a lot of sales where people buy a fair while after originally viewing the item so it could work out expensive in the 30 days following the end of the promo. For that reason only, I think I'm gonna take a raincheck on this one as we currently don't use promoted listings at all.
One possible workaround would be to end the actual listing you opted in to Promoted Listings when the promotion period ends - that would prevent a sale of that listing that could incur the ad fee after the promo period.
One seller in the community gave this advice:
So the key there is this. Pick about $1000 worth of items, give all of them 40 percent promoted listing rate and end every darn one of them that didn't sell about 3 days before the promotional period is over.



Or there are a bunch of other strategies you could use, but all of them would involve making sure there was no way to ever go over that $500 total.



I suggest making a store category just for those items and moving them all into it, that way you can find them and end them all when you need to.
There are of course other downsides to choosing to end a listing and relist the item under a new listing ID, so every seller will have to carefully weigh the options to see what is best for their business.
---
So far I haven't seen the exact terms and conditions of the US promo, but sellers are discussing it in this community thread:
I would imagine the terms are similar to the promo currently running for the UK, but will update if I find any major differences.
Promotion Period
The £500 (inclusive of VAT) off the Promoted Listings Standard fee ("Promotion") will be open from 00:00:01 on August 10 2022 UK local time and will end at 23:59:59 on September 8 2022 UK local time ("Promotion Period").



Eligibility
This Promotion is open to business sellers who:

are registered on www.eBay.co.uk (the "Site");
are invited to participate;
actively opt-in to the Promotion via the RSVP link on the promotional landing page between August 10 2022 00:00:01 UK local time and 8 September 2022 23:59:59 UK local time.
sell at least one listing on the Site during the Promotion Period that was promoted using Promoted Listings Standard; and
reside in the European Union or the United Kingdom.
Participation is linked to the seller's account and is not transferable.



Procedure
Accept the invitation within the Promotion Period to take part in the Promotion by creating (or maintaining) a listing and promoting it using Promoted Listings Standard during the Promotion Period and get £500 off your Promoted Listings Standard fee on sales you make from any listings made using Promoted Listings Standard during the Promotion Period.



The £500 off will only be applicable to listings that have Sold ("Sold" means that the item has been paid for in full by the buyer) on the Site during the Promotion Period in order for the Promotion to apply, resulting in Promoted Listing Standard fees based on the advertising percentage rate elected.



The Promoted Listings Standard fee discount will be applied automatically. Promoted items and Promoted Listings campaigns must comply with all applicable eBay policies, including the eBay Marketing Program Terms.



Any other fees (such as insertion fees and listing upgrade fees) will still apply and will be charged in full in accordance with the eBay fees policy.


Restrictions and exclusions
The following exclusions apply:

Private sellers and/or any listings created by Private sellers
Sellers who have not been invited to participate and/or listings created by anyone not invited to participate.
Sellers who do not meet eBay's minimum seller performance standards. Please sign in to My eBay and view your Seller Dashboard to verify whether your account is currently meeting the standards.
Sellers who have been invited to participate, but who have not actively opted in
Listings that will apply Promoted Listings after the Promotion Period.
Any items listed that don't comply with eBay's listing policies or prohibited and restricted items policies.
Any items listed in the classified formats.
Any items listed in the 'Property', 'Cars, Motorcycles & Vehicles' and 'Coins, Banknotes & Bullion' categories. However, please note that items listed in the 'Vehicle Parts & Accessories' category are included.
Any items listed during the Promotion Period but sell after the end of the Promotion Period.
Any item listed during the Promotion Period but scheduled to start after the Promotion Period.
Listings that are Sold on any eBay site other than ebay.co.uk
Identical listings that don't comply with our duplicate listings policy.

The following restrictions apply:
Promotions will not apply to any credit provided to users as part of their Shop Subscription. This credit will be applied to Promoted Listings activity first, and promotional discounts will be applied to subsequently incurred Promoted Listings fees.
---
If you received an invite for this promotion, do you plan on using it to try out Promoted Listings? I'd love to hear about your experience in the comments below!
---