eBay Takes Aim At Etsy With Personalization & Certified Refurbished
Modern Retail says eBay's latest efforts in Personalization and Certified Refurbished take direct aim at Etsy - but do these efforts hit the bullseye or miss the mark?
Today, eBay added a top-seller functionality and a new categorization system — certified refurbished, excellent, very good and good — to its eBay Refurbished program. The features, explained Dawn Block, eBay's vp of collectibles and hard goods, are meant to increase consumer confidence that the tech they are buying for holiday gifts will work like new.
Jonah Ellin, chief product officer at intelligence provider 1010data, said that "the challenges in the supply chain make used, refurbished and gently used products more appealing when readily available." However, he thinks strong warranties and insurance policies are key for the category to transcend from self-purchases to gifts.
---
Certified Refurbished
"Strong warranties and insurance policies are key for the category" - this quote underscores the need for transparency and trust-building to gain buyer confidence on refurbished items, something that eBay has demonstrated they are willing to forgo in favor of building brand partnerships instead.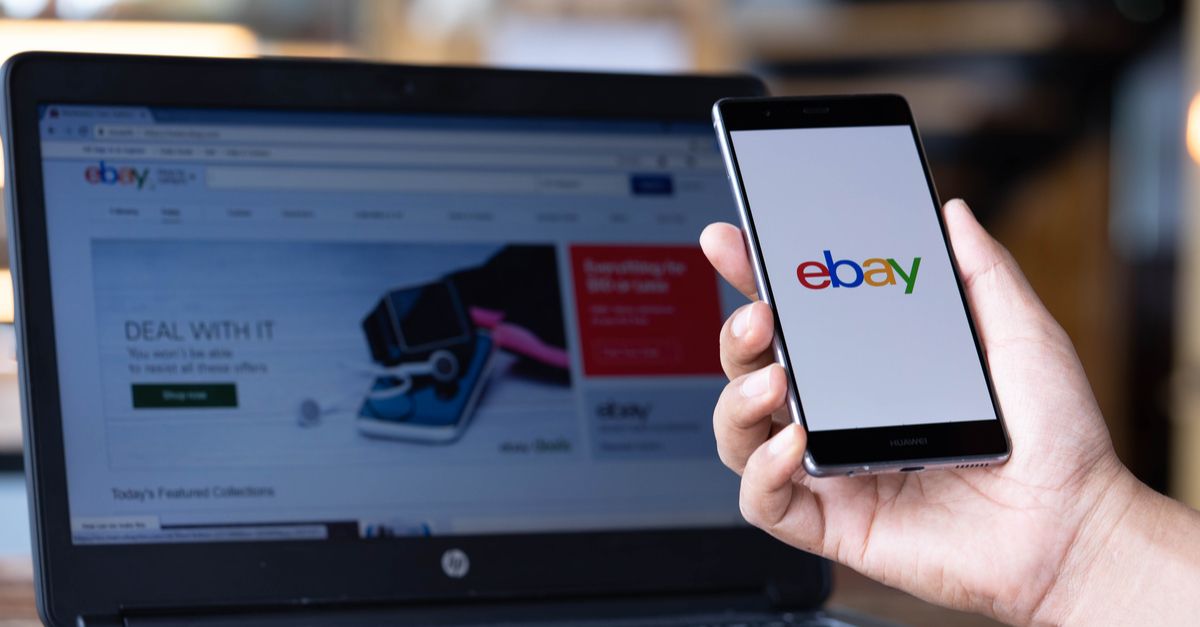 Even when eBay isn't actively participating in promotions that violate the terms of their Certified Refurbished program, they certainly don't seem to be enforcing the criteria strictly or monitoring to make sure authorized refurbished sellers are offering buyers the 30 day return period promised.
Just one example of many - DJI shows 30 day returns but then states 7 day returns in the listing itself.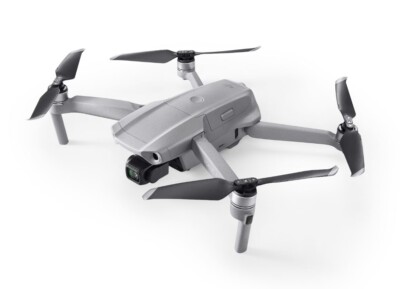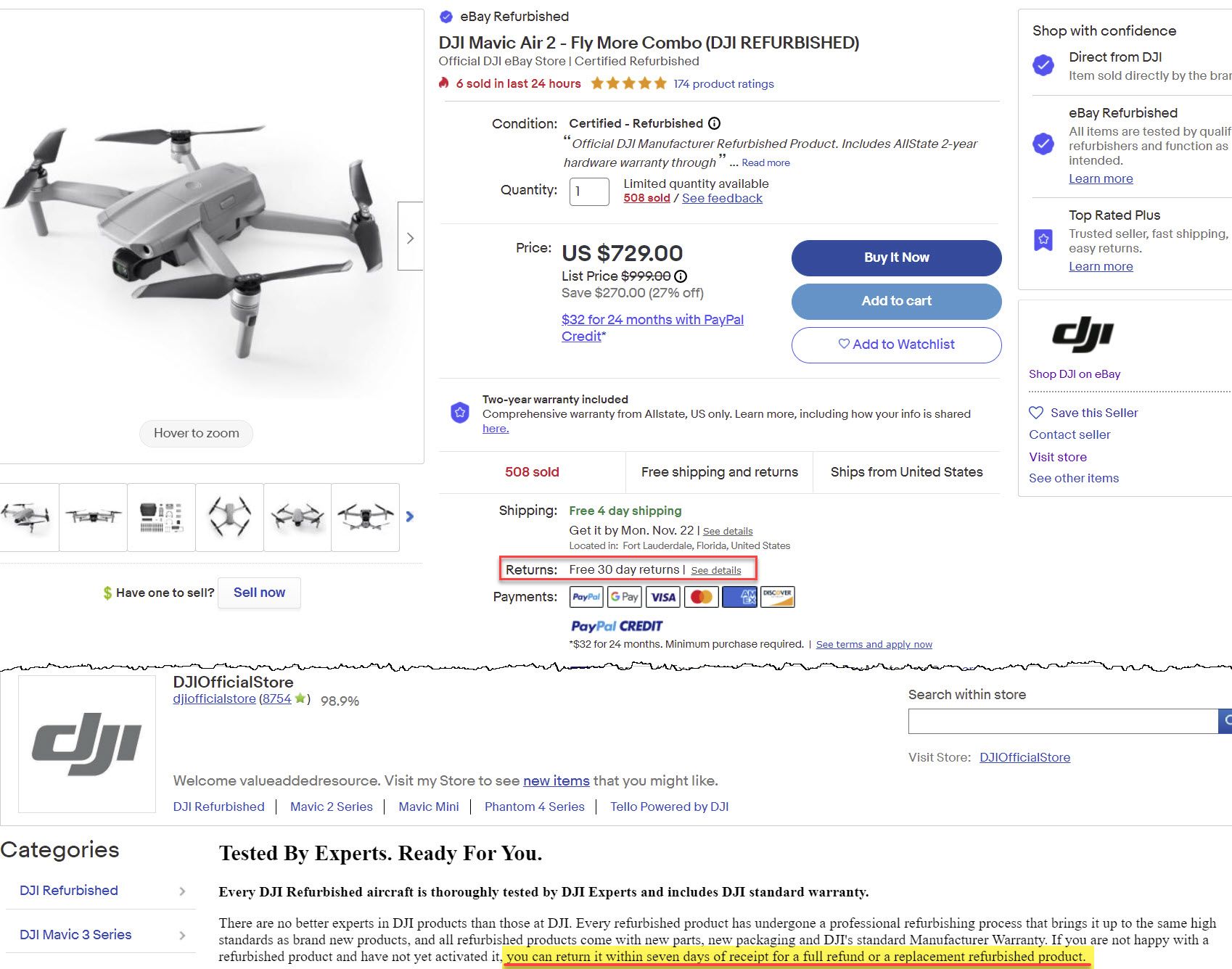 That type of conflicting and misleading information in the description could certainly dissuade buyers from taking advantage of the full 30 day return period promised on refurbished items.
Here's another example of a vetted, certified refurbished seller with some less than buyer friendly policies written into their description.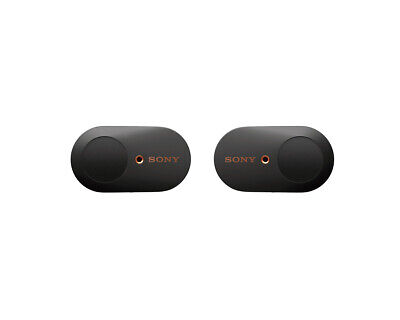 Just FYI - eBay gives buyers 15-35 days to ship back returns.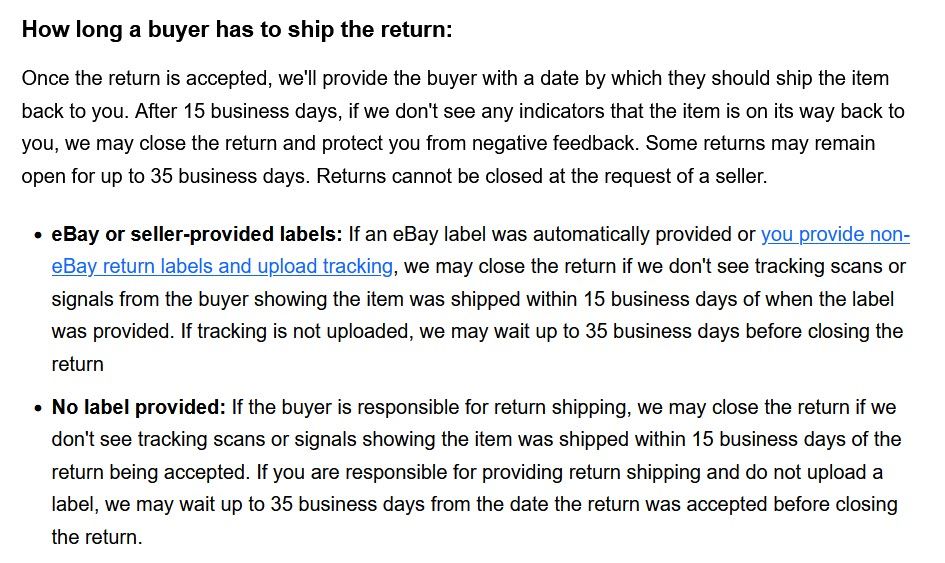 I thought these sellers were supposed to be vetted and approved before being allowed to sell certified refurbished items specifically to ensure they offer only the best customer experience - how is eBay missing these obvious issues?
---
Personalization
Modern Retail also has glowing praise for eBay's Personalization feature, which might cause one to wonder if they have actually used it themselves.
This month, eBay also rolled out 0% fees on personalized items across categories to encourage more crafty sellers and buyers to head to eBay and away from Etsy. Ebay had already cut the fees for personalized products to 2% in May. In the past, personalized product fees varied by product category from 3% to 15%.



Additionally that same month, eBay also invested in new site features to help sellers automate personalized item sales. Now, sellers have the option to include a text box directly on personalized product listings for users to input their personalization requests when they purchase, rather than via DMs after purchase.
Sellers now have the option to include a text box for personalization rather than via DMs after purchase? Well yes...and kind of no. The text box sends the information the buyer types in to the seller in a DM - that's literally all it does.
There is absolutely nothing "magical" about this feature. On a technical level it works exactly like sending a message to the seller through the eBay message system - the only difference is where the box to type the message appears.
If the seller needs additional information or clarification, they'll reply to the message and the process will take place across DMs just as it did previously. If you're looking for tech led reimagination, this isn't it.
Using the eBay messaging system for this feature also means that anything eBay would block in a normal message (like email address, phone number, or other contact information) is also being blocked from personalization. This causes problems sellers that needs to request that information for the item to be personalized, like custom made invitations that would require that information for the RSVP.
Not only does the text box solution not offer much in the way of innovation on the buyer side, it also lacks the control and sophistication that similar tools from competitors like Amazon and Etsy offer to sellers, like designating individual information fields, whether a field is required or optional and setting exact character limits for each field.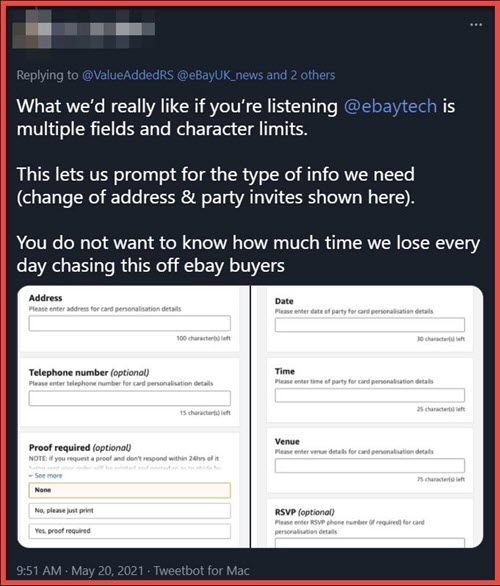 By comparison, eBays offers a one size fits all solution - a single text box with a maximum character limit, but no option to set a minimum.
The seller can say "15 character limit" in the personalization instructions, but eBay allows 250 characters to be entered in the message text box and sellers cannot adjust that setting. There's nothing to prevent the buyer entering a name that is 20 characters, which could then lead to a lot of back and forth messages (wasn't the text box supposed to prevent that?) or an order cancellation. Either way, it could be a frustrating experience for both buyer and seller.
More info about how personalization works here:
"This month, eBay also rolled out 0% fees on personalized items across categories" - well, yes, they did but in a spectacular example of execution failure eBay inadvertently applied the 0% fees promotion across categories and items that do not qualify for Personalization as well!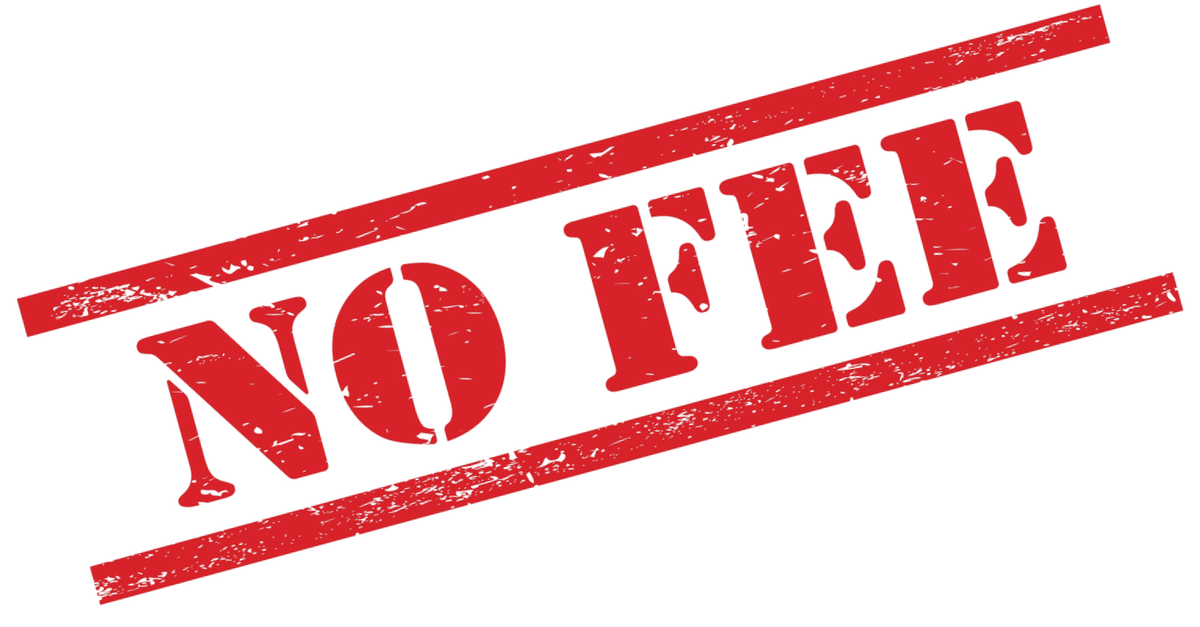 It was an embarrassing snafu that rubbed many sellers the wrong way, showing how quickly eBay can act to correct technical issues when it effects them financially and of course eBay was equally as quick to "recoup" all those missing fees.
---
Let's not forget that Modern Retail gave eBay a "best e-commerce experience award" for adding dark mode to the eBay app last year. Don't get me wrong, it's a nice feature to have, but not particularly groundbreaking in my opinion. Clearly, Modern Retail is more easily impressed than I am.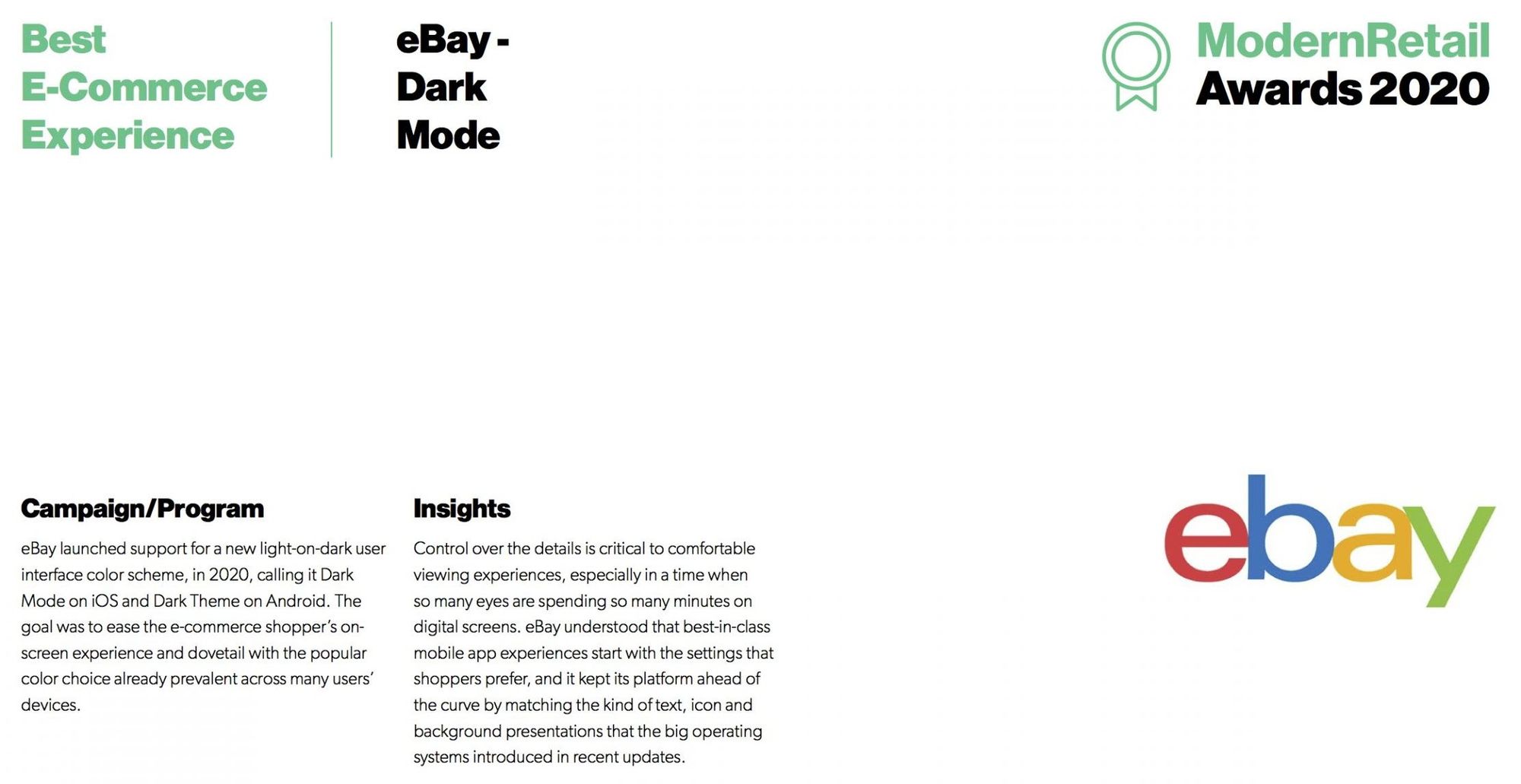 As far as Certified Refurbished and Personalization - eBay may be aiming at the competition, but they're still lagging behind in the tech led reimagination race.
---