eBay & Samsung Bend Rules In Certified Refurbished Promo
UPDATE 10-20-21
I posted about this issue in the weekly community chat today.
Jasmen@eBay tried to sidestep my questions by brushing it off as a possible "cosmetic issue" that would have affected only the way the return information appeared on the listing but not the actual return period buyers would be allowed.
Hey @valueaddedresource it looks like it could have been a cosmetic issue with how it was appearing on the listing. I'll make sure to get it reported but usually they offer returns at the 30 days. Thanks for brining this to our attention!
I pointed out that they had written it into the terms and conditions and that the revision history showed an actual change in the policy, including screenshots.
nope, not just a cosmetic issue. You all wrote it into the T&C too.



Also, the listing history shows that in fact the listing was started with a 14 day return period applied and that was only changed after the promo expired.



Definitely not a cosmetic issue.
There was no response after the chat closed and has been no further response from eBay on this issue at all - apparently they believe since the promotion is over and the policy has been set back to 30 days now, everything is fine.
I'm guessing buyers who may try to return after 14 days but before 30 may not feel the same.
---
UPDATE 10-19-21
The listings are still active, but have been edited now that the promotion has ended - the gift card has been removed and the items have been set back to the required 30 day return period.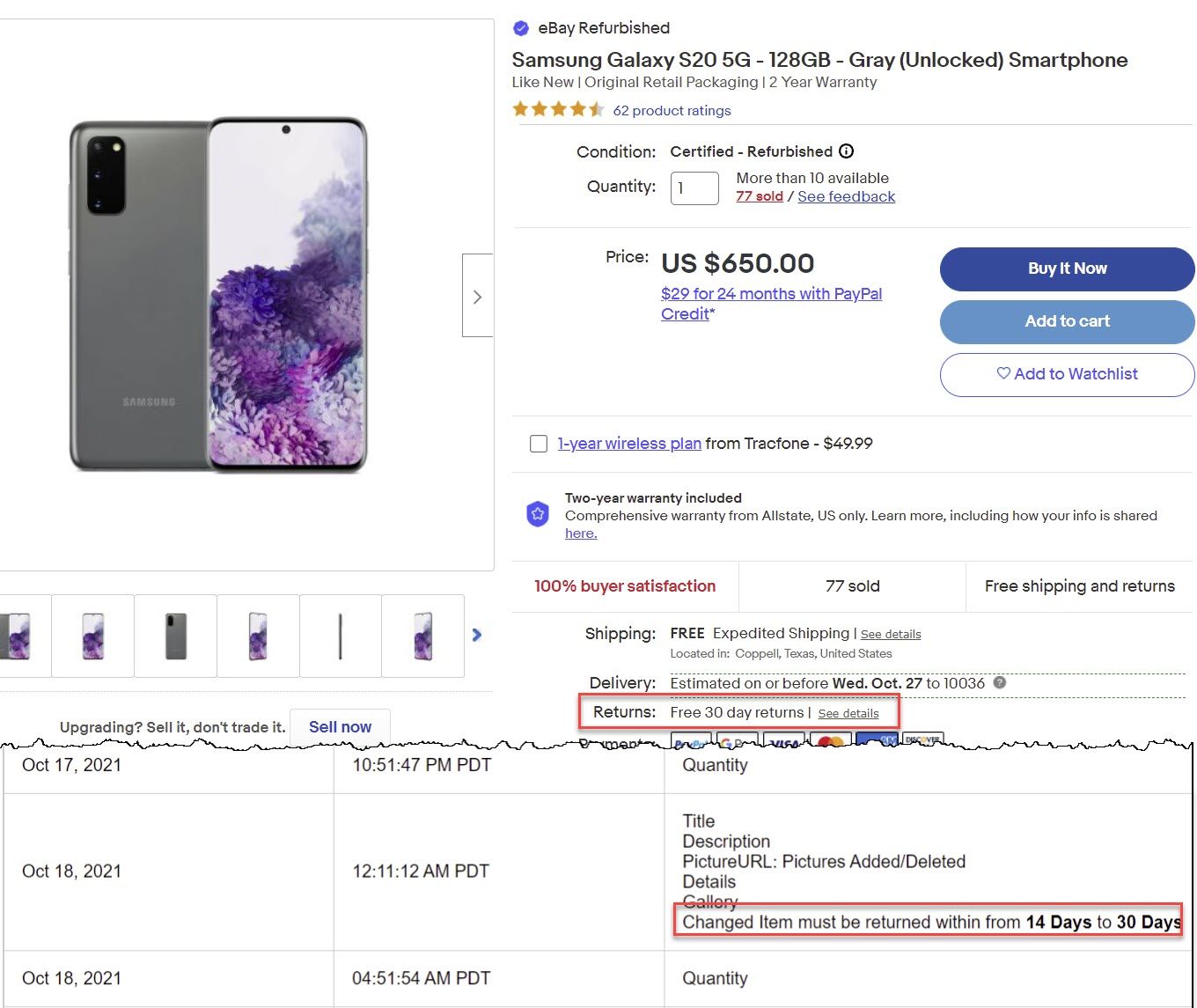 This just highlights that these listings were given "special permission" to violate the policies and promises of the Certified Refurbished program during a promotion from which eBay financially benefited.
I've asked eBay what they would do if a buyer of one of the promos filed for a return after 14 days but before 30 and have received no response.
I will be filing an FTC report as well about these deceptive business practices and false advertising.
---
eBay is currently running a special promotion in partnership with Samsung offering a free eBay gift card with purchase of select Samsung certified refurbished phones but there's a catch - these listings only offer 14 day returns, not the 30 day return period promised for items in the eBay Refurbished program.

If you click on the banner itself, it goes to this landing page prominently displaying "Easy Returns - if you're unhappy with your purchase, return it within 30 days for a full refund."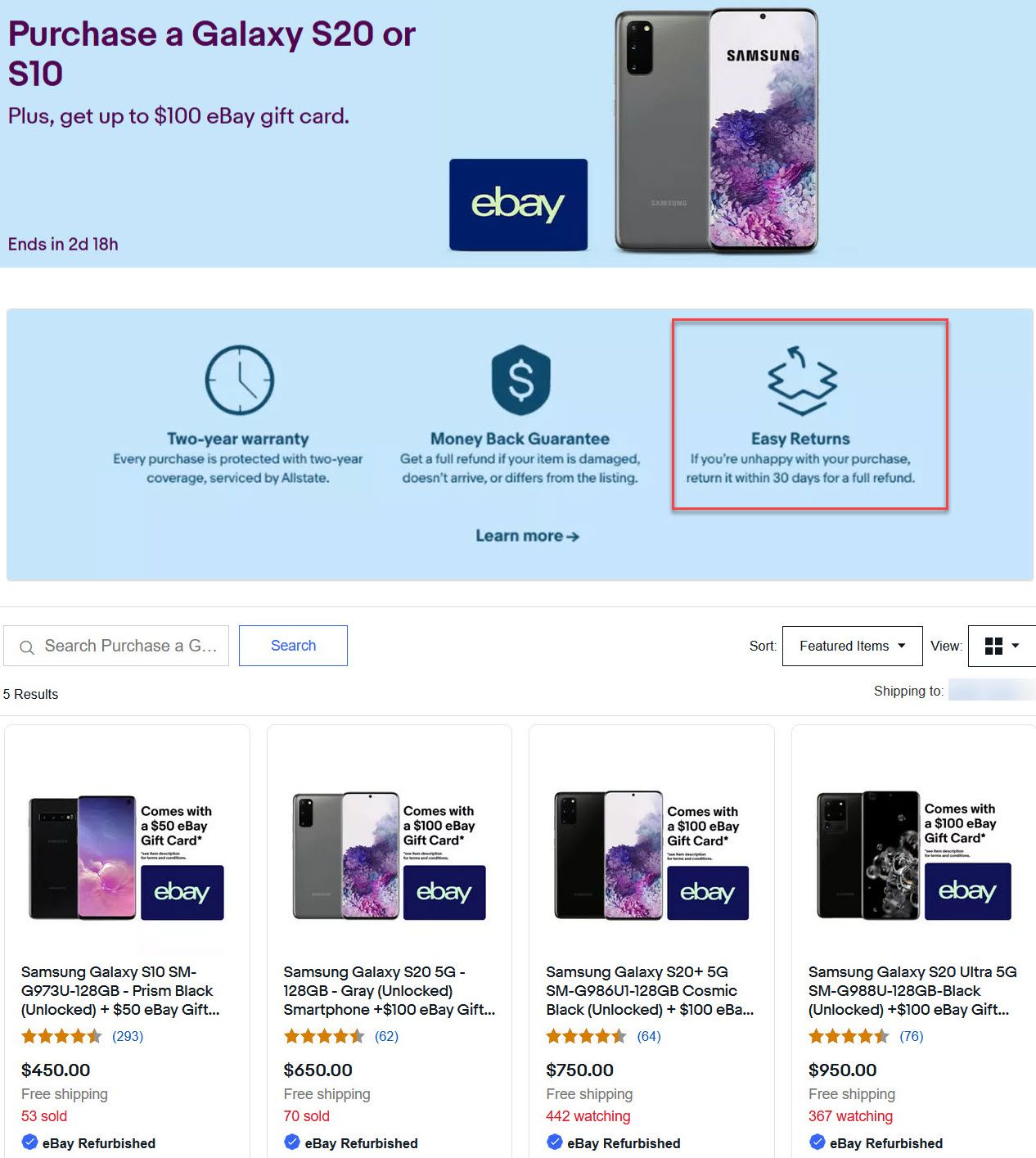 However, if you click the fine print "gift cards emailed 11/1-11/5 see details" to view the full terms and conditions, it references the seller's "two-week return window".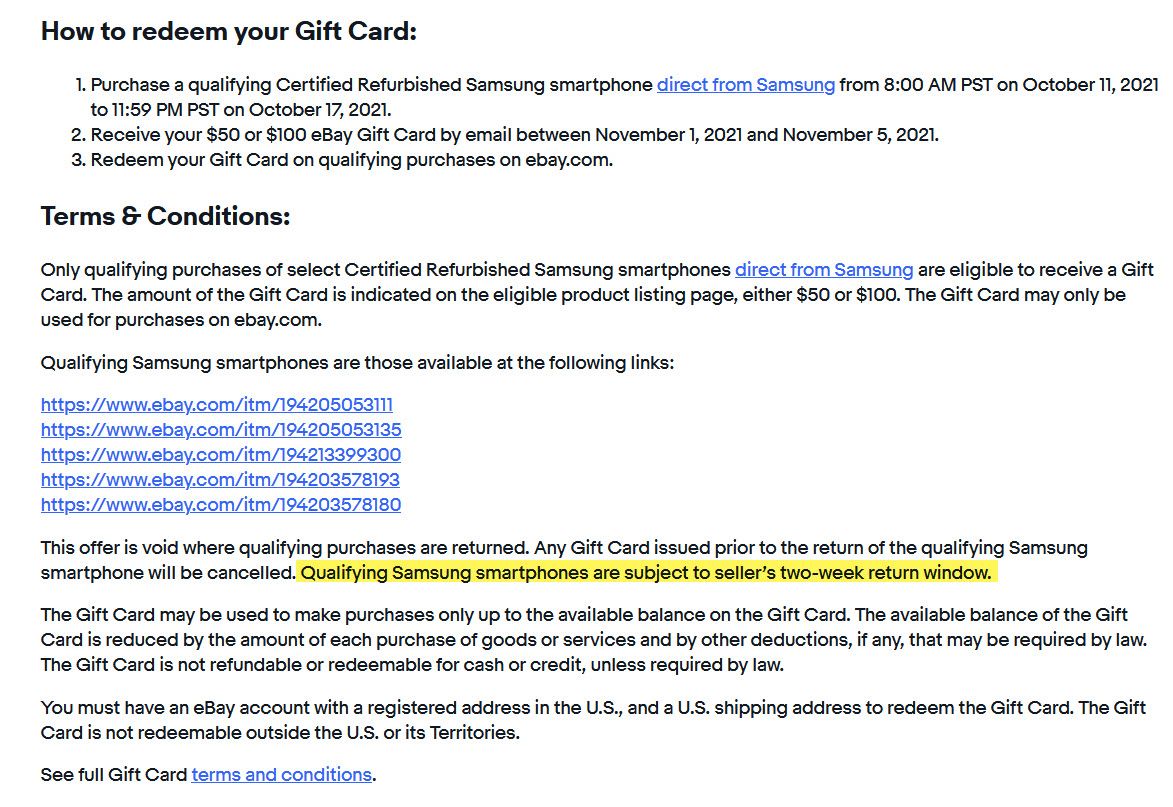 I checked all five of the listings in this promo and sure enough - they all have a 14 day return time.
https://www.ebay.com/itm/194205053111
https://www.ebay.com/itm/194205053135
https://www.ebay.com/itm/194213399300
https://www.ebay.com/itm/194203578193
https://www.ebay.com/itm/194203578180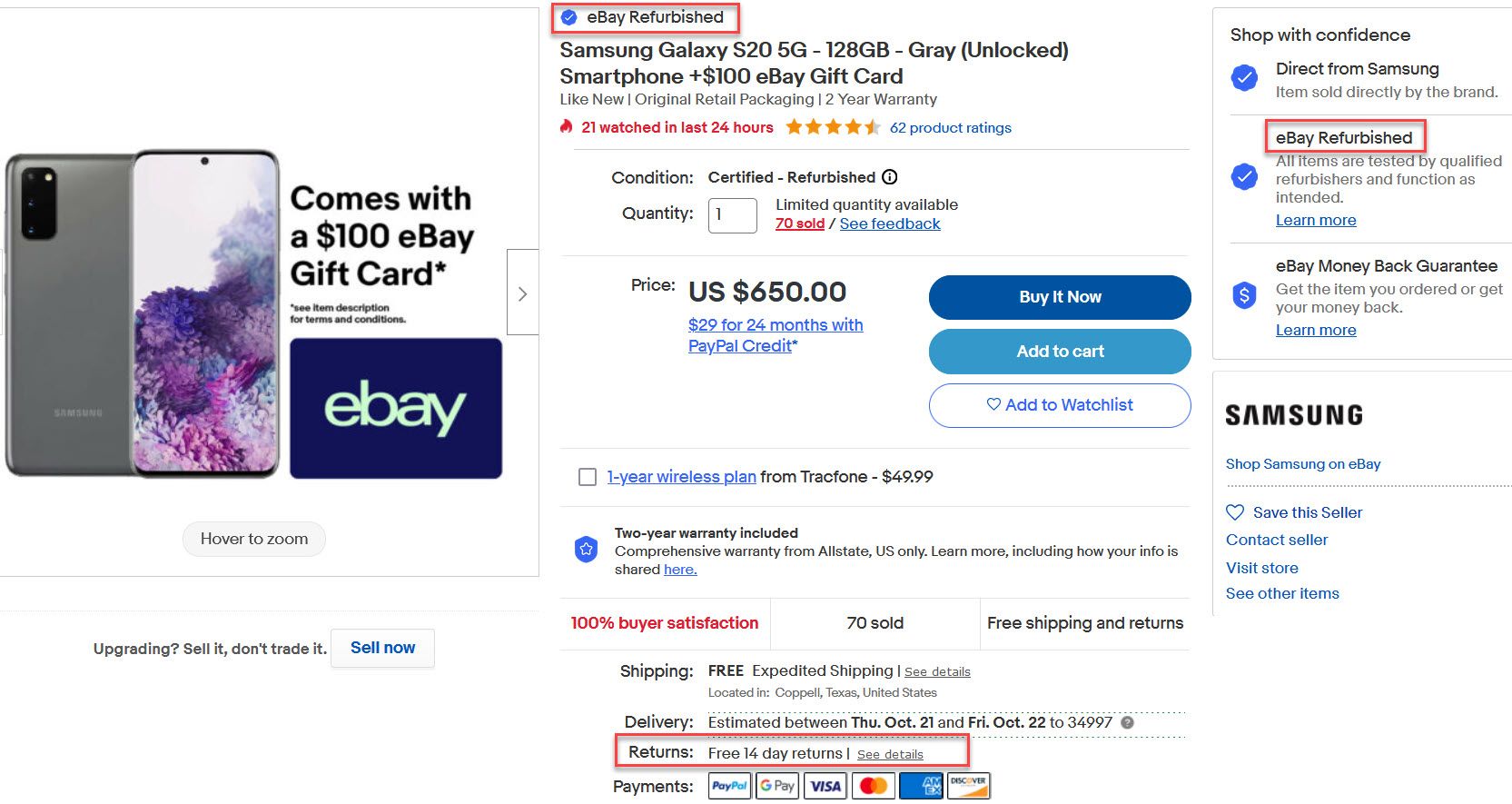 ---
How is this even possible? The eBay Seller Center page for the eBay Refurbished Program states in 3 different places that sellers must offer free 30 day returns to qualify.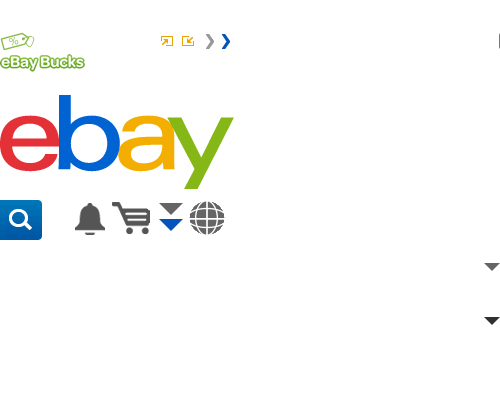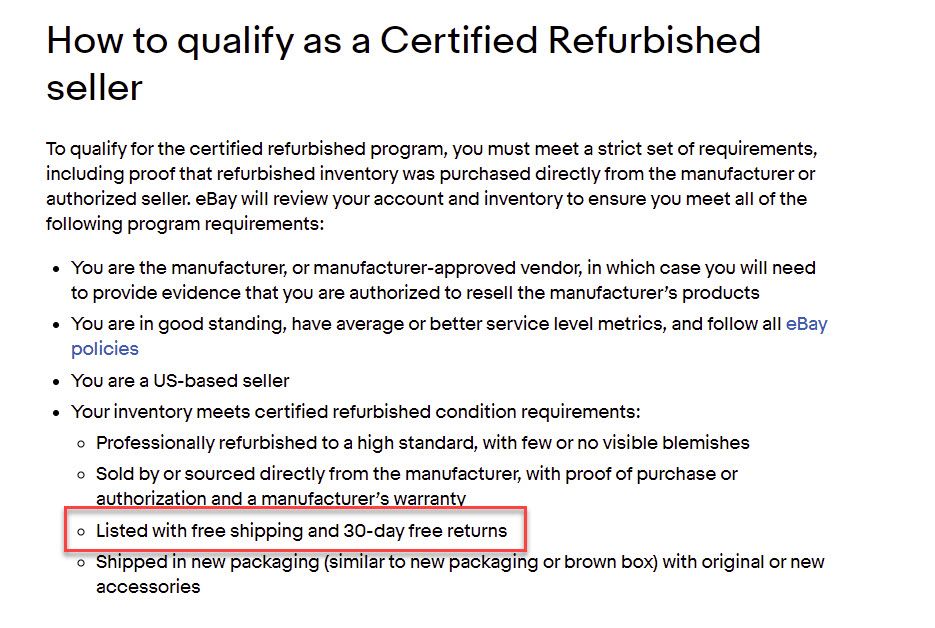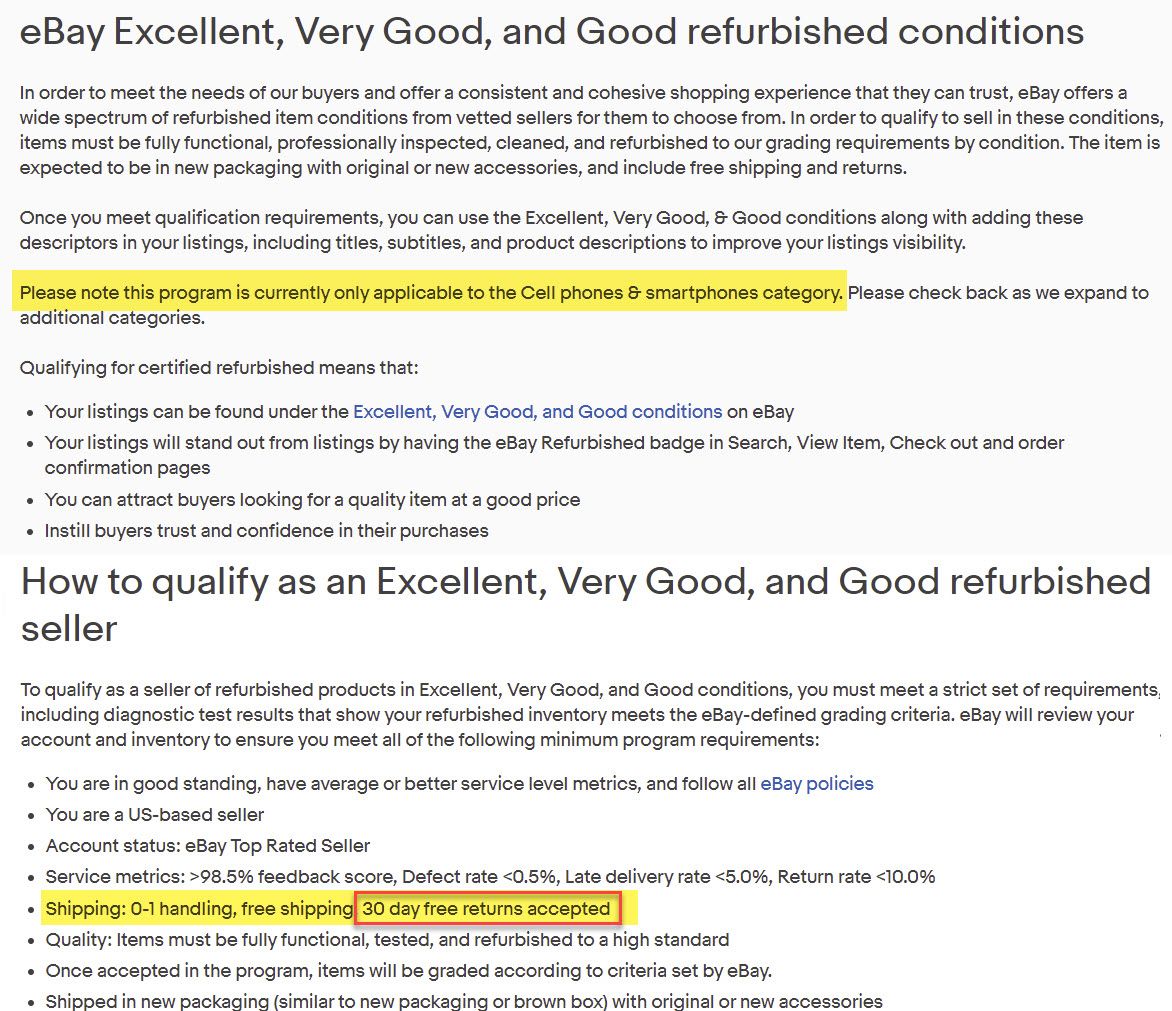 eBay specifically calls out certain condition options that are currently available only in the Cell phones & smartphones categories, which is where these items are listed. (emphasis mine)
eBay Excellent, Very Good, and Good refurbished conditions...
Please note this program is currently only applicable to the Cell phones & smartphones category...



How to qualify as an Excellent, Very Good, and Good refurbished seller
To qualify as a seller of refurbished products in Excellent, Very Good, and Good conditions, you must meet a strict set of requirements, including diagnostic test results that show your refurbished inventory meets the eBay-defined grading criteria.



eBay will review your account and inventory to ensure you meet all of the following minimum program requirements:

You are in good standing, have average or better service level metrics, and follow all eBay policies
You are a US-based seller
Account status: eBay Top Rated Seller
Service metrics: >98.5% feedback score, Defect rate <0.5%, Late delivery rate <5.0%, Return rate <10.0%
Shipping: 0-1 handling, free shipping, 30 day free returns accepted
Quality: Items must be fully functional, tested, and refurbished to a high standard
Once accepted in the program, items will be graded according to criteria set by eBay.
Shipped in new packaging (similar to new packaging or brown box) with original or new accessories
In addition to the qualification criteria for the refurbished program, eBay's general seller policies regarding returns only offer the option of 30 or 60 day returns - cell phones are not one of the categories given the option for 14 days.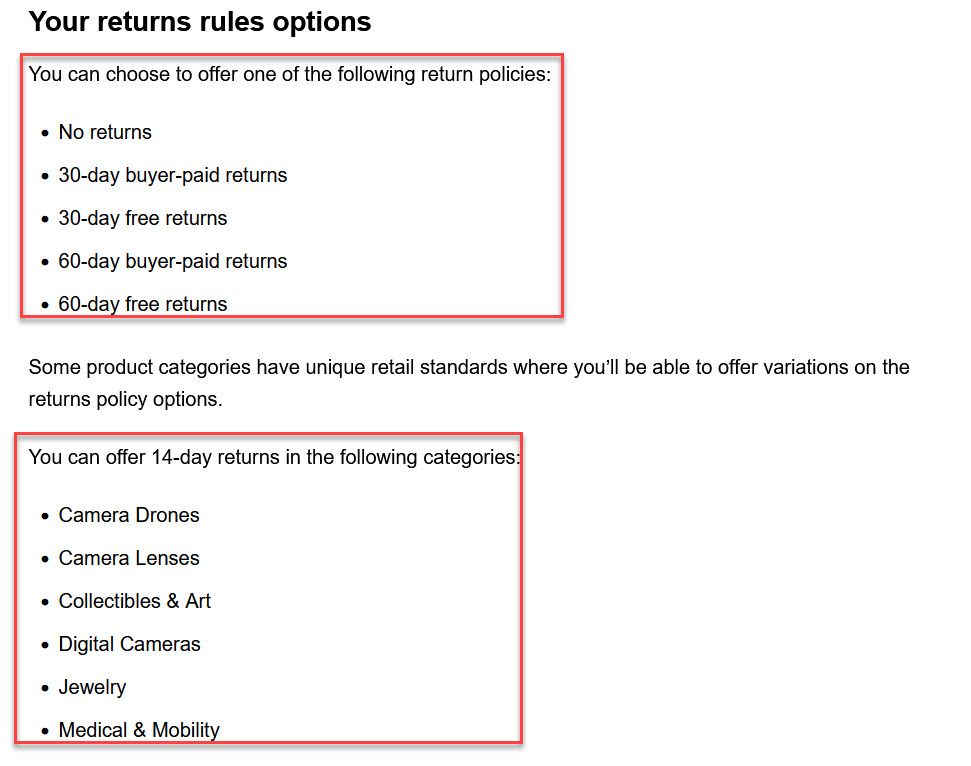 Just to double check, I did a test listing and sure enough, as a consumer seller, I am only offered 30 or 60 days within the listing flow.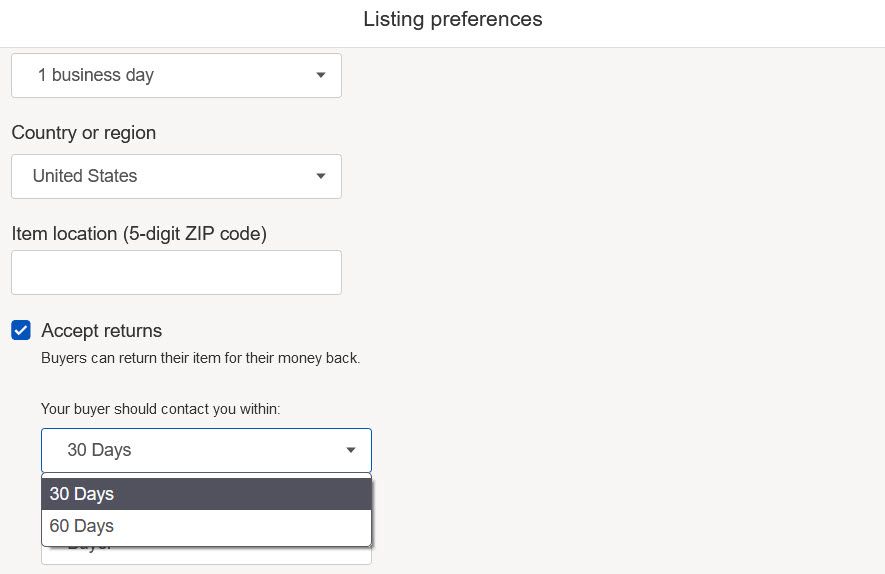 How is Samsung even able to offer 14 days in their listings at all, let alone still qualify for the refurbished program? As far as I can tell, there isn't even technically a way to set the listing up this way for the average seller. Is this just another example of "one of eBay's top brands" getting special treatment?
---
On the buyer side of things, all of the messaging about the refurbished program states 30 day free returns. If you click to "learn more" you are taken to eBay's generic page explaining how the eBay refurbished program works.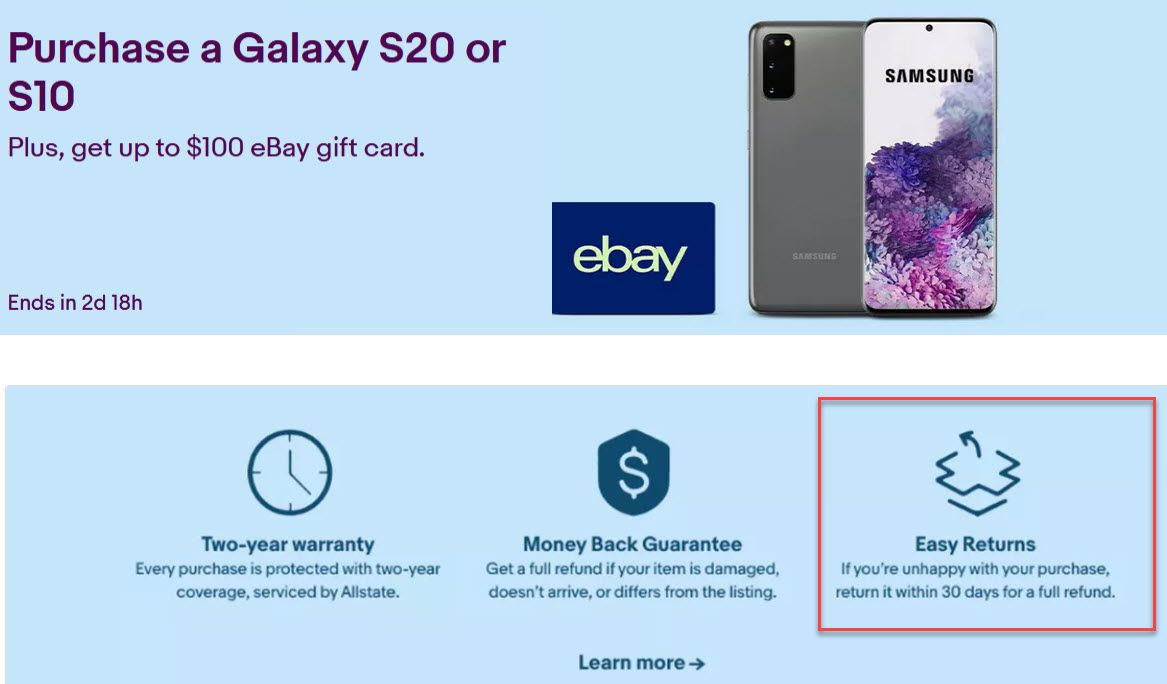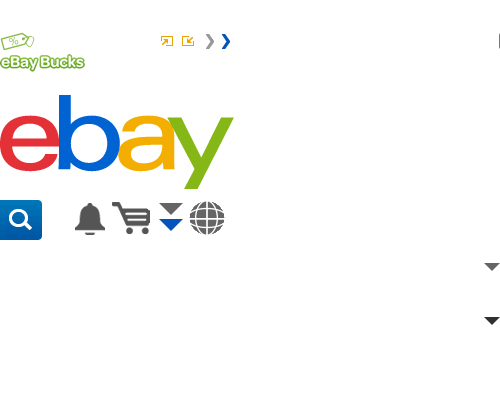 The FAQ explicitly states you have 30 days to return an eBay Refurbished item.

The only place you will find reference to Samsung's 14 day return period on these items is in the return section of the listings and the fine print of the terms and conditions, in direct contradiction to all of the other much more prominent messaging eBay shows buyers stating a 30 day return period.
This looks like a pretty clear case of false/misleading advertising to me.  If I were a buyer, I'd be seriously considering filling a report with the FTC.
Side note: calling this program "eBay Refurbished" is more than a little disingenuous if not outright misleading. eBay does not do the refurbishment, in fact they never physically come in contact with the item.
The only part eBay plays in this program is supposedly vetting qualified sellers and making sure they comply with eBay's "strict requirements" - which, as I've shown above, they are clearly willing to bend the rules on when it benefits them.
---
eBay is currently promoting Samsung refurbished items across their social media channels as well.  While this campaign doesn't call out these 5 listings with the gift card promo specifically, they are included in the mix of Samsung refurbished products you'll find when clicking through from this ad.
Interestingly, all of the other Samsung refurbished items I spot checked did offer 30 days returns.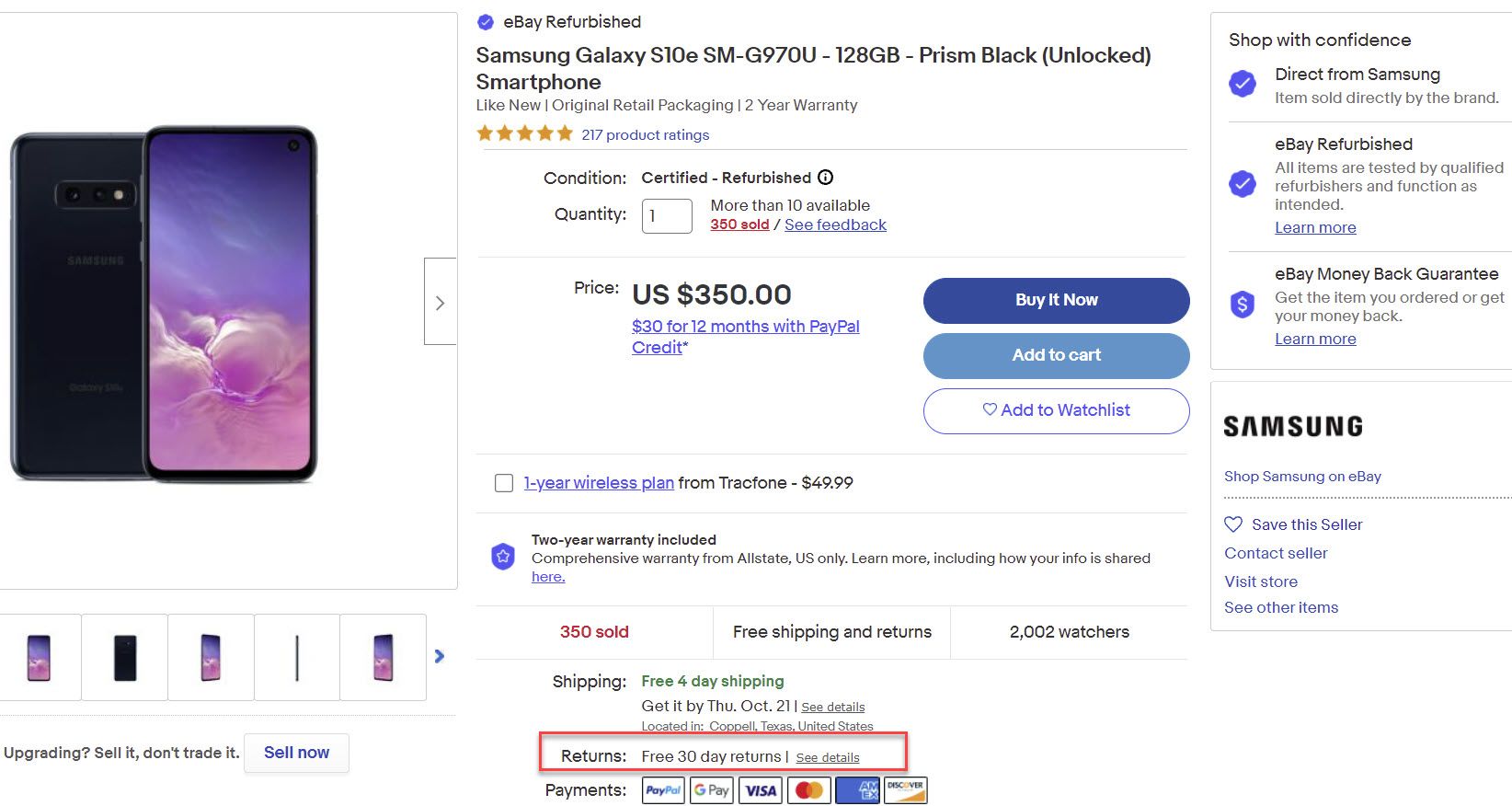 ---
It appears to be only the 5 listings in the eBay gift card promo that have been given an exception. That raises some interesting questions about conflict of interest as well.
It seems the only way Samsung could have offered 14 day returns is with eBay's assistance - it's not a standard option in the listing flow available to consumer sellers.
It's also clear that eBay approved of and is actively participating in this exception to their policies - they wrote it into their own terms and conditions.
On top of all that, the gift cards are being sent directly by eBay to the email address associated with the buyer's eBay account.  These gift cards can be used for any subsequent purchase on eBay (subject to the standard eBay gift card terms and conditions) - that means eBay stands to financially benefit from allowing this promotion to proceed, despite violations of the terms of the refurbished program.
Is this what CEO Jamie Iannone meant when he said "openness, honesty, respect and doing business with integrity drives our success"?
Where is CMO Andrea Stairs in all of this? As Chief Marketing Officer, these promotions fall squarely under her purview. Is she even aware of the blatant violations of eBay policies and/or FTC regulations that her department is regularly complicit in?
Is anybody at this company ever going to be held accountable for anything?
---
Thanks for reading! Likes, comments, and shares are always appreciated. 👍
Follow Value Added Resource on Twitter & Facebook ✔
Subscribe to receive eBay seller news, tips, and insights in your inbox 📧
---