Is eBay Running No Fee Promo Or Is It A Billing Glitch?
UPDATE 11-5
Sellers have confirmed the "missing" fees have been deducted from their accounts, though unsurprisingly the promised communication from eBay has yet to be forthcoming.
---
UPDATE - eBay has confirmed this was a technical glitch and that they will be collecting the "correct" fees from affected accounts.  They have also promised communication would be forthcoming, though it's not clear if that will be only to affected accounts or a sitewide announcement.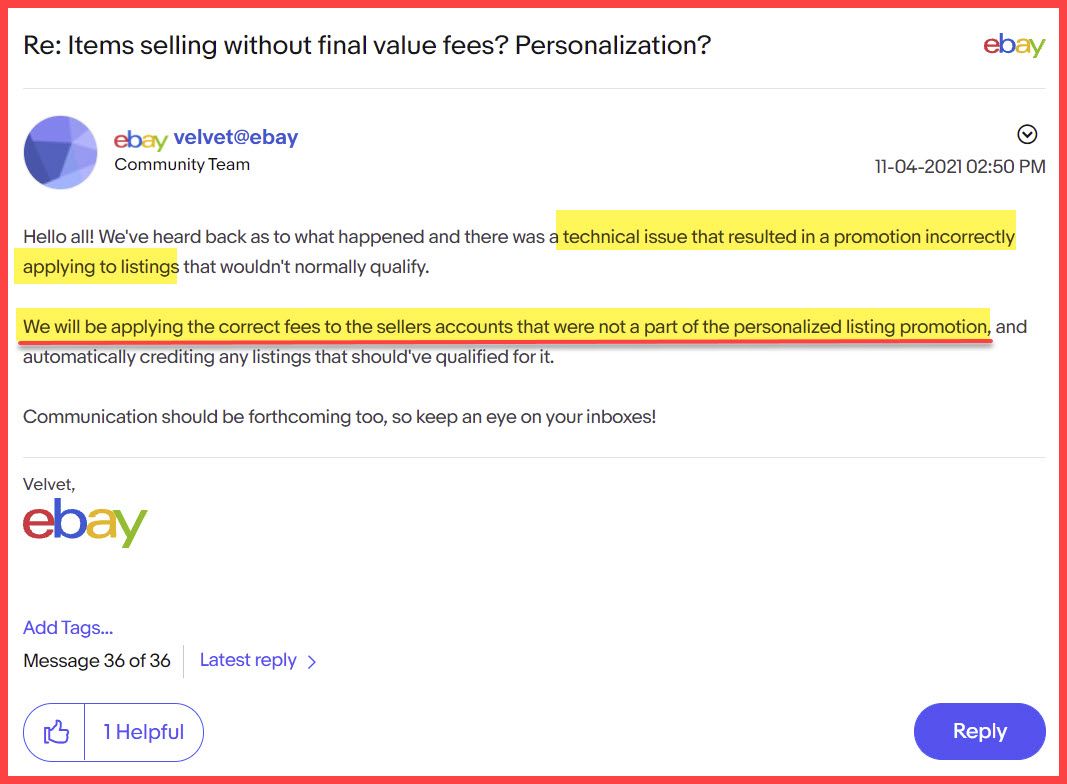 Hello all! We've heard back as to what happened and there was a technical issue that resulted in a promotion incorrectly applying to listings that wouldn't normally qualify.



We will be applying the correct fees to the sellers accounts that were not a part of the personalized listing promotion, and automatically crediting any listings that should've qualified for it.



Communication should be forthcoming too, so keep an eye on your inboxes!
---
UPDATE - eBay community staff has acknowledged the issue, stating fees will likely be "recouped."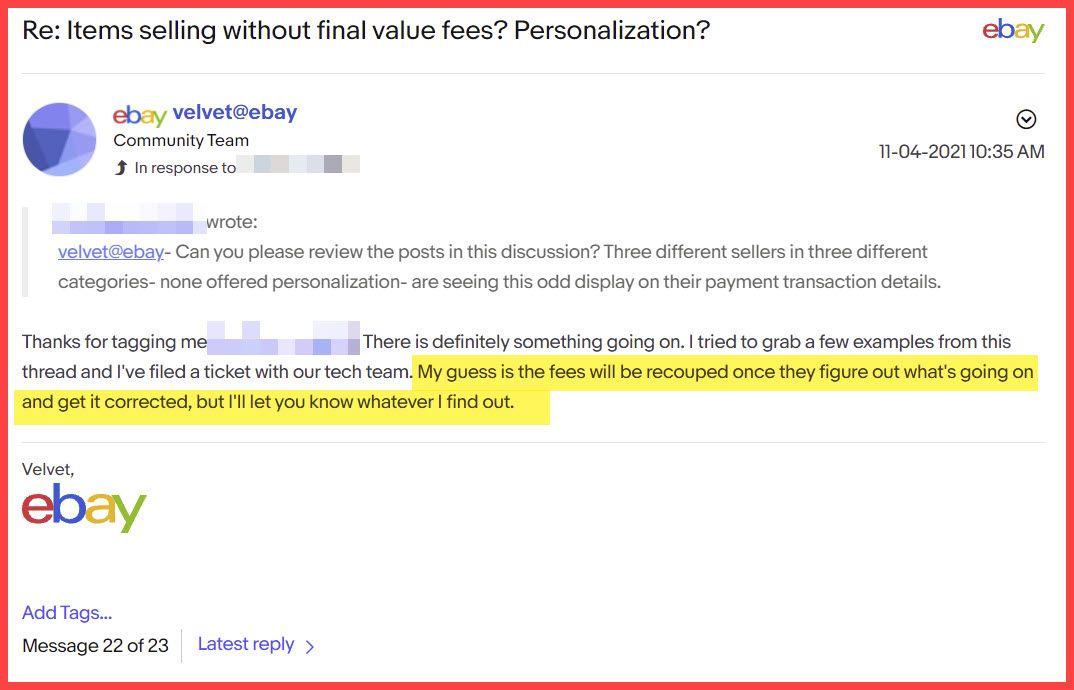 Thanks for tagging me! There is definitely something going on. I tried to grab a few examples from this thread and I've filed a ticket with our tech team. My guess is the fees will be recouped once they figure out what's going on and get it corrected, but I'll let you know whatever I find out.
That's not likely to sit well with many sellers especially since, as FidoMaster pointed out in the comments below, eBay often tells sellers to simply suck up losses as a "cost of doing business" when the shoe is on the other foot.
---
Is eBay running a no Final Value Fee promotion to boost personalization or is it another glitch?
Sellers are reporting sales showing no Final Value Fees and a note that says "Pay no final value fees on listings that offer Personalization"
That might seem like "good news" for sellers but there's a catch - many of these items are not in categories that offer personalization, do not have the "personalized" item specific and are in fact not personalized items.
Nothing in my hub about it. The item that sold was some dollar store body spray that certainly cant be "personlized" in any way.
So far the reports in the eBay community involve items in Health & Beauty and Trading cards categories and there are a few posts over on BlowoutForums.com saying they are seeing it on trading cards as well.
One poster there said:
Same happened to me on a $900ish sale overnight. No final value fee saying this: Pay no final value fees on listings that offer Personalization.

Huge if this keeps happening.
A seller in the community said they have contacted eBay support, but unsurprisingly the rep wasn't all that helpful.
Contacted ebay - was told it was an offer I apparently was unaware of from last month. I don't offer personalization and it's not included in my listings - I could tell my rep knew absolutely nothing about the situation or could give me an adequate answer after putting me on hold three times to talk with managed payments - took the SR # for the call and her "name".



I would much rather pay my fees sale by sale rather than ebay discovering a glitch 10 sales in and have them taken out in one lump.



I know this appears to be in our favor due to a phenomenal promotion, but the fees will come due - this is not a win - it's a headache.
---
According to eBay's FAQ about personalization, it is currently only available in the US for certain categories in the following areas:
Home & Garden
Clothing & Accessories
Jewelry
On top of that, personalized items must use a certain item specific to offer this feature and that item specific isn't even an option outside of qualifying categories.
More info on how the personalization feature works here:
---
It's not clear yet exactly what is going on here but it is clear that sellers are being shown they are not being charged FVF for these sales when they look at the transaction record in seller hub with an explicit message stating it is due to a no FVF promo.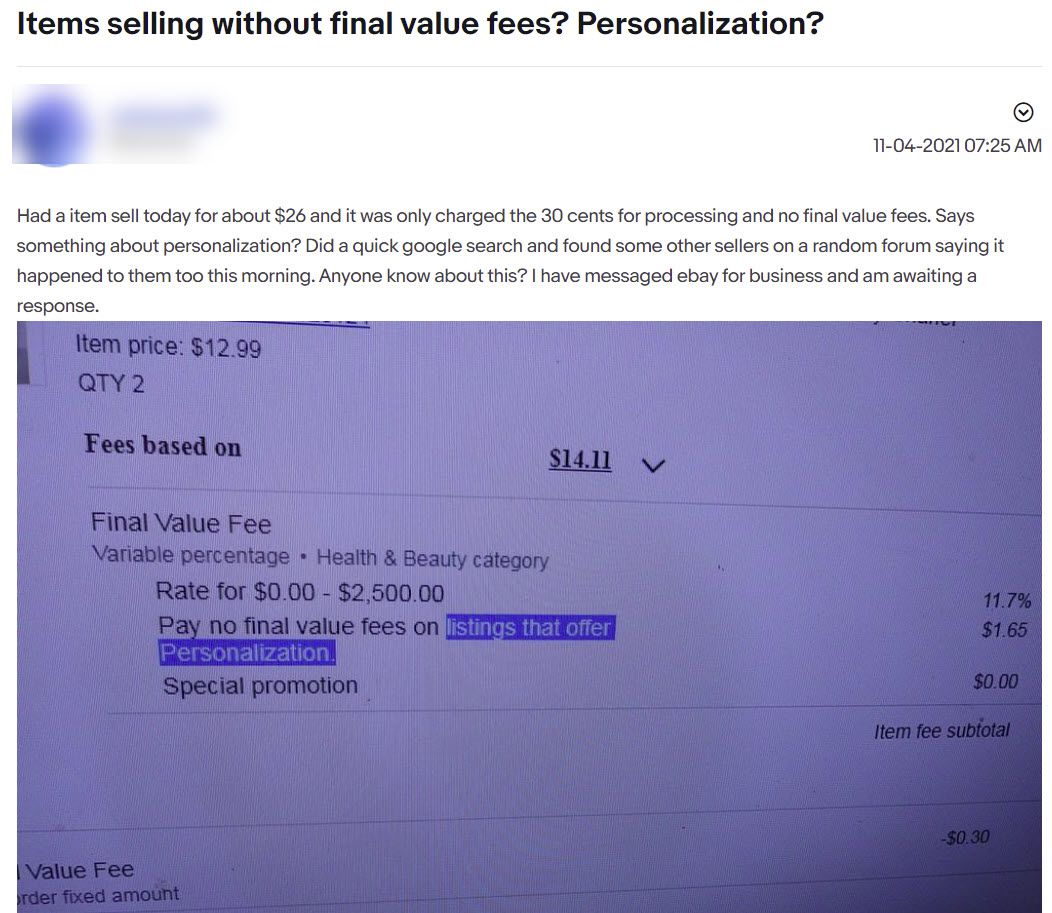 If this is a glitch, what is eBay going to do about it? Will they go bill sellers later?
Stay tuned for updates!
---