eBay Can't Print Shipping Labels 6-12-23
eBay sellers are reporting intermittent problems printing shipping labels through the platform today.
As of 12:18 PDT 6/12/23, Ebay Labels takes your money but does not print the label, you cannot find the label by looking in the Shipping area on Ebay, but the money has been deducted from my Payments. Never sent an Email from Ebay stating the label was purchased but in my Payments area and on the item sale report area a tracking number has been assigned.



Yet another Ebay problem. Now, Buyers cannot get their items sent using Ebay labels. I guess it's time to use another vendor instead.
I am getting red text above saying that USPS is experiencing issues with labels but when I try to purchase a FedEx label or UPS label, it still won't let me purchase! Doesn't matter what label I try to purchase and print! PLEASE FIX EBAY!
Is ebay USPS shipping down? anyone know when it will be fixed ?
Mine is stating "experiencing issues" under the USPS options, but not UPS or Fed Ex. I'm weary of pulling the trigger on any labels that may not print, and may not have the option to re-print.
While many sellers say they received a messages shifting the blame to USPS "experiencing issues", there are reports that UPS and FedEx labels are also failing and even reports from the UK, indicating this may be a worldwide eBay issue not specific to any particular carrier.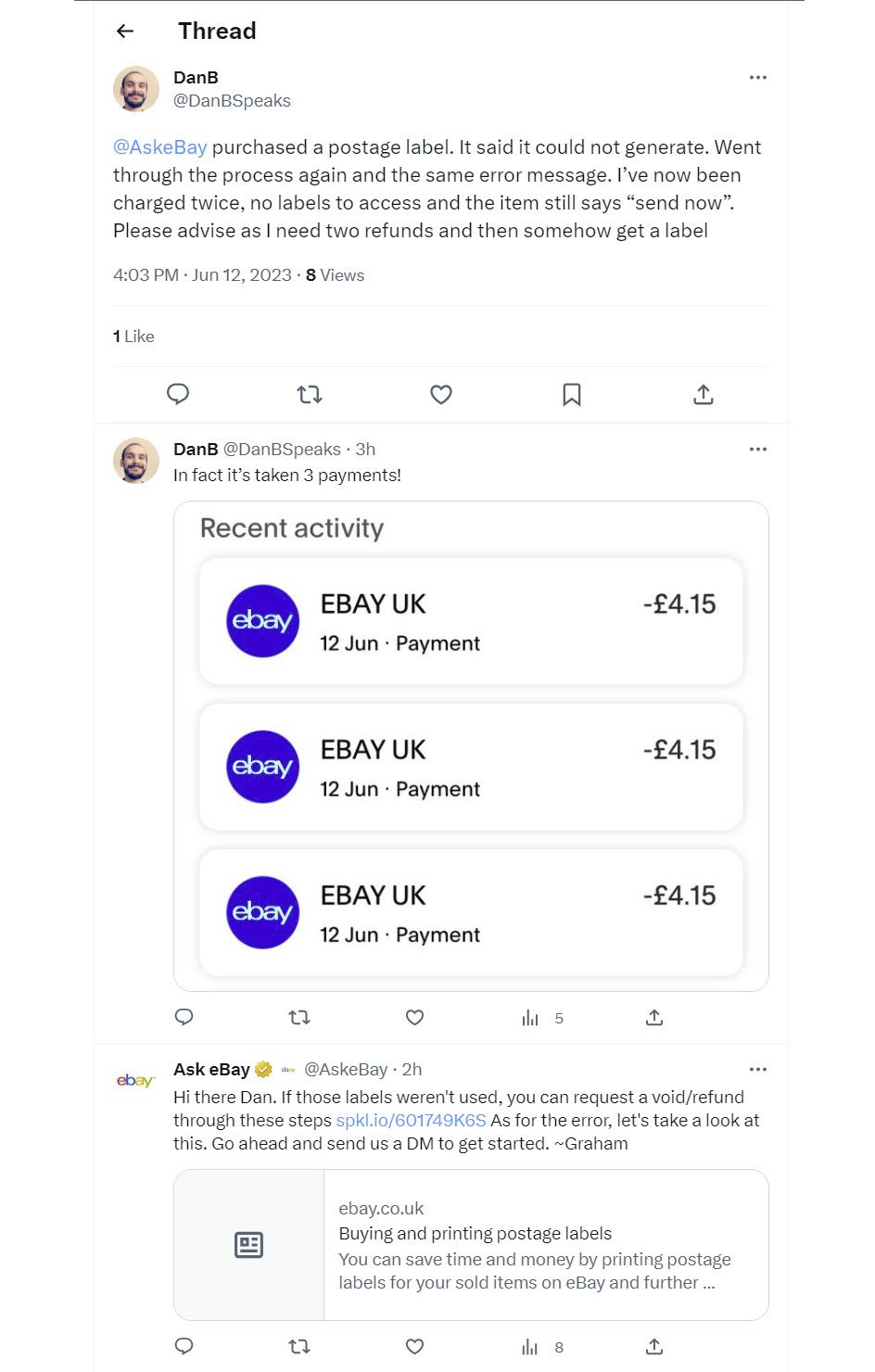 ---
For now, impacted sellers will need to void labels if they cannot be printed and may need to seek alternate shipping providers, like Pirate Ship, or going directly to USPS, FedEx, or UPS to ship items.
Unfortunately for some shipments that may mean sellers will pay more if they pay retail rates for shipments versus the discounted rates usually available through eBay.
Here's how to void labels purchased through eBay:
Go to Manage shipping labels.
Find the item you'd like to void the shipping label for, then from the Actions column, select More Actions, and then select Void.
Choose your reason for voiding the label. If you want to, you can add a message for the buyer.
Select Void shipping label.
---
Are you experiencing problems printing eBay shipping labels? Let us know in the comments below!
---