eBay Buyers Not Receiving Saved Search Emails
UPDATE 10-3-23
Once again volunteer eBay community members step up to help where eBay has failed, this time offering a temporary workaround for this ongoing problem with saved search emails.
Here's what I used to fix my SAVED SEARCH not getting daily emails problem that started in late September 2023 for some users. Should also work anytime this issue comes up -- been buying and selling on eBay 23+ years, it happens, don't wait on a fix.



Go to My eBay dropdown on the top right of any page and select Saved Searches. Then for EACH active search, click on More Options on the right side of the page, and select Stop Email Alerts. Then wait for a few hours (I waited 8 hours, and I also signed out and signed back in to eBay during this time) and go back to the same place again and select Get Email Alerts for every search you want activated. This should fix the problem on the next round of emails.



This will also give you a chance to clean up some old searches you no longer want. Happy searching and buying!
Let us know in the comments below if this workaround works for you!
---
eBay buyers are reporting they no longer receive emails with results for their saved searches and support is unaware of the problem despite almost 2 month old still open technical ticket.
I had email notifications setup based upon certain searches for items. Earlier this week I stopped receiving the email notifications. I reset one of them, which did not work. Do you have any recommended solutions? Or is this no longer a function?
I used to receive emails revealing the new listings for my saved searches every morning. All of a sudden the emails stopped, I even starting new saved searches and no emails for them either. The saved searches all are set to send emails but I don't receive any.
I haven't received any email notifications for my Saved Searches. This has gone on for the last two days. I'm using a laptop, so it's not about reloading an app on my phone. Help!
Chatted with Ebay rep several days ago who indicated this was a glitch Ebay was working on. I am still on receiving saved searches emails.
I haven't been getting mine either. I chatted with an eBay rep who had never heard of this and suggested the emails were going in my spam folder. Of course, I'd checked that. The rep was going to put in a "ticket" for the problem.
You'd think they'd be eager to fix it. When I don't get my saved search messages I don't buy anything. It's been a few days now and I'm baffled why they would let this continue.
Like some others, I'm also not getting emails as of 9/28/23. The only recent change I made was to turn off email alerts for a single item in my saved searches list.
I haven't been getting mine either. I chatted with an eBay rep who had never heard of this and suggested the emails were going in my spam folder. Of course, I'd checked that. The rep was going to put in a "ticket" for the problem. P.S. I see that a few other people are reporting this issue.
so what is going on with ebay not sending out any saved searches now. i have not go any emails from them for the saved searches i have saved. yesterday 9-28-23 i went thru the ones i have and looked at every item just to see if the reason was due to not checking them out for a few months and they noticed that and turned the emails off.
I have not been getting mine either. I just had a chat with an eBay agent who said they'd turn in a ticket about my problem. I suggest reporting it to eBay because the more of us who report it, the more chance we have of them actually paying attention!
Yesterday I did not receive my saved search notifications, and I didn't receive them today either. I did receive them Monday and Tuesday.



I have received e-mails from E-Bay, both yesterday and today, so E-Bay appears to be sending some mail. Why have saved search notifications stopped?
Exactly the same here. I get about 10-15 messages each morning. The last two days, nothing. Purchase status messages are fine.
All of these reports are from within the last week and eBay community staff member Elizabeth did finally respond to one, pointing to an open ticket listed in the ongoing technical issues list.
Hello everyone.



We're sorry for the inconvenience. There is currently an active ALERT14872 for this that can be found on our tech board. Please reach out to customer service and provide them with this Alert number so they can add you to that ticket.
However, that ticket has existed since August 4, 2023 - so why is support unaware of the problem, telling people the emails just be going to spam or saying the will finally open a ticket now?
Customers are not receiving email notification for saved searches while email alert is on (August 5, 2023)

Reference ID: ALERT14872

Provide SR Number:

Provide Customer ID: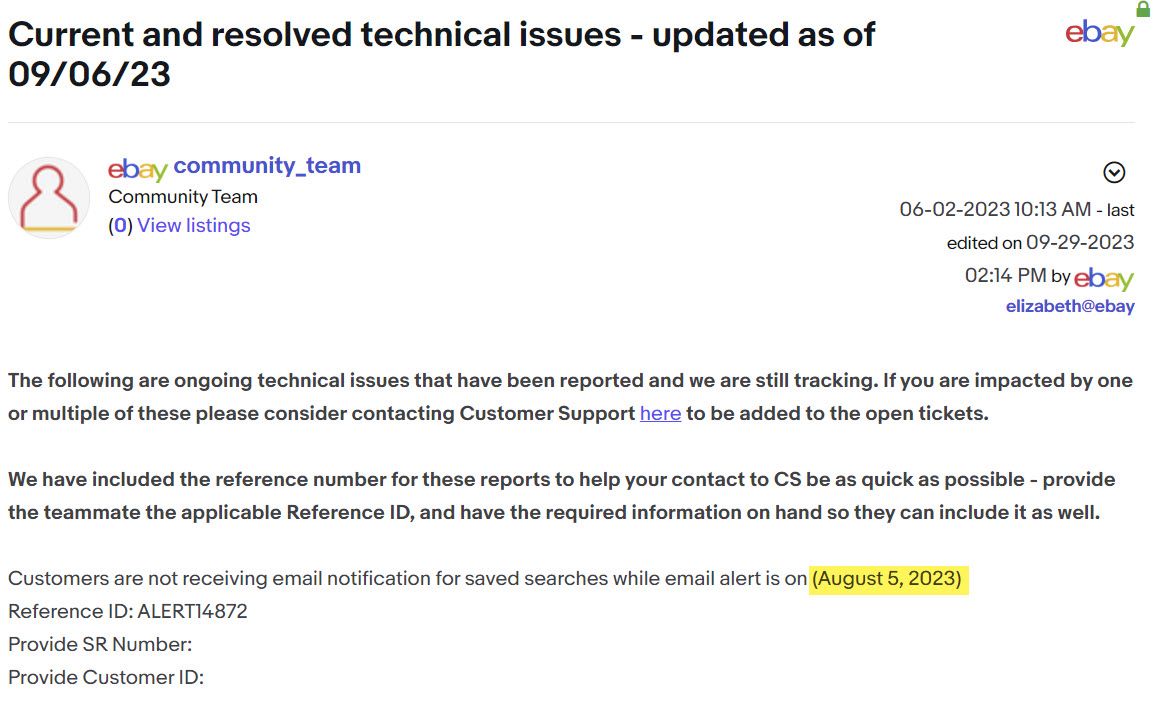 It's hard to see how that fits with the supposed focus on the search experience for buyers touted by VP Buyer Experience and Focus Categories Blair Ethington at Day 2 of eBay Open.
---
Are you having problems receiving saved search emails from eBay? Let us know in the comments below!
---