It appears eBay may be blocking users from paying with American Express in Fine Jewelry, Watches, & Coins categories.
This user tried to purchase jewelry but at checkout eBay said Amex was "not accepted."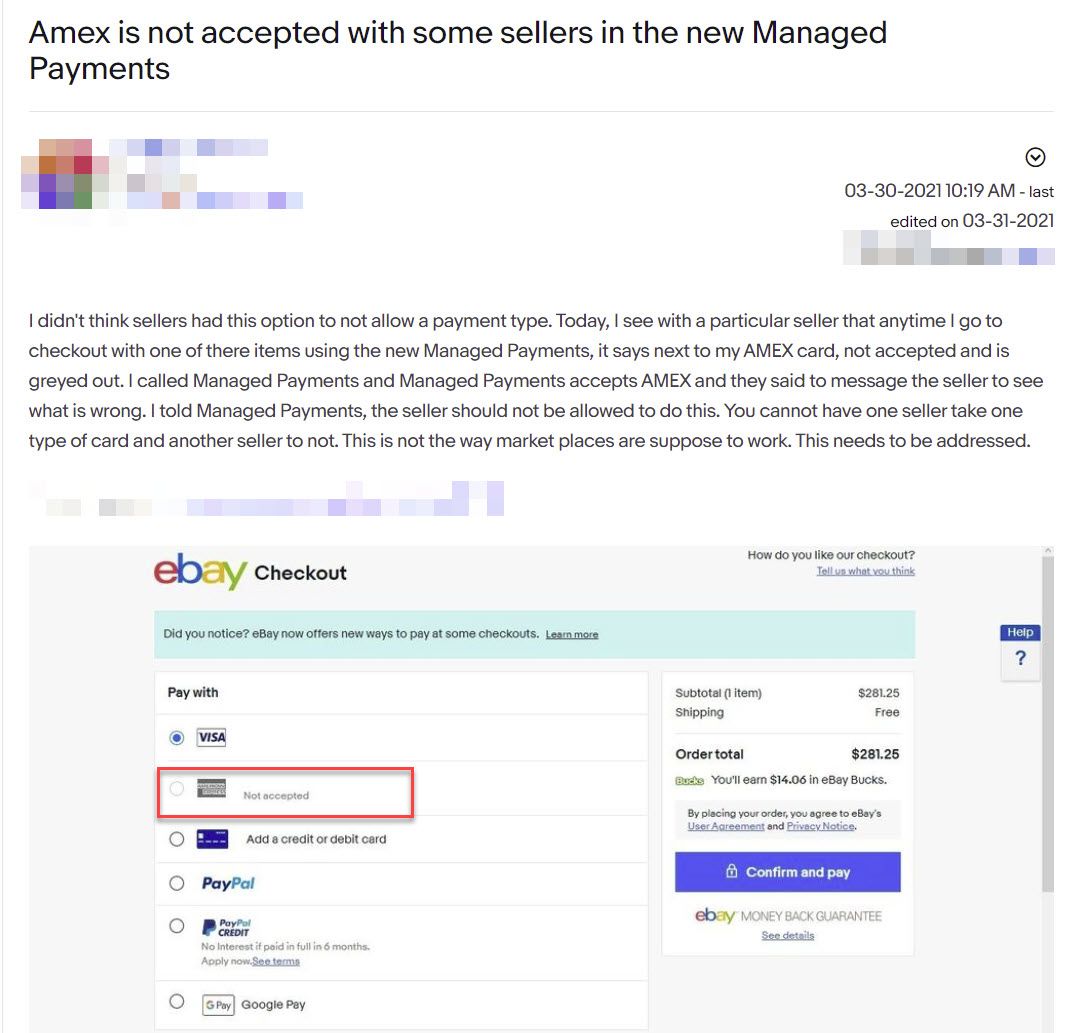 eBay support apparently told them to contact the seller, insinuating this was done by the seller's choice, when in fact sellers in Managed Payments have absolutely no choice or control over payment method availability.
The buyer says he contacted American Express to confirm their policies and was told jewelry purchases are not prohibited or blocked by them and there should be no issue with the purchase.
Another user pointed out the same thing is happening with coins and watches, but again only for sellers in Managed Payments - Amex is still an option for listings where payment is being processed through PayPal.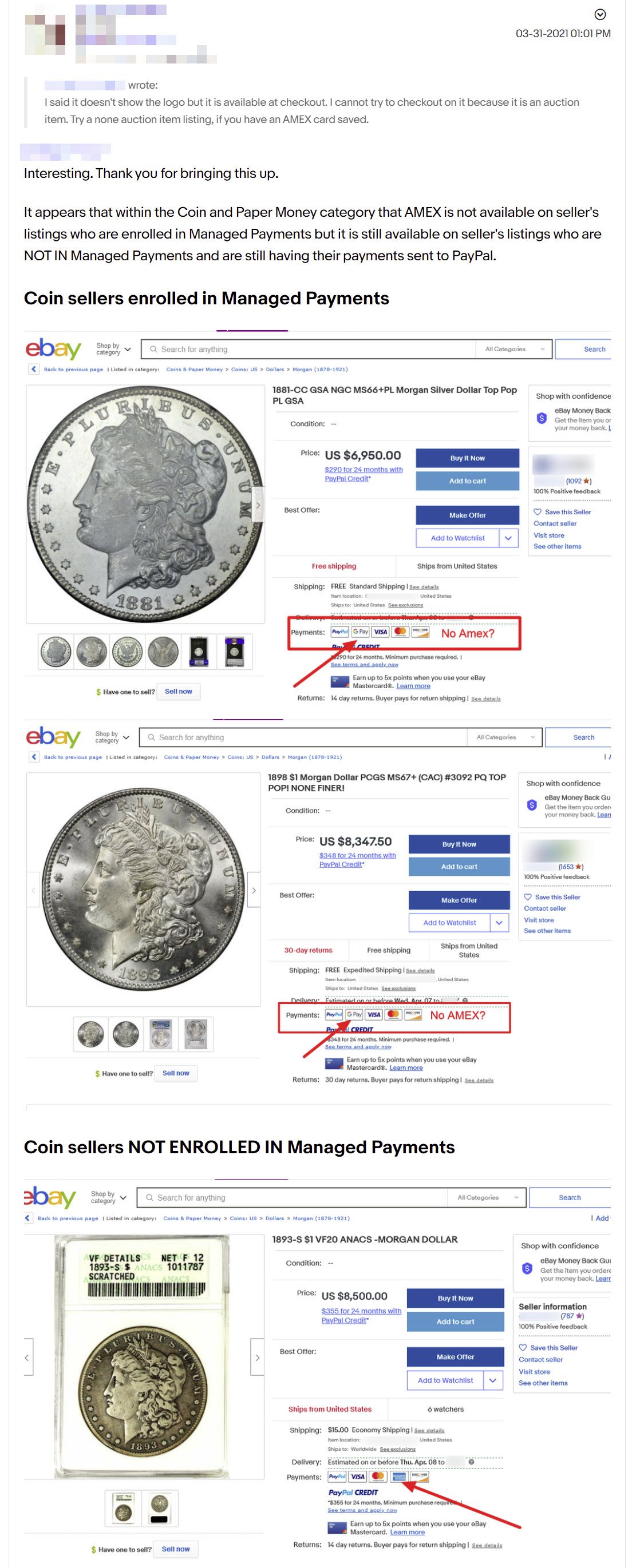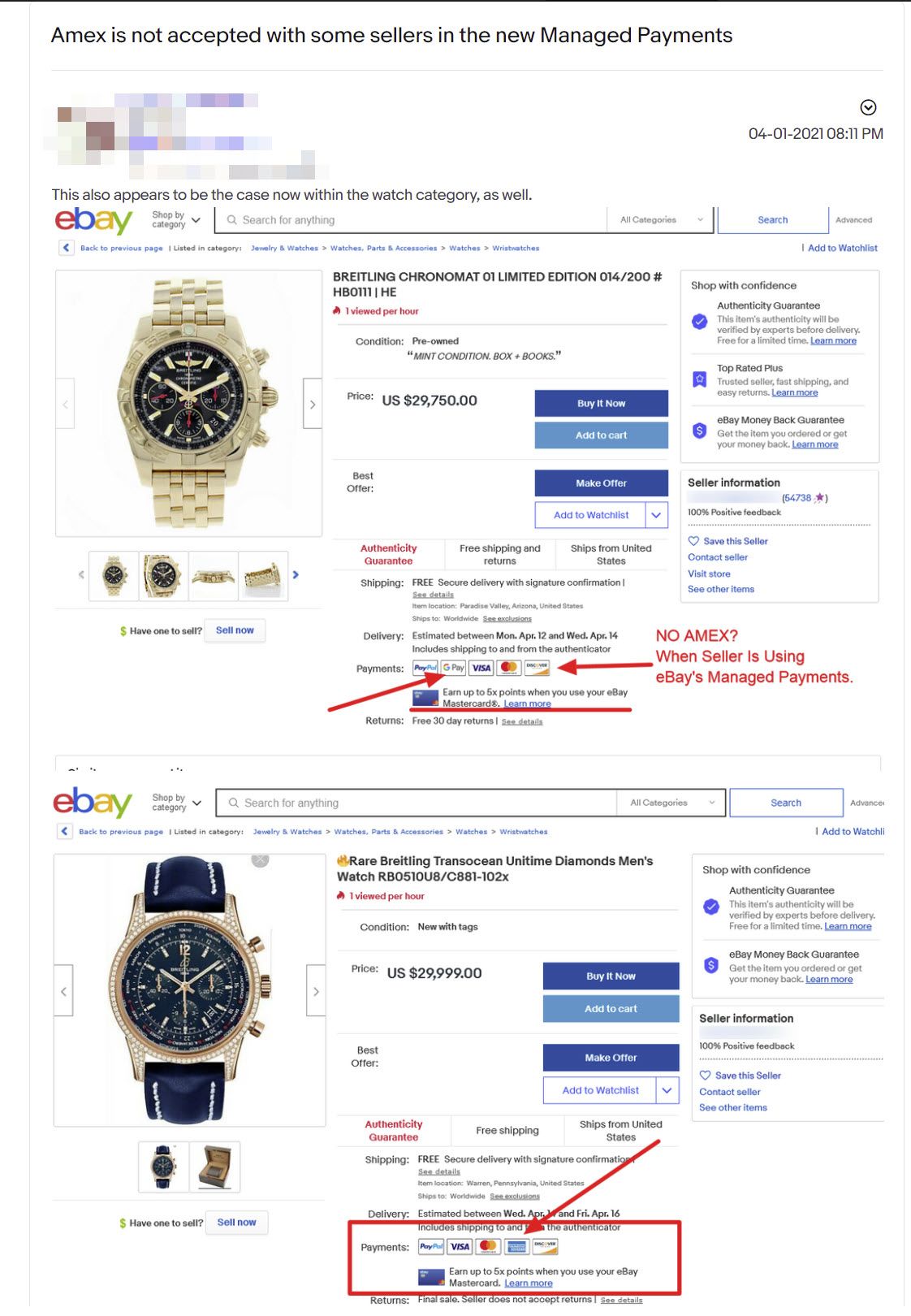 ---
I cannot find anywhere that eBay explicitly states American Express is not an accepted payment method in these categories.
In fact, in the Managed Payments help page, eBay does explicitly state that Amex is an accepted option for buyers and it will be automatically added to listings for sellers in Managed Payments - confirming that sellers have no control over this.
Accepted payment methods
Your buyers can choose from any of the following payment methods:



Visa
Mastercard
Discover
American Express
PayPal
PayPal Credit
Apple Pay (through the eBay app and mobile website only)
Google Pay (through the eBay app, mobile website and desktop)



These will automatically be added to your listings and show up as payment options at checkout.
---
There was speculation in that eBay community post that eBay may be blocking American Express from these categories because Amex typically charges higher processing fees than other credit cards. It may also be worth noting that American Express typically takes longer to process and clear payments than other credit cards.
However, it's not clear if either of those is a factor in eBay's decision not to allow American Express payments for Managed Payments sellers in these categories.
Regardless of the reasons, eBay has an ethical and fiduciary responsibility to clearly and directly inform users if certain payment methods are not accepted for specific categories or types of transactions.
Buyers may prefer to use their American Express exclusively, especially for higher dollar purchases, due to favorable rewards programs and terms.  If they cannot use their preferred payment method, it's likely that seller will miss out on the sale.
In my opinion it is particularly unfair given the fact this only seems to be affecting sellers who have been moved to Managed Payments. This puts those sellers at a distinct disadvantage against sellers who are still using PayPal and able to accept American Express in these categories.
That eBay would apparently rather throw sellers under the bus instead of admitting they either have a technical problem or an undisclosed policy problem just adds insult to injury.
---
eBay staff was asked about this issue in the weekly community chat on 4-14.21. They did not have an immediate answer but said they have reached out to get more information.  I'll update this post if/when more information becomes available.