eBay Authenticity Guarantee Glitch Leaves Sellers Holding The Bag
An apparently intermittent glitch in Authenticity Guarantee eligibility is causing big problems for sellers and buyers in eBay's important vertical focus categories - what can users do when eBay doesn't live up to the authentication promise?
One handbag seller was left holding the bag when eBay failed to route the order to the authentication center instead of directly to the buyer even though the Louis Vuitton Agenda Cover was sold with the Authenticity Guaranteed badge on the listing and met the price minimum and other criteria to qualify.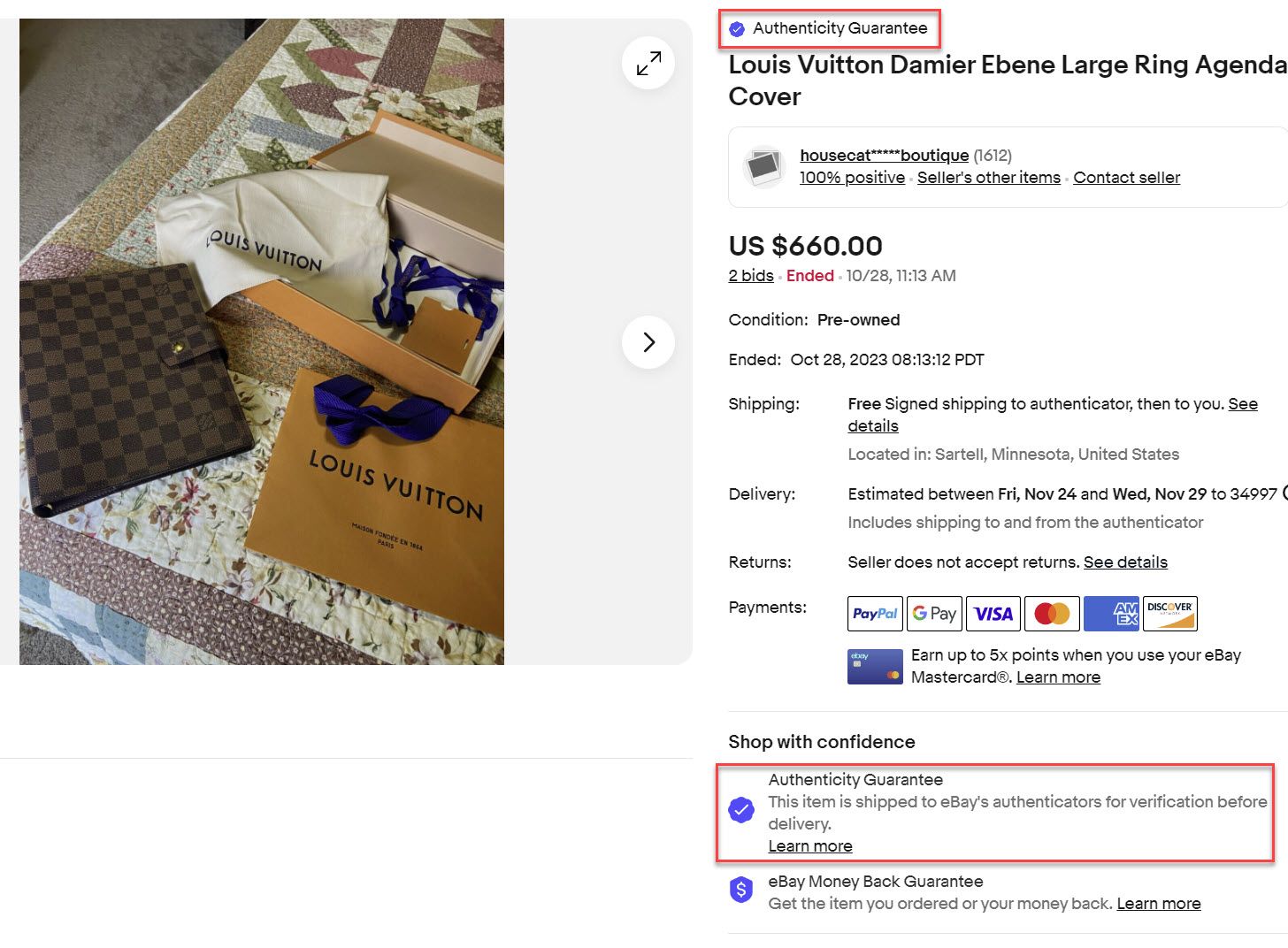 I sold a Louis Vuitton item for over $600, I received payment and purchased a shipping label. Apparently, the item went to the buyer and not to Authenticity Guarantee. When I sold, I looked for a label to "Ebay" but there was only one label I could find, so I assumed the Authenticity Guarantee was performed by people working from home and I sent it.



Now the buyer wants to know why there is no Authenticity tag. What do I do? Can she send it to Ebay now to get the tag? Why didn't Ebay give me the correct label??
After speaking to support, the seller was informed there was a "glitch" that caused the item not to be routed correctly to the authenticator. But despite acknowledging it was an eBay issue, support was unable or unwilling to do anything to assist with rectifying the situation, advising the only option would be to have the buyer return it and repurchase it.
Of course the eBay rep did not offer to refund any of the shipping or fees that would be incurred if the buyer and seller were to proceed with that suggestion.
Update - I spoke with Ebay and there was a glitch in the system and Ebay did not generate a label for the Authenticator, the label generated was to the buyer. I requested that they send the buyer a label so she can mail the item to an authenticator and get the authentication tag.



Ebay said that the only way the buyer can get the item authenticated will be to return it, I re-list it, she re-buys it and now that the 'glitch' is fixed, the item will go to an authenticator.



In short, the whole Authenticator thing is bleep I feel this is unfair to the buyer. Fortunately, I included every document possible with the item and I hope she can take it to a local boutique and authenticate it herself. Or call Louis Vuitton directly and verify that it was purchased (I purchased it from Louis Vuitton online in February 2023).



I wish there was another place to sell luxury items...the Real Real costs to much, I don't do Facebook Marketplace....
Another seller noticed a similar glitch when listing sneakers that should qualify for Authenticity Guaranteed, but luckily they caught it during the listing process so while it was an inconvenience, it did not end up causing a problem with a buyer.
Hey all, wierd issue here. I always sell using eBay authentication guarantee with no issues.



I currently have shoes listed from $85-$300 with the authentication guarantee badge. I tried making some more listings tonight, and anything under $150 takes away eBay authentication. Per ebays terms and conditions brand new shoes and depending on the brand qualify for authentication at $75 and up.



These are crocs and Nike shoes they qualify. But authentication guarantee won't populate if the listing is below $150.



Even stranger, the shoes I have listed for $85 show authentication right now as they should. But if I revise them it takes it away and won't reappear unless it's $150 or more.



I got eBay customer service to open a tech support ticket, so hopefully that fixes it. But curious if anyone else is having this issue, it seems to be a glitch on eBays end?
The seller came back and said the glitch subsided after a few hours and he was able to finally list the shoes with Authenticity Guaranteed, but what about sellers who may be impacted and are unaware of the issue?
Have you noticed glitches or problems with eBay's various authentication programs not properly applying to items that should qualify? Let us know in the comments below!
---