eBay Australia Partners With HUBBED For Drop Off Return Service
eBay Australia announces partnership with HUBBED to offer buyers the ability to drop returns off at certain convenience stores and 24/7 locations across the country.
We are launching a second returns carrier on eBay — HUBBED. Now, you can give your buyers the option to drop off return parcels at certain convenience stores and 24/7 locations across the country*. On top of this, HUBBED also offers a flat fee of only $5.24 for returns up to 10kg (+$1.65 for WA interstate returns). It's a win-win for sellers and buyers!



*Available for buyers in eligible HUBBED drop-off locations.
How do returns with HUBBES work?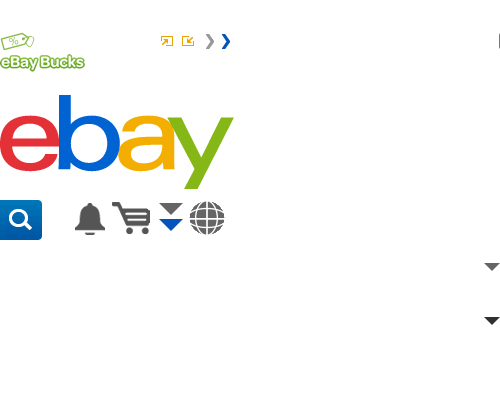 Introducing HUBBED
eBay Australia is proud to have partnered with HUBBED — an e-commerce technology solutions company with 2,200 parcel collection points at retail locations across Australia.



Why choose HUBBED?
When you choose HUBBED as your returns carrier, you give your buyers the option to drop off their return parcels at many convenience stores and 24/7 locations* such as BP, National Storage, Pack and Send, and independent family-owned local businesses.



HUBBED offers flat fee returns for only $5.24** for items up to 10kg and 120cm cubic dimensions (combining length, width and height) – which is about the size limit of airline carry-on luggage. It's a win-win for sellers and buyers!



*Available for buyers in eligible HUBBED drop-off locations.
**Additional $1.65 surcharge for WA interstate returns
HUBBED locations can be found here:
---
While eBay does not say you must offer free return to take advantage of this service, they certainly go out of their way to push sellers in that direction.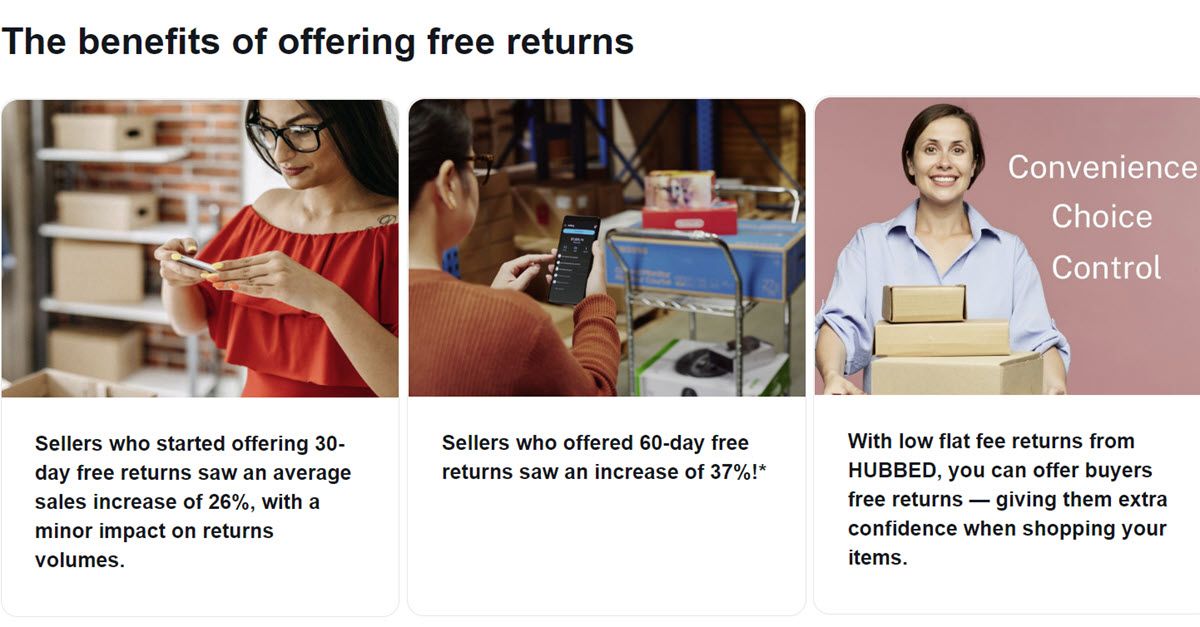 Sellers offering free returns is obviously a benefit to eBay, but it can really take a bite out of profits and in fact, some major retailers are starting to consider charging return fees to buyers - especially in high return categories like fashion.
H&M is getting ready to roll out a new store policy: charging customers for returning clothes...



...H&M isn't the only clothing store to charge customers for making returns. This summer, Zara began charging £1.95 to customers in the UK and $3.95 to those in the US for online returns made to a third-party drop-off point.



UK retailer Boohoo announced in July it will deduct £1.99 from each refund amount. Meanwhile, US customers will be charged $6 for online returns.



Abercrombie & Fitch has a $7 return fee for online returns sent by mail, but customers can return unwanted items they ordered online for free when they go to the store. American Eagle Outfitters charges a $5 shipping fee for refunds, and Pacsun deducts a $7 shipping fee from a customer's refund.



At LL Bean, returns and exchanges made through US mail are $6.50 per package. Not only does Uniqlo not cover shipping costs for online returns, but it doesn't accept in-store returns for online purchases either.
Al Gerrie, chief executive at returns provider ZigZag Global, said he was "not surprised" to see Boohoo follow Zara's move.



"There's no such thing as a free return, there's always someone who has to pay for it and given the current levels of inflation, supply chain issues, increased labour shortages and fuel surcharges, it is understandable that retailers would need to find a way to recoup some of the cost," he said.



"Especially as, post-pandemic, the number of online returns has increased significantly, as such, so has the cost to retailers."
---
What do you think of eBay's new partnership with HUBBED? Let us know in the comments below!
---