eBay 90 Day Sales Total Glitch
eBay sellers are noticing dramatic drops in their 90 day sales totals shown in the eBay app vs desktop experience.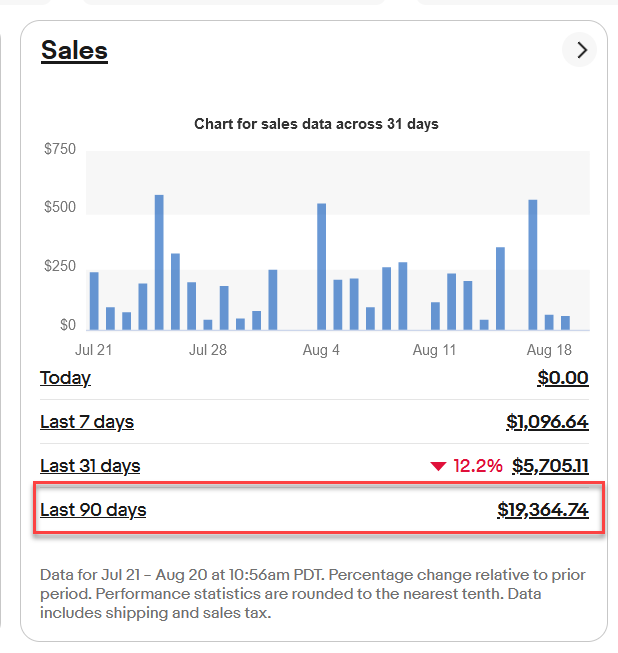 I noticed literally overnight that the app 90 day total dropped by $12,000 over night. The totals are way off as I don't sell $10,000 on any given day for that to happen.
Same here. Mine dropped $3000 in the middle of the afternoon. I have never sold $3000 in one day. I'm thinking it's a glitch hopefully. Was on chat with ebay for about an hr and got no answers why this would happen. Numbers on desktop are what they should be so it definitely frustrating.
My 90 day total dropped today $4,000 since I last checked earlier this afternoon. This is obviously not correct as I never sold 4000 worth in 1 day. Anyone else having issues like this?
Me too. My 90-day total dropped by $1300 today (8/16). Small seller here...I sell $1300 a month not a day.
My mobile app also dropped $4k even from my sold total between this morning and right now.



View counts are completely bonked - everything listed in last 48 hours has 0 views…although a few of them do have a handful of watches.



With such a disaster of a platform, I'm not surprised that sales have fallen off such a dramatic cliff this week
As a seller, I see ebay app as a total fiasco. Whenever I open it, I see these red alerts, you have 9 items to mail, 14 expect payments. When I click on the links I have 1 to mail and also just a few unpaid. The numbers have NEVER been accurate. I virtually do not use it at all. Ebay should develop a separate app for sellers, with the same capabilities (or close to them) as the desktop version.
One seller suggested it may be showing the 60 day total on the app instead of 90, but other sellers have said the numbers still don't work out right for 60 days either.
As far as I can tell, this looks to be a display issue only - the reports in the app are displaying incorrect information but sellers are still correctly receiving payments for sales actually made.
The money has not actually gone missing, it's just not showing up properly in reports in the app.
Of course it goes without saying that sellers should be keeping their own sales records external to what eBay shows rather than trusting eBay reports - unfortunately we've seen far too many glitches and display issues to put much faith in eBay reports.
There has been no official acknowledgment from eBay on this issue yet, but I'll update as more information becomes available.
If you're seeing wildly different sales figures in the eBay app vs desktop experience, let us know in the comments below!
---