Amazon Announces AWS Supply Chain App
Amazon AWS introduces a new cloud application to improve supply chain visibility and deliver actionable insights to mitigate supply chain risks, lower costs, and improve customer experiences.
AWS Supply chain is already being used by Lifetime Brands, Traeger Grills, Whole Foods Market and more.
At AWS re:Invent, Amazon Web Services, Inc. (AWS), an Amazon.com, Inc. company (NASDAQ: AMZN), today announced AWS Supply Chain, a new application that helps businesses increase supply chain visibility to make faster, more informed decisions that mitigate risks, lower costs, and improve customer experiences.



AWS Supply Chain automatically combines and analyzes data across multiple supply chain systems so businesses can observe their operations in real-time, find trends more quickly, and generate more accurate demand forecasts that ensure adequate inventory to meet customer expectations. Based on nearly 30 years of Amazon.com logistics network experience, AWS Supply Chain improves supply chain resiliency by providing a unified data lake, machine-learning-powered insights, recommended actions, and in-application collaboration capabilities...



...AWS Supply Chain is an application that improves supply chain visibility and provides actionable insights to help businesses optimize supply chain processes and improve service levels. Customers can easily set up a unified supply chain data lake using AWS Supply Chain's built-in connectors, which use pre-trained machine learning models based on Amazon.com's nearly 30 years of supply chain experience, to understand, extract, and aggregate data from ERP and supply chain management systems.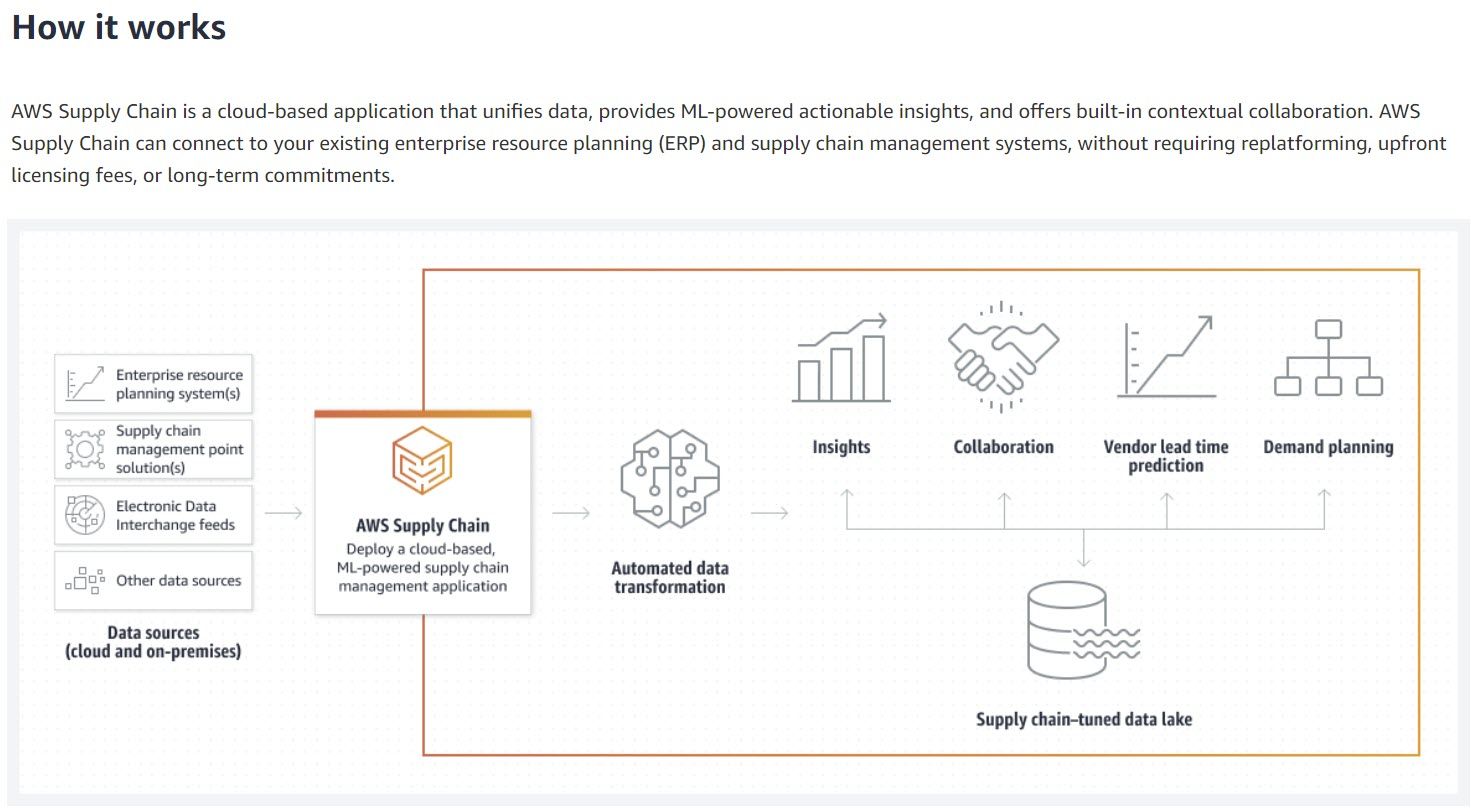 How it works
AWS Supply Chain is a cloud-based application that unifies data, provides ML-powered actionable insights, and offers built-in contextual collaboration. AWS Supply Chain can connect to your existing enterprise resource planning (ERP) and supply chain management systems, without requiring replatforming, upfront licensing fees, or long-term commitments.



Unify supply chain data
Quickly set up AWS Supply Chain using pretrained ML models that understand, extract, and transform disparate data into a unified data lake.



Reveal risks and derive insights
View the overall health of your supply chain network, and get ML-powered insights about potential inventory risks such as excess stock or stock outs.



Take the right action quickly
Review recommended actions that can mitigate risks, and use built-in, contextual collaboration capabilities to agree on and implement decisions faster.



Deliver on customer promises
Generate more accurate demand forecasts to reduce stock outs. Increase demand planning accuracy with ML models that continually improve over time.
---