eBay's Growing Chargeback Problem
Credit card chargebacks have become a very hot button topic for sellers as eBay nears the completion of the transition to Managed Payments.
Searching the community forums and social media, you're likely to come across sellers claiming it's impossible to win a chargeback & others saying they've won every chargeback they've ever received.
So why does there seem to be such a wide disparity of experiences and what can eBay do about it? First, it's important to understand what a chargeback is and what parts of the process eBay controls.
When a buyer opens a dispute directly through eBay such as an eBay Money Back Guarantee claim, Item Not Received case, Item Not As Described claim, or return request, that process is governed by eBay policies and eBay decides the outcome of the dispute.
A chargeback happens when a buyer goes directly to their credit card company or financial institution. eBay calls these types of claims "payment disputes" and they have less direct control over the process and outcome.
Director, Marketplace Trust Suman Chhabria gave a presentation in the March Seller Check-In explaining these different types of disputes and the seller protections provide for each type. More info can be found on eBay's help page for the payment dispute process.
When a payment dispute is filed, the seller must choose whether to accept it and process a full refund (without any promise of getting their item back) or challenge the dispute by providing additional documentation. The credit card company decides the outcome of the case and if they decide in the buyer's favor, the seller not only loses the item and the money, they are also charged a $20 dispute fee. This is not unique to eBay - PayPal and most other payment processors also assess dispute fees typically in the $15-$25 range.
I highly recommend bookmarking and becoming very familiar with eBay's payment dispute seller protection policies. I've personally handled about a dozen payment disputes in Managed payments - all of which were successfully defended under these seller protections.
For example, this was originally an INR case that was decided in my favor, then the buyer tried to go to their credit card instead.  The credit card company decided in the buyer's favor and the buyer did receive a refund, but I was covered by seller protections, so the refund was not deducted from my account and I was not charged the $20 dispute fee.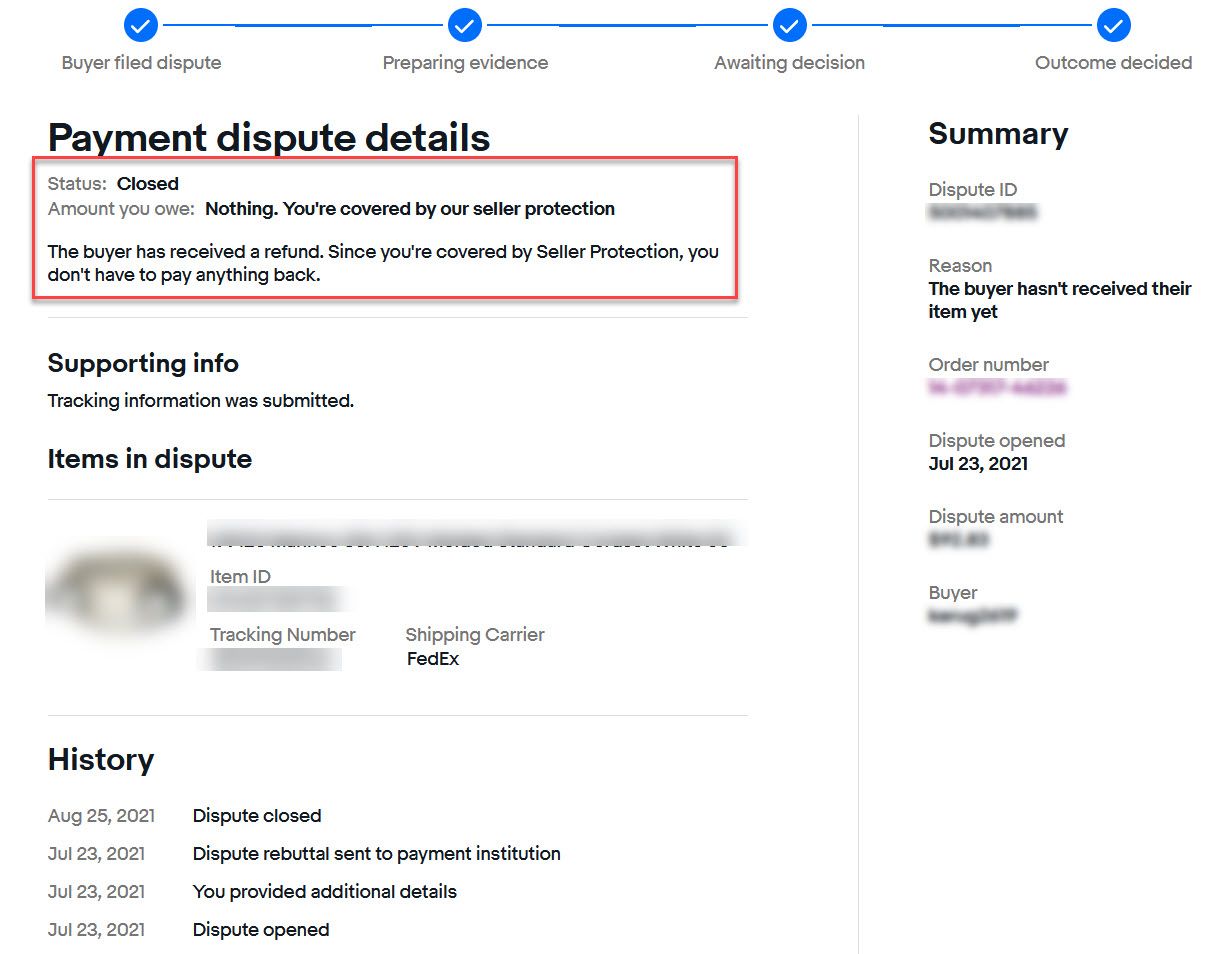 Here's another example of a seller in the community reporting successfully defending a "not recognized" dispute.
That being said, I've also seen reports from sellers that say eBay did not protect them even in situations that should have fallen under the seller protection policies (if you're one of those sellers, I'd love to hear from you!)
It seems that eBay is more inclined to provide protections for item not received and unauthorized transaction chargebacks and again, they aren't alone here. PayPal recently announced changes to their fee structure, one of which includes the option to pay additional fees in exchange for having chargeback protection built in - but it only covers certain types of chargebacks:
Chargeback Protection covers only unauthorized and fraud-related chargebacks as well as Item Not Received (INR). Non-fraud-related chargebacks (for example, broken item), Significantly Not as Described (SNAD), refund not processed, and duplicate charge) aren't eligible for Chargeback Protection. You're expected to reply to unauthorized and fraud-related chargeback disputes as usual in the PayPal Resolution Center.
eBay also isn't alone in seeing a rise in credit card chargeback "friendly fraud" - it's something that has been having a significant impact on ecommerce in general.
To be fair, not all chargebacks are fraudulent or illegitimate, but it would appear unethical "buyers" are learning they are much more likely to win chargebacks filed under reasons such as damaged/not as described, refund not processed, or duplicate charge.
---
What is Adyen's part in all of this?
Chargebacks on eBay are more complicated than if the seller has their own website and a direct relationship with a payment processor because there's another party involved in the dispute process - eBay's chosen payment processor, which for most sellers in Managed Payments will be Adyen.
One post in the community provided some information for contacting Adyen and wondered if it could be helpful to sellers struggling with these chargeback issues. It was a very active topic and worth a read.
Ultimately I don't believe sellers have much hope in looking to Adyen for answers - eBay is their client, not individual sellers, so unfortunately we have no access or standing to work with them directly.  However, it may be useful to browse Adyen's help pages regarding documents required for challenging chargebacks and the general dispute process just to get an idea of how best to work within the process eBay is using.
One common complaint I've seen from sellers is eBay's process for providing documentation for the challenge only allows you to upload a single document. Hopefully eBay will make improvements to the process to allow more documents to be uploaded, but in the meant time, sellers should carefully consider how to best present their case with this limitation. I'd recommend writing a summary of all relevant details, including screenshots if applicable and saving everything as a single file.
---
What Can eBay Do About It?
Sellers are understandably frustrated with eBay's typical answer that payment disputes are decided by the credit card company or financial institution and they simply have no control over the outcome in these cases.
As noted above, fraudulent chargebacks are on the rise along with the pandemic fueled surge in online buying. eBay may be correct there is little they can do about how credit card companies handle these situations, but that doesn't mean they are powerless to take action on their own.
CEO Jamie Iannone and GM North America Jordan Sweetnam both spent a lot of time talking about seller relations at eBay Open Online last month. Jamie called out several places where eBay is looking to add additional seller protections, specifically referencing the fact that managing payments puts eBay in a position to have more control over the entire payment process on the platform. Jordan acknowledged there are areas where eBay has gone too far to the side of the buyer and that more work needs to be done to make eBay a fairer two-sided marketplace.
Whether or not the credit card companies act to rein in chargebacks anytime soon, eBay can and must address the issue head-on for the health of the overall platform - those high value buyers eBay is focused on will have nothing to buy if sellers with high value items can't trust it's safe to sell them on eBay.
First and foremost, eBay must provide promised seller protections in all cases that should qualify, without question or hesitation. A seller shouldn't have to be a "squeaky wheel" or have a large YouTube or Twitter following to get eBay's attention - it should be automatic 100% of the time.
If that's not currently happening, that's something that can and should be immediately rectified, regardless of what the credit card companies do. Beyond that, if eBay is serious about being the "seller partner of choice", they're going to have to get innovative and apply some of Jamie's tech led reimagination to the problem.
eBay has the data to track buyer history on the platform.  Now that they are managing payments, they should be even more capable of linking multiple buyer accounts (including guest accounts) based on payment details.
eBay may not be able to prevent buyers from filing chargebacks, but they can control whether or not certain activities are considered "abusive" and take action against those accounts up to and including removing them from the platform completely if necessary. I don't have any insight into the data to make the determination of when action should be taken, but eBay does and they should publicly commit to sending a clear message to buyers that abuse the system.
eBay can and should also leverage their data and technology capabilities to put more control in the hands of sellers to proactively protect themselves against chargebacks.
They already allow sellers to set account level blocks for buyers who have a certain amount of unpaid purchases. In essence, once a buyer wins a payment dispute it becomes an "unpaid purchase" - made worse by the fact that they usually get to keep the item as well as the money.
Why not expand this and allow sellers the option to block buyers with x number of payment disputes filed in a given time as well?

Ideally, it would be even better if eBay built this into the listing flow so sellers can make a risk assessment at the item level - a $10 shirt is very different from a $1,000 iPhone.
For those who think eBay would never do this because they don't want buyers to be disappointed by being blocked from purchasing, I'll just say that eBay apparently has no problem with having certain in demand sneakers blocked off and reserved exclusively to be purchased by members of its Top Star buyer loyalty program.
If eBay believes it's OK to limit the buyer base for particular items to fit their vertical focused high value buyer strategy, I see no reason why it shouldn't also be OK for sellers to have more options to control the potential buyer base for high value/high risk items as well.
---
I recently wrote an open letter to CEO Jamie Iannone about eBay's seller trust problem. If eBay really wants to be the "seller platform of choice", they're going to have to start putting some skin in the game.
It's simply not acceptable that the common advice to eBay sellers is "don't list anything you can't afford to lose." Fraud is a huge problem for sellers, with serious financial impacts. eBay can and must do more to combat fraud on the platform, including "friendly fraud" chargebacks.
A seller I spoke with recently told me "when a platform refuses to provide a solution to their problems, sellers will find the solution in other platforms."
Are you listening Jamie?
---
Follow ValueAddedResource on Twitter & Facebook ✔
Subscribe to receive eBay news, tips, and insights in your inbox 📧
Share with friends and leave a comment 👇
---